Fantasy Baseball 2013: Underrated Players Who Will Help You Dominate Your League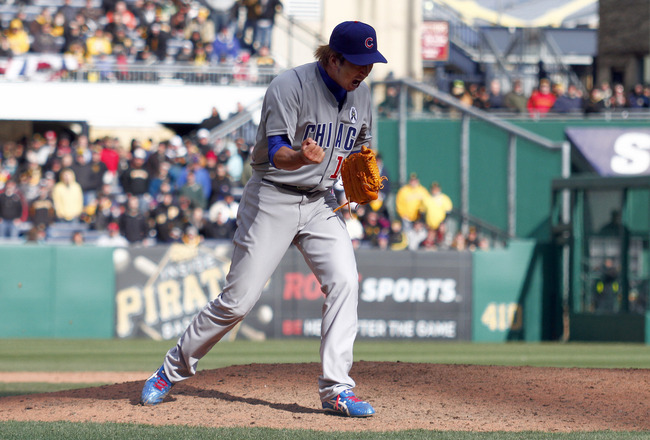 Cubs reliever Kyuji Fujikawa could be a potential save machine for your fantasy team.
Justin K. Aller/Getty Images
Whether you are talking about regular baseball or fantasy baseball, the key to success is having depth on the roster.
Stars are always going to command the most attention, and deservedly so. You invest all of your top picks to try and put together a team that can bash and pitch with everyone else. But there comes a point where the talent drops off and you have to find some diamonds in the rough.
Risk is everything in sports. Teams take chances on talent all the time—just look at what Toronto is banking on after the offseason trade with Miami. Why shouldn't fantasy owners do the exact same thing?
As the games slowly pile up and you get ready to step into the draft room or scour the waiver wire for talent, here are the players you can find that will help you capture a championship. We are looking at one great value player at each position.
Note: All stats courtesy of Baseball-Reference.com unless otherwise noted.
Ryan Doumit, C, Minnesota Twins
Ryan Doumit's versatility in the field has made him one of the most valuable fantasy players in 2013.
J. Meric/Getty Images
2012 Stats: .275 BA, 133 H, 34 2B, 1 3B, 18 HR, 75 RBI, 56 Runs
Fantasy Outlook
Doumit gets lost in the shuffle in Minnesota because of Josh Willingham, Joe Mauer and Justin Morneau—it also doesn't help that the Twins aren't very good. But he was one of the most overlooked catcher-eligible players in fantasy last year and enters this season still very underrated.
Even with Mauer entrenched as the No. 1 catcher, Doumit still holds eligibility behind the plate. He is also fantasy eligible in the outfield and at designated hitter.
Target Field is a place where power hitters usually go to waste, though Willingham and Doumit did have the best home run production of their careers in 2012.
As long as Doumit gets playing time—last year was just the third time in eight years that he appeared in more than 83 games—he is going to hit for a solid average with good power and RBI totals at the catching position.
It is because of those injuries that Doumit is still considered an underrated catcher; otherwise, he would be one of the 8-10 best players available behind the dish. He has hit at least 10 home runs in four of the last five years, so don't think that 2012 was just a fluke.
Plus, Doumit's BABIP of .306 last year was two points higher than his career mark of .304, and his line-drive percentage of 22.4 was over two percent higher than his career mark of 20.1.
Projections: .270 BA, 17 HR, 69 RBI, 52 Runs
Lance Berkman, 1B, Texas Rangers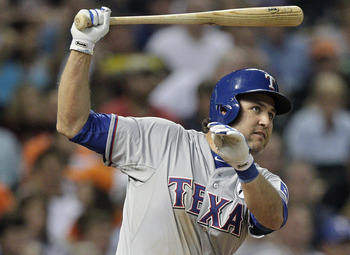 As long as he is healthy, Lance Berkman can drive in a lot of runs in the middle of the Rangers' lineup.
Bob Levey/Getty Images
2012 Stats: .259 BA, 21 H, 7 2B, 1 3B, 2 HR, 7 RBI, 2 SB
Fantasy Outlook
At 37 years old and coming off a season in St. Louis in which he missed 130 games due to injuries, Berkman's stock is as low as it has ever been for fantasy owners. That actually works to your benefit, as there is still a lot to like about him now that he is with Texas.
First, and most importantly, is Berkman plays an overwhelming majority of his games in the American League where he can DH and not have to worry about putting his body through the daily grind of playing first base or the outfield.
Second, the Rangers are going to put Berkman right in the middle of the lineup to hit around players like Ian Kinsler, Elvis Andrus and Adrian Beltre. He will have every opportunity to drive in the runs that used to belong to Josh Hamilton.
Even though he is older and has been hobbled by injuries in recent years, it's not like Berkman's ability to hit really went away. Since 2009, the switch-hitting slugger has had an OPS over .800 three times in the last four years.
When you are drafting a first baseman, you want average, power and RBI. Berkman has seen his average dip as he has gotten older, but he is still able to drive the ball and hits in a very favorable ballpark in Texas.
Projections: .277 BA, 24 HR, 91 RBI, 72 Runs
Jedd Gyorko, 2B/3B, San Diego Padres
Rookie Jedd Gyorko will become a fantasy staple for owners this season.
Rich Pilling/Getty Images
2012 Stats (in Double-A and Triple-A): .311 BA, 155 H, 28 2B, 30 HR, 100 RBI, 80 Runs, 5 SB
Fantasy Outlook
Gyorko's power output in the minors last season is a bit misleading, as the Texas and Pacific Coast Leagues are very hitter-friendly. That is not meant to take away from what the stocky infielder is capable of doing with a bat.
Thanks to the thumb injury suffered by Chase Headley in spring training, Gyorko is getting the opportunity to show what he can do in the big leagues right out of the gate. He will man third base until Headley returns, then will likely slide over to second base.
For the purposes of this piece, we are looking at Gyorko at second base. The position is deep entering 2013, but there is always room for more production in the realm of fantasy baseball.
Gyorko is a natural hitter with an easy, controlled, compact swing that he uses to generate hard contact and drive the ball into gaps. That will serve him well in San Diego's spacious PetCo Park, especially since he doesn't have tremendous home run power in his swing.
Some players are just able to put the barrel of the bat on the ball. Gyorko definitely fits in that group. There will be a period of adjustment in the big leagues, but when everything clicks, he should be a strong fantasy performer for a long time.
Projections: .264 BA, 13 HR, 55 RBI, 51 Runs, 3 SB
Juan Francisco, 3B, Atlanta Braves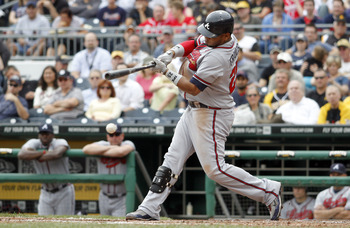 A platoon player with the Braves, Francisco could thrive in a limited role that highlights his strengths.
Justin K. Aller/Getty Images
2012 Stats: .234 BA, 45 H, 11 2B, 9 HR, 32 RBI, 1 SB
Fantasy Outlook
Atlanta decided to use the money it saved at third base after Chipper Jones retired on upgrading its outfield with B.J. and Justin Upton. The hot corner will be manned by Francisco and Chris Johnson this year in a platoon situation.
Fantasy owners hate seeing platoon situations because they are only going to get half of the opportunities that an everyday player will. But much like teams are starting to do, this can be a market inefficiency that should be exploited.
Francisco will see the bulk of the playing time for the Braves as he will play against right-handed pitchers. His career splits are very respectable, with a .272/.320/.487 slash line and 14 home runs in 298 at-bats against righties. (His line against lefties is dreadful: .190/.224/.222).
Assuming that Francisco ends up getting around 350 at-bats this season, there is no reason to think he can't match those career totals he has put up. He could also end up driving in 45-50 runs. You will need a backup option to use when the Braves face a southpaw, and drafting Johnson in the later rounds may be a viable alternative.
If you combine what both Johnson and Francisco do, you could easily project a situation where they combine for 25-30 home runs and nearly 100 RBI. Not bad for two players you can find at the back of a draft.
Projections: .268 BA, 15 HR, 49 RBI, 2 SB
Everth Cabrera, SS, San Diego Padres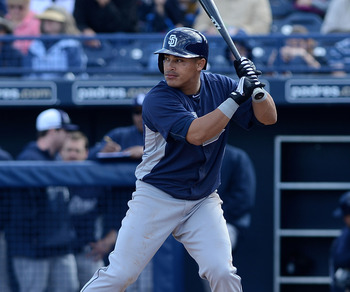 A speedster, Everth Cabrera adds tremendous fantasy value on the bases.
Jennifer Stewart/Getty Images
2012 Stats: .246 BA, 98 H, 19 2B, 3 3B, 2 HR, 24 RBI, 49 Runs, 44 SB
Fantasy Outlook
Just as Juan Francisco provides a limited amount of skills against a specific type of pitcher, Cabrera also has one thing he does really, really well and has a lot of room to grow in many other facets of the game.
What Cabrera does well that fantasy owners will love is run. He has tremendous speed and knows how to use it on the bases. The Padres shortstop led the National League with 44 stolen bases in 2012.
Even though he is not likely to add much value in batting average—which is surprising, since you might assume he tries to bunt for hits—or power, Cabrera does have a good enough eye at the plate to walk, and that allows him to steal bases.
Speed is great, but there is more to stealing bases than that. You have to be a smart baserunner and pick your spots as well. Cabrera understands situations and pitchers very well, as he was caught just four times in 48 attempts last season.
If Cabrera could find a way to hit around .260 with 45-50 stolen bases, he would be a top-10 fantasy shortstop in 2013.
Projections: .257 BA, 3 HR, 32 RBI, 67 Runs, 51 SB
David Murphy, OF, Texas Rangers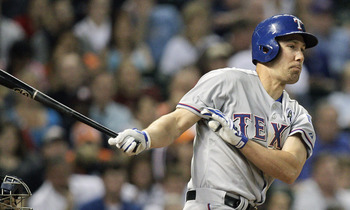 David Murphy got lost behind Josh Hamilton and Nelson Cruz in the past, but he has tremendous fantasy value in 2013.
Bob Levey/Getty Images
2012 Stats: 304 BA, 139 H, 29 2B, 3 3B, 15 HR, 61 RBI, 65 Runs, 10 SB
Fantasy Outlook
When the Rangers didn't re-sign Josh Hamilton or acquire someone via trade this offseason, David Murphy's role in the lineup was going to be critical for this offense not to suffer a significant drop-off from where it is used to being.
Considering how underrated Murphy has been over the last three years, there really is no danger of that happening. In fact, fantasy owners may finally start to take more notice of what the 31-year-old is capable of.
Murphy has always been a player with a pretty significant platoon split—he has an .840 OPS against right-handed pitching and .675 against lefties in his career. But last season was a huge step forward, as he hit .347/.405/.440 in 75 at-bats versus southpaws.
Obvious small sample size caveats apply, though this was the first time that Murphy looked like he could handle his own. When you factor in his established success against righties, average power production and ability to steal bases, you have a very solid fantasy producer.
Some players don't have one elite tool that separates them from the rest of the pack, but they are able to bring several very solid tools to the table and turn in quality fantasy seasons that you look back on wondering where it came from. Murphy certainly fits in that category.
Projections: .294 BA, 16 HR, 68 RBI, 63 Runs, 13 SB
Drew Stubbs, OF, Cleveland Indians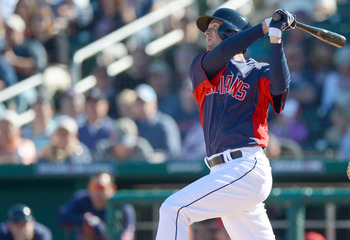 Making contact is always going to be his Achilles' heel, but Drew Stubbs offers a lot of value in other fantasy categories.
Jake Roth-USA TODAY Sports
2012 Stats: .213 BA, 105 H, 13 2B, 2 3B, 14 HR, 40 RBI, 75 Runs, 30 SB
Fantasy Outlook
Think, for a second if you would, about a player who hits between 15-20 home runs every season and has scored 258 runs and stolen 100 bases over the last three years. That is the kind of fantasy player most people would love to own.
The biggest problem comes when you get into batting average, because said player strikes out more than 160 times every season and doesn't walk enough to keep his average at a respectable level.
Obviously, based on the picture and title of this slide, you know we are talking about Drew Stubbs. The new Cleveland right fielder is going to have the chance to play everyday, hitting in a much-improved lineup that will provide him with plenty of RBI and run-scoring opportunities.
If Stubbs can find a way to get back to his 2010 performance, when he hit .255/.329/.444 with 22 home runs in 150 games for Cincinnati, he would be a valuable everyday fantasy option for your team.
There are reasons to be encouraged, as Stubbs' BABIP of .290 last year was 33 points below his career average. If that number can jump back up in 2012, fantasy owners will be more than happy to hand him a starting job as a potential 20-HR, 30-SB threat.
Projections: .244 BA, 17 HR, 53 RBI, 59 Runs, 29 SB
Wil Myers, OF, Tampa Bay Rays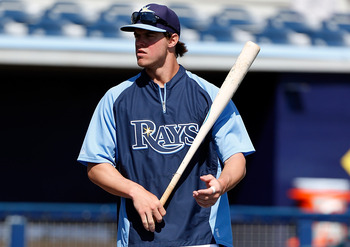 Eventually Wil Myers will be a fixture in Tampa Bay's outfield.
J. Meric/Getty Images
2012 Stats (in Double-A and Triple-A): .314 BA, 164 H, 26 2B, 3 3B, 37 HR, 109 RBI, 98 Runs, 6 SB
Fantasy Outlook
Even though Wil Myers is not starting the season in the big leagues—he probably could have, but there are a few things he needs to work on in Triple-A before getting called up—there are reasons to keep him on your radar for 2013.
If you are in a keeper league, you already know of Myers and probably already drafted him. Everyone else kept a close eye on where he was in the draft and hoped no one would snatch him up.
Following the common logic that most teams use with their top prospects, expect Myers to get called up around June 1, long enough to delay his arbitration clock by a year and play in 95 games with the Rays.
That would put the power-hitting outfielder around 400 at-bats before the end of the year. Myers has all the tools to make an immediate impact, especially in the power department. He does have some swing-and-miss to his game, but his approach is very good and he controls the strike zone so well that he can end up with 15-18 home runs when all is said and done.
Expect Tampa Bay to plug Myers into the middle of the lineup behind Evan Longoria and Ben Zobrist. That should enhance his RBI opportunities, because they get on base and drive in a lot of runs on their own.
Projections: .258 BA, 17 HR, 53 RBI, 42 Runs, 6 SB
Josh Beckett, SP, Los Angeles Dodgers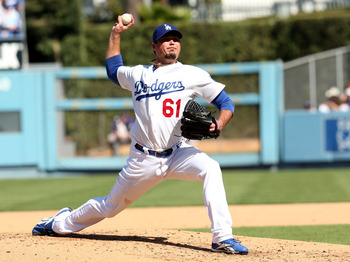 Thanks to favorable parks in the NL West, Josh Beckett could put up solid superficial stats.
Stephen Dunn/Getty Images
2012 Stats: 7-14, 170.1 IP, 4.65 ERA, 174 H, 52 BB, 132 K, 1.33 WHIP
Fantasy Outlook
There was a time when Josh Beckett was a fantasy monster. It is clear that those days are long gone, as his fastball has lost three miles an hour from its peak (via Fangraphs), his command has to be perfect without an elite heater and his offspeed stuff is lacking in bite.
Injuries have also knocked Beckett down a few pegs in recent years, as he has not thrown 200 innings since 2009.
However, if you believe in the power of big ballparks, Beckett could put up a very good, albeit superficial season that looks better than it really is because of the lineups in the National League West and the big parks in the division.
Hitters will be able to elevate Beckett's fastball more than ever before, especially since it is a slower offering and he likes to get strikeouts by throwing it up in the zone, but the ball will end up dying in the outfield before doing much damage.
As long as you don't expect Beckett to strike out a lot of hitters or have a low WHIP, you should be able to get a lot of value out of him. An ERA in the 3.75 range with 12-14 wins and 185 innings seems about right for the right-hander this season.
Projections: 13-9, 182 IP, 3.81 ERA, 59 BB, 133 K, 1.29 WHIP
Kyuji Fujikawa, RP, Chicago Cubs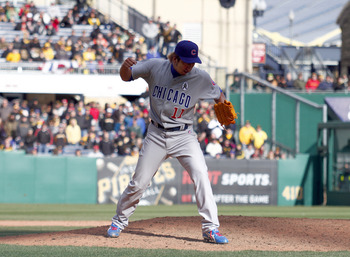 Kyuji Fujikawa celebrated his first appearance in the big leagues with a save against Pittsburgh.
Justin K. Aller/Getty Images
2012 Stats: N/A (Pitched in Japan)
Fantasy Outlook
The closer situation in Chicago seems like it will be in a constant state of flux until someone takes advantage of it. Carlos Marmol, the incumbent, has had issues throwing the ball over the plate basically his entire career—he averages 6.0 walks per nine innings.
In the season opener against Pittsburgh, Marmol was the first one given a chance to close a 3-0 game for the Cubs. He gave up one run on one hit, one walk and one hit by pitch before being pulled out. In other words, it was a typical Marmol outing.
Manager Dale Sveum decided to play matchups after that, bringing in lefty James Russell to get Neil Walker out before Kyuji Fujikawa got Russell Martin to end the game.
After the game, Sveum did say (via Associated Press) that he wasn't "making any changes or anything like that." But you can tell that the leash is incredibly short for Marmol, with Fujikawa the first in line to close out games.
Don't let the fact that the Cubs won't be a good team scare you off. Cleveland's Chris Perez finished fourth in the American League with 39 saves last year even though his team won just 68 games.
Projections: 67 IP, 3.14 ERA, 1.17 WHIP, 64 K, 29 Saves
Keep Reading