Complete 2013 MLB Divisional, Postseason and World Series Predictions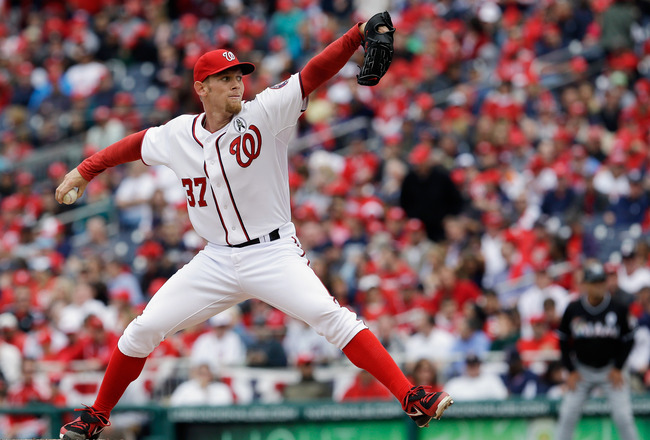 Is a full season from Stephen Strasburg what the Nationals need to win the World Series?
Rob Carr/Getty Images
The start of the Major League Baseball season is the most optimistic time of the year for everyone involved. Fans, players and front office executives all feel like good things are in their future, whether that means just exceeding expectations or getting over the playoff hump.
Baseball is also a cruel game that can knock you back down to earth in a heartbeat. Who knows what this season has in store for us? The magic of the game is you have no idea how things are going to play out.
Who would have said, with any real confidence, that Oakland and Baltimore would both be one win away from playing in the American League Championship Series last year?
We are going to try putting some order to the madness, with official predictions for all six divisions, all three playoff rounds and the World Series.
National League East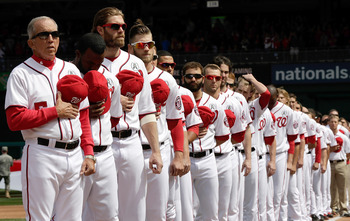 Even though Atlanta got better in the offseason, Washington is still the class of the NL East.
Win McNamee/Getty Images
NATIONAL LEAGUE EAST
1. Washington Nationals 96-66
2. Atlanta Braves 91-71*
3. Philadelphia Phillies 78-84
4. New York Mets 67-95
5. Miami Marlins 62-100
*Denotes Wild Card
It is hard to find much fault with the Nationals coming into the season. The starting rotation, with Stephen Strasburg not facing any innings restrictions and new addition Dan Haren at the back of it, looks deeper than it did last year when it led the league with a 3.34 ERA.
We know the bullpen is better, with Rafael Soriano closing games and Drew Storen moving to late-inning, high-leverage situations. A full season of Bryce Harper is going to boost this offense, which finished 10th in runs scored last year.
Atlanta's offseason was one of the most intriguing, as it added two high-upside talents in B.J. and Justin Upton. The latter has MVP-caliber talent and is just one year removed from showing it in Arizona. The former gets a bad reputation because he doesn't hit for a high average, even though he hits 25 home runs, steals 30 bases and plays good defense in center field.
You add two players like that to a lineup that features Freddie Freeman, Jason Heyward and, when he returns, Brian McCann, and you have a top-five offense in the National League.
It also doesn't hurt that the Braves have the best and deepest bullpen in baseball, and a solid rotation that will give them innings and occasionally dominant performances.
The Phillies don't seem to have a clue what they are doing. Adding Michael Young and Delmon Young to be everyday players is only going to make the defense worse and won't do much for the offense. Domonic Brown has a better swing, but should we have any expectation for him as an everyday player right now?
At least Chase Utley is healthy and looking like his old, outstanding self. This team needs Cole Hamels, Cliff Lee and Roy Halladay to be on top of their game all year to have a shot at competing for a playoff spot. Considering what we have seen from the latter this spring—including a fastball that is not hitting 90 mph—the window appears to be closing fast in Philadelphia.
The Mets and Marlins will be bringing up the rear of the division. At least New York has a few young pieces worth watching who will play a part in the team's future. Matt Harvey is already in the rotation, with Zack Wheeler not far behind in Triple-A. Catcher Travis d'Arnaud, one of the key pieces in the R.A. Dickey trade, will get called up as soon as he proves he can stay healthy.
Miami owner Jeffrey Loria is so busy working spin control after 12 months of trading virtually every valuable asset the team has not named GIancarlo Stanton, to the point where he doesn't even know the names of the players on the field.
National League Central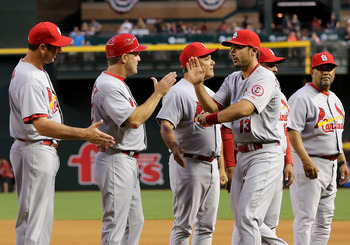 St. Louis has the talent and depth to reclaim its perch atop the NL Central in 2013.
Christian Petersen/Getty Images
NATIONAL LEAGUE CENTRAL
1. St. Louis Cardinals 92-70
2. Cincinnati Reds 91-71*
3. Milwaukee Brewers 81-81
4. Pittsburgh Pirates 78-84
5. Chicago Cubs 74-88
*Denotes Wild Card
The National League Central is very top-heavy, with the Cardinals and Reds clearly the class of the division and everyone else fighting for scraps.
There really isn't a lot of separation between St. Louis and Cincinnati heading into the season, though the Cardinals do get a slight advantage because of the depth in their farm system. Injuries are going to happen, players will be called up, and when they do, which team has more impact at their disposal?
No team can match what St. Louis has in the farm system right now, with as many as five high-level prospects close to the big leagues already, led by Oscar Taveras. That number doesn't include Shelby Miller and Trevor Rosenthal, both of whom made the big league team out of spring training.
Cincinnati made the decision to keep Aroldis Chapman in the closer's role, basically ending any chance he will ever become a starter in the big leagues. That does hurt the upside of their rotation, though Johnny Cueto is very good at the top and Mat Latos is solid behind him.
Both teams are loaded on offense, with the Cardinals boasting a lineup as deep as any you will find in the American League. The Reds added Shin-Soo Choo and his .381 career on-base percentage in the offseason to hit at the top of the order. Joey Votto is always an MVP candidate if he stays healthy. Jay Bruce can hit 40 home runs every year.
Depth and impact talent is always going to be the separator, which is why the Cardinals get a slight edge in the race. Both teams are going to the playoffs, though.
Milwaukee did well to sign Kyle Lohse just before the start of the season, because their rotation needed depth. He just isn't enough of a difference-maker on his own to suddenly put the Brewers in league with the Cardinals and Reds.
Offense has to carry the team in Milwaukee, but does Aramis Ramirez have another big year left in him at 34 years old? What will happen with Ryan Braun and the Biogenesis situation since MLB is trying to make him the target of a witch hunt? Will Rickie Weeks bounce back after a down season?
There's too many question marks to put the Brewers over .500 this season.
The Pirates don't have enough hitting to stay in the race, though they have somehow managed to get off to a hot start in the last two years with just as much talent as they have this season. Andrew McCutchen is a star surrounded by a lot of platoon players and spare parts.
On the plus side, Gerrit Cole should debut at some point this season and immediately become their best starting pitcher, both in terms of raw stuff and performance.
Chicago is an interesting study right now. It made some solid moves in the offseason (signing Edwin Jackson, as well as possible trade bait in Scott Feldman and Scott Baker) and should see some improvements on offense from young players like Starlin Castro and Anthony Rizzo.
It would not be a shock to see the Cubs finish fourth in the division, especially if Jeff Samardzija can take the next step in his development as a starting pitcher. But for now they are just behind the Pirates.
National League West
Behind great starting pitching and a terrific defense, the San Francisco Giants will repeat as NL West champions.
Stephen Dunn/Getty Images
NATIONAL LEAGUE WEST
1. San Francisco Giants 91-71
2. Los Angeles Dodgers 88-74
3. Arizona Diamondbacks 83-79
4. San Diego Padres 76-86
5. Colorado Rockies 63-99
Everyone wants to push the Giants aside in front of the new, shiny and very expensive Dodgers this season. Certainly, you look at Clayton Kershaw, Zack Greinke, Matt Kemp, Adrian Gonzalez and Hanley Ramirez, and see the potential.
Look again, and with Ramirez on the disabled list, Greinke battling arm problems and Gonzalez not having his power swing last season, suddenly things don't look as good as they once did.
It also doesn't help that the Dodgers don't have a lot of depth. They need all those players healthy and producing all year in order to compete for a playoff spot. Yet we know Ramirez won't be back until at least the end of May and Greinke needed a strong final start against the Angels in spring training to alleviate fears.
Meanwhile, the Giants bring back the same team they had last season that won 94 games and a World Series. They are the best run-prevention team, factoring in pitching and defense, in the National League. They have two horses at the top of the rotation in Matt Cain and Madison Bumgarner. Ryan Vogelsong continues to defy expectations.
Even if you aren't optimistic about a comeback for Tim Lincecum—for the record, I am not—they still have three really strong starting pitchers to work with and have always been able to make deals to acquire exactly what they need.
Buster Posey is the best all-around catcher in baseball and is now being paid like it. Pablo Sandoval will never have a good body, yet somehow he makes it work for him. If Hunter Pence remembers how to hit, the lineup should be just fine.
Arizona has tried to rebuild its lineup to make more contact at the expense of power. There is something to be said for "manufacturing" runs, but at some point, you have to be able to hit the ball out of the park to get back into a game.
Losing Adam Eaton, who would have hit at the top of the lineup, for six to eight weeks due to an eblow injury is going to hurt.
San Diego is going to be better than you think. The offense has more power with Yonder Alonso, the eventual return of Yasmani Grandal from suspension and Chase Headley from a fractured thumb. PetCo Park will always help Padres' pitchers look better than they are. A .500 finish would not be a surprise.
Colorado is betting its hopes for pitching on Aaron Cook, Jeff Francis, Jon Garland and Juan Nicasio. A bunch of arms that pitch to contact in the worst pitchers park in baseball. That's going to end really well.
American League East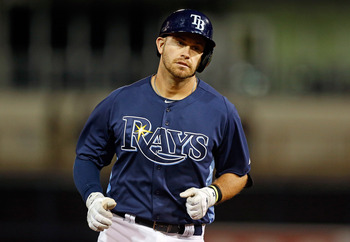 A full season from Evan Longoria makes the Rays the favorites in a competitive AL East.
J. Meric/Getty Images
AMERICAN LEAGUE EAST
1. Tampa Bay Rays 94-68
2. Toronto Blue Jays 89-73*
3. Boston Red Sox 85-77
4. New York Yankees 83-79
5. Baltimore Orioles 77-85
*Denotes Wild Card
When you make preseason projections in baseball, depth is just as important to look at as impact. Injuries are going to happen, but the teams that make the playoffs are those that can make it through those times by dipping into their farm system or a bench player who takes to an everyday job for a few weeks.
That is the preface I present for why the Rays, not the new-look Blue Jays, are going to win the American League East.
Tampa Bay still has the deepest pitching staff in the American League, even without James Shields. David Price is a stud. Matt Moore will get better. Jeremy Hellickson is as solid as they come. Alex Cobb didn't get a lot of hype last season, yet posted a 3.86 ERA and 1.27 WHIP in 189 innings.
The Rays always find pieces to plug into their bullpen, though they are bringing back a lot of key players from last year's group like Fernando Rodney, Kyle Farnsworth and Joel Peralta.
If this team had just a league-average offense last season, they would have made the playoffs. Evan Longoria is the straw that stirs the drink, so it is imperative he plays in 140 games. But Ben Zobrist remains the most underrated player in the game. They also have Wil Myers waiting in Triple-A.
Toronto made a lot of bold moves this offseason to get back to the postseason for the first time since 1993. It is easy to envision a scenario where the Blue Jays are the best team in the American League East.
It is even easier to see where some things fall apart. Do you believe Josh Johnson and Brandon Morrow are going to make 55 combined starts? How will Mark Buehrle's style translate to the American League East? Can R.A. Dickey possibly be as good as he has been with the Mets in a league with much better offensive teams?
Even the offense has questions. Jose Bautista has to prove his power will come back after last year's wrist injury. Brett Lawrie is already on the disabled list. Melky Cabrera had a fluke season in 2012—not for what most people think, but because of a .379 BABIP (70 points higher than his career mark) and no significant difference in his strikeout-to-walk ratio or line-drive percentage.
Tampa Bay is just deeper than Toronto entering the season. That's why the Rays get the edge in the division race and the Blue Jays are a wild-card team.
Boston is not nearly as bad as its record last year indicates. That was just a perfect storm of everything going wrong at the same time. Jon Lester and Clay Buchholz have to throw 400 quality innings. David Ortiz, Dustin Pedroia and Jacoby Ellsbury have to play 420 games. The bullpen is much deeper this year than it was in 2012.
One of the smartest moves of spring training was giving Jackie Bradley Jr. a chance to start in the big leagues. He has a great, patient approach at the plate and is a great defensive player in center field (even though he will be playing left field because of Ellsbury's presence). Even if he struggles, you don't lose much because he goes down to Triple-A, fixes what didn't work and comes back up later in the year.
The Yankees are finally at a point where they don't have the answers needed to stay in the division race. They are old, hobbled and all the top talent in their system is at least a full season away.
CC Sabathia and Hiroki Kuroda should be fine at the top of the rotation, but putting faith in 41-year-old Andy Pettitte is not a recipe for success in this division.
Who knows what Alex Rodriguez will be when he returns, assuming he does. Derek Jeter is a bad defensive player and his offense is predicated on hitting a lot of ground balls that find holes. Curtis Granderson can't hit left-handed pitching. Mark Teixeira has been declining for the last three years, with his OPS going from .948 in 2009 to .807 last season.
The Orioles were largely a product of a great bullpen and luck last season, going 29-9 in one-run games and winning 16 consecutive extra-inning games in the regular season. Those kinds of numbers don't sustain themselves on a year-to-year basis.
Oh by the way, star pitching prospect Dylan Bundy has been shut down with elbow tightness.
American League Central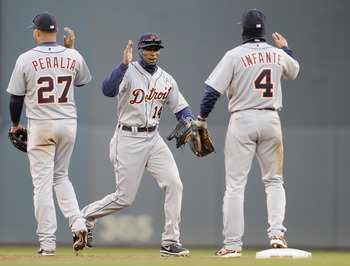 If you had to bet the farm on one team winning a division title, it has to be Detroit.
Hannah Foslien/Getty Images
AMERICAN LEAGUE CENTRAL
1. Detroit Tigers 95-67
2. Cleveland Indians 80-82
3. Kansas City Royals 79-83
4. Chicago White Sox 77-85
5. Minnesota Twins 68-94
The Tigers are the class of the American League Central, and it's not even close. The race in the division is for second place—between Cleveland, Kansas City and Chicago.
No one else can match Detroit's starting rotation, which includes the best pitcher on the planet (Justin Verlander) and a flamethrower who averaged two more strikeouts per nine innings than Verlander (Max Scherzer). Then you get Doug Fister and Anibal Sanchez behind those two studs.
The offense is pretty good too, with Austin Jackson at the top of the lineup, Miguel Cabrera, Prince Fielder and the returning Victor Martinez in the middle and rookie Avisail Garcia and bounce-back candidate Alex Avila at the bottom.
Even without a "proven closer," the Tigers are going to win this division going away. Perhaps their success can finally put to rest the myth that you need a true closer to win games.
Cleveland's offensive upgrades will make it more fun to watch, especially when you put Michael Bourn, Nick Swisher and Drew Stubbs alongside Carlos Santana and Asdrubal Cabrera. The defense, especially in the outfield, should be very good.
If the Indians could find any starting pitching—hopefully some comes when Trevor Bauer gets called up—they could be in the mix for a wild-card spot into September. Unfortunately they are still relying on Justin Masterson, who can't get lefties out, and Ubaldo Jimenez, who can't get anyone out.
Kansas City's offseason was widely panned, though the moves will make the starting rotation better. James Shields is as consistent as they come, throwing at least 200 innings every season since 2007. Jeremy Guthrie and Ervin Santana can eat innings.
The real key for the Royals in 2013 will be getting Eric Hosmer to improve upon where he was as a rookie two years ago. If he turns into the star everyone projects him to be, alongside Billy Butler and Alex Gordon, this offense could be solid.
At least the bullpen is good, with Greg Holland, Aaron Crow and Tim Collins all throwing really hard and missing a lot of bats.
The White Sox are putting a lot of faith in Jake Peavy at the top of their rotation. He was able to stay healthy all last season for the first time since 2007, but will he be able to do it again? Paul Konerko is on the decline, as his average, on-base and slugging percentage have dropped the last two seasons.
Alex Rios isn't going to slug over .500 again. Adam Dunn may strike out 300 times in a season, though he will at least hit 35 home runs. Chris Sale could remain a Cy Young contender, or his arm could fall off because his arm action is so odd and puts a lot of stress on his shoulder.
Minnesota has no delusions about what it is right now. Its farm system is going to produce results in the next two years, but that doesn't mean much for today. Even Aaron Hicks, who made the club out of spring training, probably isn't ready for the big leagues.
What the Twins can hope for is Josh Willingham and Justin Morneau staying healthy and producing in the first half so they can flip them at the deadline to add more impact in their farm system.
American League West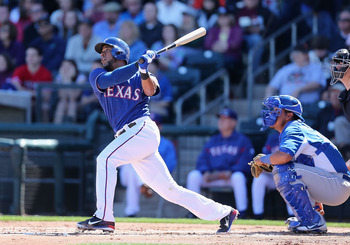 Elvis Andrus, fresh off a new contract extension, will lead the Rangers back to the playoffs in 2013.
Christian Petersen/Getty Images
AMERICAN LEAGUE WEST
1. Texas Rangers 90-72
2. Los Angeles Angels 89-73*
3. Oakland Athletics 84-78
4. Seattle Mariners 72-90
5. Houston Astros 57-105
*Denotes Wild Card
Texas is being written off because Los Angeles continues to spend a lot of money on building an offense, while the Rangers have missed out on a few free agents who would have fit what they need.
But if we stack everything up player-for-player, the Rangers are still deeper than the Angels. Don't forget that Yu Darvish can easily turn into the ace Texas needs this season. Matt Harrison, while he won't be as good this season as he was in 2012, is still solid. Derek Holland has a great arm, though he rarely knows where the ball is going when he releases it.
It also helps that Texas can dip into the farm system to pick up Jurickson Profar and/or Mike Olt if needed. With Elvis Andrus nearing an eight-year deal, Profar's future appears to be at second base with the Rangers. That will likely result in Ian Kinsler moving to first base or an outfield corner.
The Angels want to get by with a whole lot of offense, Jered Weaver and C.J. Wilson at the top of the rotation and a number of pitchers who might succeed in the big Angels Stadium, where fly balls go to die.
But anytime you try to patch together a rotation like the Angels have, doubts start to creep in. Tommy Hanson, Jason Vargas and Joe Blanton rarely inspire a lot of confidence, so we shall see what happens with them in their new surroundings.
Yet you can see Mike Trout, Albert Pujols and Josh Hamilton together and what the upside for this offense can be.
Oakland got by in the second half last season with a lot of performances that don't seem likely to be duplicated. First, Tommy Milone is a pitcher who thrives in Oakland because it is a huge park. He had a 4.83 ERA on the road last season, giving up 18 home runs in 91.1 innings.
Brandon Moss had 21 home runs in 84 games. He also struck out 90 times in 265 at-bats. That power production is not sustainable when you whiff once every three times.
If Brett Anderson can ever stay healthy for a full season, he has top-of-the-rotation upside. Yoenis Cespedes is an incredible talent and could get even better in 2013. Josh Reddick just needs to make more contact to become one of the best right fielders in the American League.
But so many smoke and mirrors down the stretch played a role in Oakland's playoff push last year that it is hard to see it happening again.
Seattle still seems to think that Justin Smoak can turn into an everyday first baseman and Raul Ibanez and Jason Bay are the answers to what ails this offense. That is not going to result in a lot of success on the field.
At least Felix Hernandez is in the rotation, with rookie Brandon Maurer making the team out of spring training and Danny Hultzen and Taijuan Walker not far behind. Mike Zunino should be up soon to provide a boost to the offense.
Things might look better, but because the division is so good at the top, the Mariners are not likely to win more games this year than they did in 2012.
Houston just wants to get through the season without completely embarrassing itself. The future is in the farm system. It is the direction this franchise had to take, even if the big league product is hard to watch.
Wild-Card Games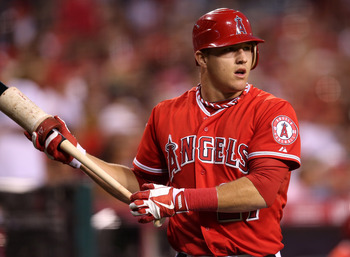 Will Mike Trout's first playoff appearance be a successful one?
Stephen Dunn/Getty Images
American League: Los Angeles Angels at Toronto Blue Jays
The Angels and Blue Jays are not quite in that elite category in the American League, but they are ahead of everyone else and will battle it out for the right to play in the Division Series.
Going over pitching matchups—again, this doesn't factor in potential injuries—it would seem that Jered Weaver and R.A. Dickey take the mound in this game.
Based on what we know with those two pitchers, Dickey will have an advantage because his knuckleball can be the most unhittable pitch in the game when it is on. Weaver is a fly-ball pitcher in a park where the ball jumps off the bat.
The Blue Jays have a deeper lineup than the Angels, so they are more likely to make Weaver work harder to record outs. It will be all hands on deck, which means the Blue Jays could turn to starters like Brandon Morrow or Josh Johnson in relief if necessary.
In the first playoff game at Toronto since Game 6 of the 1993 World Series, the Blue Jays will advance to the Division Series.
National League: Atlanta Braves at Cincinnati Reds
This game could turn into a slugfest with these two lineups in the Great American Ball Park. The Braves are the deeper team, with B.J. Upton, Justin Upton, Jason Heyward, Freddie Freeman and Brian McCann powering the offense.
Then you look at the bullpen, led by Craig Kimbrel closing games. Before him, you have to get through Eric O'Flaherty, Jonny Venters (if/when he returns this season) and Jordan Walden.
Cincinnati would have an advantage in starting pitching if Johnny Cueto takes the hill. He is the best starter on either side, so it would be paramount for him to provide at least six innings of solid work before turning things over to Sean Marshall and Aroldis Chapman.
It will be close, high-scoring and fun to watch, but ultimately the Braves find a way to come out on top.
National League Division Series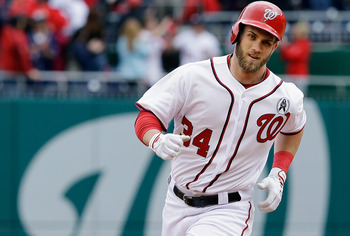 Bryce Harper's second playoff appearance in as many seasons will yield much better results.
Rob Carr/Getty Images
Atlanta Braves vs. Washington Nationals
The National League East rivals meet one more time with the stakes much higher in the Division Series.
As much as you like what the Braves can do, especially on offense, they really are no match for the Nationals in a short series. The 2013 NL East champs (based on these predictions) will have their rotation perfectly set and on full rest.
That leaves the Braves at a disadvantage as they start this round with their No. 2 starter going against Stephen Strasburg. Then the Nationals will follow that game up with Gio Gonzalez, Jordan Zimmermann and Dan Haren, with Ross Detwiler as the long reliever.
Factor in what Washington can do on offense, with Bryce Harper, Ian Desmond, Jayson Werth, Ryan Zimmerman and Andy LaRoche able to drive the ball out of the park, and this series will be over before it begins.
Winner: Washington in four games
St. Louis Cardinals vs. San Francisco Giants
A rematch of last year's National League Championship Series, the Cardinals will get some semblance of revenge for what happened when the Giants defeated them in seven games to go to the World Series.
Look for St. Louis to make a few changes throughout the year, either due to poor performances from Opening Day starters or injuries. Expect Oscar Taveras to be manning right field, Kolten Wong to take over second base and Carlos Martinez to be in the bullpen.
Add that to Miller and Rosenthal already being on the team to start the season, and the Cardinals will be even deeper in October than they are right now.
The Giants can pitch and catch the ball as well as anyone, so they will always have a chance to win in the postseason. But eventually you run into a better team and they are able to defeat you.
Winner: Cardinals in five games
American League Division Series
Justin Verlander will lead the charge for the Tigers' rotation in the playoffs.
Hannah Foslien/Getty Images
Toronto Blue Jays vs. Detroit Tigers
After earning its first playoff win in 20 years, the Blue Jays are going to find it difficult to keep up with the defending American League champions in a short series where they have to face Justin Verlander, Max Scherzer and Doug Fister.
Things will be fun to watch if Brandon Morrow and Josh Johnson are healthy and at the top of their games in this series. If you put those two starters up against Detroit's top two starters, it's still advantage Tigers, but not nearly as wide as it would be if Mark Buehrle or J.A. Happ had to slide into one of those spots.
Keep an eye on Jose Reyes at the top of Toronto's lineup. If he is able to get to Verlander and Scherzer in this series, he could change the entire complexion of what happens, setting Jose Bautista, Brett Lawrie and Edwin Encarnacion up with RBI opportunities.
But when you get right down to it, how do you really bet against the Tigers' staff in this spot?
Winner: Tigers in five
Texas Rangers vs. Tampa Bay Rays
The one thing you hear everyone talk about in the postseason is a dominant starting rotation. The Rangers certainly have an ace in the making with Yu Darvish. The key will be finding someone behind him to shut down a lineup in a big-series situation.
When you look at the other side of the coin in this series. the Rays have David Price to match up with Darvish in Game 1. Then they can throw out Matt Moore, who has shut down the Rangers in the postseason before, in Game 2.
Who are the Rangers going to counter with? Matt Harrison? He is a pitcher who relies on feel and ground balls, but the Rays are a patient lineup that won't chase a lot of pitches outside the strike zone.
The Rangers do boast a deeper lineup, though the Rays' will get better as soon as Wil Myers gets brought up.
Joe Maddon knows how to push buttons and play matchups better than any other manager in baseball.
Winner: Rays in four
League Championship Series
David Price, the 2012 AL Cy Young winner, will look to add another trophy to his mantle this season.
David Banks/Getty Images
American League: Tampa Bay Rays vs. Detroit Tigers
It should come as no shock that the two best teams record-wise in the American League meet in the series to determine which one goes to the World Series.
The Rays and Tigers are going to get here on the strength of dominant starting pitching, but it will be the bullpens that play a bigger role in the ALCS.
Even though the Tigers boast a better top of the lineup than the Rays, the overall depth one though nine is close to equal. Miguel Cabrera and Prince Fielder do give the Tigers an advantage, though you can make a case that David Price and Matt Moore are capable of shutting them down in a short series.
Since the starting pitching will be so great, you need to look at the arms that will follow. Detroit has a few matchup specialists, like Phil Coke, Joaquin Benoit and Octavio Dotel. Tampa Bay counters with Kyle Farnsworth, Fernando Rodney and Joel Peralta. The Rays' trio doesn't have as dramatic platoon splits as the Tigers'.
Winner: Rays in seven
National League: St. Louis Cardinals vs. Washington Nationals
If the American League Championship Series is so evenly matched, there is a decided advantage for one team in the National League Championship Series.
As easy as it is to fall in love with what the Cardinals already have in the big leagues, not to mention what is coming from the minors this season, the Nationals are ready to make the leap after losing to St. Louis in the NLDS last year.
Washington is the best team, on paper, to start this season. There are very few weaknesses you can pinpoint, as the rotation is deep, the bullpen is loaded with arms and the offense can bash with anyone in baseball.
The Cardinals can keep up with the Nationals for a few games, but eventually the talent will win out in this series.
Winner: Nationals in six
World Series: Tampa Bay Rays vs. Washington Nationals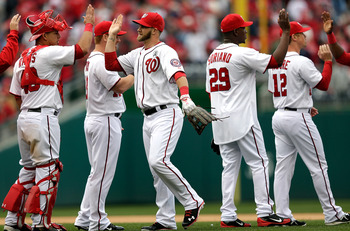 A championship is coming to Washington in 2013.
Win McNamee/Getty Images
And here we are, after all the preseason prognostications and looking at what each team presents on the field this season. It comes down to the Tampa Bay Rays and Washington Nationals battling it out in the World Series.
These two teams will separate themselves from the pack as the season goes on. though most analysts and fans already expect big things from Washington.
Tampa Bay is getting lost in the shuffle in the American League because there are so many great teams and the Rays aren't able to draw headlines—Evan Longoria's extension notwithstanding—by spending big money like the Angels or Red Sox.
The common theme that has run throughout these predictions is that depth in the starting rotation and being able to hit home runs is paramount to success. We know that is important in the postseason.
When you combine those elements into a World Series matchup between the Rays and Nationals, the advantage swings to Washington because of its deep rotation and ability to drive the ball out.
A fiercely entertaining series that will not feature a ton of runs ends with the Nationals celebrating the first championship in franchise history.
Winner: Nationals in seven
For more predictions and analysis of all things Major League Baseball, feel free to hit me up on Twitter.
Keep Reading