Green Bay Packers: 5 Questions for Green Bay Heading into the 2013 NFL Draft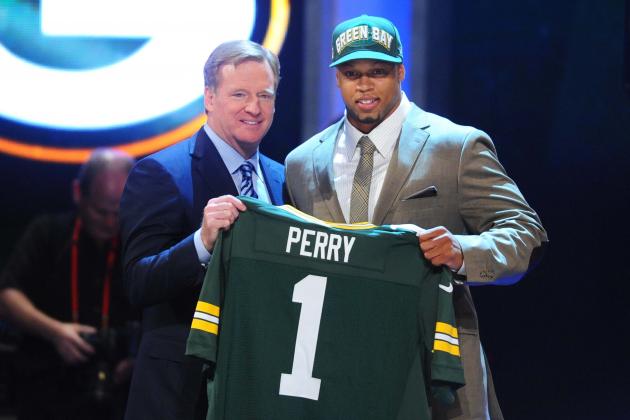 James Lang-USA TODAY Sports

The Green Bay Packers have had, on paper at least, a rather troubling offseason thus far.
Wide receiver Greg Jennings and tight end Tom Crabtree have signed with other teams, Wide receiver Donald Driver has retired, and the only player Green Bay has added is unknown kicker Giorgio Tavecchio to compete with Mason Crosby. Fans have been gritting their teeth as their faith in GM Ted Thompson is beginning to be shaken.
Fear not, faithful Cheesheads. The calendar has turned to April which means the NFL draft is around the corner and Thompson awakens from hibernation.
Since the Packers made no moves in free agency, save for signing a questionable kicker to "compete" with Crosby, Green Bay will look to fill its remaining holes via this month's draft.
Here are the five biggest questions the Packers need to answer at the end of the month in New York.
Begin Slideshow

»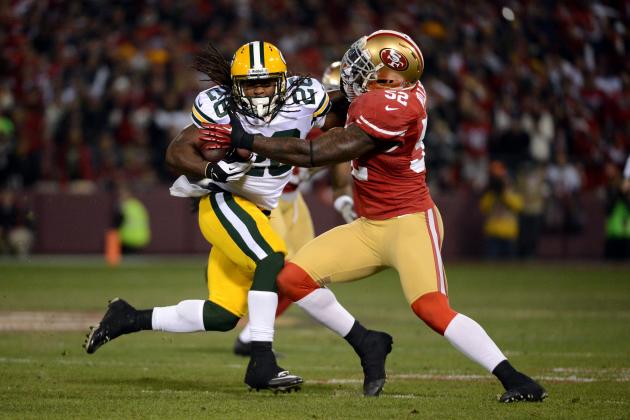 Harry How/Getty Images

Thompson made a brilliant late signing of running back Cedric Benson last summer, which was working out very well until Benson went down with a foot injury.
The Green Bay running game went downhill after that. DuJuan Harris was signed off the practice squad late last season and he had a strong finish to 2012. In four games (not including postseason) he was averaging 4.6 yards per carry and had two touchdowns.
It's not groundbreaking stuff, but it's better than what the Packers had since Benson went down. The question now is if Harris is the long-term answer at the position or if Green Bay should draft a back in the first two rounds of the draft.
Coach Mike McCarthy has said Harris will get a shot at the starting job in camp. Many think the Packers could (should) draft Alabama running back Eddie Lacy, but any pick in the first round or second implies that player very well could be the starter.
It's a question that's been on the mind of Packers fans all offseason and answers finally should be coming April 25-27.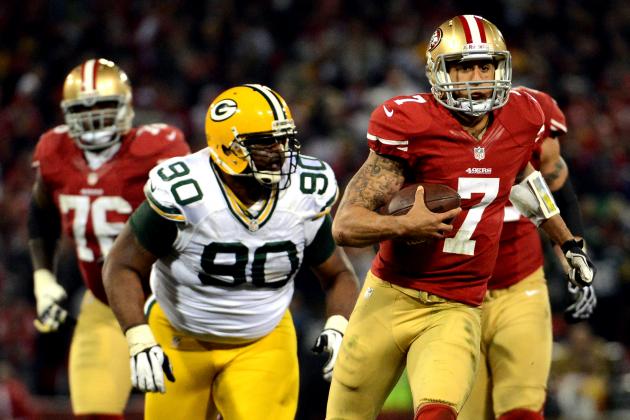 Harry How/Getty Images

While the Green Bay defense improved statistically over their abysmal 2011, the above image is the lasting impression many Packers fans will have of the 2012 defense.
McCarthy has made it clear that stopping the read-option is a priority for his defense in 2013 and even went so far as to send the defensive coaching staff to Texas A&M to study the read-option. After Colin Kaepernick torched Green Bay for 183 yards on the ground in the playoffs, it's hard to blame McCarthy for wanting to get that fixed.
Part of solving that woe, along with allowing over 400 yards to Minnesota Vikings running back Adrian Peterson in two games, will be improving the defensive line. Options in free agency weren't there after the Packers declined on bringing back Cullen Jenkins and Chris Canty failed his physical.
In the draft, the Packers will need to answer what they're going to do about their defensive line. Traditionally, in a 3-4 the Packers run, the defensive line consists of bigger bodies that can stop the run. This would help stop Peterson, but they will also need speed to contain the read-option.
The read-option could very well be a fad so Green Bay possibly could go for a prototype 3-4 lineman like Jonathan Jenkins. If the Packers want more speed, then someone like Margus Hunt would be a good choice, though a first-round selection may be a bit of a reach for him.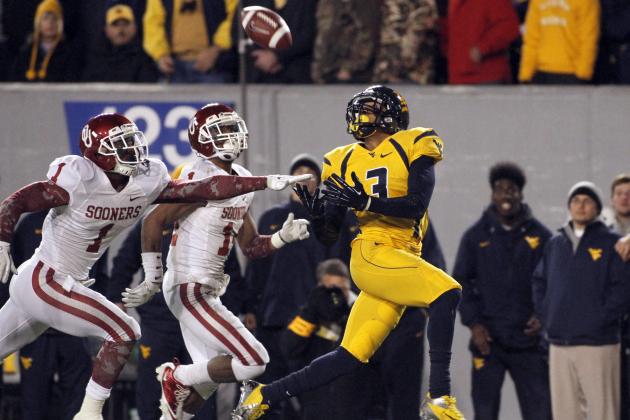 Justin K. Aller/Getty Images

It's rare that a team can lose a player like Greg Jennings on offense and not miss a beat, but the Packers very well could do so.
Jennings missed half of 2012 with injury and the Packers offense was just fine without him. That is not to downplay Jennings' importance on the field, however. He was Green Bay's home run threat, and while the current receiving corps is very talented, no one has that deep-threat ability that Jennings had. Jordy Nelson and Randall Cobb are very good, but they don't present the danger down the field Jennings did.
Therefore the Packers very likely could add another receiver in the draft, but a first-round selection is unlikely. If Green Bay can get either West Virginia's Stedman Bailey or Oregon State's Markus Wheaton, then it'll be in fine shape.
It's not a huge position of need for the Packers, but with the multiple receiver sets they like to run, you can never have enough weapons.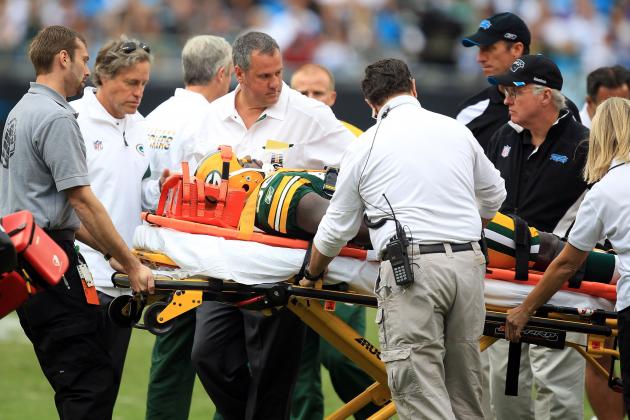 Streeter Lecka/Getty Images

After a stellar 2010 en route to Super Bowl XLV, the Green Bay defense went off a cliff in 2011. While they recovered a bit last season, the defense hasn't been the same as it was three years ago. Their struggles can all be traced back to one moment.
The neck injury of Nick Collins that ended his career as a Packer, if not as an NFL player overall.
If Charles Woodson was the heart of that defense, then Collins was the soul. He was a hard hitter who also had a knack for a big play. While Morgan Burnett has been solid, he's not the same kind of player Collins was and Green Bay is hurting for it. Jerron McMillian has been intriguing, but he's going to need more time to develop as he enters his second season.
The selection of someone like Florida's Matt Elam at safety would be a smart direction for the Packers to go. He can blitz and is a hard hitter. While he shouldn't be expected to fully replace Collins, Elam would plug one of the bigger holes on the Green Bay defense.
Even if the Packers don't select Elam, the safety position needs to be addressed and hopefully Thompson agrees.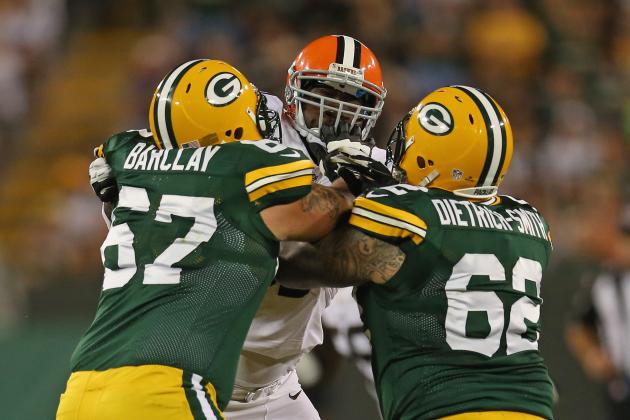 Jonathan Daniel/Getty Images

Rodgers was sacked 51 times in 2012, which is a career high. All of Rodgers' unique talents will not be fully utilized if the Packers can't keep their franchise quarterback upright.
The team did suffer a blow when Bryan Bulaga went down for the year with a hip injury, but he will be back for 2013. The center position, however, remains a bit unsettled. Jeff Saturday struggled last season before he was benched in favor of Evan Dietrich-Smith. Rodgers has been supportive of the team's new young center, but it remains to be seen if he is the long-term answer at the position.
Don Barclay, who stood out in the preseason, played well when he was called upon and is a good backup at the very least and could develop into a starter. Marshall Newhouse has proven to be a good backup as well as left guard, but his work as a starter left a lot to be desired.
Green Bay appears to be set with Bulaga (assuming he's healthy) at right tackle and Josh Sitton and T.J. Lang at guards. The center and left tackle positions are the question marks.
A selection of someone like Barrett Jones from Alabama would be smart given how many positions he played on that line. He's played in both spots where the Packers have their need. Jones is probably second- or third-round pick, and that would be good timing for Green Bay as it can see how Dietrich-Smith and Barclay perform while Jones develops.
If Rodgers goes down, the Packers' season goes up in smoke. Everyone knows that. The team would be wise to try and keep the odds of that happening as low as possible.