25 Fantasy Players to Watch on the Waiver Wire in MLB's Opening Week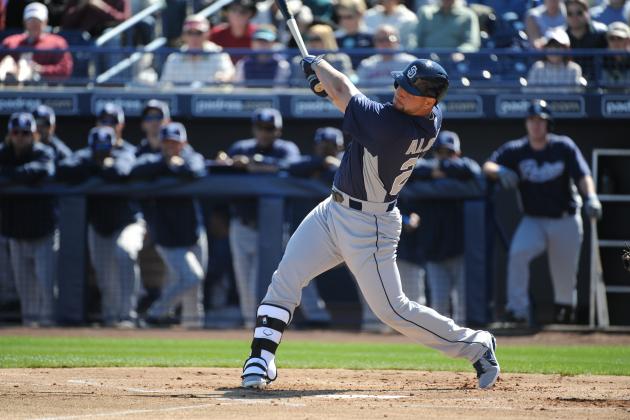 Rich Pilling/Getty Images
Yonder Alonso played well during spring and homered on Opening Day.
Fantasy baseball drafts are in the books and the season is underway, but you didn't think that meant your work was done, did you?
As an owner, your attention must now shift to monitoring the waiver wire for additions that will boost your squad. Most of the high-impact adds come at the beginning of the year, when some top rookies are still available and some undrafted stalwarts prove their merit as capable contributors.
So who's worth watching during the first week of the season? The following 25 players are available in at least half of Yahoo! leagues (with two exceptions slightly over 50 percent), but their level of usability varies. Some could draw universal ownership soon enough while others could help out in deeper leagues.
Don't let Game of Thrones fool you; summer is coming. Much like for those feared brutal winters, fantasy managers better prepare.
Note: All statistics courtesy of FanGraphs.com
Begin Slideshow

»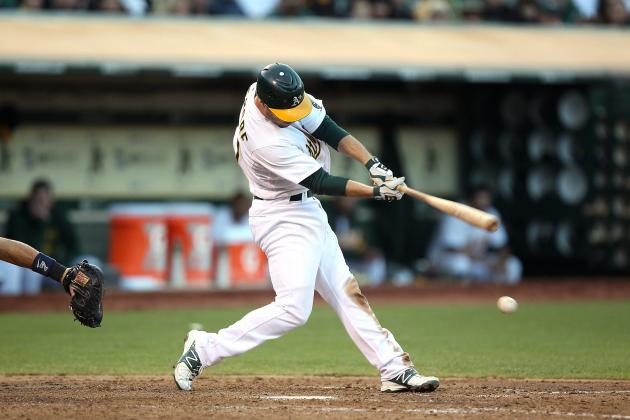 Jed Jacobsohn/Getty Images
Hey, at least he's now the best Sizemore in baseball.
After Yoenis Cespedes and Coco Crisp, most of the Oakland Athletics lineup remains uncertain.
One of the widest openings on the scorecard is at second base, where Scott Sizemore could emerge as a post-hype sleeper.
Sizemore is currently competing with Eric Sogard, who hit .167 last season. Once a popular middle infield sleeper, Sizemore has failed to stay on the field or perform well in the rare games between injuries.
In 2011, he showed promising power, smacking 11 homers through 110 games. He's also demonstrated the patient plate appearance that will help him fit right in with the A's.
If presented with playing time, Sizemore could provide a sneaky source of 15 homers for AL-only league owners in need of a middle infielder.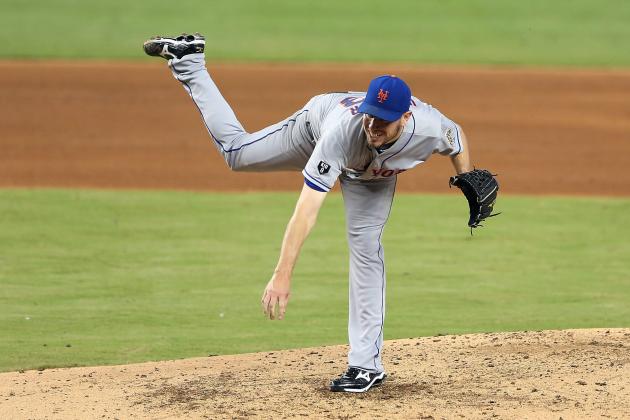 Marc Serota/Getty Images
Jeremy Hefner will get a chance to stick in the Mets' starting rotation.
Zack Wheeler is the easier, more appealing New York Mets pitcher to include on this list, but don't expect his MLB arrival any time too soon.
Instead, the Mets will replace Johan Santana with Jeremy Hefner, who is a complete afterthought in all but the deepest of fantasy leagues. Apparently nobody wants a guy with a 5.09 ERA and 5.96 K/9 ratio.
While the occasional shellacking (he surrendered seven runs to the Philadelphia Phillies without recording an out) hindered his chances of maintaining fantasy relevance, he showed signs of life blemished by poor luck. A 3.66 FIP does not match the ugly ERA, and his .319 BABIP could lower a bit.
Don't put all your eggs in the Jeremy Hefner basket, but he could prove to deserve spot-start consideration.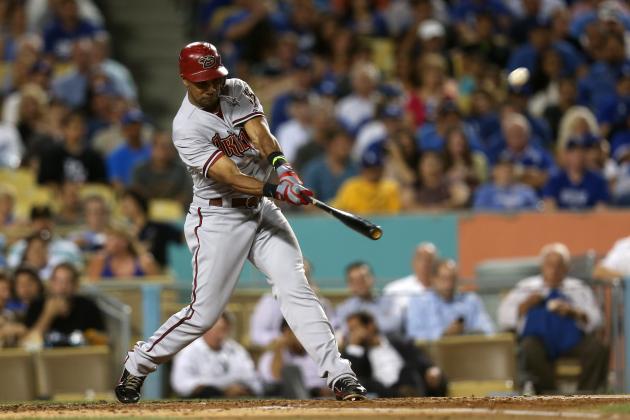 Stephen Dunn/Getty Images
Can Chris Young play his way into more at-bats?
Oakland's offense has a larger cast of characters than Games of Thrones. Sorry, it's still fresh in my mind after spending all weekend playing catch-up.
After falling from grace in Arizona, Chris Young has a long road ahead of him before becoming a king again. Okay, so he was never a king. What's the Game of Thrones equivalent of a 20/20 hitter with a low average?
Right around this time last year, Young was the toast of the sport. He sent five balls flying over the fences in the first 11 games while reaching base once every other plate appearance. Then an untimely injury sent him to the disabled list, and Young never rediscovered that magic touch upon his return.
At best, Young figures to get the short end of the straw in a lefty-righty platoon with Seth Smith. But before erasing Young from your memory, remember the immense power and speed production he brings to the table.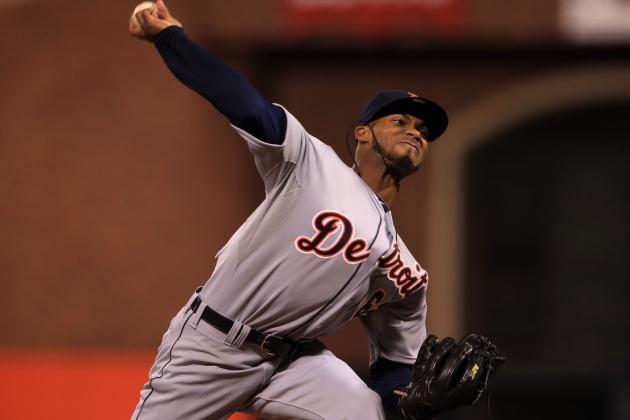 Doug Pensinger/Getty Images
Al Alburquerque is an outside option to earn save chances in Detroit.
So much for Bruce Rondon breaking out as Detroit's closer.
The Tigers sent the rookie down to Triple-A, and the club appears content with operating under a closer-by-committee approach.
The situation is certainly worth monitoring early in the season. Any closer is worth owning, and it's not like the team is devoid of decent options.
Veterans Joaquin Benoit and Octavio Dotel could serve viably if given the chance. Phil Coke's numbers are ugly, but he dominated in the bullpen last postseason. These are the three relievers most discussed to take on the role, but what about Al Alburquerque?
In 56.2 career major league innings, Alburquerque has recorded a 1.59 ERA, 1.13 WHIP and 13.50 K/9 ratio. His lack of control is concerning, but the opposition has managed to hit just .138 against him.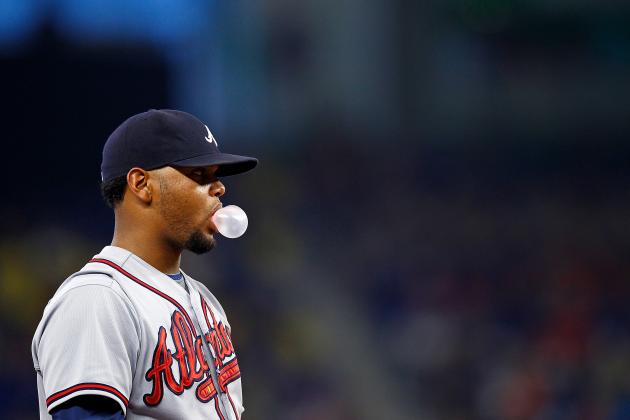 Sarah Glenn/Getty Images
Could Juan Francisco's bat provide the same pop as his gum?
Between David Freese, Brett Lawrie and Pablo Sandoval, third basemen are dropping like flies. A decent one is hard to come by on the waiver wire.
The 25-year-old failed to impress last year with a putrid .278 on-base percentage, but his nine homers in 192 at-bats show his potential to hit 20 with regular playing time.
After slugging .652 during the spring, Juan Francisco should receive the lion's share of at-bats for the Atlanta Braves, possibly allotting lefty matchups to Chris Johnson. If he can carry over his March surge into April, Francisco could slug his way onto some fantasy squads.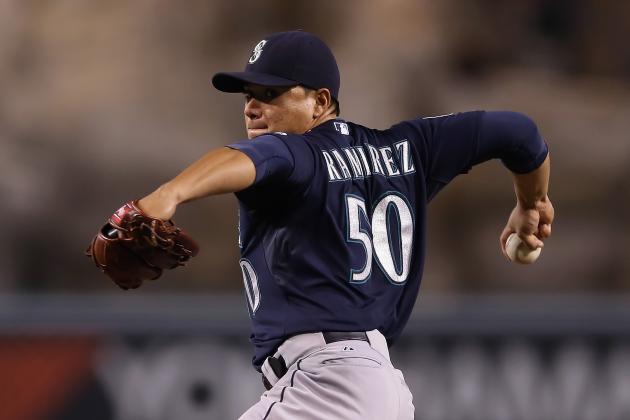 Jeff Gross/Getty Images
Erasmo Ramirez was left out of Seattle's rotation.
When the Seattle Mariners cut Jon Garland, that was supposed to clear an opening in the starting rotation for Erasmo Ramirez.
Unfortunately, the Mariners care not about us fantasy owners, or picking the best person for the job.
Ramirez was everything you could want in a late-round pick to close out a draft. He's young (22) and quietly recorded a 3.36 ERA and 1.00 WHIP last year.
The 7.32 K/9 ratio isn't eye-popping, but it's fine enough when paired up with a 1.83 walk rate.
I'm not saying you should root for Blake Beavan and Brandon Maurer to fail spectacularly, clearing a spot for Ramirez. Maurer could have made a case for inclusion on this list. Just keep an eye on the situation since Ramirez is well worth a speculative add.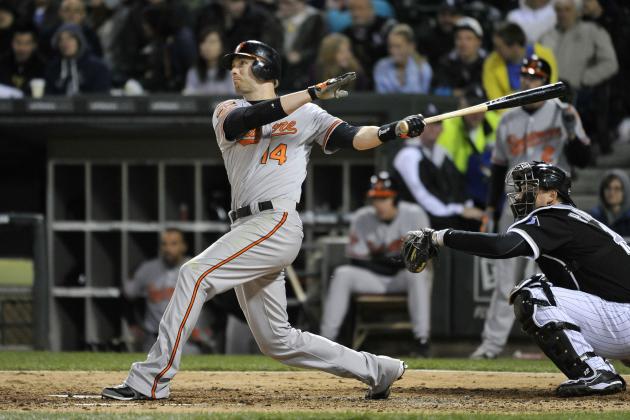 Brian Kersey/Getty Images
Nolan Reimold could be worth your attention if he stays healthy.
Last April, Nolan Reimold hit .313 with five homers and a .627 slugging percentage. He was quickly scooped up in leagues where nobody drafted him.
Then he suffered a herniated disk in his neck, and that was all she wrote for the season.
The frequently-injured outfielder battled through shoulder ailments, but he's starting the season on the roster. While he hit .245 during the spring, it came with a .531 slugging percentage, a reminder of what Reimold is capable of when healthy.
Keep an eye on the Baltimore Orioles to see if they award him regular playing time. If he proves his health with a hot start, Reimold is worth a pick-up.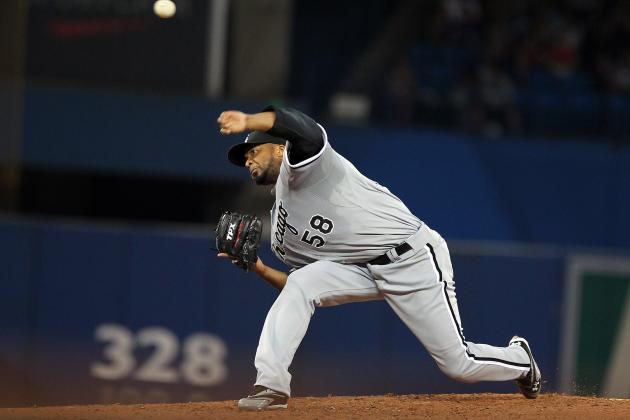 Abelimages/Getty Images
One more chance?
I know, I promised I would quit.
Last year was the last straw. Francisco Liriano teased us all with a fantastic spring, posting a 33-to-5 strikeouts-to-walks ratio, only to finish 2012 with a 5.34 ERA. Giving him the cold shoulder on draft day was easy enough, but what if he actually pitches well to start the season?
Not many free-agent pitchers struck out more than a batter per inning last year. Few have displayed Cy Young-caliber upside in the past.
He also has not helped out any fantasy teams since 2010, so don't hold your breath. However, if he happens to start the season on fire, it will be time to consider giving him his fifth "one last shot."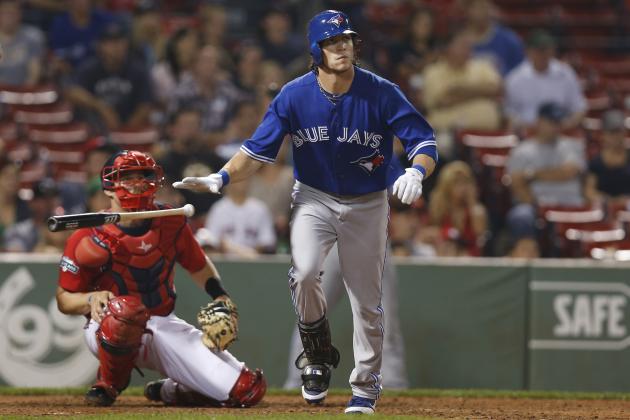 Winslow Townson/Getty Images
I thought I was done with Colby Rasmus, too.
How many more times can he disappoint before fantasy owners vanquish him from their thoughts?
Once a breakout candidate, Colby Rasmus has delivered back-to-back bleak seasons. The St. Louis Cardinals gave up on him before most fantasy players, but hitting .176 after the All-Star break may have pushed his most adamant supporters too far.
So how does any of this solidify the case for Rasmus as a potential free-agent add? Consider that he delivered a quality first half last year, hitting .259 with 17 homers and 53 RBI before falling apart. And he jumped out of the gate to start 2011, batting .290 with three homers and steals apiece during the opening month.
You don't have to forgive Rasmus for his past transgressions or fool yourself into thinking this is the year he delivers on that untapped 30/15 potential displayed way back in 2010. Just consider that Rasmus could be worth owning early in the year.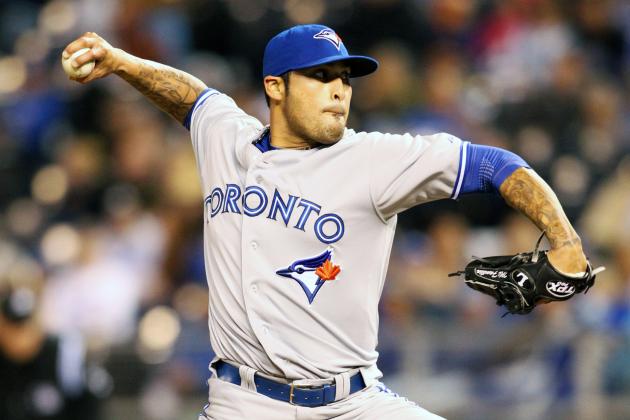 Tim Umphrey/Getty Images
Sergio Santos is ready to return to action after a year.
Sergio Santos has not pitched in nearly a year due to shoulder surgery. Before the injury derailed his momentum, Santos was a popular choice to finish 2012 as a top closer.
He did not figure to jump back into the mix so quickly, but Casey Janssen has dealt with shoulder woes of his own that have placed his Opening Day status in doubt.
Two years ago, Santos struck out 92 batters and allowed 41 hits in 63.1 innings. While he was blasted for seven runs during the spring, he offered positive signs by striking out 10 while walking three in eight innings.
Jansssen should be fine enough to fend off Santos from stealing the closer role, but that strikeout potential makes him a reliever worthy of eyeballing even in a middle relief role.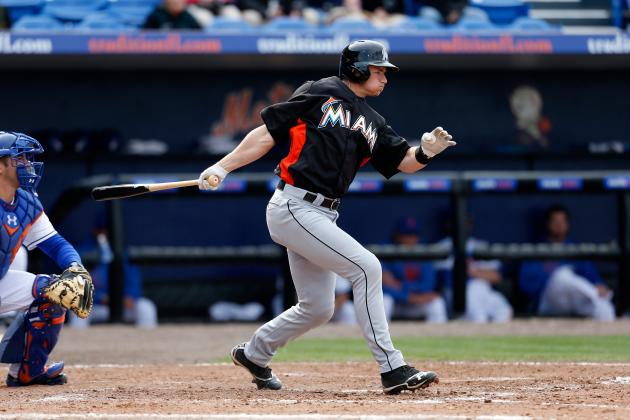 Chris Trotman/Getty Images
Rob Brantly could make a good No. 2 catcher.
Put your hand over Giancarlo Stanton's name and the Miami Marlins lineup is beyond atrocious.
For fantasy owners, that means some unheralded players left largely untouched will receive routine at-bats. One of the more appealing of these names is Rob Brantly, a rookie catcher owned in two percent of Yahoo! leagues.
That might just be saying something more about Miami's lack of talent, as this is a catcher who hit five home runs last year. To be fair, he also hit .298, and some deeper gamers just need a backstop that won't torpedo their average.
If that sounds like your situation, look out for Brantly.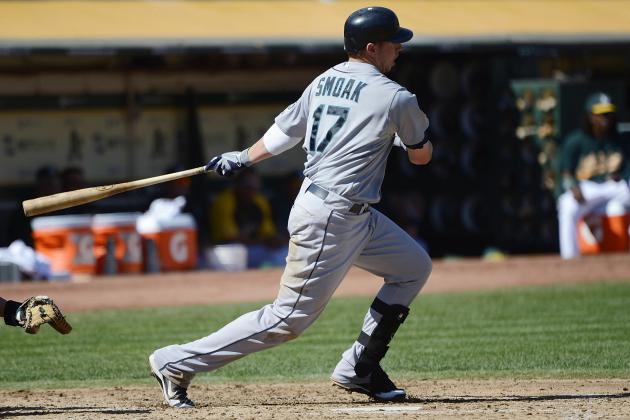 Thearon W. Henderson/Getty Images
The year we give up on him is the year Justin Smoak will break out.
After frequenting many of my fantasy rosters over the past two years, last year was finally the last straw for Justin Smoak. Until time passed and he crushed in spring training.
Smoak is a career .223 hitter who never matches the hype, but now the hoopla has vanished. Nobody is buying any Smoak stock this season.
In exhibition play, he amassed a .407/.455/.797 slash line with five homers and 15 RBI. He also ended 2012 strong with a .338/.414/.584 line last September.
It's easy to forget now, but Smoak was once considered a young Mark Teixeira and was included as the centerpiece of a trade for Cliff Lee. Available in 92 percent of Yahoo! leagues, Smoak is worth a look if he comes out blazing.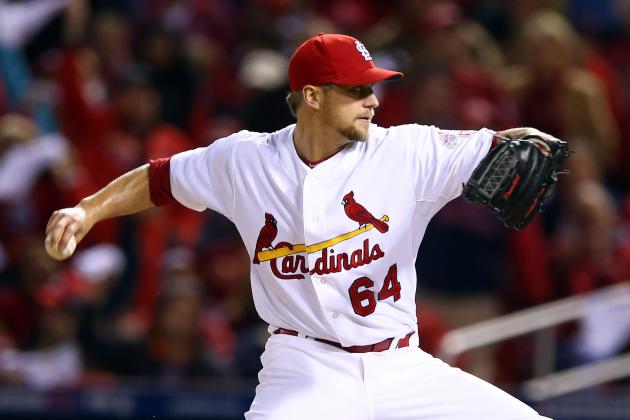 Elsa/Getty Images
Trevor Rosenthal could become a top-notch reliever in 2013.
The Cardinals vanquished Jason Motte to the disabled list, but Mitchell Boggs figures to assume the team's closing duties.
Let's see what Trevor Rosenthal has to say about that.
Rosenthal arrived late last season, striking out 25 batters in 22.1 innings with a 2.78 ERA and 0.93 WHIP. He further displayed his dominance in the postseason, allowing no runs while punching out 15 hitters through 8.2 innings.
Motte should not stay sidelined long enough for any other reliever to amass significant saves, but Rosenthal could solidify himself as a top reliever worth owning even as a middle reliever.
And if something else should happen to Motte down the line, Rosenthal could flourish as a top-10 closer.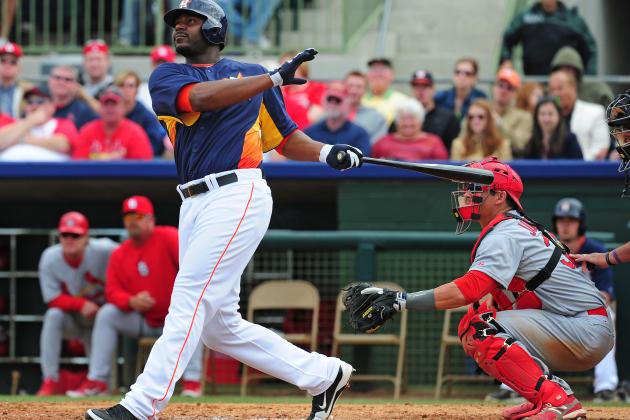 Scott Cunningham/Getty Images
Need some power? Give Chris Carter a chance.
All he does is catch touchdowns. Wait, wrong guy. All he does is hit home runs.
That's not necessarily a compliment. Carter hit .239 last season, striking out 84 times in 260 plate appearances. His minor league strikeout rates are not pretty either, so don't expect any miracles, or even a .260 average, from the 26-year-old.
But yes, he hits homers. A lot of homers. And there's no reason why he would not receive regular at-bats for the lowly Houston Astros. He's a poor man's Adam Dunn, but not that much poorer.
Owned in 11 percent of Yahoo! leagues, Carter could gain a spike in popularity with a strong opening. How many other potential 30-homer hitters are sitting on the waiver wire?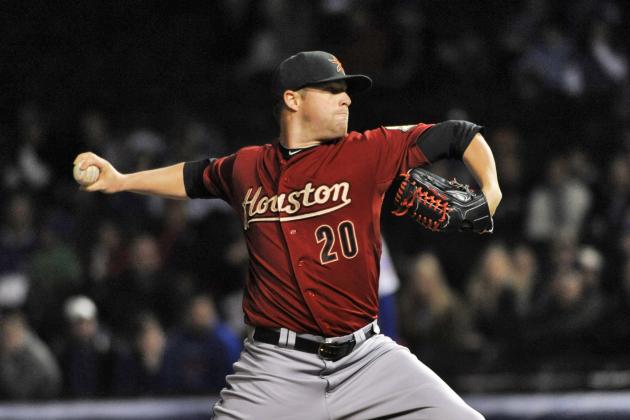 David Banks/Getty Images
Bud Norris is shaky, but he piles up the strikeouts.
Congratulations to the Astros for moving from the National League to the American League.
Now here are the Texas Rangers. Have fun.
He's not much of an ace, but Bud Norris was tasked to throw the first pitch of the season. Norris allowed two runs and struck out five in 5.2 innings, which was enough to momentarily hand Houston the best record in baseball.
A strikeout extraordinaire, Norris has never refined his repertoire enough to emerge a legitimate fantasy starter. His career 4.65 ERA and 1.37 WHIP won't cut it.
Don't bank on this being the year where everything falls into line, but Norris is usable in small doses. This was evident early last year, where he entered the final day of May with a 3.34 ERA. (He allowed nine runs in his subsequent start, so it's a dangerous road to delve down).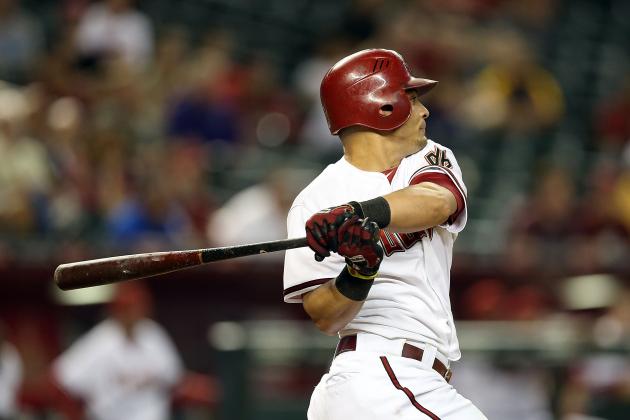 Christian Petersen/Getty Images
He's not Adam Eaton, but Gerardo Parra's not too shabby.
Many mourned the loss of super-sleeper Adam Eaton, who will miss five-to-seven more weeks with a left elbow UCL strain.
Gerardo Parra is not as young or exciting, nor is he a threat to swipe 30-plus bags. That doesn't mean he's of no use to any fantasy gamers, though.
The 25-year-old (so he's only one year Eaton's senior) stole 15 bases in each of the previous two seasons, offering eight homers in 2011 and seven last year. He's also a solid .280 hitter over his career.
More of a temporary stop-gap, Parra could fill out a roster with decent numbers across the board. Just don't expect him to fill the massive expectations set for Eaton.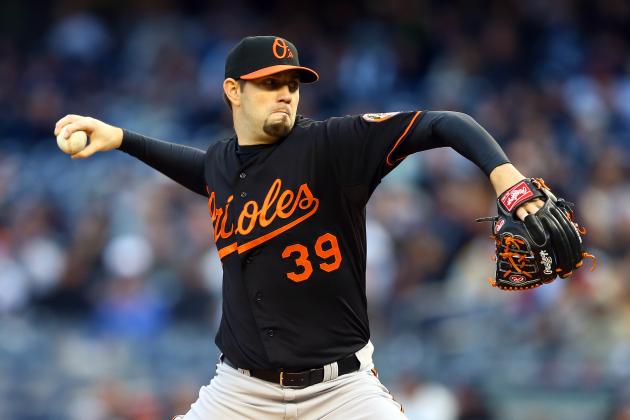 Al Bello/Getty Images
Jason Hammel is coming off a career year.
A breakout 2012 campaign has not led to any buzz this season for Jason Hammel.
After three years pitching in Coors Field, Hammel escaped to Baltimore, where he emerged as the Orioles' ace. The 30-year-old posted career lows with a 3.43 ERA and 1.24 WHIP along with a career-high 8.62 K/9 ratio.
Before jumping on his bandwagon, most fantasy players are waiting for him to do it again, which is fair since he only pitched 118 innings last year. Well, now's the time for him to start doing it again.
He's accounted for in more leagues than most on this list with a 51 percent Yahoo! ownership rate, but that leaves a good chunk of owners who should monitor Hammel's progress from the waiver wire.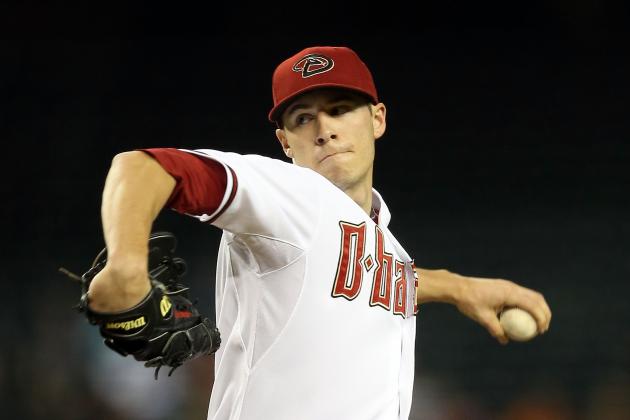 Christian Petersen/Getty Images
Patrick Corbin is better than you think.
The Arizona Diamondbacks did not send shock waves throughout the fantasy baseball community by naming Patrick Corbin their No. 5 starter.
Owned in two percent of Yahoo! leagues, Corbin could finish the season as a universally-owned starter. During his rookie campaign, the lefty posted an unappetizing 4.54 ERA and 1.33 WHIP. Underneath the surface, a solid pitcher lurks.
Corbin showed superb control, walking just 25 batters in 107 innings. He notched 86 strikeouts, giving the 23-year-old a respectable 7.23 K/9 ratio.
He also sported a 4.00 FIP and 3.72 xFIP, so it should not surprise anyone if he cuts his ERA under 4.00.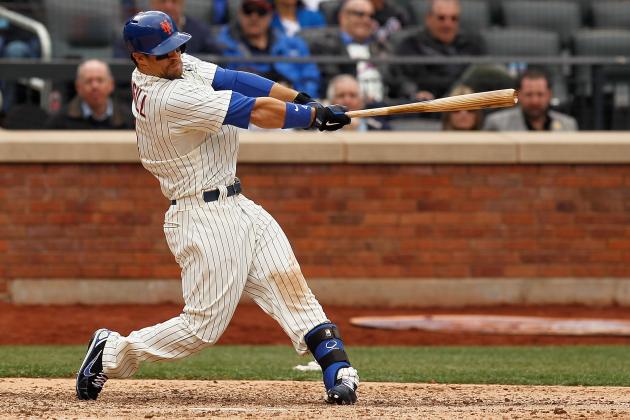 Mike Stobe/Getty Images
Cowgill has more homers than Ryan Braun and Miguel Cabrera combined. Just saying...
When everyone kept saying "More Cowgill," they weren't urging Terry Collins to name Collin Cowgill the everyday center fielder.
Nevertheless, Collins did just that, pronouncing him as the starting center fielder and leadoff hitter for the Mets.
Not much about Cowgill entices excitement. In 38 games last year, he hit .269 with a homer, three steals and a .317 slugging percentage.
But what can he do? Tell them Jonah!
Cowgill, who walked in 9.5 percent of his plate appearances last year, is a patient batter who could reach base and score runs if he sticks at the top of New York's batting order. He also started strong by blasting a grand slam on Opening Day.
And he stole 30 bases in the minors during 2011, so maybe he could swipe a few bags. For an NL-only league owner, you could probably do worse.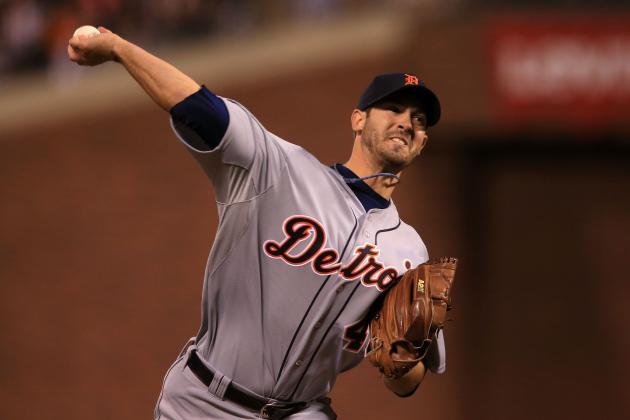 Doug Pensinger/Getty Images
Walking no batters in spring puts Rick Porcello's name back on the fantasy map.
It's a poor move to place too much merit into a pitcher's spring stats, but walks and strikeouts are two interesting indicators to monitor during the early action.
Through 24 innings, Rick Porcello tallied 21 strikeouts while walking nobody. Zero walks.
That sizzling spring earned Porcello the final spot in the Detroit Tigers rotation over Drew Smyly. Once billed as a future ace, the 24-year-old has yet to hold any fantasy value because of a microscopic 5.00 career K/9 ratio.
Can Porcello carry that production over to the regular season? He's not worth a pick-up just yet in a standard mixed league, but don't wait to snatch him if he starts the season strong.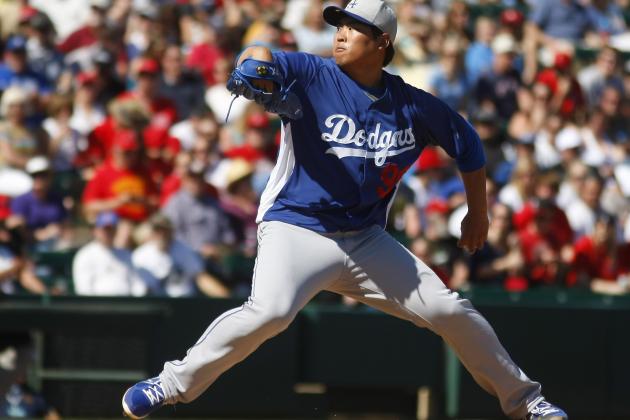 Rick Scuteri-USA TODAY Sports
Hyun-Jin Ryu will make his first major league start this week.
Maybe it's the uncertainty of a pitcher who has never pitched a regular-season game in the United States. Or maybe nobody knew for sure that he'd snatch a spot in the Los Angeles Dodgers' crowded rotation.
But now that Hyun-Jin Ryu will get the ball after Clayton Kershaw, he's worth a look.
Nobody knows how his arsenal will translate from South Korea to North America, but there's reason for optimism. Through seven years, Ryu registered a 2.80 ERA, 1.15 WHIP and 1,238 strikeouts in 1,269 innings pitched.
The only major league stats available to judge the 26-year-old entails 27.1 innings. They were good ones, as he struck out 27 batters with a 3.29 ERA and 0.91 WHIP.
What remains certain, however, is that he will no longer be available in many leagues if he shows something in his first start.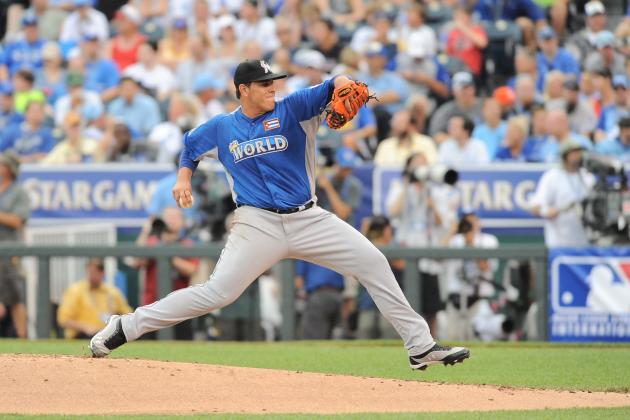 Denny Medley-USA TODAY Sports
Jose Fernandez will debut much earlier than anticipated.
Perhaps afraid of furious fans leading a revolt following another firesale, the Marlins made a surprising move by including Jose Fernandez on the Opening Day roster.
Fernandez, rated the No. 5 prospect by Baseball America, became a hot commodity last year by tallying a 1.75 ERA and 0.93 ERA in the minors.
He's one of the top pitching prospects in baseball with ace potential, but he's never started a game above Single-A. How will Miami's baptism by fire approach fare?
Don't bet on it working well, but owners should still keep tabs on the youngster's progress. At the least, everyone needs to commit this name to memory for the future.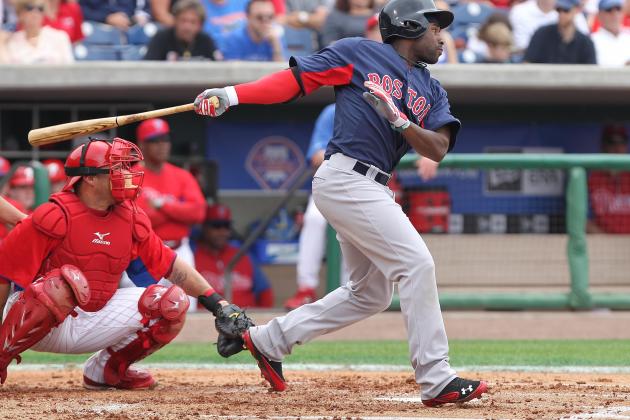 Kim Klement-USA TODAY Sports
Jackie Bradley Jr.'s arrival has been met with much hype.
In one of the other surprises of spring, Jackie Bradley Jr. propelled his way to a roster spot as the Boston Red Sox starting left fielder.
He climbed up the prospect rankings last season by hitting .314/.430/.482 in the minors, but most of the damage was inflicted in Single-A. The rookie will now debut before getting a taste of Triple-A play.
That steep jump usually causes growing pains along the way, but he's shown potential for great things this spring. Available in 63 percent of Yahoo! leagues, Bradley's development should be closely monitored.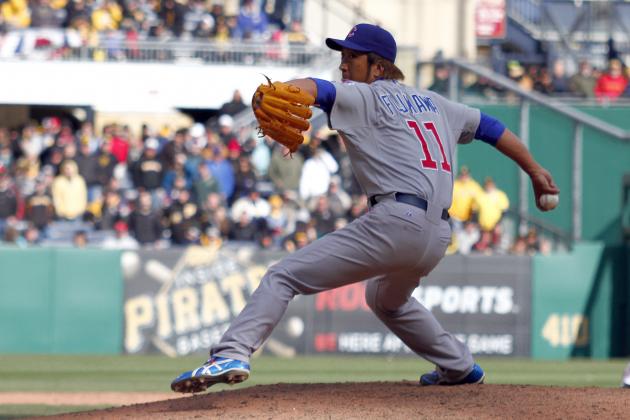 Justin K. Aller/Getty Images
Kyuji Fujikawa notched Chicago's first save of the year.
Carlos Marmol is the Chicago Cubs closer. Carlos Marmol walked 45 batters in 55.1 innings last season.
Is it possible the Marmol who struck out 138 batters and reigned supreme as fantasy baseball's top closer returns? Perhaps, but it's more likely that he unravels at the seam, forcing the Cubs to look elsewhere for someone to handle ninth-inning duties.
Kyuji Fujikawa could fill the void.
The 32-year-old rookie dominated opposing batters in Japan, earning a 1.46 ERA and 12.42 K/9 ratio during six years. He notched his first save earlier than expected after the Cubs yanked Marmol on Opening Day.
He's still a wild card, but it's a name fantasy owners might have to get comfortable spelling in the near future.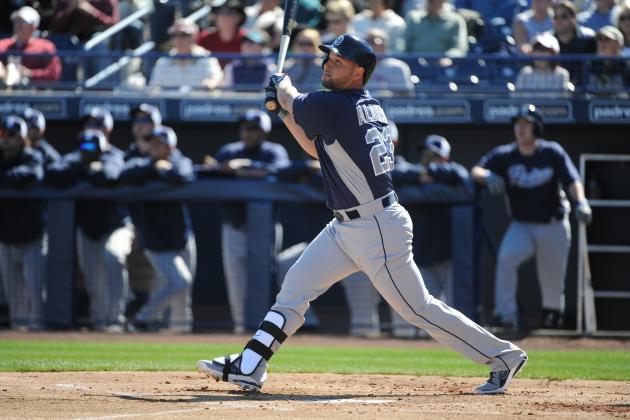 Rich Pilling/Getty Images
Yonder Alonso homered against the Mets on Opening Day.
As expected, not many drafters lined up to grab a first baseman who hit .273 with nine home runs last season.
Fair enough, but Yonder Alonso could become a mixed-league mainstay with a hot start.
Before Petco Park crushed his power numbers, Alonso netted a .330/.398/.545 slash line in 47 games with the Cincinnati Reds during 2011. This is still an exceptional young talent with high upside.
Alonso smashed five homers in the spring, showing the power promise we all quickly forgot about after one humdrum year with the San Diego Padres.
Could moving in Petco's fences refurbish Alonso's fleeting home run total? We won't see the new park in play until next Tuesday, but he's got a weekend at Coors Field to enjoy a hitter's haven.