Major League Baseball: 5 Stars Who Will Have Their Best Seasons Yet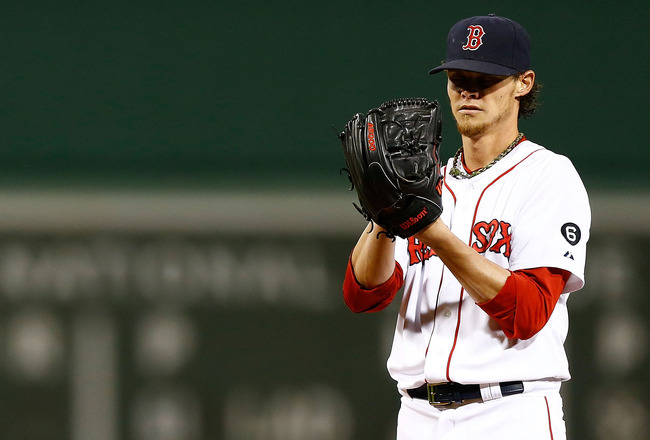 Clay Buchholz is looking to carry his spring training success into the regular season.
Jared Wickerham/Getty Images
Opening Day is finally here and teams are gearing up for another 162 game season.
Last season integrated a cluster of surprising new, young talent to the game while some veterans had to fight to maintain their starting jobs.
This season will likely bring more of the same, as the sport gets younger and veterans need to produce to stay relevant.
What will this season have in store for fans?
Here are five MLB stars due for their best seasons yet.
Josh Johnson, Toronto Blue Jays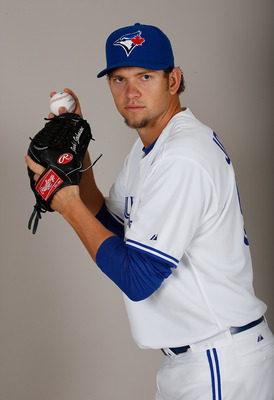 Blue Jays' starter Josh Johnson.
J. Meric/Getty Images
John Johnson's 2012 campaign was a mess. While staying relatively healthy, Johnson pitched his way to a 3.81 ERA on a team that struggled to win games down the stretch.
This season, Johnson will be leaving the team he's been with for eight years to head to a new squad…a competitor. Playing for a team expected to not only win the AL East, but make a run at the World Series, comes added pressures. But, a Toronto Blue Jays pitching staff consisting of Cy Young Award Winner R.A. Dickey, Brandon Morrow and Mark Buehrle will take some of the pressure off the shoulders of Johnson, thus allowing him to bounce back with a Cy Young worthy season.
Johnson ended last season with a 2.91 ERA in his last five starts. In spring training, he's been dominant, putting together a 2.70 ERA and 23 strikeouts in 20 innings.
Expect Johnson to lower his already outstanding 3.15 career ERA and make an unexpected run at the AL Cy Young Award.
B.J. Upton, Atlanta Braves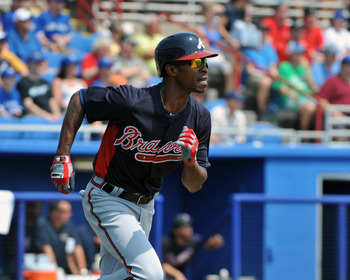 Braves outfielder B.J. Upton.
Al Messerschmidt/Getty Images
A change of scenery might be exactly what Atlanta Braves outfielder B.J. Upton needs to live up to his continually high expectations.
Today, Upton will be joining his brother Justin and protégé Jason Heyward in an outfield that's undoubtedly one of the most impressive in baseball. Once a highly coveted prospect, the now 28-year-old Upton has really yet to have a season worthy of recognition or even an All-Star selection.
That will all change this year. The Braves' center fielder is batting an unprecedented .347 in spring ball with two homers and 10 RBI. He's never had such success in any of his seven spring trainings.
A hot bat heading into a season where the Braves are expected to flourish in the NL East provides the perfect environment for Upton to have a breakout season.
Expect Upton to sit in the one or two spot in the lineup and have career highs in every offensive category, including stolen bases.
Starlin Castro, Chicago Cubs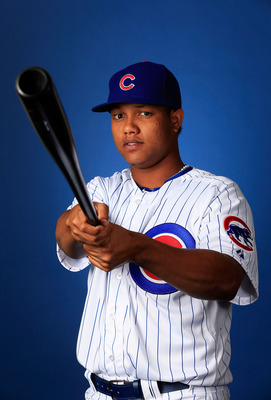 Cubs' shortstop Starlin Castro.
Jamie Squire/Getty Images
This Chicago Cubs shortstop is just 23 years old and he's already considered to be one of Major League Baseball's standout shortstops.
Last season, Castro batted .283 after slumping late in the season with 14 home runs and 78 RBI and was one of four people in baseball who played in all 162 games. It's an impressive feat for a young talent.
Castro has been one of the most consistent hitters this spring as well, showing his durability and his knack for getting on base. In 47 plate appearances, the Castro is heading into Opening Day batting .381 with an on-base percentage of .413 and a slugging percentage of .500. Granted, it's spring training, however Miguel Cabrera batted .413 last spring on his way to an AL MVP award.
I'm not saying Castro will win MVP, but he will certainly be considered one of the 20 best hitters in baseball when the season is over.
Expect Castro to hit in the three slot in the lineup night in and night out in front of first baseman Anthony Rizzo. If Castro can play in close to all 162 games, his numbers will be the best of his short career.
Hunter Pence, San Francisco Giants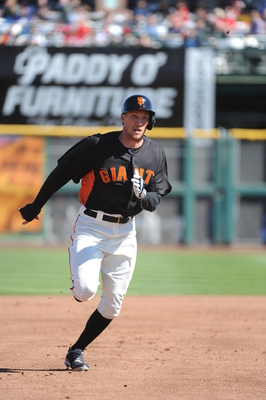 Giants' outfield Hunter Pence.
Rich Pilling/Getty Images
The World Series Champion San Francisco Giants are poised to make another playoff run in 2013. Outfielder Hunter Pence will be the catalyst behind all the Giants successes to come this year.
With the health of third baseman Pablo Sandoval in question, Bruce Bochy will be leaning on his veteran outfielder to produce behind the NL MVP and big bat of Buster Posey.
I believe Pence will deliver. The 29-year-old is entering Opening Day batting .333 with three home runs and 13 RBI in 79 at bats this spring.
This is also the first year since 2010 where Pence will likely not be moved. In 2011, he went from Houston to Philadelphia. Then, last season, Pence went from Philadelphia to San Francisco.
The World Series ring on his finger finally gives Pence the job security he's been looking for over the last couple of seasons.
Expect Pence to hit well above .300 and earn a contract extension from the Giants by July.
Clay Buchholz, Boston Red Sox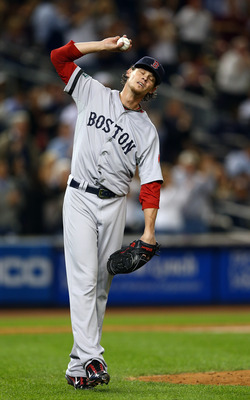 Red Sox's starter Clay Buchholz.
Elsa/Getty Images
Boston Red Sox's starter Clay Buchholz's six-year career has been extremely inconsistent from season-to-season.
The 28-year-old enjoyed his best season in 2010 when he went 17-7 with a 2.33 ERA and 120 strikeouts. Last season, Buchholz maintained his health, but fell a victim to a Red Sox team that suffered through a 93-loss season. In one of only two full seasons of his career, Buchholz went 11-8 with a 4.56 ERA with 126 strikeouts, numbers that would have been better if the Red Sox played up to par.
This season, the Red Sox are healthy, have a new coach in John Farrell and Buchholz is absolutely tearing it up in spring training. In six spring starts, Buchholz is 3-0 with a microscopic 0.79 ERA with 22 strikeouts. The only two runs he's given up all spring came on home runs from two Pirates: Neil Walker and Garrett Jones.
This is a guy everyone is going to want on their fantasy team this year. Expect Buchholz to be the most successful pitcher for Boston and work his way into Cy Young Award discussions by July.
Follow this MLB Featured Columnist on Twitter @cucch22
Keep Reading