Fantasy Baseball Sleepers: Buying or Selling All the Hottest Names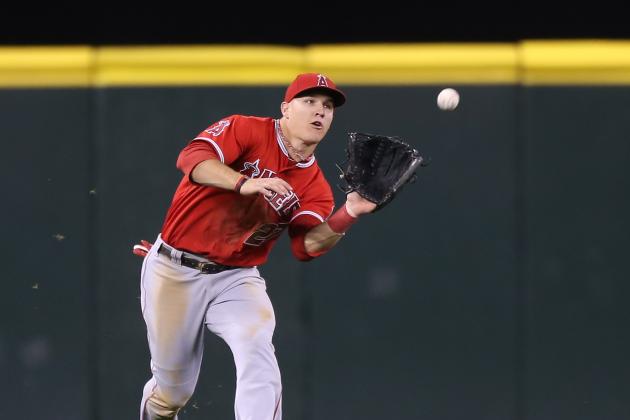 Otto Greule Jr/Getty Images
Trout's unbelievable 2012 season has put unrealistic expectations on any future rookie prospects.
Plenty of players were hyped up this offseason, based on small sample production from 2012. The amazing rookie seasons of Mike Trout and Bryce Harper also bring very unrealistic expectations for any future top prospects with a chance to break into the majors in a given season.
A few other young players made some noise in the spring and rocketed up draft boards when it became obvious they had a chance to win starting jobs in the majors.
Here are five players that fit into one of those categories, with a few words of analysis and my recommendation on whether to buy or sell.
Begin Slideshow

»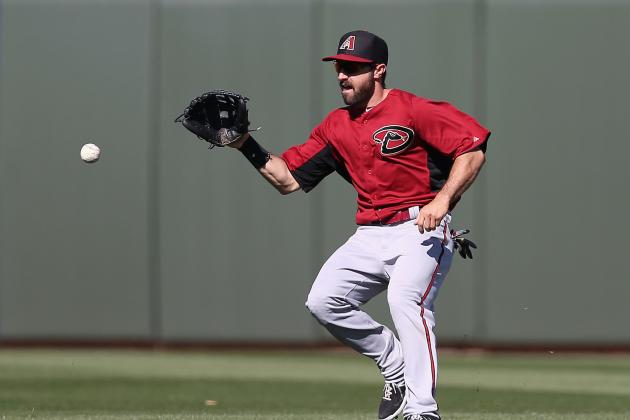 Christian Petersen/Getty Images

Out at least a month with an elbow sprain to start the season, Eaton becomes more of a risk as a relatively unknown rookie with only 103 big league plate appearances. The reason for the hype, though, is that the 24-year-old has put up huge numbers every step of the way, from his journey through the minors (.355 BA, .456 OBP, .510 SLG) to an impressive September call-up in 2012 (.382 OBP) to this spring where he was hitting .390 before the injury knocked him out of action. Why should we ever expect anything different?
Up until 2012, Eaton was considered to be more of a fourth outfield type and maybe somewhat of a 'tweener (not good enough defensively to play center field, not enough power to be a corner outfielder). He's changed enough minds to where his projection is an adequate center fielder that can get on-base from the leadoff spot.
His lack of power and base-stealing efficiency (5-for-10 between his September call-up and spring training) could cut into his value—as well as manager Kirk Gibson's plan to rotate the team's four outfielders—but Eaton is still capable of a .300 batting average, .375 on-base percentage, 25 stolen bases, 100 runs and 45-plus extra base hits in a full season.
BUY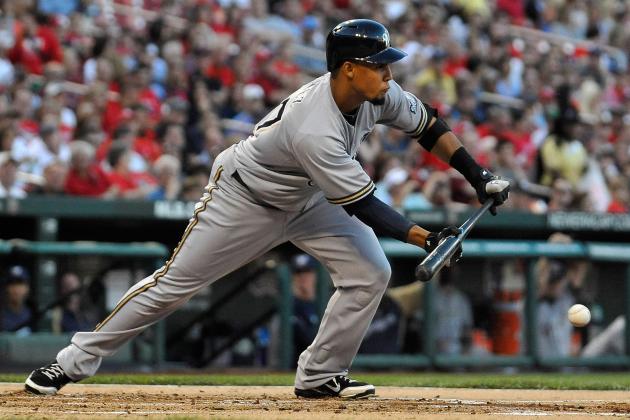 Jeff Curry/Getty Images

In his first four big league seasons, Gomez posted an atrocious .648 OPS with 87 walks and 377 strikeouts in 539 career games. So it was no surprise that he wasn't being counted on for anything more than a center field platoon in 2012 with Nyjer Morgan getting the majority of at-bats.
Opportunity knocked, however, after Morgan struggled for the first few months of the season. With the starting job all his, Gomez took off and started to show off the potential that made him a top prospect early in his career.
Still in his age 26 season, he hit .278 with 14 homers, 33 runs batted in and 26 stolen bases in the second half. He still exhibited terrible plate discipline (11 BB, 58 K), but piled up the numbers, regardless.
I'm not completely sold on Gomez continuing where he left off, despite a big spring where he actually has shown some discipline (seven walks, 11 K). What I am sold on is his ability to rack up extra-base hits, runs and stolen bases as long as he stays in the lineup on a regular basis. The lack of options in Milwaukee tells me that this will continue to be the case.
BUY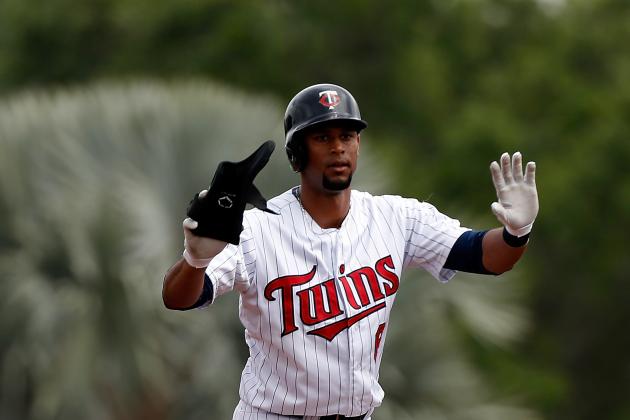 J. Meric/Getty Images

Making the jump from Double-A to the majors is a piece of cake, right? Just look at Aaron Hicks' spring training performance: 1.101 OPS in 20 games.
But even Mike Trout, who may turn out to be one of the greatest players of this era when it's all said and done, struggled in his first big league season (.672 OPS in 40 games).
What I do believe the 23-year-old Hicks can do is get on-base enough from the leadoff spot in front of Joe Mauer, Josh Willingham and Justin Morneau, to rack up some runs and steal some bases.
The concern I have is how he'll respond to his first extended slump or two. Many rookies can't snap out of it and eventually end up back in the minors to regain confidence.
I believe the switch-hitter has a bright future in the majors, but I'm expecting an up-and-down rookie season. And I mean that literally. He'll be on the plane to Triple-A Rochester and back to Minnesota at least once.
SELL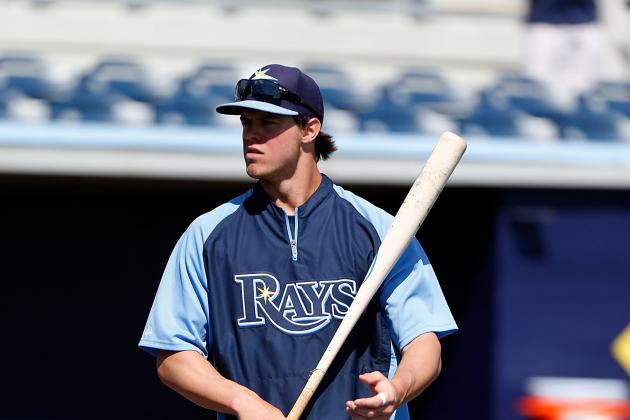 J. Meric/Getty Images

The expectations created by Harper and Trout are falling directly on Myers' shoulders in 2013. It doesn't mean he won't be a valuable part of your fantasy team. He's just more likely to be the typical power-hitting prospect breaking into the majors who struggles on occasion.
Sure, he has the ability to hit 30-plus homers in the future. He won't do it in 2013, though. First of all, he isn't expected in the majors until mid-June in order to push back his arbitration clock a year. Three-and-a-half months of a major league ready Myers might get you 15 homers and 40 runs batted in. A rookie season with the normal highs and lows mixed in might get you 10 and 30.
If that's a good value for where you draft him or for however you acquire him, then go for it. I'm guessing it's not, though.
SELL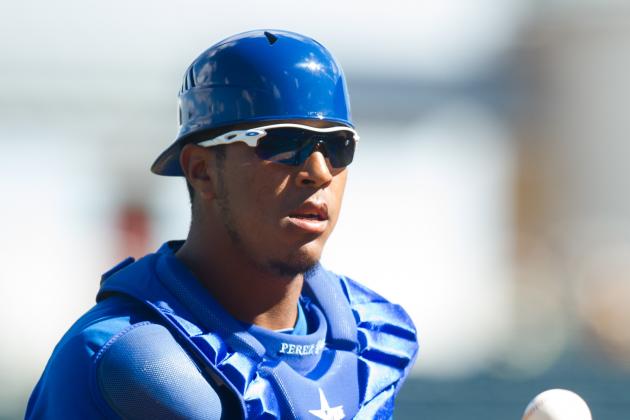 Rob Tringali/Getty Images

When Perez arrived in the majors, he had a reputation as a terrific defender who could do just enough with the bat to stick as a major league regular for several years. What we've learned is that scouts may have underestimated his offensive potential.
Through 115 big league games over two seasons, the 22-year-old is hitting .311 with 14 homers, 24 doubles and 60 runs batted in. He padded his overall numbers against lefties (1.096 OPS), however, while he is just average against right-handers (.711 OPS).
But even if that trend continues, he's going to give you double digits in homers, potential for a .300 batting average and opportunities for a high runs batted in total hitting in the middle of an up-and-coming Royals lineup.
If throwing out runners on the basepaths counts for anything in your league, Perez is a must-own. That's probably not the case, but I believe in him anyways, especially for where he'll likely fall to you in a draft.
BUY