Who Are Experts Predicting to the Vikings in the First Round of the NFL Draft?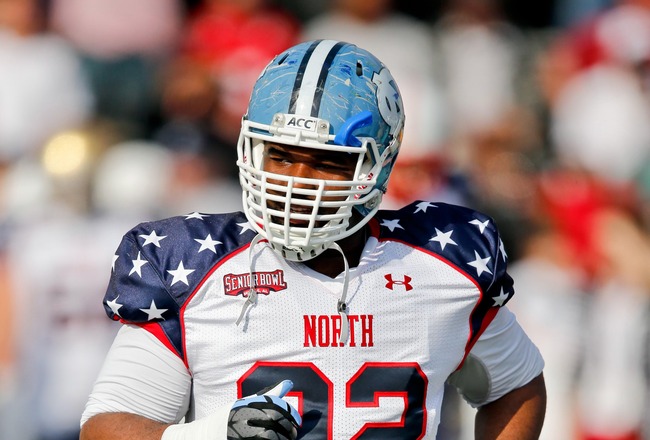 Derick E. Hingle-USA TODAY Sports
With the 2013 NFL draft around the corner—just a month away—interest in who the Vikings will pick has ramped up, and rightfully so. Like last year, the Vikings can get a lot of value in the draft, now that they have two draft picks.
Unlike 2012, however, their choices are not nearly as clear-cut.
It's important that the Vikings take care of their two picks, although with the third most "draft capital" (defined as how much value one can get out of one's picks, per Mike Sando) they do have a little bit of wiggle room.
With a database of mock drafts provided by Walter Football, and a database of first-round picks compiled by the Daily Norseman, it's easy to figure out who the experts believe the Vikings will pick. With so many options, those experts have been picking across the board.
It's also important to take a look at the historically most accurate mocks, which the Huddle Report has compiled. That way, fans can best preview how the draft might shake out.
How do the experts see the draft turning out for the Minnesota Vikings?
Keenan Allen, WR California

Keenan Allen NFL Player Comparison

The most popular pick of the assembled mock drafts was Keenan Allen, and the historically accurate Draft Countdown picked Allen as well—Rob Rang at CBS agreed.
Allen carries some injury concerns, which is why he missed the combine (left knee). But, when healthy, Allen might be the best receiver coming out of the draft. While he may not have the upside of Cordarrelle Patterson or Justin Hunter, he has the chops as an NFL-ready receiver.
He generally has most of the skills that NFL receivers possess, and he knows how to create real estate with effective spacing and smart use of hands—he extends at the right moment and gives nothing away.
His route-running ability is fairly refined, and Allen makes sure not to signal where he'll go or what route he's running.
That knack for precision gives him an ability to generate separation far better than the other receivers in the class—except for maybe Robert Woods. This makes him a more capable deep threat than his 2012 stats would have you believe.
Allen can read coverage, deceive defensive backs and avoid both tackles and press coverage. More than that, he's a willing blocker—fairly important for the run-oriented Vikings.
While he doesn't have all-world straight-line speed, he has the flexibility, catch-radius and short-area agility to be exactly the weapon Ponder needs. There are some instances of dropped passes in traffic but his drop rate is among the lowest in the class (stats courtesy of Second Round Stats).
Keenan Allen has a very high floor as it looks like the experts believe the Vikings will take the sure thing over the more exciting but worrisome athletic talents.
Tavon Austin, WR West Virginia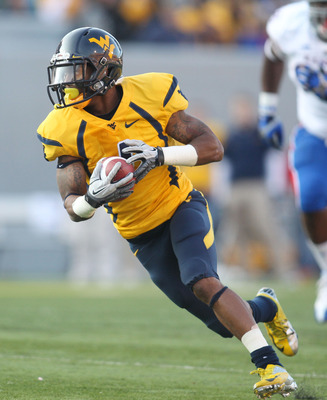 Charles LeClaire-USA TODAY Sports
Drafters seem obsessed with replacing Percy Harvin, as Austin was the second-most popular pick, and experts like Pat Kirwan at CBS and Matt Smith at NFL.com have pegged Minnesota as the landing pad for Austin.
While there's no logged history of success with either of those scouts, the preponderance of the picks and the well-connectedness of both writers gives the Austin projection some credit.
His scouting report sounds very similar to Percy Harvin's.
Austin moves easily with smoothness and agility, also having the type of running back vision that NFL receivers rarely have. He can sell routes and hide intentions from defensive backs with the best of them.
His body control extends from the moment of the snap to the end of the route, and this sort of focus doesn't come easily. Austin is lightning quick and can play nearly anywhere on the field, lining up in the backfield just as easily in the slot.
Just as the Vikings were willing to throw screen passes and let Harvin get the necessary yardage, Geno Smith trusted Austin to carry a lot of the offense.
Second Round Stats reported that Austin had the absolute lowest drop rate in this class but also the highest percentage of passes caught behind the line of scrimmage.
Austin actually might have more rush attempts than receptions, once you control for screen sweeps, which are only technically passes, but are merely forward pitches behind the line.
With all of those counted as runs, Austin's final yards after catch averages out to be 7.29, which is still the highest in the class. Averaging 5.8 yards per screen pass makes him the perfect candidate to replace Harvin's role.
The Mountaineer is even smaller than Percy Harvin and there are questions about how effective this kind of receiver can be in generating wins at the NFL level, but Austin is definitely a talent with rare ability. He doesn't have Harvin's strength and won't do as much at the NFL level, but he's certainly electrifying.
There are solid questions, however, about drafting a slot receiver while the Vikings seem to carry a capable one in Jarius Wright. More than that, Greg Jennings is a natural fit for the slot position, so the Vikings may not be best served in drafting Austin.
Arthur Brown, ILB Kansas State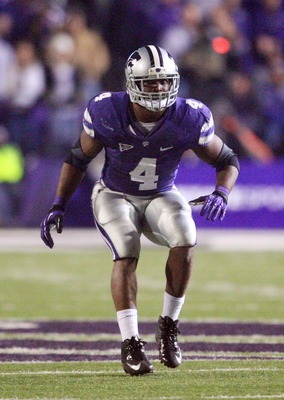 Scott Sewell-USA TODAY Sports
Jasper Brinkley's move to the Arizona Cardinals didn't change how important it was to grab a starting middle linebacker for the Vikings. Mockers agree, giving the Vikings Arthur Brown in a number of drafts.
The Vikings run a Tampa-2 offense, and therefore need a linebacker who knows how to get to his zones and play in the deep middle. Brown has the best backpedal of the linebacker class and knows how to get to his drops.
While he's much more used to man coverage than zone coverage, he's still an effective coverage linebacker.
Brown can burst out of the backpedal, close on a ball-carrier and put his hands on the ball.
In fact, his playmaking ability is such that he was responsible for ending Robert Griffin III's non-interception streak (over 140 passes and 14 touchdowns) and Geno Smith's even more impressive streak (283 passes and 31 touchdowns). Part of this is because of his surprising closing speed, but a bigger part has to do with his fantastic instincts and ability to read the quarterback.
The biggest concern about Brown is his size, although bulking up before the combine without losing much speed did help his case a lot. When tested against lead blockers and pulling guards, Brown showed a tremendous capability to shed blocks and avoid getting swallowed up in the run game, which is why his tackle total is so high (101 tackles in 13 games).
His instincts are just as good a reason why he was excellent against the run, either when keying runs and finding holes or developing pursuit angles.
He was used as the "spy" against mobile quarterbacks and was the reason that Robert Griffin III had the lowest rushing average of his career against Kansas State (0.5 yards).
Other mobile quarterbacks (like Trevone Boykin) were held to career lows as well. Boykin had his only negative rushing average against Kansas State as well. He could be the solution the Vikings are looking for against what seems to be the newly developing era of mobile quarterbacks.
He doesn't have Alec Ogletree's explosive potential, but he's nearly there and already has the full package of linebacker ability the Vikings may be looking for.
If the Vikings aren't overly concerned about Brown's size, he'll be a perfect fit.
Kawann Short, DT Purdue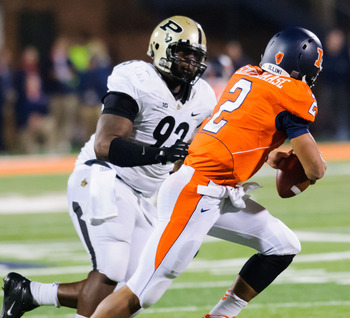 Bradley Leeb-USA TODAY Sports
A number of mocks have the Vikings taking Kawann Short, including Charlie Campbell at Walter Football.
While their greater need is at 1-technique defensive tackle—commonly referred to as the nose tackle in a 4-3 scheme—they might find their best value at another position of smaller need, which is the pass-rushing under tackle, otherwise known as the 3-technique.
With Kevin Williams' aging, Short might be the perfect fit.
Short had a good year against solid offensive linemen, including Notre Dame's solid core of Braxston Cave and Mike Golic, Jr.
He has good size and agility, especially for a lineman. He played a lot of under tackle at Purdue, but some think he could play as a nose tackle, and only has to add a few pounds to be typical for that position. He has played in the 3-technique, the 1-technique and even as a defensive end, so versatility is an asset.
Extremely strong (he can squat 600 pounds and benches over 400) and with solid footwork, Short often finds himself in the backfield.
He was the subject to quite a few double-teams in college, which is where much of his projected value at nose comes from. Regardless of his final position, his quick first step, great motor and hand movement makes him a very valuable prospect.
Along with that comes an ability to shed blockers either with technique or strength.
The book on him seems to be that he's not quite as mean as scouts want, but he can plug the run just fine if need be. Otherwise, his problems will come from slow play recognition.
Some are concerned about his conditioning, and that's fair, but Short has massively improved his endurance over his time at Purdue.
He's not the best prospect at either 1-technique or 3-technique, but he's very good. The Vikings would do well to find him on their roster.
Sylvester Williams, DT North Carolina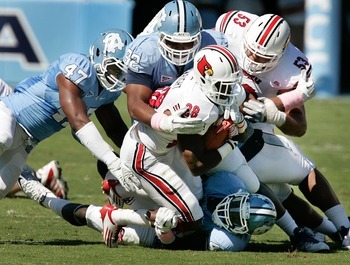 Mark Dolejs-USA TODAY Sports
Sylvester Williams is another prospect that has scouts speculating about position versatility. He has the size and strength to play as a run plugging nose tackle, but played most of his career as the quicker pass-rushing tackle.
Walt, the founder of Walter Football, Matt Smith at NFL.com and his colleague Daniel Jeremiah, Mel Kiper at ESPN (subscription), Drafttek and Clark Judge at CBS all project Sylvester Williams to the Vikings.
Williams is best known for his elite first-step—probably the best in the class. It's this that gave him the ability to wreak havoc in opponents' backfields, although his box score numbers won't pop out of the page at you (six sacks).
With agility and size he's got a lot of talent to offer a team like the Vikings. He's got top-end closing speed and is strong enough to bull rush some of the more powerful linemen in the league.
Like Short, he's played snaps at end, nose and at under tackle, but he is most at home when pass-rushing.
He needs to work on his play recognition, but it is a bit better than Kawann Short's.
Unlike Short, however, he has a larger list of potential pitfalls.
With a very limited set of pass-rushing moves, he needs to develop as a defensive tackle to make a big impact. Because of that, he tends to disappear on film—his overreliance on the swim move can be countered, and it limits his options.
He also peters out at the end of plays, and there are questions about his stamina as well.
Given that he has less overall agility than some of the other premier tackles (although more than most in most draft classes), he would be the pick only if there were a run on defensive tackles.
Like many others in this class, however, he's a solid pick that could really make a difference.
Datone Jones, DE UCLA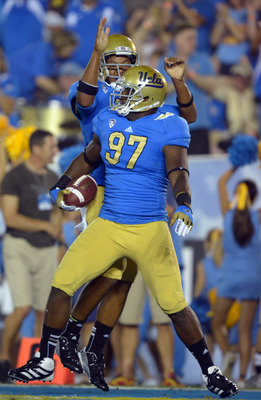 Kirby Lee-USA TODAY Sports
A late riser, Datone Jones has moved up on a lot of boards as a result of a strong postseason. Two of the experts at CBS lead the charge when it comes to projecting Jones to the Vikings.
A number of draftniks have moved him up boards, including the extremely accurate mockers at NEPatriotsDraft and comprehensive analysts at Draft Countdown.
Still, it's a bit of a puzzling choice for a team whose strength best lies in their defensive ends, given the production that All-Pro Jared Allen, an ever consistent Brian Robison and an explosive Everson Griffen provide.
But, all three of those players (and backup George Johnson) will hit the free-agent market in 2014. Odds are that the Vikings won't retain all of them, and they value depth along the defensive line. Knowing that this is a strong year for pass-rushers building depth comes from more than just finding players at positions of immediate need, they may look at investing in Datone Jones.
Jones' strength is his versatility, although, his technique also provides immense value.
He has a full roster of pass-rushing moves, which he'll counter with strength from time to time. Jones should work in 3-4 and 4-3 fronts, and some think he can line up nearly anywhere on the line. He's rushed from 7-, 5-, 3-, 1- and 0-tech positions, although his build is slight enough that he should more often line up outside.
His scouting report is full of positives, from read and react ability, technique, power, speed, agility, flexibility and even character. He has long arms and a thick build that can add weight, and he also plays with balance, keeping pad level low.
He does have minor inconsistency problems in his first step, hand usage and turn around the edge, but he is fine for the most part.
Two things make him less than ideal for the Vikings in the first round: his size reduces his versatility to the outside and the Vikings simply have larger glaring needs where the draft has strength.
If Letroy Guion had improved like they projected and they had kept Winfield, this pick would make much more sense but four strong needs at bigger holes make this pick unlikely and untenable.
Desmond Trufant, CB Washington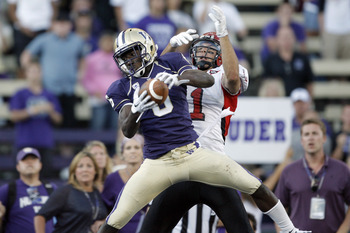 Joe Nicholson-USA TODAY Sports
Desmond Trufant is another late riser who has impressed scouts in the postseason circuit—after bowl games. Unlike Jones, he had been generally well regarded in draft circles before his late rise and was projected much earlier than the UCLA defensive end was.
Trufant is an impressive prospect who looks to be NFL-ready in most schemes. Trufant is quick and fluid, who has the ability to transition out of any look and stay with receivers, regardless of their speed.
With short-area quickness and long speed, he'd be ideal lining up outside and taking away the biggest weapons of an opposing offense.
His instincts are at the top of the game, Trufant can break on the ball in any type of coverage (zone or man). With that are great ball skills, as he can track the ball, high point it and come down with it. He can read the quarterback well and showed an ability to bait them into poor throws by changing his acceleration pattern.
With athleticism, fluidity and strength he seems ideal for the Vikings.
Particularly given the fact that he's a sound and strong tackler, they need to replace Antoine Winfield, and Trufant's ability to play inside without losing leverage is rare for someone with his length. Given that he can get through blocks and has solid form, he can fulfill a lot of Winfield's responsibility, although he has more strength yet to add.
Despite the fact that he's very instinctive, he is much better in man schemes than zone. But with the Vikings trying to do more with their cornerbacks, this isn't as much of a liability—he's still a top-level zone corner.
The only thing that prevents the Vikings from picking Trufant at pick 23 or 25 is that he'll likely go too early.
Trufant has been rising faster than many think, and he doesn't look like he'll be available when the Vikings finally make their pick.
Keep Reading

Minnesota Vikings: Like this team?