5 Reach Picks the Chicago Bears Absolutely Must Avoid in the 2013 Draft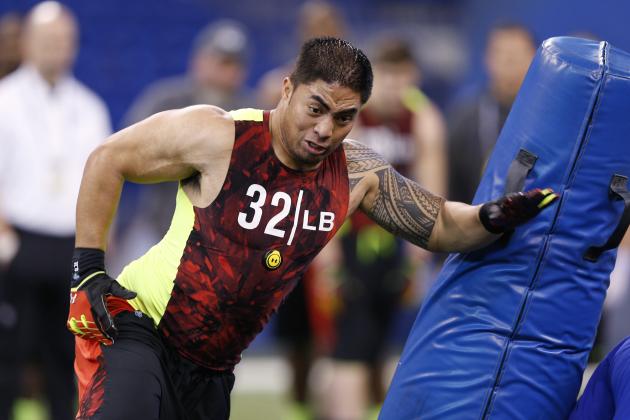 Joe Robbins/Getty Images

Since free agency began on March 12, the Chicago Bears have been able to acquire starters at left tackle, tight end, middle linebacker, strongside linebacker and nickelback, leaving this April's draft wide open in terms of which direction they want to go.
The team still has needs along the offensive line, defensive line, wide receiver and at linebacker, and even though they have shored up some prior weaknesses, the team cannot afford to take too big of a risk on players given the fact that it only currently has five drafts picks.
General manager Phil Emery went outside of the box last season with his first overall pick, Shea McClellin, and although after one season it is too hard to determine whether it was a good or bad pick, many feel that Emery will need to find a couple of impact players in this year's draft.
If he is searching for players that can make immediate impacts next season, he will need to avoid reaching for a player that could be available later if they are able to trade back.
Here are five reach picks that the Chicago Bears absolutely must avoid in the 2013 draft:
Begin Slideshow

»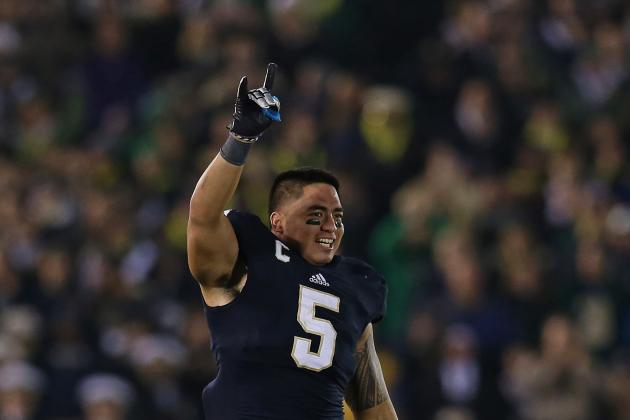 Jonathan Daniel/Getty Images

By now, everyone knows the Manti Te'o story. Arguably one of the best defensive players in the country in 2012, had his reputation tarnished by a "scandal" in January, and scouts and fans alike were disappointed in his poor performance at the NFL combine in February.
Te'o helped improve his draft stock a bit earlier in the week where, according to ESPN, he unofficially ran a 4.71 40-yard dash time at Notre Dame's pro day.
Prior to his poor performance in the national championship game against Alabama and the subsequent "catfishing" scandal, he was once viewed as a potential top-10 pick in this April's draft.
Once scouts got the opportunity to truly break down his game, it became more evident that he lacks in the in-line speed to get to the edge and he was greatly benefited by a stout defensive line in front of him.
Despite his transgressions, his awareness and game smarts combined with his abilities as a tackler will still likely make him a first-round pick.
He will still likely be available at No. 20 when the Bears pick and although just a few short months ago Bears fans would of been jumping at the chance to take him there, Emery would be wise to pass on a player whose value is better suited near the end of the first round.
Even though the Bears have signed a replacement for Brian Urlacher in D.J. Williams and his deal is only for one year, over drafting Te'o at 20, coupled with the fact that he likely would not be a starter in year one would give Emery two years in a row without drafting a first rounder that makes an immediate impact.
In his second season at LSU in 2011, Tyrann "Honey Badger" Mathieu became a household name amongst football fans for his relentless play and his knack for getting to the football.
In 2011 he finished fifth in the Heisman Trophy voting and was considered by many to be a potential Heisman front-runner in 2012.
Prior to the 2012 season he was kicked off of the team for violating team policy (multiple drug test failures) and was arrested on charges of marijuana possession and was later released.
He declared for the NFL draft and was invited to the combine in February where he impressed scouts with his 4.5 40-yard dash time.
At just 5'9" and 186 pounds, Mathieu lacks the ideal size to play cornerback at the NFL level, but scouts salivate over his speed and quickness, his knack for making big plays, and the fluidity in his hips and steps when back peddling.
His size may prompt teams to use bigger receivers against him and given his prior history, he could be considered a risk. Many view him as a third-round selection, but there have been whispers that given his talent he could move up into the second round.
The Bears re-signed cornerback/nickelback Kelvin Hayden earlier in the week but given the lack of youth at cornerback, Phil Emery may be tempted to grab Mathieu early.
His off-the-field issues, coupled with the fact that he has not been on the field in over a year, should force Emery to not take a risk on a player that despite all his potential there are too many question marks.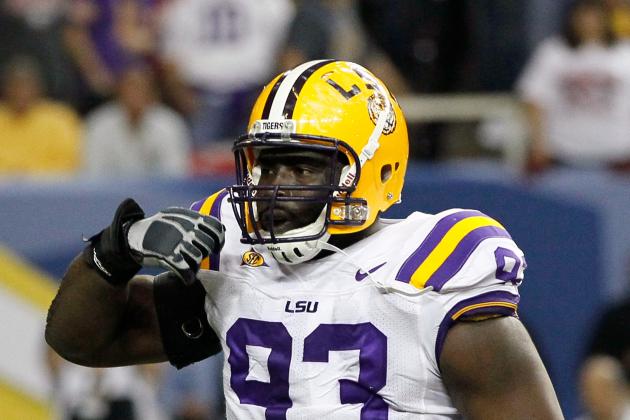 Kevin C. Cox/Getty Images

Earlier in the offseason, the Bears placed the franchise tag on defensive tackle Henry Melton as well as coming to terms with Nate Collins.
Currently the team sits with Melton, Collins and Stephen Paea as its only defensive tackles, having released Matt Toeaina, and as of now, not re-signing Israel Idonije. The team could still bring back Idonije and/or Amobi Okoye, but it could look to the draft to find depth.
LSU's Bennie Logan was expected to take a big step forward in 2012 after a solid 2011 season in which he had 57 tackles, 6.5 tackles for loss and three sacks, but his numbers slipped, finishing with 45 tackles, 5.5 tackles for loss and two sacks all while playing alongside two potential first-round picks, Barkevious Mingo and Sam Montgomery, who garnered far more attention.
He has terrific quickness off of the ball and has a solid stout frame that allows him to get good leverage against bigger offensive lineman but relies too much on his bull rush and was too often substituted in the team's rotation, not allowing him to get consistent snaps.
His conditioning is a bit of concern and although he would be a welcomed addition along the Bears defensive line, he might be too much of a risk to take in the fourth round.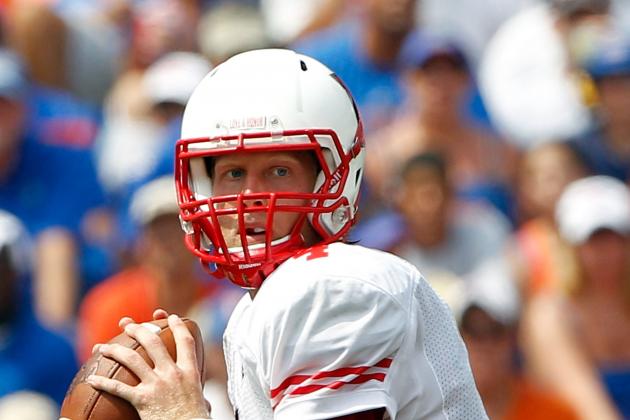 Sam Greenwood/Getty Images

Tuesday the Chicago Bears watched their No. 2 quarterback from a year ago, Jason Campbell, sign with the Cleveland Browns, leaving the team with just two quarterbacks on the roster; Jay Cutler and Matt Blanchard.
Cutler is a given as the starter for next season but after being an undrafted free agent last season, Blanchard is not expected to be much more than a No. 3 quarterback.
The team could still re-sign Josh McCown, who has spent parts of the past two seasons with the team, sign a veteran or it could look to draft a quarterback that head coach Marc Trestman can develop for the future.
The 2013 quarterback class may be one of the weakest in years, which may cause some teams to overvalue and select quarterbacks much higher than they would normally.
Miami's Zac Dysert certainly looks the part of an NFL quarterback as he measures in at 6'3" and 231 pounds and during his senior season he threw for nearly 3,500 yards and 25 touchdowns. He is an underrated athlete with the ability to move outside of the pocket and has above-average accuracy.
Despite possessing the tools that many coaches want in a quarterback, Dysert ran the majority of his offense from the shotgun, relying more on simple reads and settling more on short throws than trying to push the ball down the field.
Considering the Bears' switch to a West Coast offense, Dysert's lack of experience under center may make him a more long-term project than Trestman would like.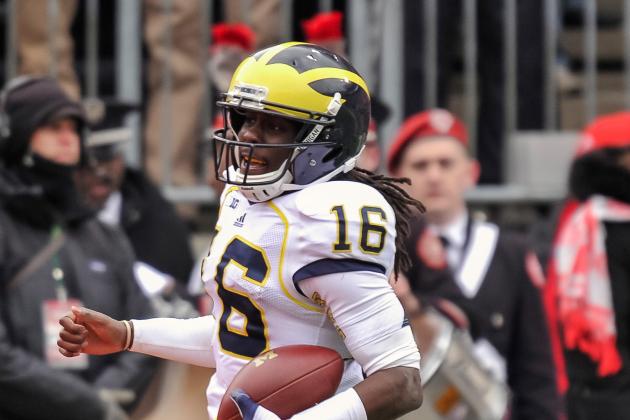 Jamie Sabau/Getty Images

Despite the terrific season that Brandon Marshall had in 2012, the Bears still lacked a complimentary wide receiver who could stretch the defense and force teams to have single coverage against Marshall.
The hope was that Johnny Knox could return from a back injury suffered in late 2011, but he never was able to see the field last season and ultimately was forced to retire. The Bears feel confident in what Alshon Jeffery and Earl Bennett can do but still need to find a speedy situational receiver.
The 2013 draft appears to be heavy with wide receiver talent, particularly in the middle-to-late rounds, and one that has caught the attention of many solely because of his speed is Denard Robinson.
Robinson spent the last three seasons at Michigan as its starting quarterback but made the switch at the Senior Bowl to wide receiver to broaden his chances of being selected in April's draft.
He has tremendous speed and has shown the explosiveness that he can have when he has the ball in his hands, but the biggest question mark is whether or not he can make the transition to wide receiver in a short period of time.
With the Bears getting older on defense and a new head coach out to prove that his offense works, the risk of taking a guy like Robinson, even in the later rounds, may be a waste with far other needs in terms of depth. Robinson clearly has a ton of upside but Trestman and company likely do not have much time to wait for him to develop.