Updating the Biggest Winners and Losers of Spring Training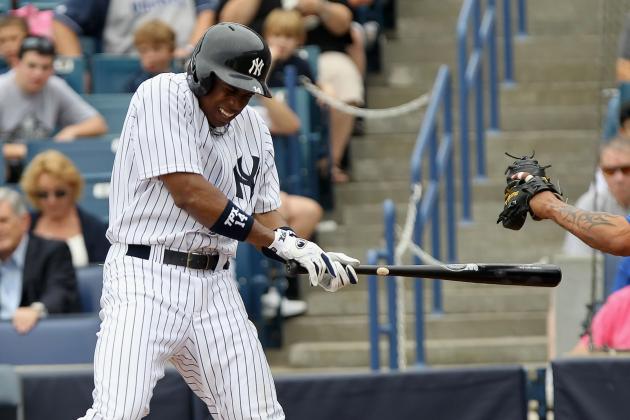 Kim Klement-USA TODAY Sports
Curtis Granderson's broken arm is just one of many problems the New York Yankees have had this spring.
Spring training is the best and worst of times for all 30 Major League Baseball teams.
On the one hand, it is used as a way to see where everyone from your biggest superstar down to the youngest player in a short-season league is at following the offseason. It is like hitting the refresh button and hoping that 2013 will be the year when everything goes right.
On the other hand, especially this year because camps started early due to the World Baseball Classic, spring training can be an endless grind. We are six weeks into it right now, with more than one full week to go before regular-season games begin.
The goal for every team is just to get out of the spring as healthy as possible. But you also want to see how a player returning from injury looks or what is going on with that star who had a down season last year.
With the clock slowly ticking towards Opening Night on March 31 when the Texas Rangers go on the road to take on their new American League West rivals the Houston Astros, here is a look at the biggest winners and losers from spring training so far.
Begin Slideshow

»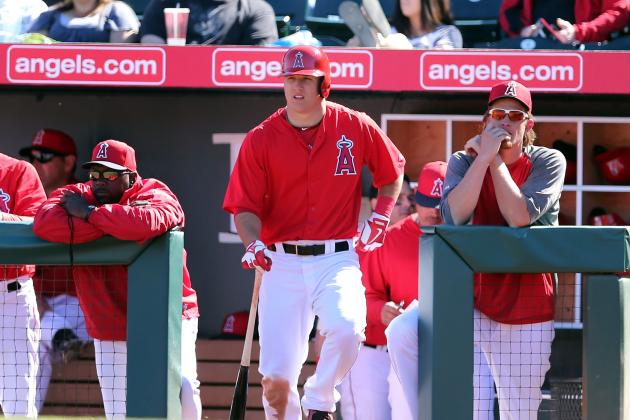 Christian Petersen/Getty Images
Despite talk about his weight, Mike Trout continues to be a shining star in the loaded Angels lineup.
Spring Stats (as of March 19)
14-for-35 (.400/.512/.686), 3 2B, 2 3B, 1 HR, 7 RBI, 13 Runs, 8 BB, 8 K, 3 SB
All eyes were going to be on Trout this spring, no matter what. You can't have an historic season as a rookie at the age of 20 and hope to avoid media attention. Everyone wanted to know how the young superstar was going to follow up his MVP-caliber season.
Something funny happened on the journey to spring training. Aiden Gonzalez of MLB.com reported on February 16 that Trout showed up to Angels camp weighing 241 pounds—gasp!—or about 10 pounds more than he weighed in 2012.
Naturally, since we are a society that overreacts to everything, people had to talk about this like it was the worst thing in the history of the world. Trout was so lazy that he was just going to coast off his talent and not work.
There are two things that the people who felt like Trout was letting himself go failed to realize.
First, even though speed is a huge part of his game, he is built like an NFL linebacker. He has one of the thickest necks you will ever see, and he carries the weight well on his body. I saw him at spring training at the end of February and he looked phenomenal.
The second thing that people failed to realize is that Trout is still just 21 years old. When you are that young, it is easy to put on and take off weight. He isn't going to suddenly balloon up like Violet from Willie Wonka and the Chocolate Factory.
Showing off all the tools that made him the best player in baseball last year, Trout is going to pick up right where he left off and make everyone who ever doubted him look foolish.
I will admit, though, that it was nice to get a change of pace with this story compared to the hundreds of spring stories about players showing up to camp in the best shape of their lives.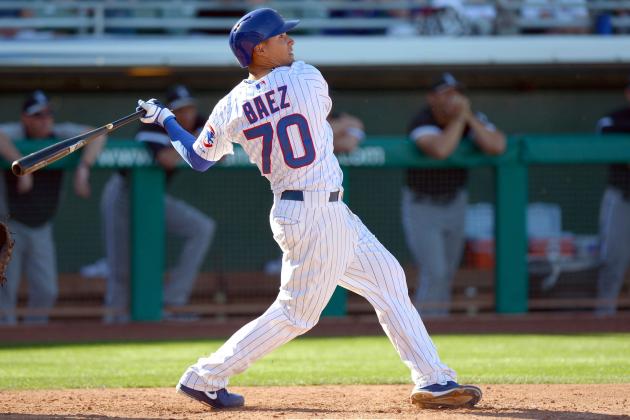 Jake Roth-USA TODAY Sports
Cubs shortstop prospect Javier Baez had a stretch recently where he hit three home runs on three pitches
One great part of spring training is the way it gives casual baseball fans their first extended look at some of their favorite team's best prospects. Some of those fans will overreact and want to hand the player with no experience above A ball the starting job based on a few weeks in Arizona or Florida.
While there is a development process that teams will follow with their best prospects, seeing them succeed against big league competition is always an encouraging sign.
Some of the best prospects this spring include Chicago Cubs shortstop Javier Baez, Los Angeles Dodgers right fielder Yasiel Puig, Miami Marlins center fielder Christian Yelich and Atlanta Braves pitcher Julio Teheran.
In the case of Teheran, a big spring could go a long way towards helping him secure a spot in Atlanta's rotation when camp breaks.
For Baez and Puig, they are giving their teams and fans a small glimpse of what the future holds.
Baez, hitting .302/.318/.628 with four home runs, has been exactly what the reports have said he is. The 20-year-old is known for being a free-swinger with the best bat speed in the minors. If you have had a chance to watch him play, you can see why.
He goes up there trying to destroy anything close to the plate. He has just one walk and 11 strikeouts in 43 at-bats, but when he makes contact, the ball goes really far, really fast.
Puig was the Dodgers' big bonus baby on the international market last summer, signing a seven-year, $42 million contract. He is just 22 years old and will need at least one full year in the minors, but he is hitting a robust .500/.489/.804 in 21 games this spring.
Dodgers manager Don Mattingly recently told reporters that Puig has a "Bo Jackson-type package" of skills. While that is likely a lot of hyperbole—Jackson had plus-plus power and speed—Puig has the makings of an All-Star outfielder.
Yelich isn't getting the same attention as Baez or Puig because of the team he plays for, but he is a more fully-formed prospect right now, even though he is nearly a full year younger than Puig, than either Baez or Puig.
The Marlins likely won't rush Yelich to the big leagues—nor should they, as he has yet to play above High-A—but he is hitting .381/.469/.857 and tied for third with five home runs this spring.
Teheran has seen his prospect stock drop over the last year due to home run issues and lack of development on his curveball. He has been talked about in the Braves' system for so long that it is easy to forget he is just 22 years old.
While his ceiling may not be that of a No. 1 starter, which it looked like one year ago, Teheran should still be very good if he can keep his fastball down in the zone. He has looked excellent this spring, striking out 25 and allowing just seven hits and six walks in 20 innings.
The Braves have been playing things conservatively with Teheran, but he looks ready to be in their rotation when camp breaks.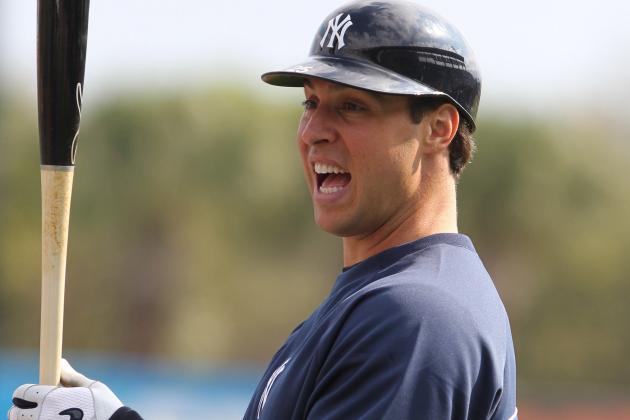 Kim Klement-USA TODAY Sports
Mark Teixeira's injury has made a situation that looked bad so much worse for the Yankees.
For the first time in what feels like 100 years, the New York Yankees are actually underdogs in the American League East. They were also relatively quiet during the offseason, opting against signing expensive free agents to long-term deals.
Instead, the Yankees spent their money on players like Kevin Youkilis and Travis Hafner. They are nothing more than short-term stop-gaps for a team that isn't accustomed to playing things conservatively.
But even before the Pinstripes spent some money on those pieces, they saw Nick Swisher, Eric Chavez, Russell Martin, Raul Ibanez and Andruw Jones leave via free agency. Those five players accounted for 94 of the 245 home runs the Yankees hit in 2012.
Alex Rodriguez had hip surgery in January that will keep him out until at least after the All-Star break. There goes another 18 home runs from the lineup, though Youkilis should be able to offset that total.
Then spring training started and on the first pitch of his first at-bat, Curtis Granderson gets hit in the arm and will be out for at least the first month of the season with a broken forearm. The Grandy Man led the team with 43 home runs last season.
First baseman Mark Teixeira suffered what was thought to be a strained wrist that would keep him out until May. However, Wallace Matthews of ESPNNewYork.com reported that the injury is actually a partially torn tendon sheath that could require season-ending surgery.
This was going to be a vastly different Yankees lineup from the one we have gotten accustomed to seeing anyway, but now it could feature the likes of Chris Stewart, Dan Johnson and Brennan Boesch.
It also doesn't help that Toronto and Boston have gotten better, and Tampa Bay still has the best pitching staff in the division. One can easily envision the Yankees finishing fourth or fifth in this division with one more big injury.
No one will ever have sympathy for the Yankees, but there might be a little more empathy headed in the direction of New York than those fans are used to.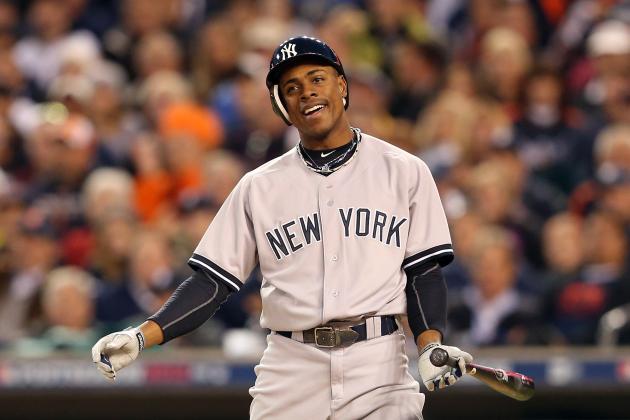 Leon Halip/Getty Images
The last thing Granderson needed heading into his free-agent year was an injury.
Not to keep piling on the Yankees, but Curtis Granderson's injury goes beyond just the impact it will have on the Bronx Bombers in 2013.
The Yankees really did Granderson a favor when they picked up his $15 million option for 2013, because the odds of him finding that kind of average annual value on the open market seemed remote.
Granderson is not a good defensive center fielder. He takes terrible routes to the ball and seems to have no idea how to read it off the bat, leading to a lot of misplays at one of the most crucial defensive positions on the field.
Offensively, even though he set a career high with 43 home runs, Granderson certainly gets aided by the short left-field porch in Yankee Stadium. He also can't hit left-handed pitching, posting a .218/.304/.458 slash line against southpaws in 2012.
So Granderson was coming into 2013 trying to reestablish some of his value and playing for the last big payday of his career. He just turned 32 years old and is clearly on the downside of his career. He still has pop in his bat, but all of his other skills are declining rapidly.
Then Granderson broke his arm in his first spring at-bat, keeping him out for at least the first month of the season. Because he didn't get any reps during the spring, his timing is likely going to be off when he does return.
Power is the only average or better tool that Granderson still has. If he can't get back to being the power hitter he was last season, his value on the open market next winter will be a fraction of what it could have been had he not gotten hurt.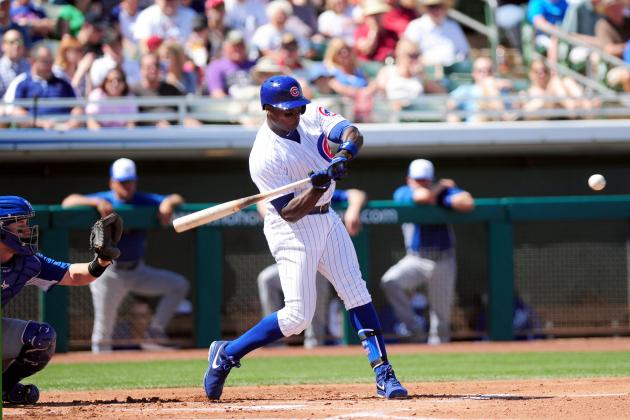 Jennifer Hilderbrand-USA TODAY Sports
Will this finally be the year where the Cubs are able to unload Alfonso Soriano?
All of that misery for the New York Yankees has to be music to the ears of teams with aging and/or overpriced power hitters that they want to get rid of. Trades at this stage of the season are unlikely, but teams are always in the process of evaluating what they need and how to get it.
The first name that immediately springs to mind when you are talking about trades is Alfonso Soriano. It is no secret that the Chicago Cubs want to get rid of the 37-year-old outfielder. He is under contract for two more season at $19 million per year (h/t Cot's Baseball Contracts).
Because there are two years left on his deal, any deal involving Soriano becomes problematic. Teams might not be willing to commit that long to him.
We do know that the Cubs had worked out a deal with San Francisco before the trade deadline last season, but Soriano used his no-trade rights to veto the deal (h/t Los Angeles Times). He also reportedly said the only team on the west coast he wanted to play for was the Los Angeles Dodgers.
However, Soriano has told reporters recently that he would be open to returning to New York. There is no indication that the Yankees are going to make a deal right now—nor should they, as they still have enough talent to compete in the division before injured players start coming back.
The Cubs would have to eat a vast majority of Soriano's remaining salary in order to make any deal worthwhile for the Yankees—or anyone else, for that matter—something that Jon Heyman of CBSSports.com reported last December they would be willing to do.
#cubs are willing to pay about $26M of soriano's $36M if they get right prospect back. seems reasonable. 30/100 last yr

— Jon Heyman (@JonHeymanCBS) December 13, 2012
Some notable sluggers set to become free agents after this season who could be on the trade market this season include Minnesota Twins first baseman Justin Morneau and Chicago White Sox first baseman Paul Konerko.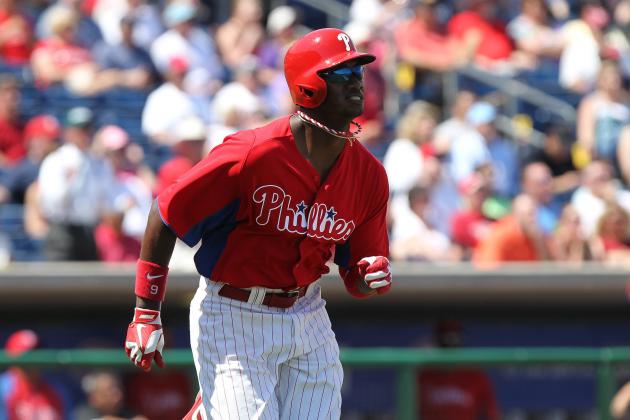 Kim Klement-USA TODAY Sports
Domonic Brown is looking more like the hitter everyone expected him to be with a new swing this spring.
Spring stats (as of March 19)
22 G, 25-for-63 (.397/.465/.714), 25 H, 2 2B, 6 HR, 12 RBI, 21 Runs, 6 BB, 8 K
The Philadelphia Phillies have done their best to make sure that Domonic Brown never fulfills the high expectations he had coming up through their system, but one more tweak to his swing appears to have brought him back to prominence.
Brown is tearing the cover off the ball this spring, making him a clear front-runner for the starting left field job on Opening Day. That is great news for the Phillies, who really should keep Darin Ruf as far away from the outfield as possible.
But in case you think Brown's performance is just a spring anomaly, ESPN's Keith Law wrote in his piece on breakout candidates for 2013 (Insider subscription required) that the 25-year-old is driving the ball better than he has in a long time after moving the position of his hands.
Even though Brown still isn't a good defensive player, at least he is showing signs that he will be able to hit enough to start everyday in the big leagues. He may not be the star it appeared he could be three years ago. But as long as the Phillies get something out of him, it has to be considered a big win.
The Phillies really need another hitter in the middle of that lineup because Michael Young is still not very good, even if he is the classiest player in the sport, and Ryan Howard can't hit left-handed pitching.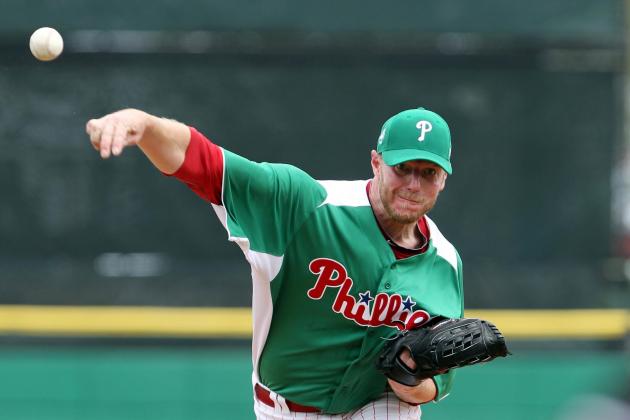 Kim Klement-USA TODAY Sports
After spending years being regarded as the best pitcher in baseball, Roy Halladay looks like a shell of his former self this spring.
While Domonic Brown has been a pleasant surprise for the Phillies, Roy Halladay is still struggling to get back to his pre-shoulder injury self.
In a start against the Washington Nationals on March 8, Halladay's fastball velocity was clocked in the 86-88 mph range (h/t David Murphy of Philadelphia Daily News). That wasn't a huge cause for concern, as a lot of pitchers use the spring to build up arm strength and velocity.
The problem with Halladay is that things have not gotten better. His next start was against Detroit on March 12, when the two-time Cy Young winner gave up seven runs in 2.2 innings. His fastball was once again topping out in the high-80s (h/t NBC Philadelphia).
As great as Halladay was from 2002 to 2011, it is time to recognize that he is 35 years old and his skills have deteriorated, forcing him to pitch an entirely different way. It is possible he will find some of the velocity he is missing as the season goes on, but pitchers in their mid-30s don't usually get stronger as the season moves along.
Halladay being a shell of his former self would put a huge dent in any hopes the Phillies have in the National League East this season. If he is pitching in the high 80s with his fastball and becomes more hittable, balls are going to find holes because the Phillies are going to be terrible on defense.
Speaking of two-time Cy Young winners with shoulder problems, New York Mets pitcher Johan Santana is battling his own issues that have left his status in doubt.
Adam Rubin of ESPNNewYork.com reported on March 13 that Santana is not close to returning to the mound for the Mets.
Not that the Mets are going to compete in the division with Santana, but there had to be some hope within the organization that if he got off to a hot start and was able to stay healthy, they could deal him at the deadline and get something in return.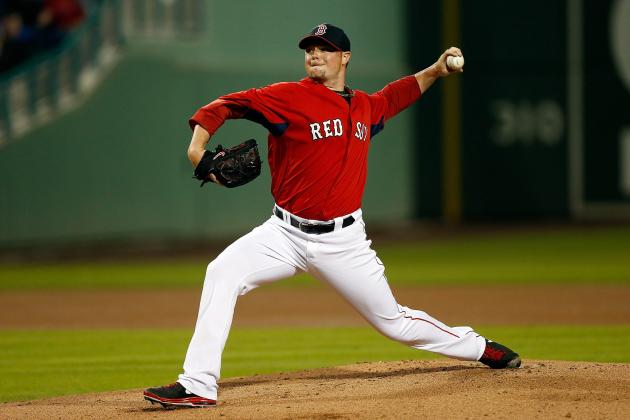 J. Meric/Getty Images
After a disastrous 2012, Jon Lester has looked strong this spring.
One of the big keys to the Boston Red Sox getting back to respectability in 2013 is the performance of their starting pitching. Jon Lester and Clay Buchholz both had an ERA over 4.50 last season, and they were the two best pitchers on the staff.
The Red Sox added depth to the rotation by signing Ryan Dempster to a two-year deal this offseason, but the success or failure of the staff depends on the left shoulder of Lester and right shoulder of Buchholz.
So far, so good. Lester has been outstanding, giving up just six hits and two earned runs with four walks, a 0.90 ERA and 16 strikeouts in 20 innings. Buchholz has been nearly as good, posting a 0.68 ERA, 11 strikeouts, four walks, seven hits and one earned run in 13.1 innings.
Dempster has been effective this spring, giving up 15 hits and six earned runs in 17.2 innings pitched. And getting John Lackey back, even though he has posted an ERA over 8.00 thus far, gives them depth that they didn't have last year.
There is also help on the way from the minors, with Allen Webster and Matt Barnes possibly getting a look later on this year.
No one is talking about the Red Sox this season, but if that rotation can hold itself together, they will be in the mix with Toronto and Tampa Bay atop the American League East.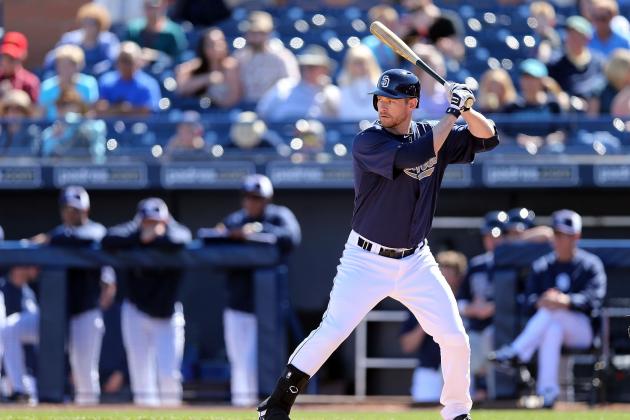 Christian Petersen/Getty Images
The loss of Chase Headley will cripple the Padres' offense.
Hitting in PetCo Park is hard enough for the San Diego Padres—or anyone else, for that matter—but when you take the one great hitter they have out of the lineup, things could reach DEFCON 1. I don't include Carlos Quentin in that because he is a lock to miss at least 60 games every year.
Chase Headley was diagnosed with a fractured left thumb on March 18 that could keep him out up to one month, according to Corey Brock of MLB.com.
Bad news on #Padres 3B Chase Headley. He has a small fracture in left thumb. Could miss a month.

— Corey Brock (@FollowThePadres) March 18, 2013
The Padres have finished in the bottom half of baseball in runs scored every season since 2002, even with players like Headley and Adrian Gonzalez anchoring the lineup. With Headley out for at least one month, what will happen to the offense?
Another thing to bear in mind is the way that hand injuries effect power hitters. The injury can change the way you grip the bat or alter swing even the slightest little bit to compensate, leading to a lot of pop-ups that might be hit into the gap under normal circumstances.
Last season, Justin Upton battled a hand injury all season and his slugging percentage went from .529 to .430.
This is an important season for Headley, who turns 29 in May, is under team control through 2014 and playing for a big long-term contract somewhere. The last thing he needed was an injury that could sap the surprising power he showed in the second half last season.
Without their slugging third baseman, San Diego needs Quentin to stay healthy, hope that Yonder Alonso hits for more power and Cameron Maybin plays closer to the level he was at in 2011.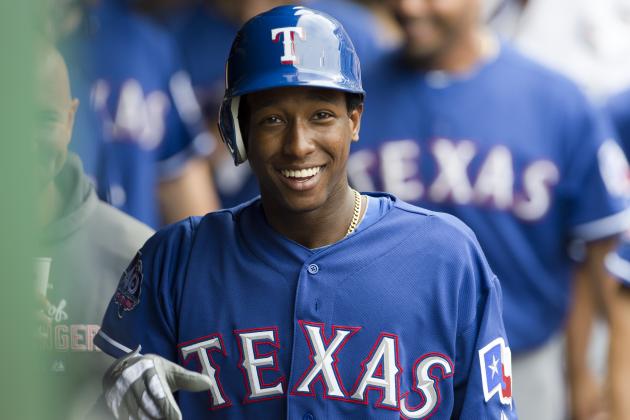 Jason Miller/Getty Images
Even if he doesn't start the season in the big leagues, Jurickson Profar will be smiling in Arlington very soon.
All of the talk this offseason in the American League West has been about the Los Angeles Angels and Oakland A's because, you know, they actually made moves to get people discussing them.
Yet for all of the talk about those teams, there seems to be a lot of neglect when it comes to the Texas Rangers. We are a headline-grabbing sports society, so if you don't do something, we are left wondering what to make of you.
All the Rangers really did this offseason was lose Josh Hamilton to the Angels and Mike Napoli to Boston. They also traded Michael Young to the Phillies, but that is actually a move that will make the Rangers better because he is so terrible.
So we are forced to look at the Rangers as the team that fell apart in September, let the A's overtake them in the American League West on the last day of the season and lost to Baltimore in the Wild-Card Playoff game.
Yet what we are failing to realize is they are still the deepest team in the division, and quite possibly in the American League.
The offense isn't going to lose a lot with Hamilton gone, because he wasn't delivering much in the second half of last season anyway. Adrian Beltre has been an MVP candidate in two of the last three years—he would have been in 2011, but he missed 38 games.
Ian Kinsler and Elvis Andrus form one of the best double-play combinations in baseball. A.J. Pierzynski at catcher will be a huge offensive upgrade compared to the combination of Geovany Soto and Yorvit Torrealba.
The pitching staff will add more depth with the return of Neftali Feliz, not to mention the continued development of Yu Darvish.
Then there's the impact talent coming, like shortstop Jurickson Profar and third baseman Mike Olt. Whether those players start the season in the big leagues or in Triple-A, they are closer to being called up every day.
When you get one look at the team the Rangers in spring training and see the team they have put together, it is clear that their time atop the AL West is far from over.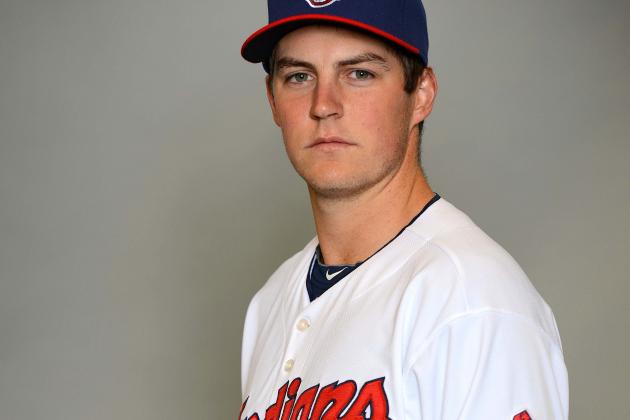 Jake Roth-USA TODAY Sports
With a new home and renewed energy, Trevor Bauer looks ready for a big rookie season.
Spring stats (as of March 19)
4 G, 1-0, 1 SV 11.0 IP, 3.27 ERA, 9 H, 5 R (4 ER), 1 HR, 1 BB, 9 K
Look past all the controversy with former Arizona teammate Miguel Montero. Look past the struggles Bauer had in his brief run with the Diamondbacks in 2012.
Just look at Bauer as a 22-year-old prospect. Tell me what you see.
Here is what I see: A hard-throwing right-hander less than two years removed from being the No. 3 overall pick in a loaded draft, with two plus pitches in his pocket right now and a work ethic that most teams would love to see from a player his age.
You can understand why Cleveland was so willing to part with Shin-Soo Choo, who had just one year left on his contract, in order to acquire six years of Bauer. His performance this spring has done nothing to change the fact he should start the season in their rotation.
In fact, Bauer is probably the best starter Cleveland has right now. The only thing that might keep him off the big league roster right away is the Indians' front office wanting to delay his arbitration clock, or they might want him to work on commanding his fastball and curveball in the zone before throwing him into the fire.
But make no mistake about it: Bauer is ready for the big leagues. He is with a franchise that doesn't have an issue with his unique warm-up routine.
The battle for the No. 5 spot in the Indians' rotation is up for grabs with Bauer, Carlos Carrasco and Scott Kazmir still in the mix.
Daisuke Matsuzaka was also in the group, but the team reassigned him to Triple-A Columbus when the season starts.
Considering the choices at their disposal—not to mention Bauer's raw potential—the decision would seem to be clear for manager Terry Francona.
If you want to talk about spring training, or anything else baseball-related, be sure to hit me up on Twitter.