Fantasy Baseball 2013: Late-Round Relievers Who Will Grab You Saves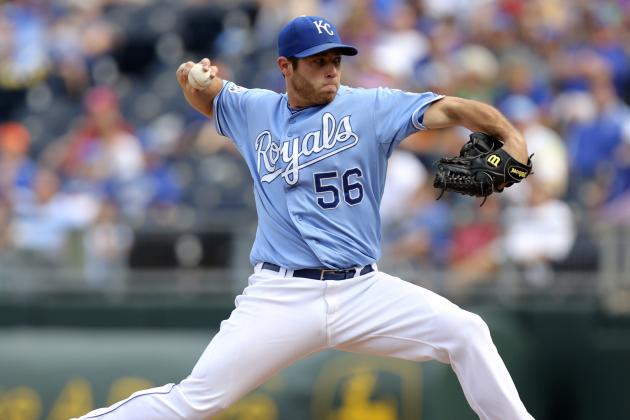 Ed Zurga/Getty Images
Holland went from unknown to fantasy relevant in 2012.
Shortly after creating MLBDepthCharts.com, I quickly realized just how important it was for fantasy baseball players to find the guy who was "next in line" for saves. Even if it's just to give the regular closer a break after a few consecutive days of work, saves are valuable for fantasy geeks.
A closer's job is rarely on solid ground from one game to the next. Despite what else happens throughout the game, a blown save is not something that's taken lightly in the media or by fans because it's almost always directly correlated with the final result of the game.
Even the best closers in the game will be scrutinized if they blow three or four saves in a month. If you're not the best closer in the game and you blow a save or two over the span of a few games, the pressure builds as the next unsuccessful opportunity could be the last.
Take a look at the Washington Nationals' 2012 season. Brad Lidge and Henry Rodriguez shared the closer's gig to the start the season with Drew Storen on the disabled list. The hard-throwing Rodriguez took over the job on his own after Lidge landed on the disabled list in late April.
Less than a month later, Rodriguez was removed from the role after a string of shaky outings and manager Davey Johnson said he would go with a closer-by-committee, which never happened. Tyler Clippard got the first shot and then didn't relinquish the role until Drew Storen returned from the disabled list and shared saves with him the rest of the way.
Injuries and ineffectiveness will occur, as I've shown with one extreme example from 2012. So it's important to have the right guy on your team at the right time. Here are several relievers not projected to close that could either "vulture" some saves throughout the year or eventually take over the closer's role if the opportunity presented itself …
Begin Slideshow

»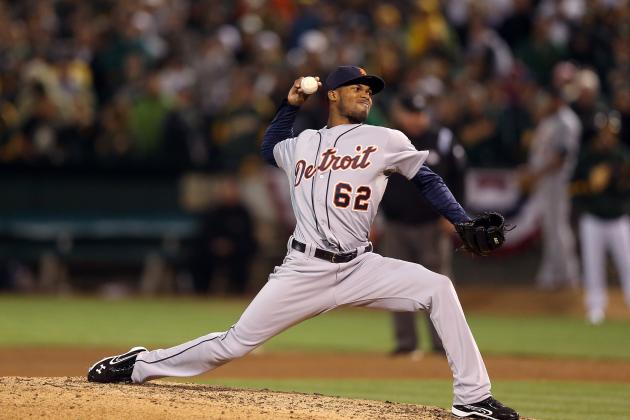 Ezra Shaw/Getty Images

The closer's job in Detroit is still up for grabs so we can't rule out Alburquerque from claiming that role just yet. Realistically, he'll be in a non-closing role to start the year with a few save chances here and there if manager Jim Leyland goes with a committee.
If he does the job when given the chance, the Tigers might not have any reason to count on projected "Closer of the Future" Bruce Rondon taking over anytime soon.
The 26-year-old Alburquerque can be erratic, but he has a wicked slider that he throws quite often and has been effective against both left-handed and right-handed hitters in his 56.2 career big league innings. He has a 13.6 K/9 and has held opponents to a .140 batting average.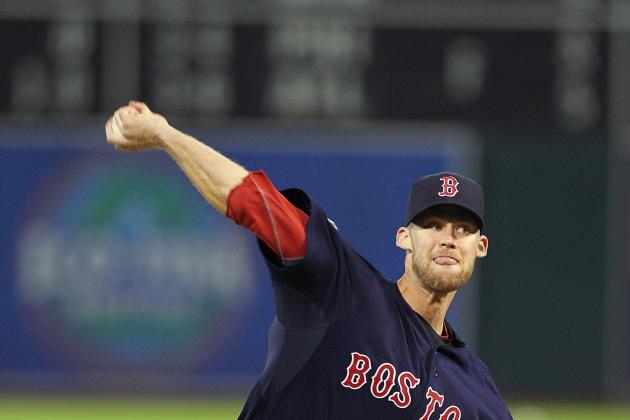 Tony Medina/Getty Images

Prior to last season's disaster, Bard appeared to be well on his way to a future as a shutdown closer in Boston. The decision to move him to the rotation turned out to be the wrong one and he spent the next few months trying to figure out why he wasn't good anymore.
The 27-year-old, back in a relief role for good, says he feels much better this year and his five shutout innings with two walks and seven strikeouts to start the spring is a good sign that he's not lying. He had a rough outing today (IP, 3 ER, 2 H, BB, HBP), but it will give the Sox a chance to see if he can bounce back from it, which he couldn't do in 2012.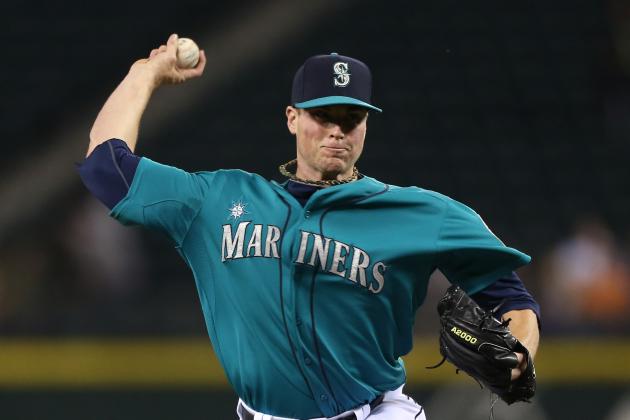 Otto Greule Jr/Getty Images

It's hard to stay under the radar when you can reach triple digits on the radar gun, but Capps hasn't gotten the attention that Bruce Rondon is getting in Detroit or Trevor Rosenthal has gotten in St. Louis.
If the M's can improve on their 75-win season of 2012 and make some noise in the AL West, the 22-year-old Capps, who has allowed just one earned run in six innings this spring with two walks and seven strikeouts, has a chance to make a name for himself on what could be a dominant late-inning relief corps in Seattle.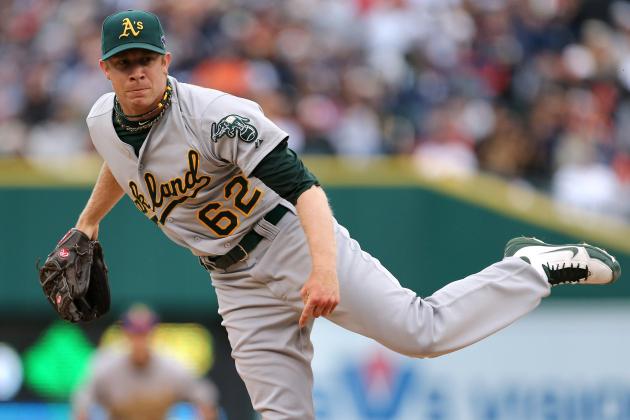 Leon Halip/Getty Images

Ryan Cook is likely to get the bulk of save opportunities if Grant Balfour starts the season on the disabled list recovering from arthroscopic knee surgery. But make no mistake, the A's won't be afraid to use the lefty Doolittle in save situations.
The 26-year-old converted first baseman dominated in three different minor league levels in 2012 before finally getting the call to Oakland, where he continued to pitch well (3.04 ERA, 47.1 IP, 40 H, 11 BB, 60 K, Sv, 18 holds).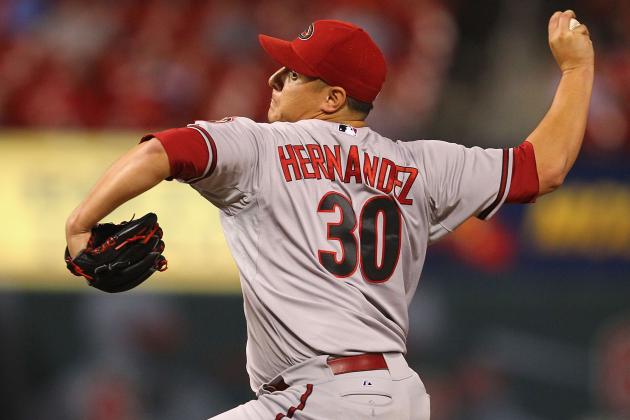 Dilip Vishwanat/Getty Images

There are several top setup men who are likely to rack up anywhere from three-to-seven saves just because they're on good teams that go on long winning streaks throughout the year and the regular closer isn't always available to pitch depending on his recent workload.
Hernandez is one of these guys. He had four saves while closer J.J. Putz avoided injury and finished the season with 32 saves. While Putz has avoided the disabled list over the past two seasons, he's now 36-years-old and has dealt with minor back issues multiple times in 2011 and 2012.
If I had to predict a closer that could miss time in 2013 due to injury, it would be Putz. And despite the acquisition of Heath Bell, Hernandez would very likely be the guy that steps in if Putz goes down.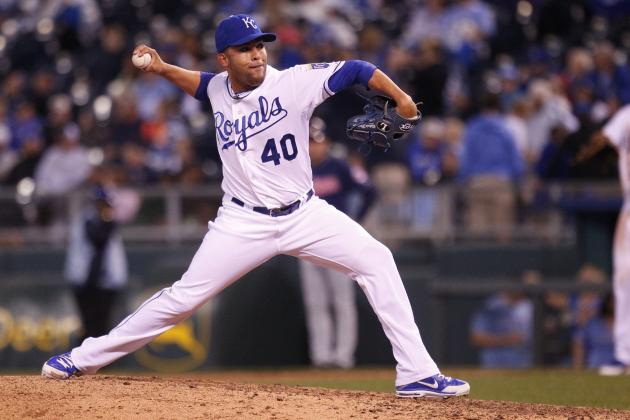 Kyle Rivas/Getty Images

Closer Greg Holland might be a bit under the radar himself after he posted a 2.96 ERA with 16 saves and 91 strikeouts in 67 innings last season. His primary setup man might be even better, though.
Herrera throws in the upper 90's, mixing in a plus change up that he throws in the upper 80's. He's reportedly working hard on his third pitch, a curveball, which will at least give hitters something else to think about aside from guessing 98 mph fastball or 87 mph change up.
If you're like me and you believe the Royals will be much improved in 2013, then you can expect a lot of save opportunities for whoever is closing games for them. I like Holland, but I have a hunch the 23-year-old Herrera will eventually take his job and it won't be because Holland isn't capable. Herrera is just better.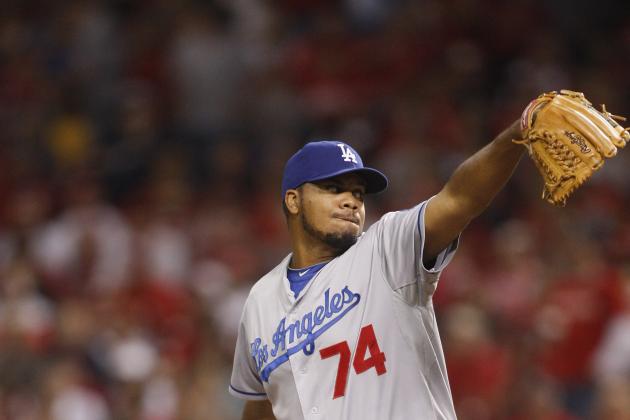 John Grieshop/Getty Images

Javy Guerra really had no chance of holding the closer's job for very long in 2012, simply because the "Closer of the Future" was already there. Guerra wasn't going to be perfect the entire season, so it was only a matter of time before he hit a rough patch and Jansen's opportunity arose.
Fast-forward to 2013. Despite a second consecutive season of dominance by Jansen, Brandon League has been named the team's closer by manager Don Mattingly after League signed a three-year, $27 million contract extension this offseason.
He'll have a longer leash than Guerra after an impressive two-month stint with the team last season. But there's still no question that Jansen is the guy hitters will fear most with the game on the line in the 9th inning.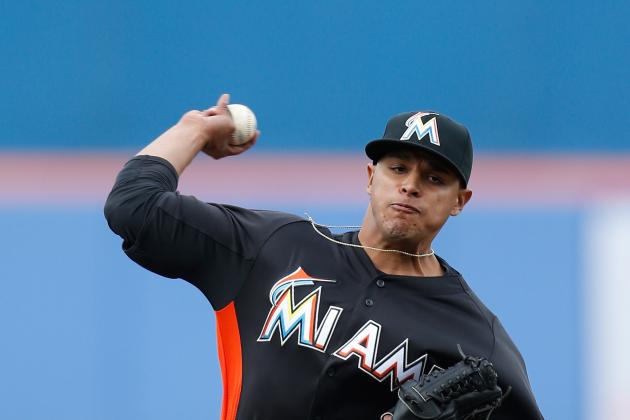 Chris Trotman/Getty Images

You want a name that nobody is talking about? How about A.J. Ramos, who isn't even a lock to make the Opening Day roster for Miami and might be no better than fourth in line for saves if he does make the team.
The 26-year-old has dominated in his last two minor league seasons (1.59 ERA, 119.1 IP, 160 K between Double-A and Hi-A) and held his own during a September call-up. Things could get ugly in Miami this season, but Ramos should have a late-season role locked up at some point with an opportunity to save a game on the rare opportunity that they have a lead.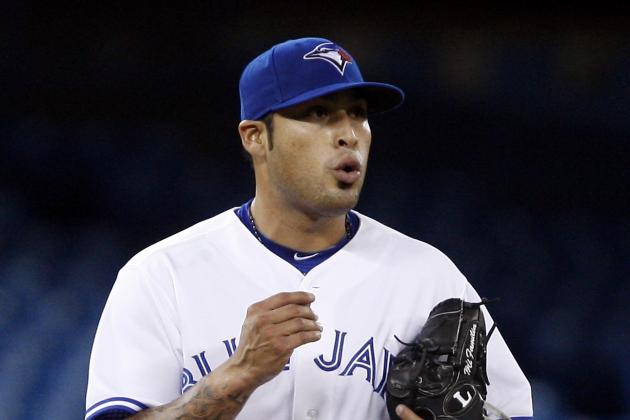 Abelimages/Getty Images

Casey Janssen did a terrific job filling in as the team's closer once Sergio Santos was shut down with a shoulder injury early last season. But Santos appears on track for Opening Day and while Janssen has earned the opportunity to remain in the role to open the season, it's only a matter of time before Santos takes on the closer's role he was acquired to fill last offseason.
In case you've forgotten who he is, Santos posted a 3.29 ERA for the White Sox in 2010-11 with 31 saves, 55 walks and 148 strikeouts in 115 innings. He throws 95 mph with one of filthiest sliders in baseball. He's the future closer of the Blue Jays.