Major League Baseball: Fantasy Free Agents Who Are Worth the Gamble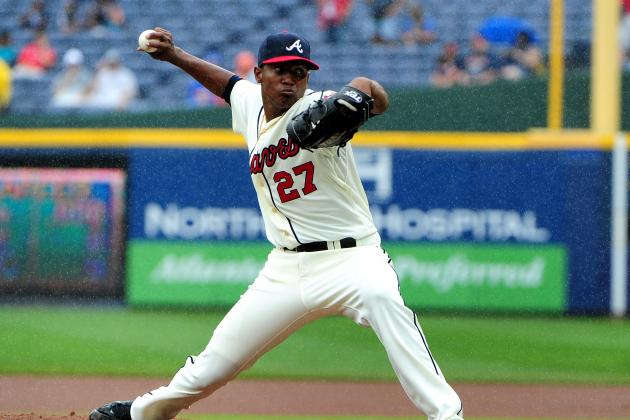 Scott Cunningham/Getty Images
The Braves' Julio Teheran is having an impressive spring.
In 12 days, Major League Baseball players will migrate from the warm weather of Arizona and Florida and make their way to their respective franchises. Baseball is, once again, on the horizon.
Fantasy drafts are underway and owners should be prepping their rosters for Opening Day.
Whether it's the changing of the guard in the AL East, the probable suspensions of those involved in the Miami clinic steroid scandal or the emergence of a new breed of young ballplayers, this season is destined to be unique.
This 2013 season also offers an assortment of fantasy undrafted free agents overlooked by owners and ESPN's preseason rankings.
Chris Sale solidified his role as the White Sox ace after posting an immaculate line last season. At the dish, Marco Scutaro proved he was deserving of a spot on fantasy rosters after his trade from Colorado to San Francisco.
Who will be this year's diamond in the rough?
Here are a few fantasy free agents owners should consider adding before the season.
Begin Slideshow

»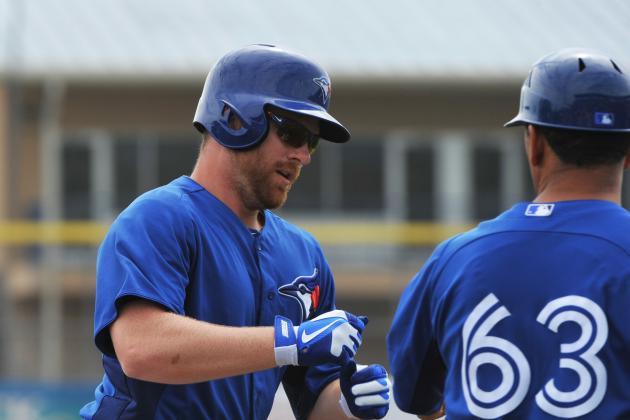 Al Messerschmidt/Getty Images
The Blue Jays' Adam Lind.
If you're a fantasy owner looking to fill a utility or first base slot, the Toronto Blue Jays' Adam Lind is your guy.
Lind broke through in 2009 when he hit .305 with 35 home runs and 114 RBI. His numbers have drastically tailed off since then.
Lind batted .255 with just 11 home runs and 45 RBI last season, playing in just 93 games due to injury.
This season, Lind is fully healthy and will join one of the most well put together rosters in all of baseball. Lind's supporting cast will take some of the pressure off his shoulders and give him the opportunity to comfortably bounce back from injury.
The 29-year-old is entering what should be the prime of his career. His spring training numbers are showing Toronto management that he deserves a spot in a lineup of All-Stars. In 41 plate appearances Lind is batting .424 with a home run and five RBI. With improved plate discipline and players to supplement his bat in the lineup, Lind will be an important cog in the Jays lineup in 2013.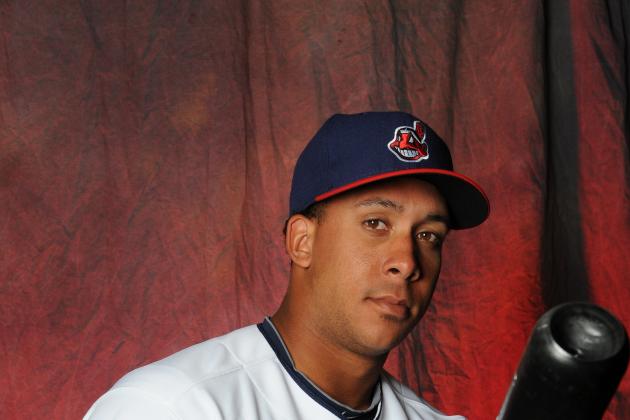 Rich Pilling/Getty Images
The Indians' Michael Brantley.
If you're playing in a league with 14 or fewer teams, Michael Brantley may still be available.
Brantley was one of the more overlooked players in 2012, providing the Cleveland Indians with consistent production at the plate, complemented by playing a solid center field.
The 25-year-old batted .288 with six homers and 60 RBI, striking out just 56 times all season. A young talent with plate discipline, decent speed and a collection of veteran talent to complement his bat is perfect recipe for success.
Brantley is currently tearing it up in spring training with seven hits in 19 at bats.
Brantley would make a nice addition to anyone's roster and provide depth off the bench.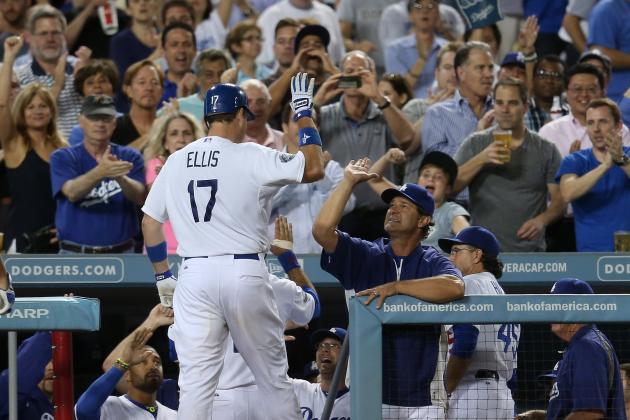 Stephen Dunn/Getty Images
The Dodgers' A.J. Ellis.
Proportionally, the Los Angeles Dodgers' A.J. Ellis has been one of the more consistent offensive catchers in baseball over the last few seasons.
Ellis has kept his average in the .270 range for the last three seasons, including 2012 where he won the starting job. The Dodgers catcher hit .270 with 13 home runs and 52 RBI last season.
In spring training, Ellis is out-slugging the majority of catchers, batting .364 with three RBI in 30 plate appearances.
While he's not starting catcher-worthy, he's a solid and consistent option off the bench.
Ellis will bat closer to the bottom of the order and have a good amount of RBI opportunities with guys like Ethier, Gonzalez and Kemp batting in front of him.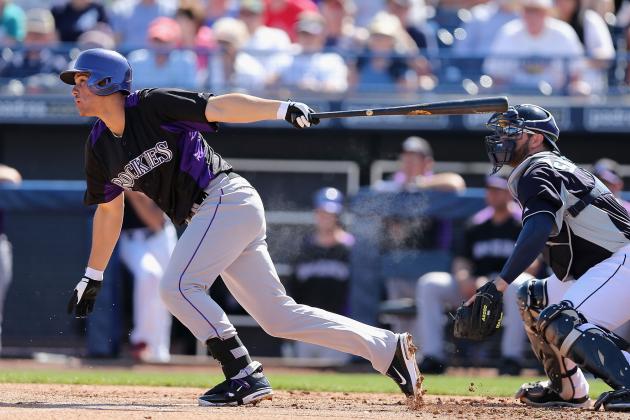 Christian Petersen/Getty Images
Rockies prospect Nolan Arenado.
The battle between Nolan Arenado and Chris Nelson for the Colorado Rockies' starting first base job is coming to an end, and it looks like Arenado has the upper hand.
Arenado is owned in less than one percent of ESPN fantasy leagues. He could flourish in the hitter-friendly Coors Field.
The 21-year-old prodigy is the No. 52 prospect according to Baseball America and the top of the Rockies' organization. With third base a perennial hole in the Rockies' lineup, Arenado will have the opportunity to bat behind one of the best offensive lineups in baseball.
Arenado is batting .276 with four home runs and 10 RBI for the Rockies in spring training thus far. His numbers last season for Double-A Tulsa were down from 2011 when he batted .298 with 20 home runs and 122 RBI for Single-A Modesto, but he's still a viable bat to have in any organization.
If your league allows upwards of four or five bench players, Arenado is a must-have.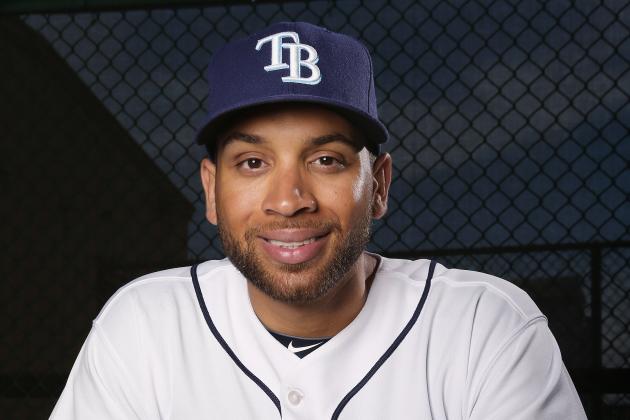 Elsa/Getty Images
The Rays' James Loney.
The pressure is off James Loney as he makes his way from the spotlight of Boston to the small market of Tampa Bay. Loney has the perfect opportunity to bounce back.
Loney is coming off a horrendous season with Los Angeles and Boston where he batted a combined .249 with six homers and 41 RBI. Here's a guy that was one of the most consistent bats in baseball just two years ago.
You have to take everything Loney did last year with a grain of salt. He was inserted into two underachieving clubhouses filled with talent but ridden with bad attitudes and intense media coverage. He had one of the worst environments to dig his way out of a slump.
In Tampa, manager Joe Madden's team is built on chemistry. Each player has their own unique role in the organization. His new situation offers the perfect environment to break a slump.
Expect Loney to produce. If you have a free roster spot, he's worth the acquisition.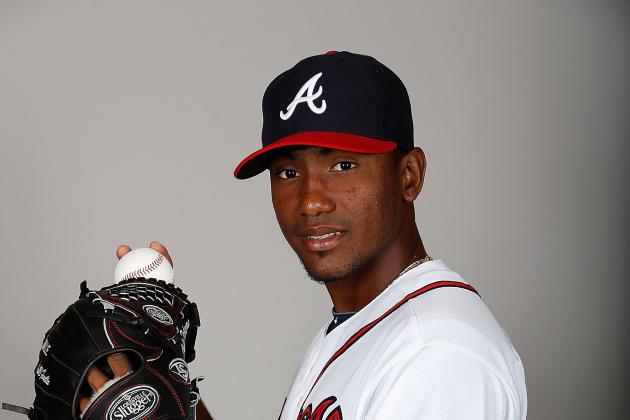 J. Meric/Getty Images
Braves' top prospect Julio Teheran.
If your team is in need of a starter, look no further than the Atlanta Braves' Julio Teheran.
Teheran is competing for a spot in the Braves rotation and is doing so rather effortlessly. In five games this spring, the Braves' top prospect has put together a 2-1 record with 25 strikeouts and a 1.35 ERA in 20 innings.
Teheran struggled in the majors in 2011 and 2012 with ERAs above five. Ignore the latter. The Braves rushed their young prospect after he excelled in the minors.
This season, Teheran is major league ready and will be a force in the Braves rotation. His accuracy is improving and he's no longer afraid to drop his knee-buckling curveball.
Teheran is available in about seven percent of all ESPN leagues.
Follow this Featured Columnist on Twitter @cucch22