Fantasy Baseball 2013: 8 Hidden Gems You Must Take in Your Draft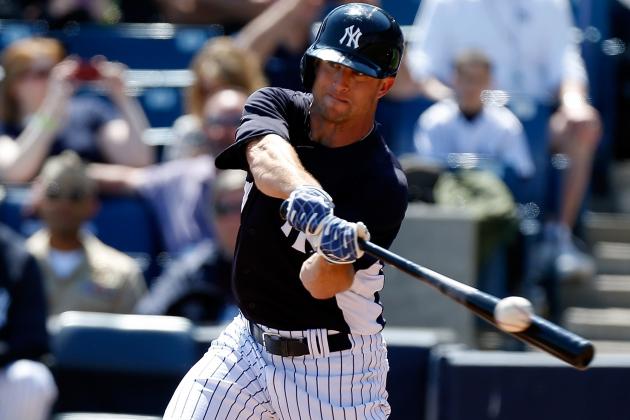 J. Meric/Getty Images
Brett Gardner, a rare underrated Yankees player, is finally healthy and will help your fantasy team.
The term "sleeper" doesn't really exist in fantasy baseball anymore.
Between the Internet, TV, magazines, podcasts and just about any other forum you can think of, there's simply too much information from too many outlets to consume for any player to go unnoticed to the general fantasy-playing public.
But there is a difference between unnoticed and overlooked.
That's where the idea of "hidden gems" comes in. These are players you and everyone else in your league has heard of already, but for one reason or another, they're not getting as much attention as they should on draft day. Maybe they were injured for most of last season. Perhaps they play for bad teams. Or just maybe, despite all the accessible and available resources, fantasy owners don't realize how good these players were in 2012—and could be in 2013. They do, though, have one thing in common: an ability to be productive players for your team.
That said, here are eight hidden gems—players being drafted after Round 15 in both 10- and 12-team leagues—that you should target at your draft.
All Average Draft Position (ADP) figures come from MockDraftCentral.com with reports from Sunday, March 17.
Begin Slideshow

»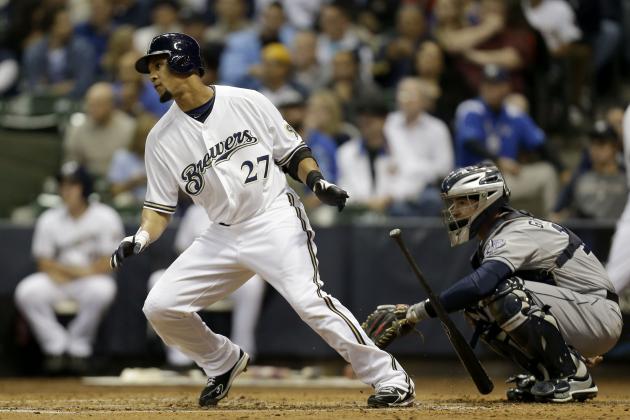 Mike McGinnis/Getty Images
Gomez brings fantasy value with both his bat and his legs.
Fresh off a four-year, $28.3 million extension with Milwaukee, at least Carlos Gomez's wallet is getting some love.
In fantasy circles, though, he's still going later than he should. To wit, the center fielder, who's still only 27 years old, reached career-highs in both home runs (19) and stolen bases (37) in 2012—in all of 415 at-bats.
There are obvious flaws. Gomez rarely walks and his .260 average last year was also a career-"best", but those seem to be knocking down his draft status a bit too much. He plays in a hitter-friendly ballpark and finally has a starting job to himself.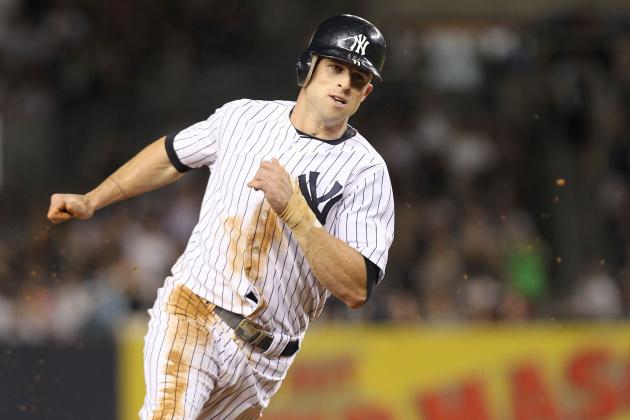 Nick Laham/Getty Images
Speed is Gardner's go-to fantasy asset.
It's not easy to uncover an overlooked Yankees player, especially in fantasy, but Brett Gardner fits the bill because he missed most of last year with injury.
The good news, though, is the problem was with his wrist, not his legs, which are the 29-year-old's fantasy moneymaker. In his last two full seasons (2010 and 2011) Gardner averaged 92 runs scored and 48 steals.
With the Yankees lineup decimated by injuries to key power hitters, there's a chance his run total could drop from that, but the club will also need to rely on his "small ball" skill set to find success in 2013.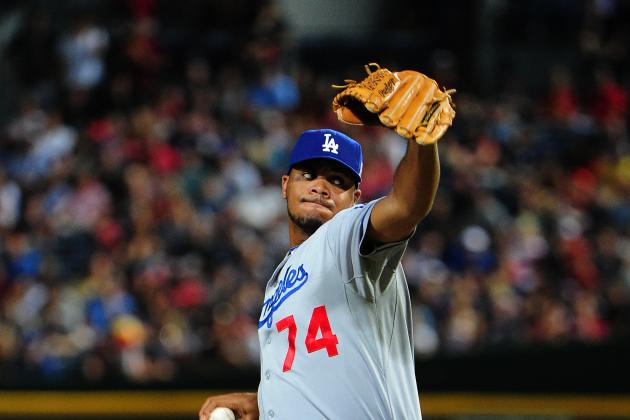 Scott Cunningham/Getty Images
Jansen has the stuff to regain the closer role.
Kenley Jansen has dealt with a scary heart condition in the past, but the right-hander had an offseason procedure to help fix the issue and is healthy this spring.
Keeping perspective in check, that's obviously great news for the 25-year-old on a personal level. For fantasy purposes, that means the flamethrower is ready to get back to doing what he does best—striking out hitters.
Last year, Jansen finished fifth in the majors with 13.7 K/9 (among pitchers with at least 50 innings). The Dodgers have said that Brandon League, acquired from the Mariners last season as Jansen insurance and given a multi-year contract over the winter, will be their closer to open the season. Jansen, though, has proven he has the skills to handle the ninth, including 25 saves in 2012, and is a good bet to unseat the shaky League.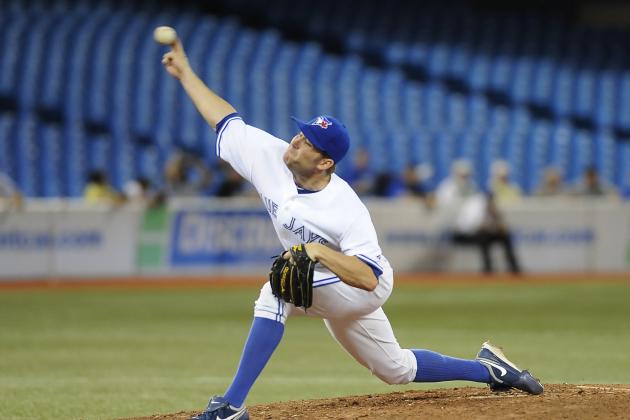 Brad White/Getty Images
Janssen had a breakout year at age 30.
After closer Sergio Santos, the Blue Jays' big offseason acquisition last winter, fell victim to arm trouble early in 2012, Casey Janssen unexpectedly stepped up to fill the void in the ninth inning.
The 31-year-old right-hander notched 22 saves, along with even better peripheral statistics, including a 2.54 ERA, 0.86 WHIP and 9.5 K/9. In fact, over the past four years Janssen's strikeout rate has climbed, while his walk rate has fallen.
That's the kind of formula that should help him hold off the now-healthy Santos and earn even more saves for a retooled Toronto team.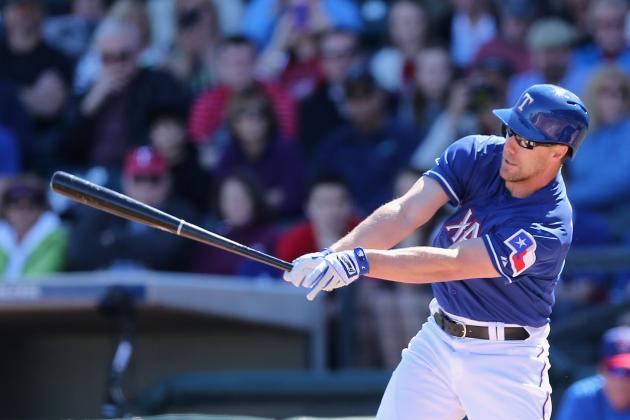 Christian Petersen/Getty Images
Murphy will finally be a full-time player.
There's not much that's sexy about what David Murphy brings to the table for fantasy; he just gets the job done every year.
The 31-year-old has reached double-digits in both homers and steals each of the past three seasons, and last year was the first time he broke the 500-plate-appearance barrier. Part of the problem is that the lefty hitter struggles against same-sided pitchers (.266/.313/.361 career), but after the departure of Josh Hamilton via free agency, the Rangers will be counting on Murphy to play everyday.
The extra at-bats, especially against southpaws, could mean he'll hit below his .285 career average, but Murphy will make up for it in the counting categories of RBI, runs, homers and steals.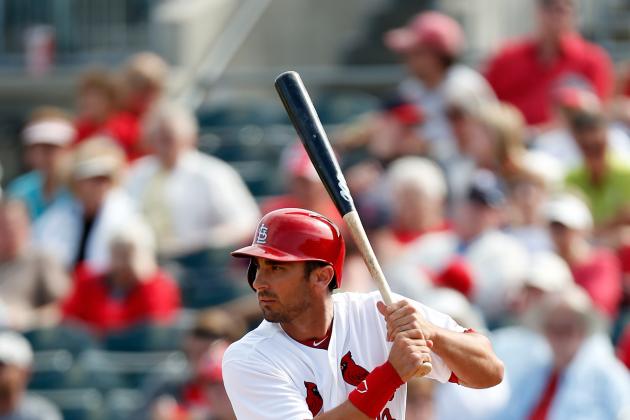 Chris Trotman/Getty Images
Carpenter is a fantasy Swiss Army knife.
It's only fitting that a guy whose last name is Matt Carpenter should be a Mr. Fix-It in fantasy.
The 27-year-old lefty hitter doesn't have much upside, but he's the ultimate roster Band-Aid, because he starts off 2013 already eligible at three positions—1B, 3B and OF—and he'll soon be adding 2B to his tool belt.
While nothing has been decided yet, the Cardinals have played Carpenter, who spent all of last year moving around the diamond, almost exclusively at second base this spring. His competition is Daniel Descalso, a .245 career hitter known for his defense. Carpenter, meanwhile, hit .294 as a rookie in 2012 and added 33 extra-base hits and 46 RBI in fewer than 300 at-bats.
Draft him now, bank on him winning the job and enjoy the jump in stats and improved roster flexibility.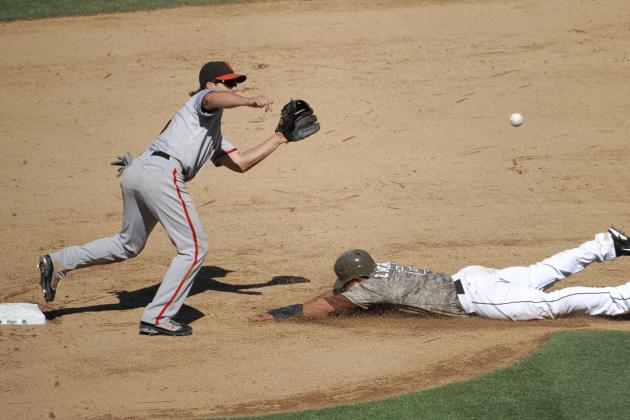 Denis Poroy/Getty Images
Cabrera steals one of his—count 'em—four bases last September 30.
Pop quiz, hot shot: Who led the National League in stolen bases in 2012? Okay, you probably figured it was the guy pictured to the left.
Even crazier than the fact that Everth Cabrera, a relative no-name coming into last year, topped the Senior Circuit in swipes with 44? He did so in fewer than 400 at-bats. In other words, over a full season, we could be looking at 60-plus stolen bases.
Of course, given his reported link to performance-enhancing drugs and the Biogenesis scandal this winter, Cabrera could face a suspension if any evidence is found. There's risk here, but not to be crass, even if Cabrera gets a 50-game ban, look what he did while playing only 115 games last year.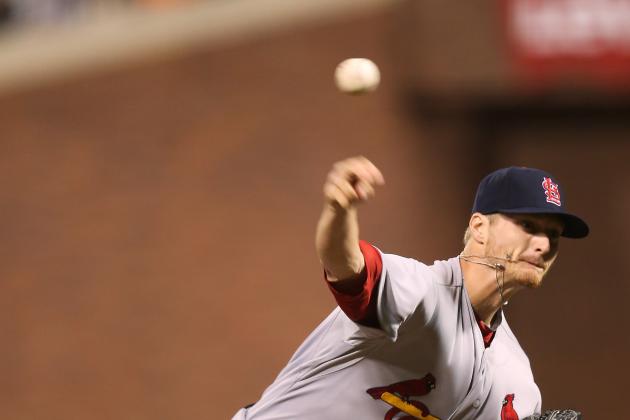 Christian Petersen/Getty Images
Miller could win the fifth starter's spot.
The 22-year-old Shelby Miller is locked in a battle with fellow right-hander Joe Kelly, 24, to be the Cardinals' No. 5 starter.
While Kelly has the edge in experience (barely) with 16 starts in the majors last season, Miller made an impressive September cameo that carried into the postseason and he has more upside.
The Cardinals' 2009 first-rounder, Miller uses his mid-90s heat and a great curveball to pile up strikeouts (11.1 K/9 for his career), and he's big league-ready. Now it's just a question of whether he breaks camp with St. Louis or comes up a little later in the year. Even if it's the latter, Miller is worth sneaking in as one of your final picks, which is all it will cost to land this hidden gem.