Seattle Seahawks 2013 Mock Draft: 7-Round Predictions After Week of Free Agency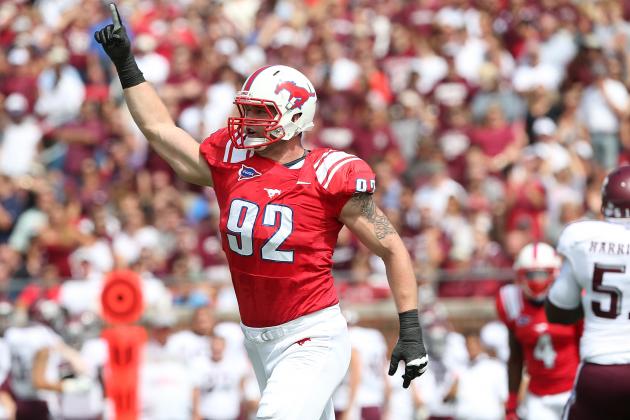 Ronald Martinez/Getty Images

What a difference a week makes for the Seattle Seahawks.

Did anyone see this coming? Before the start of free agency, it is fair to suggest that no one predicted that the Seahawks were going to trade for Percy Harvin and sign both Cliff Avril and Michael Bennett. The signing of Bennett is particularly impressive, considering that he was one of the premier pass-rushers on the market and it would not have been surprising for him to get a multiyear deal from the Tampa Bay Buccaneers.

Free agency isn't over, and more deals may be on the horizon. However, no one would be shocked if Seattle were done spending money for now. The Seahawks may quickly shift their full attention to the 2013 NFL draft.

Seattle had a number of needs before the start of free agency. Some have arguably been addressed, so how much has the strategy shifted?

The Seahawks no longer have a first-round pick, so that decision is solved. However, there are still a number of picks, so here is an updated prediction.
Begin Slideshow

»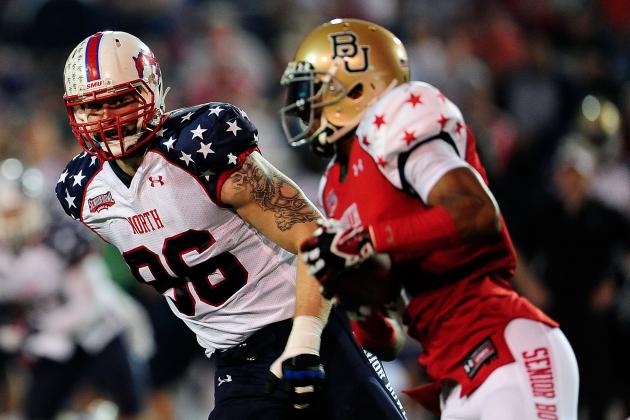 Stacy Revere/Getty Images

You have to be careful with noteworthy combine performances (via NFL.com). Margus Hunt of SMU is one of those unique physical specimens that is going to be intriguing to a lot of teams simply from the standpoint of strength and athleticism.

Hunt would partially address team needs on the defensive line, particularly if the 'Hawks do not re-sign Alan Branch. Granted, it would be interesting to see where Hunt might fit.
Pete Carroll said the following after Michael Bennett was signed: "I just don't feel like you can have enough speed pass-rushers on your club" (via The Seattle Times).

Granted, Hunt may be one pass-rusher too many. It will already be interesting to see how Pete Carroll manages Bennett, Cliff Avril and Bruce Irvin. Hunt may be physically gifted, but he does not necessarily have the bulk to play inside.

Hunt may not be around by the time Seattle picks, and he may not be a natural fit for its needs.
However, Carroll and Schneider have often proven to go with the unconventional pick.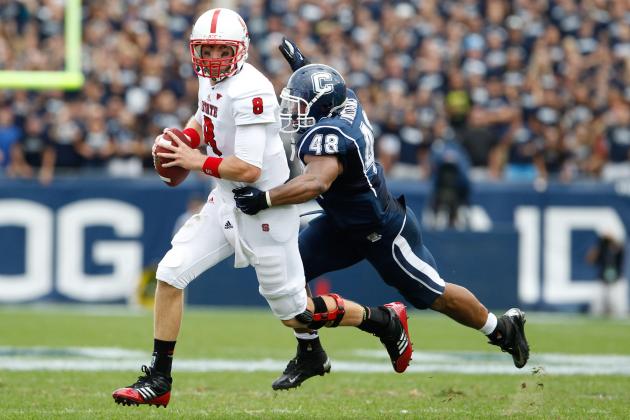 David Butler II-USA TODAY Sports

Leroy Hill is probably not coming back, and Seattle needs an outside linebacker. Perhaps Malcolm Smith becomes the starter, but even if he does, the Seahawks could use some depth at linebacker.

There will be a number of choices in the middle rounds, and one solution could be Trevardo Williams from Connecticut. Williams is fast and instinctive and could fit very well into Seattle's scheme.

The Seahawks have done very well at drafting linebackers over the last couple of seasons, so hopefully they can grab another gem in 2013. If Williams is not available, Seattle may be able to grab his teammate Sio Moore.

Another option could be Brandon Jenkins from Florida State, who was projected as a first-round pick before he was injured at the beginning of the 2012 season. He may or may not drop this far.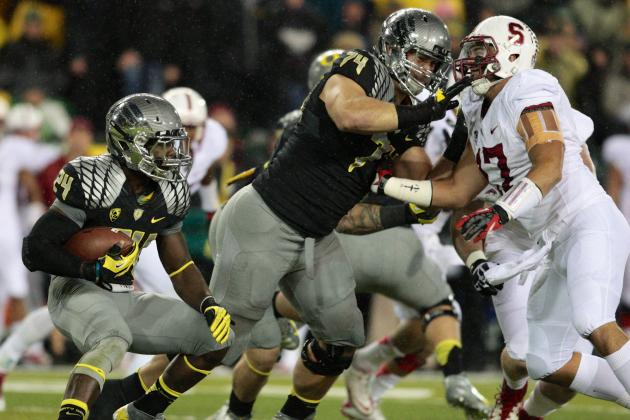 Scott Olmos-USA TODAY Sports

The debate rages on as to whether the Seahawks need to upgrade their offensive line or stick with what they have and let the current players develop more chemistry. Regardless, Seattle could benefit from another body simply from a depth standpoint.

Injuries have been an issue for draft picks in the past.

Therefore, Seattle could target a player like Kyle Long from Oregon. The NFL pedigree is there, and it will just be a matter of whether NFL teams label him as having "upside" or being a potential "project."

Long is projected to go in a higher round, but the draft can be a funny mix of differing evaluations and circumstances. Even if someone like Kyle Long is not available, this may still be a round in which the Seahawks pick up an offensive lineman in order to add some depth.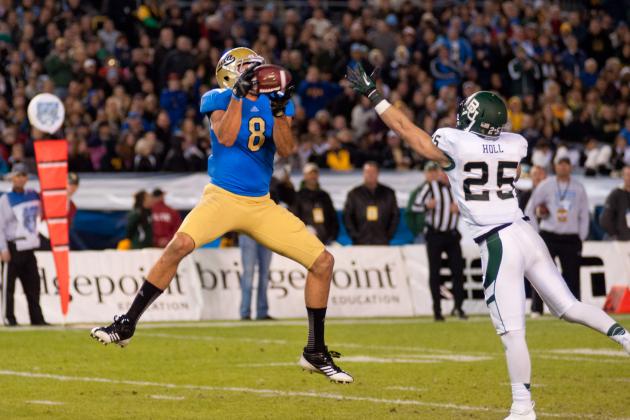 Kent Horner/Getty Images

What could Russell Wilson do with another red-zone weapon? A fun prospect to consider. The addition of Percy Harvin will already make Seattle a very dangerous offensive team.

How about another tight end?

Joseph Fauria of UCLA could be a nice complement to Zach Miller. Fauria is a big body, and he could help create some interesting two-tight-end sets.

With their other fifth-round pick, the Seahawks could create some depth in the secondary by drafting someone like Tyrann Mathieu from LSU. He is not the biggest player, but he was a great defender in college, and it would be interesting to see what he could do in the NFL.
The "Honey Badger" may be a risk given his behavioral history, but since when has a unique personality scared away Seattle?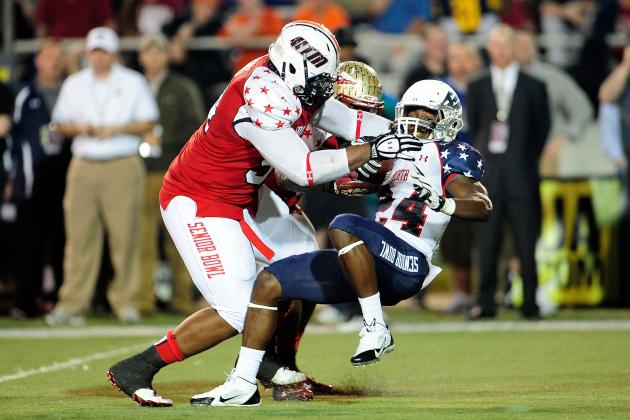 Stacy Revere/Getty Images

Time for a small-school guy.

Seattle may need to draft an interior defensive lineman in a higher round, but if it doesn't, the Seahawks may think about a project in the later rounds. This is where you grab guys that could contribute but could also wait their turns as they fill out the practice squad.

Enter Montori Hughes, defensive tackle from Tennessee-Martin. Hughes is a big body at 6'4" and 329 pounds. He played well at the Senior Bowl, and he had solid measurables at the combine.

Hughes has had some behavioral issues in the past, but the Seahawks seem adept at managing guys who have had such challenges. This may seem like a reach pick to some, but Seattle likes those kinds of selections.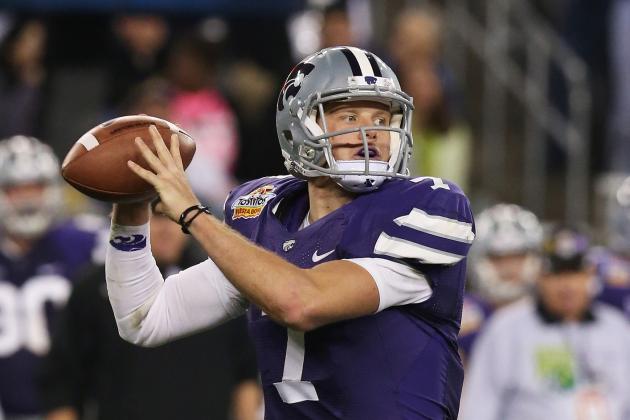 Stephen Dunn/Getty Images

No team should throw away draft picks, but when you get to the later rounds, you can arguably pick a project or two. Given Seattle's depth, there is some room for experimentation.

In the seventh round, Seattle could go a few directions. One direction would be to get a quarterback like Collin Klein from Kansas State. This would give the team some insurance in case Matt Flynn ends up getting traded.

Another direction is to draft someone like Denard Robinson, who could be a wide receiver, kick returner or some other offensive weapon. Maybe a little Wildcat just to keep defenses even more on their toes? Robinson will probably be gone, but if he is around, he could be an intriguing athlete to add.

The other option is to draft a kicker such as Caleb Sturgis from Florida. This would give Seattle another kicking solution if it decides not to re-sign Steven Hauschka.

Decisions, decisions.