10 Most Underrated Players in the 2013 NFL Draft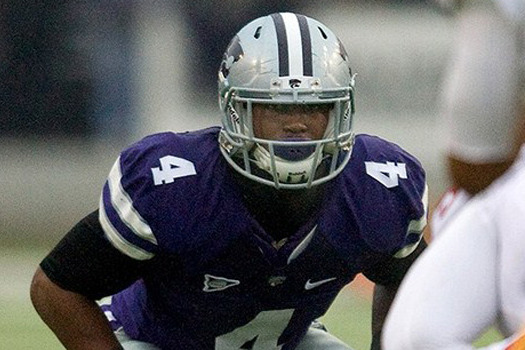 US Presswire
Just like any draft, the 2013 NFL draft has overrated and underrated players. You've probably heard of all the overrated players—and probably the underrated players too—but some of these under-the-radar guys may have escaped your attention.
The players on this list are players who don't don't receive the attention they should, are rated too lowly on most draft rankings or are projected too lowly in mock drafts.
All three apply to the majority of this list.
Some of these players are still top draft picks—others are likely mid-round picks. All deserve to be talked about more than they currently are.
Begin Slideshow

»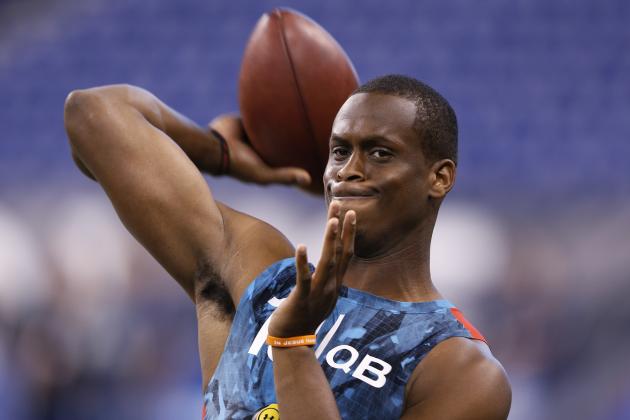 Joe Robbins/Getty Images

It seems odd that a player expected to go in the top 10 could be underrated, but Geno Smith is.
Throughout the draft process, Smith has been barraged with criticism, and some have gone so far as to say he isn't a first-round pick. In other words, Smith isn't getting the respect he deserves.
The West Virginia star has above-average physical ability, as he possesses good mobility and a strong arm. He is also an accurate passer with excellent decision-making ability.
The Kansas City Chiefs made a mistake when they traded for Alex Smith. They should have taken the younger Smith.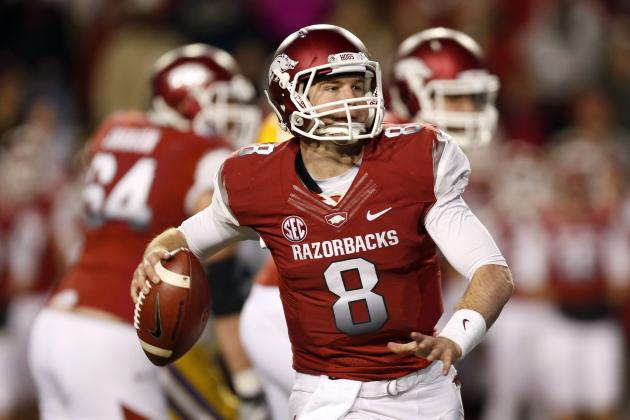 Wesley Hitt/Getty Images

Most analysts seem to have Tyler Wilson as a second- or third-round pick.
Why?
The Arkansas star has a strong arm, good accuracy and solid athleticism. He threw some interceptions at Arkansas, but his supporting cast was terrible.
Based on talent alone, Wilson is a solid first-round pick. He can play in just about any offensive scheme and has great upside.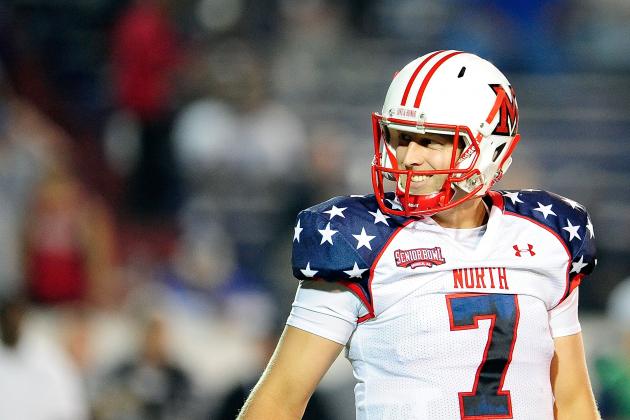 Stacy Revere/Getty Images

Zac Dysert is rarely talked about as a Day 2 pick.
He should be.
Dysert is big with a strong arm and incredible vertical ability. He has better ball placement when throwing deep than any other quarterback in this draft.
At Miami, Dysert occasionally forced the ball into coverage. This can easily be attributed to his weak supporting cast and Dysert trying to do too much.
Dysert's only major flaw was the poor decision-making, as his physical ability and accuracy are both great. He has legitimate franchise-quarterback upside and could develop into a star.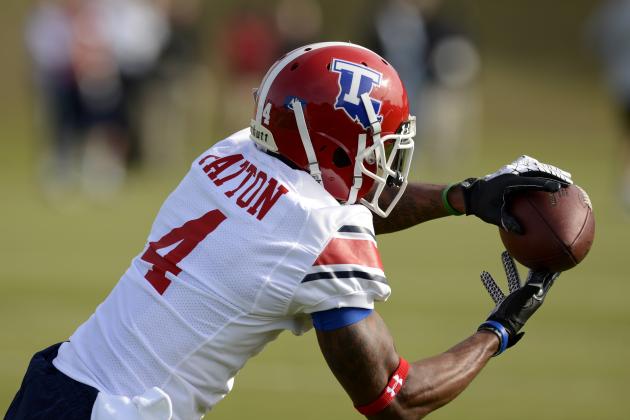 USA TODAY Sports

Quinton Patton lacks elite upside, but he's a solid player. The 6'0", 204-pounder isn't exactly a deep threat, but he's quick with solid catching ability.
In all likelihood, Patton won't be a No. 1 wideout in the NFL, but he will be a solid No. 2. He has great yard-after-the-catch ability and does a solid job of separating.
Patton will likely ed up in the second or third round, but teams should consider him in the first.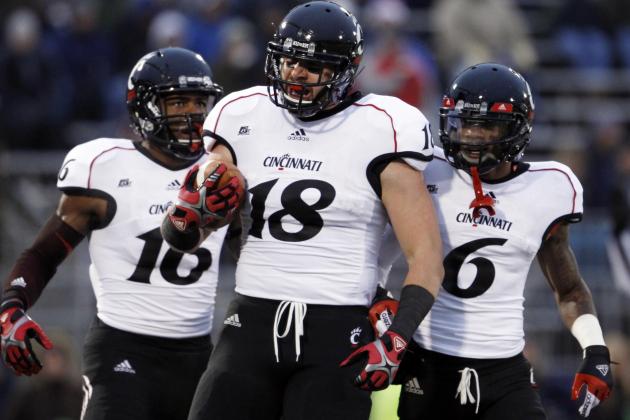 David Butler II-USA TODAY Sports

Travis Kelce is a big tight end with power, hands and great blocking ability. On the field, he is a first-round talent.
But Kelce won't go in the first round, and he may not even go in the second.
The Cincinnati product isn't an elite athlete, but he is the best all-around tight end in the draft. Only his lack of elite deep speed and athleticism holds him back on the field, and the rest of his game more than compensates for that weakness.
There are many teams that would benefit from the addition of Kelce, and whichever team does pick him will get a steal.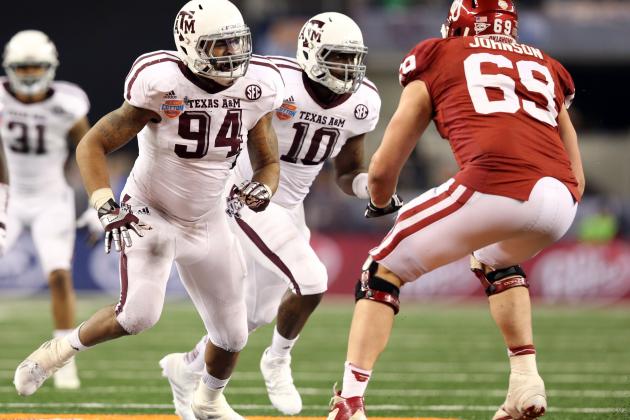 USA TODAY Sports

Lane Johnson is another projected top pick, yet he is still underrated. The 6'6", 302-pounder is an incredible athlete—he ran a 4.72 in the 40-yard dash—with a mean streak in the run game.
Johnson's length and athleticism make him a potential elite pass-blocker. In turn, his athleticism and nasty attitude give him the best run-blocking upside of any offensive tackle in the draft.
The Oklahoma tackle has the most upside of any draft-eligible offensive tackle, and he isn't all that raw either. He should be an option at No. 1.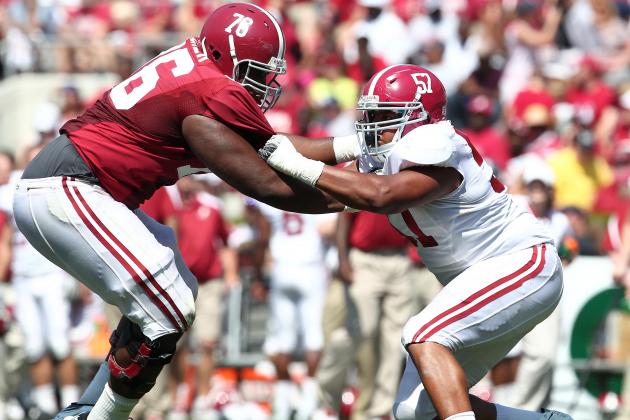 Marvin Gentry-USA TODAY Sports

At 6'5", 339 pounds, D.J. Fluker is a massive road-grading tackle with incredible length. He isn't particularly light of foot, but he is still decent as a pass-protector.
Fluker isn't underrated so much at tackle as much as he is at guard. As a guard, Fluker has incredible upside. His length would be a tremendous asset on the inside as a pass-protector, and he would be just as dominant in the run game.
As a right tackle, Fluker should be a solid player. As a guard, Fluker could be an absolute beast who makes an impact on nearly every play.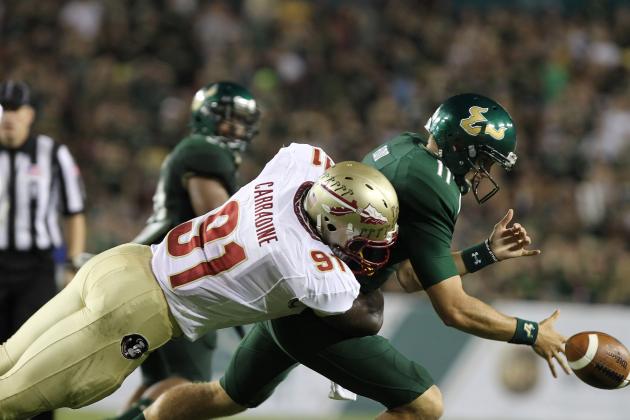 Kim Klement-USA TODAY Sports

If he hadn't torn his ACL, Cornellius Carradine might be a top-10 pick. As it is, he's a likely first-round selection.
Should a torn ACL really knock a player down that much?
Carradine has said he expects to do a full workout before the draft, and he should be ready to play before the start of the NFL season. His tape shows how good he is, and ACL injuries are rarely career-threatening.
Carradine's length, power, savvy and closing speed make him the best defensive end in the draft. He should be a star in the NFL, and an injury from his senior year of college won't change that.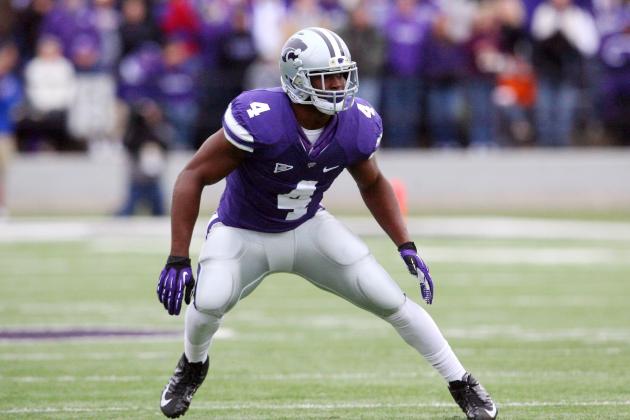 Scott Sewell-USA TODAY Sports

How often does Arthur Brown appear in the first round of mock drafts?
Not often. And there is no reason Brown should fall outside of the top 10.
The Kansas State product is often criticized for being too small. At his pro day, though, he weighed in at a reasonable 236 pounds while retaining his prior athletic ability.
Brown is a terrific athlete with explosive ability. He can rush the passer, defend the run and play in coverage at a high level. In time, Brown could be the NFL's best linebacker.
It's possible Brown will fall to the second round, and if he does, some team will be getting a tremendous steal.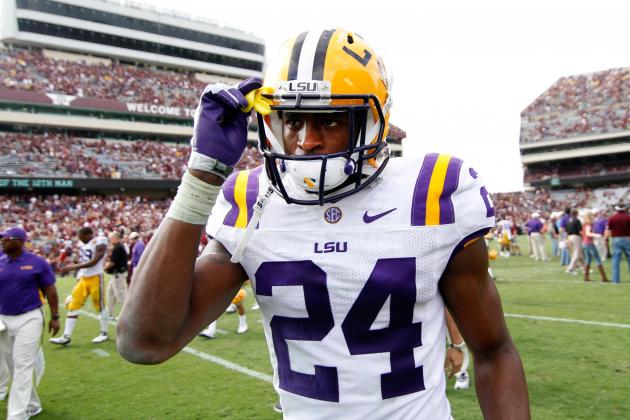 Brett Davis-USA TODAY Sports

It's rare for an LSU defender to be underrated, but Tharold Simon fits the bill.
At 6'2", 202 pounds, Simon is a good athlete with great strength. He's a physical player at the line of scrimmage and has the ability to be a great press defender.
Simon's technique definitely needs some work, but his talent is great enough to overcome it. With good coaching and the right scheme, he could be a star on the outside.
Yet Simon is almost never mentioned as a first-round pick, and he may not even be a second-rounder. And he has way too much ability to fall that far.