With the first day of NFL free agency in the books, Greg Jennings and Charles Woodson are still up for grabs.
Both players are rumored to have potential landing spots, and we've got you covered on the latest buzz surrounding the talented veterans.
As hot and heavy as Tuesday was, you can expect the next few days to be just as loaded with big moves around the league as some teams hope to build contenders while contenders try to upgrade their already talented rosters.
Here's the scoop on Woodson, Jennings and another player you may have heard of.
Charles Woodson Could Replace Dashon Goldson in San Francisco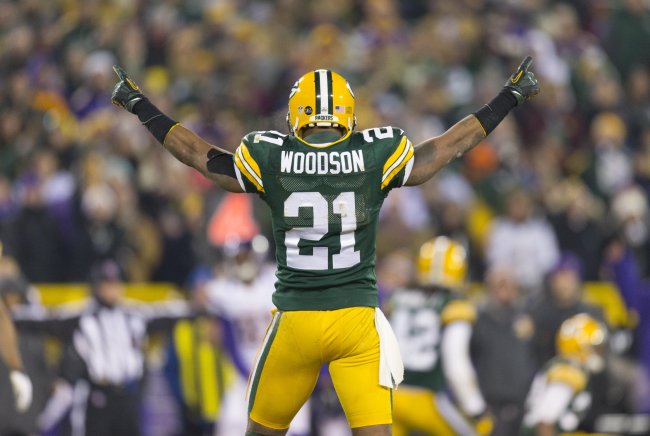 USA TODAY Sports
After getting released by the Green Bay Packers last month, Woodson has yet to visit a single team.
That's about to change, according to ESPN's Josina Anderson, who writes:
Agent Carl Poston just told me Charles Woodson is scheduled to visit the #49ers. Woodson is set to fly out Wednesday.

— Josina Anderson (@JosinaAnderson) March 13, 2013
According to NFL.com's Gregg Rosenthal, "Woodson has said that he wanted to play for a contender," and the 49ers certainly fit that description.
Woodson is getting to the point in his career where he just wants to go out on top.
Rosenthal writes, "We don't expect Woodson to have a huge market," and at his age and with his injury last year, that's not a big surprise.
That said, Woodson's natural abilities haven't diminished so much that he can't still be an effective, if not dangerous, player for the 49ers in 2013.
Adding him would certainly give the 49ers some wiggle room in the apparent search for Goldson's replacement. It's being reported that Goldson was picked up by a private jet destined to Tampa Bay (h/t the Tampa Bay Times' Rick Stroud), and it will be a big shock if he doesn't end up signing with the Buccaneers.
Greg Jennings Still Isn't a Lock to Leave Green Bay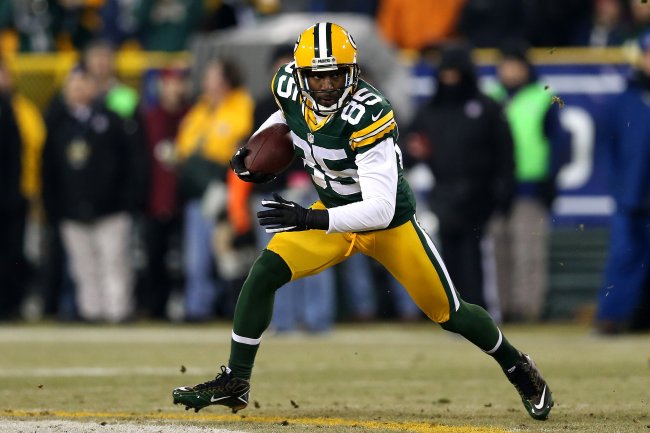 Jonathan Daniel/Getty Images
On Monday, I wrote an article saying that Jennings could potentially still end up with the Packers in 2013. Nothing has changed on that front.
Jennings was reported to have a potential suitor in the Indianapolis Colts, but Colts beat writer Mike Chappell was quick to shoot them down on Tuesday:
For those linking #colts to Packers WR Greg Jennings, Indy has not expressed an interest. I totally trust the source.

— Mike Chappell (@mchappell51) March 12, 2013
Later on Tuesday, the Green Bay Press-Gazette's Rob Demovsky dropped this rumor:
NFL source just told me that if Jennings hasn't signed with another team by midnight, he could be back with the #Packers.

— Rob Demovsky (@RobDemovsky) March 12, 2013
About an hour or so later, ESPN Wisconsin's Jason Wilde added some juice to an already juicy situation:
According to an NFL source, the #Packers had made an offer to @gregjennings "a while ago" that was worth about $10M per year.

— Jason Wilde (@jasonjwilde) March 13, 2013
Finally, 1500ESPN.com's Tom Pelissero reported that the Minnesota Vikings also aren't currently in the market for Jennings:
I'm told the #Vikings are NOT actively pursuing Greg Jennings right now. Of course, that level of activity can change ...

— Tom Pelissero (@TomPelissero) March 13, 2013
After Jennings watched Mike Wallace and Percy Harvin get the red-carpet treatment the past couple of days—Wallace was signed by the Miami Dolphins (h/t NFL Network's Jeff Darlington) and Harvin was traded to the Seattle Seahawks (h/t Fox Sports' Jay Glazer) and then given a massive contract (h/t Pro Football Talk)—he must be wondering if Green Bay isn't the best possible choice for him, both financially and career-wise.
Don't be shocked if he ends up re-signing with the Packers sometime soon.
Wes Welker and the Patriots May Not Be Such a Sure Thing After All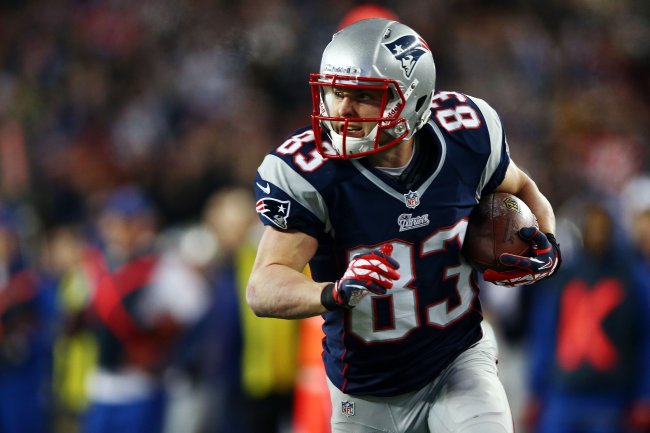 Elsa/Getty Images
On Monday, Peter King of SI.com published his weekly Monday Morning Quarterback column, in which he wrote that free agent wide receiver Wes Welker is still "widely believed to be staying in New England."
That doesn't appear to be the case after Tuesday.
NFL Network's Ian Rapoport has been all over this situation, and he posted a couple of interesting reports on Twitter on Tuesday:
You guys won't believe this: I said Wes Welker was waiting for the Patriots last offer. Received a correction: Actually their 1st offer

— Ian Rapoport (@RapSheet) March 12, 2013
Per sources: Talks between Wes Welker and #Patriots are over at this point. Welker exploring free agency #Intrigue #FreeAgency

— Ian Rapoport (@RapSheet) March 12, 2013
It seems as if New England is prepared to move on without Welker, judging by these latest reports. Danny Amendola has been floated as a potential replacement for Welker since Pro Football Talk's Mike Florio raised the idea on the Dan Patrick Show last week (h/t Fox Sports), and Rapoport suggested the same thing on Tuesday.
It will be interesting to see where Welker ends up in 2013. He's been one of the most consistent slot receivers in the NFL the past six years, and though he's about to be 32, he still has a lot of gas left in his tank.
Follow me on Twitter @JesseReed78