2013 NFL Draft: Buying or Selling Top Prospects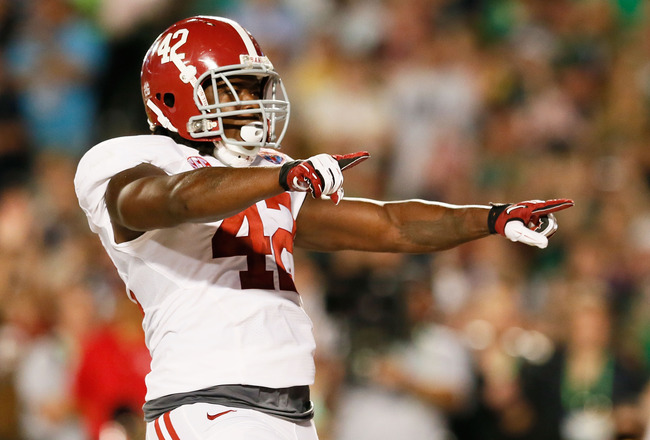 Kevin C. Cox/Getty Images
There is nothing that an NFL general manager loves more than getting a great bargain.
Nothing. Not even driving a great one—which is sure to be high up on the enjoyment list as well.
The NFL's pro-day season is here. Free agency has opened. This is a new league year, and every team has put on their best face regarding plans for the future.
This is the season for optimism among every NFL fanbase and front office alike. It's the season for smoke signals, misinformation and agendas.
Every team has the beginnings of their "winning plan" for 2013 being installed, and that plan—at this point—involves acquisition of personnel and nothing else. Human capital.
It is a volatile marketplace if you look at the consensus.
Here, I have taken the current consensus rankings from Mel Kiper's Global Exchange at PlayTheDraft.com and I have identified which 2013 NFL draft prospects are being undervalued, and which are being overvalued by the industry's top NFL draft analysts.
Some future NFL stars are being undersold while others are being overhyped. Read on to find out who's who.
Oklahoma LT Lane Johnson at Pick 13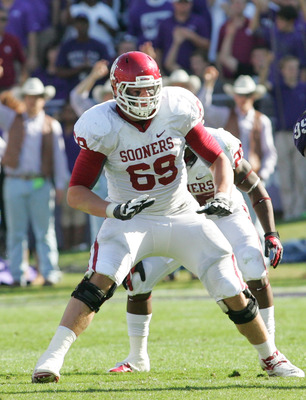 R. Yeatts/Getty Images
BUY.
The reason is simple. The San Diego Chargers pick eleventh.
San Diego has rebuilding to do in most every aspect of its roster, but the most gaping holes are at both tackles, even after the signing of King Dunlap. While Chargers fans may optimistically hope that Jared Gaither will be back in 2012 to provide his first healthy season in recent memory, counting on him to stay on the field is completely foolish.
It's like chalking Ryan Mathews up for the injury-free, 300-carry season that Norv Turner used to crow about like a lunatic every August. You can hope and hope—but it's not happening. Something fans in San Diego know all too well.
The Chargers pick at No. 11 in the 2013 NFL draft. The "Top 2" offensive tackles—Luke Joeckel and Eric Fisher—will both be gone by then. Johnson may have seemed like a "reach" at No. 11 previously, but he had a terrific showing at the Senior Bowl and followed it up with a combine performance that put his athleticism on display.
Johnson ran a faster 40 than Anquan Boldin, had a better vertical leap than A.J. Green and tied Stevan Ridley in the broad jump. New Chargers HC Mike McCoy comes from a background that covets athletic offensive linemen.
I will be buying stock in Johnson all the way until his value gets to pick No. 11 or higher before liquidating and reinvesting elsewhere.
Florida DT Sharrif Floyd at Pick 2

Sharrif Floyd Pro-Player Comparison

SELL.
Sharrif Floyd is a heck of a football player, but his meteoric rise up draft boards as of late borders on ridiculous.
Floyd projects as a very good, very strong and very solid 3-technique at the next level who does not have any refined pass rush moves outside of a straight bull rush and a little "mini-swim" he sometimes pulls out of the hat.
At the NFL level, he should be able to convert his devastating bull rush into bull-jerk and hump moves with a little bit of coaching, but he is not there yet. Investing second-pick money on any player in this draft would be very risky, and I certainly would never do it on Floyd.
My recommendation is sell. Floyd's stock is at an all-time high among the top experts in the field, and you don't make money by selling low or buying high.
To make any return on that investment, it means Kansas City will have to take Floyd at pick No. 1. With the release of Eric Winston, it is virtually impossible to imagine the Chiefs would forego the opportunity to land Eric Fisher or Luke Joeckel to take a defensive lineman in the first round for the fourth time in five years.
Utah DT Star Lotulelei at Pick 10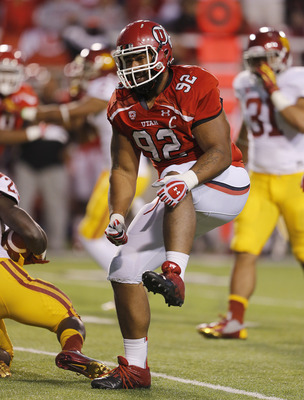 George Frey/Getty Images
BUY.
This is a bit of a risk due to the heart condition the very meticulous medical staff at the NFL combine identified in Lotulelei late last month.
It's also the only reason his stock is trading so low right now. The analysts are spooked and generally seeming to keep a "hands-off" approach with Lotulelei until the medicals come back with more information.
Just a few weeks ago, we were analyzing whether Star Lotulelei was the best player in the 2013 NFL draft. Without the heart condition, we are looking at a Top 5 lock.
All indications point to the underperforming left ventricle in Lotulelei's heart being the relatively benign result of mundane physical circumstances such as dehydration or temporarily lower-than-normal levels of sodium in his system.
Fortunes are made buying blue-chip stocks at bargain-basement pricing. The minute the medicals come back clean, every analyst on the exchange will begin mocking Lotulelei back in the Top 3 where he belongs, and the windfall will be huge for those who bought in at the right time.
Brigham Young DE Ezekiel Ansah at Pick 5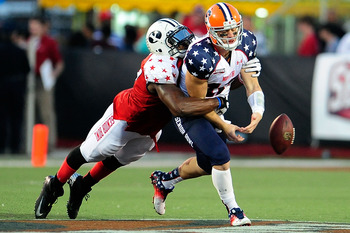 Stacy Revere/Getty Images
SELL.
By now, everyone knows the back-story on Ezekiel "Ziggy" Ansah. The Cliff Notes version outlines a raw, overtly athletic edge-rusher prospect that is still learning the game of football as a native of Ghana and converted track star.
The most common word used in describing Ansah is "potential."
Ansah will one day be a player at the NFL level, and many were convinced after addressing him at the combine that he will be a locker room favorite as well.
Pick No. 5 pricing is too rich for my blood, though. Let's look at the teams who may take Ansah in the Top 5:
1. Kansas City Chiefs—Can't see it with the personnel KC currently has manning the edges. Much greater needs elsewhere.
2.Jacksonville Jaguars—Likely the second-best option in the Top 5, and if Ansah were drafted here, it would be a coup for anyone who bought in at pick 5 value. The issue is new Jags GM David Caldwell told us at the combine he would be drafting for need—not taking the best player available, which was the mantra of most every other GM.
New HC Gus Bradley said the "Leo End" is a vital position in his defensive scheme and that the closest option they have currently on the roster appears to be Jason Babin. The Leo needs to be versatile enough to play both in a 5-technique and standing up depending on the front like Charles Haley used to as the "elephant" end in San Francisco. This makes me think more about Dion Jordan or Barkevious Mingo.
3. Oakland Raiders—Should take Dee Milliner or a interior lineman who can pass rush such as Star Lotulelei. If they trade Carson Palmer, it is also likely they may target Geno Smith.
4. Philadelphia Eagles—Not happening.
5. Detroit Lions—If Alabama CB Dee Milliner is still on the board, Ansah will not be a Lion under any circumstances, and there is a fairly good chance of that happening. Even if Milliner is off the board, that likely means that Eric Fisher or Luke Joeckel is still around, though, and finally truly addressing the offensive line in Detroit after being mediocre-to-bad for the entire current century would mean the world to QB Matt Stafford. Riley Reiff in 2012, Eric Fisher in 2013—eventually move Reiff to RT or guard once Fisher gets adapted to the NFL game.
Pick No. 6 to Cleveland and new DC Ray Horton seems like the most likely "draft ceiling" for Ansah, and if six is indeed the highest he is likely to go, buying in at Pick 5 value is obviously a huge mistake that will cost you.
Tennessee WR Cordarrelle Patterson at Pick 14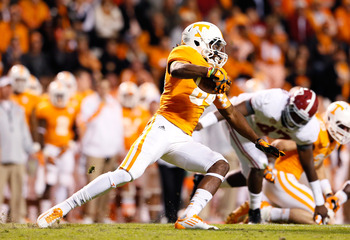 Kevin C. Cox/Getty Images
BUY.
If an NFL team cannot find a productive receiver through the 2013 draft, its personnel department is inept and should be fired en masse.
There is speed, talent, hands and versatility through the receiver class this year, but one player very obviously stands above the rest.
That player is Cordarrelle Patterson.
Patterson is a yards-after-catch monster and will be at the NFL-level. He is basically a bigger version of Percy Harvin who can get involved out of the backfield, on screens, sweeps, reverses and gadget plays. A weapon in this mold is becoming a truly valuable chess piece for NFL offenses as we've seen with players such as Harvin, Randall Cobb and to some degree, C.J. Spiller.
Patterson will not get past pick No. 14 to the Carolina Panthers. I asked new Panthers GM Dave Gettleman at the combine what the team planned on doing to give Cam Newton some offensive help opposite Steve Smith, and he said the organization "really likes" Brandon LaFell.
Obviously, Gettleman hasn't been in the building too long.
No one in their right mind "really likes" Brandon LaFell. At some point, you have to call a spade a spade and realize that a player isn't going to ever have the breakthrough that may have been pegged him for.
Soon, Browns fans may have to come to grips with this phenomenon in regards to Greg Little.
Patterson falling to pick No. 14 or later is highly unlikely, as he is rumored among several league sources to be much closer to the top of many teams' draft boards than most draft fans and analysts realize.
The recommendation is buy and don't even think about selling until Kiper's global exchange deems Patterson a 10th-pick value or better.
Texas A&M DE Damontre Moore at Pick 26

Damontre Moore NFL Player Comparison

SELL.
Damontre Moore has a first step off the line of scrimmage that some question for being seeming slow and sloppy—a huge red flag among edge rushers.
Analysts who argued on behalf of Damontre Moore as a top prospect to start the 2013 NFL draft season said his first step wasn't as "slow" as it was "deliberate."
Whether it's slow or deliberate or blazing, there is no excuse for Damontre Moore's performance at the NFL Scouting Combine. His 12 reps on the bench press were pathetic, and he is a player who NFL scouts now know is clearly capable of showing up for professional sporting competition completely unprepared.
The combine doesn't tell us much, but it can tell us some things. Damontre Moore's readiness (or lack of) for professional competition was most definitely put on display.
I'm having a hard time finding a landing spot for Moore in the first round of my recent mock drafts and feel that if he does go—it is likely to be the Falcons at pick No. 30. I asked Falcons GM Thomas Dimitroff for his thoughts on last year's prospective pass rush pick in Jonathan Massaquoi at the combine and got the distinct feeling the organization does not view him as an easy solution to the glaring pass rush need that exists in Atlanta.
Alabama RB Eddie Lacy at Pick 36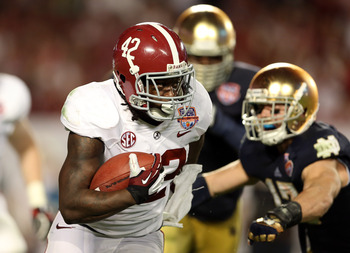 Streeter Lecka/Getty Images
BUY.
Eddie Lacy has an average draft position of 36 among industry mock drafts.
Unbelievable—and, honestly—ridiculous.
The fourth pick in the second round is where the average consensus of NFL draft analysts peg the best running back in the draft?
We've seen it over and over as of late. The value of the running back position gets diminished among the NFL media in the months leading up to the draft, and certain players' draft stocks take the brunt of it. None of it matters on draft day, though, when they hear their names called by Roger Goodell during the first round from the green room at Radio City Music Hall.
Eddie Lacy will be drafted in the first round and, for now, Green Bay at pick No. 26 remains a likely suspect.
North Carolina OG Jonathan Cooper at Pick 16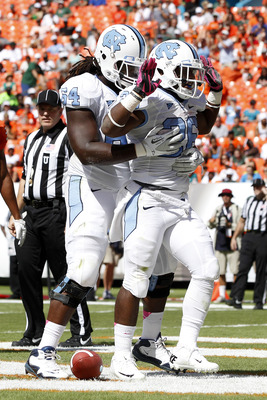 Joel Auerbach/Getty Images
SELL.
This guard class is special with Larry Warford, Jonathan Cooper and Chance Warmack, but it seems like the average draft analyst is giving the group a little too much credit.
Cooper is going on average at pick No. 16 in mock drafts, which means that Chance Warmack will have gone long before. Warmack is the most NFL-ready prospect in the 2013 NFL draft and is worthy of such a lofty selection.
Now that the Titans have addressed their guard need in the safest way possible by signing free agent Andy Levitre, it seems that Warmack may not be as intriguing an option at Tennessee's pick No. 10 as he may have been previously.
If Warmack falls to pick No. 16, he will likely get snatched up by the Rams, leaving Cooper having to hope the Cowboys address the position they are in such dire need of at No. 18.
I'm selling Cooper until then and would be worried about putting my eggs in an offensive guard's basket when NFL teams obviously view the position as an organizational cog more than anything else. The first round is where you draft stars.
Florida State QB E.J. Manuel at Pick 66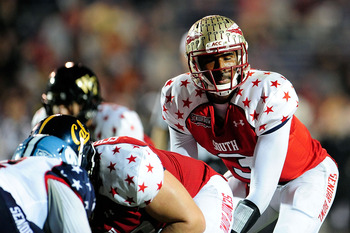 Stacy Revere/Getty Images
BUY.
E.J. Manuel was my No. 2 QB in the 2013 NFL draft prior to the Senior Bowl—which, at the time, seemed a bit ridiculous.
At least to the commenters here on B/R, if you check the link cited above.
But Manuel has proved his wares through the 2013 NFL draft season. He proved at the Senior Bowl to be extremely coachable, athletic and personable. He did the same at the NFL combine, never making the same mistake twice in throwing drills and nailing every route asked of him.
Now, Mike Mayock has made a surprise debut of Manuel at No. 2 on his Top 5 big board of QBs while draft buzz is building.
Manuel is currently mocked on average at pick No. 66, top of the third round. He could go as high as the Top 15. For those who disagree, please see Christian Ponder, Jake Locker and Blaine Gabbert.
I'm buying on Manuel 'til the cows come home.
Keep Reading