2013 NFL Mock Draft: How Early Free Agency Moves Will Shape 1st Round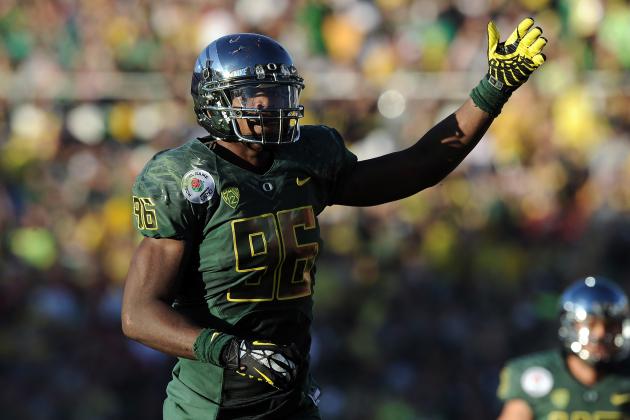 Harry How/Getty Images

NFL free agency is a crazy even that wreaks havoc on everyone's mock drafts. The signings of big-name free agents like Mike Wallace, Paul Kruger and Jermon Bushrod really shook up the outlook of the draft. The needs of most NFL teams were drastically altered, and the madness isn't over yet.
Despite the free-agent frenzy, the first few picks of my mock draft didn't change much.
Please keep in mind that I might be a few hours off from the latest information. I'll do my best to add updates as the free-agent signings come across the news wire.
All free agent signing information was obtain from NFL.com and ESPN.com
Begin Slideshow

»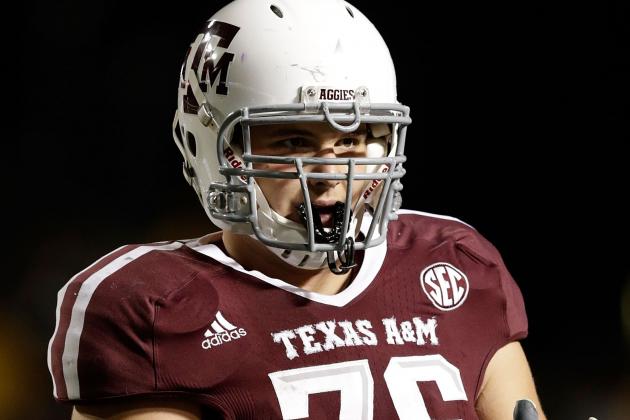 Scott Halleran/Getty Images

Pick: Luke Joeckel, Offensive Tackle, Texas A&M
Free agency shouldn't have a major impact on the direction the Kansas City Chiefs go with the No. 1 pick. Their decision to cut ties with Eric Winston opened a major hole at the right tackle position. This is why Texas A&M's Luke Joeckel makes a ton a sense for the Chiefs.
Kansas City can immediately plug Joeckel in at left tackle and shift Brandon Albert over to the right side. Going in this direction is only possible because Joeckel boasts the skills needed to step in and start from day one.
While Albert is a solid left tackle, he doesn't have the same type of athleticism as Joeckel. This move will absolutely improve the Chiefs' pass protection.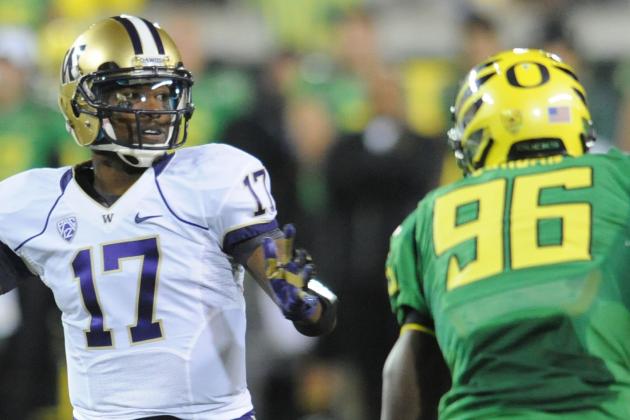 Steve Dykes/Getty Images

Pick: Dion Jordan, Defensive End, Oregon
The Jacksonville Jaguars wouldn't get much benefit from spending big during the free agent period. This is a team that needs to build through the draft and add talent to its roster. Oregon's Dion Jordan would be a great piece to the puzzle.
Jordan excels at generating pressure on the quarterback. He uses his long arms, explosiveness and suddenness to work his way into the backfield. New head coach, Gus Bradley, is a defensive-minded coach and knows the importance of having a strong pass rush.
The thing with Jordan is that he also brings a ton of versatility. During his college career, Oregon used Jordan as both a pass-rusher and in coverage.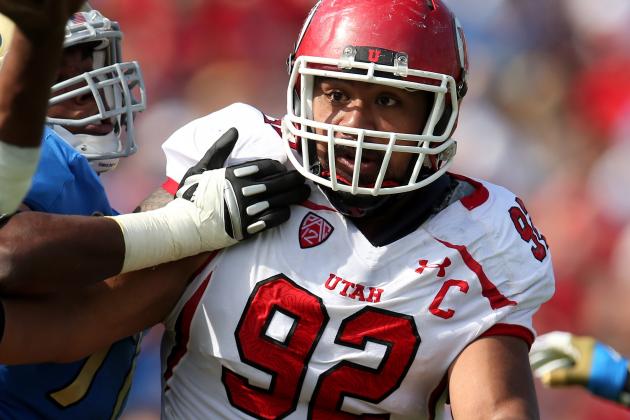 Stephen Dunn/Getty Images

Pick: Star Lotulelei, Defensive Tackle, Utah
Despite the health concern surrounding his heart, Utah's Star Lotulelei still deserves to be in the discussion as a top five pick. This is a player who possesses the ability to dominate the line of scrimmage. The Oakland Raiders have so many holes across their roster that they really just need to focus on adding elite talent.
Oakland's poor salary-cap situation will keep them from being major players in the free-agent market. Look for them to play it slow and look for bargain second-tier free agents.
Obviously, this pick will change if Lotulelei's medical re-check doesn't produce positive results. If that's the case someone like West Virginia's Geno Smith, Georgia's Jarvis Jones and Alabama's Dee Milliner will be in play for this spot.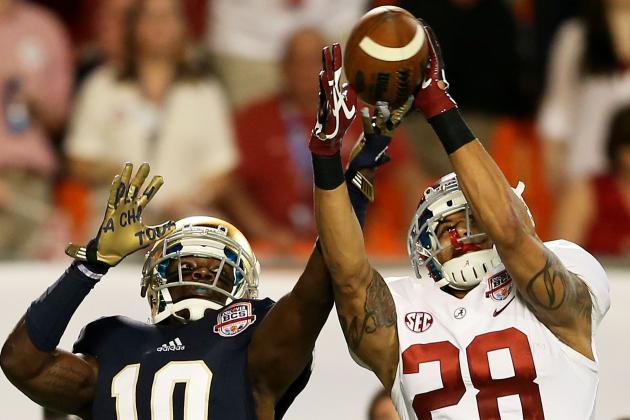 Streeter Lecka/Getty Images

Pick: Dee Milliner, Cornerback, Alabama
The Philadelphia Eagles are in the mix to add a few pieces during the free-agency period. However, there isn't a player on the market that can match the upside of Alabama's Dee Milliner and the solid salary cap number that comes with him. Philadelphia could make a run at someone like Sean Smith, but that would cost them a ton of money.
Milliner doesn't only fit financially, but he's also a very talented player. He loves to play a physical brand of football. His ability to use his size and long arms helps him match up against bigger wide receivers or tight ends.
Pick: Barkevious Mingo, Defensive End, LSU
Martin Mayhew and the Detroit Lions have consistently gone in the direction of best player available in recent drafts. However, it could be argued that this strategy hasn't really worked out in the team's favor. Players like Nick Fairley and Riley Reiff haven't been able to consistently make the type of impact expected from a first-round pick.
This year might provide a perfect opportunity for the Lions to focus more on addressing a need. The likely loss of Cliff Avril via free agency opens a hole at the defensive end position. LSU's Barkevious Mingo is the type of explosive athlete capable of filling Avril's role.
Detroit is facing the loss of Avril because they aren't in a great cap situation. This is why they'll need to turn to the draft to address this need.
UPDATE: Losing Gosder Cherilus to the Indianapolis Colts creates a void at the offensive tackle spot. Central Michigan's Eric Fisher is someone Detroit could target to fill his spot. However, Mingo is still very much in play.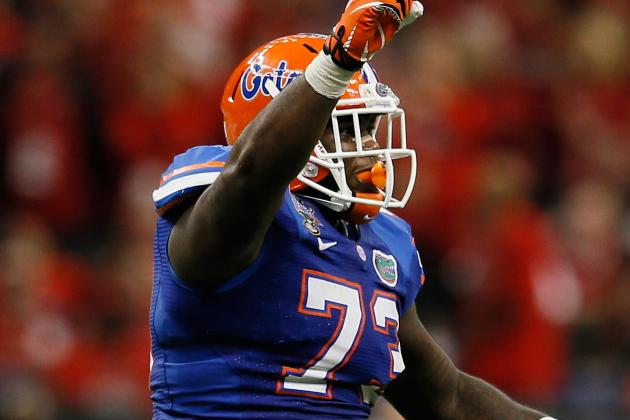 Kevin C. Cox/Getty Images

Pick: Sharrif Floyd, Defensive Line, Florida
The Cleveland Browns opened free agency set up to make a big splash. They've added a pass-rusher in Paul Kruger and defensive line help in Desmond Bryant. These additions really change the team's potential approach to the draft.
Kruger will likely team with Jabaal Sheard as the outside linebackers in Ray Horton's 3-4 attack. However, this doesn't fill all the open spots on the defensive side of the ball. Florida's Sharrif Floyd has the potential to step in and play one of the 5-technique spots.
Floyd boasts good athleticism and a strong anchor. During his college career, he showed the ability to both occupy blockers and generate pressure on the quarterback. Florida used him anywhere from a defensive spot to the 3-technique role.
Outside of Floyd, the Browns could also target a guard like Alabama's Chance Warmack.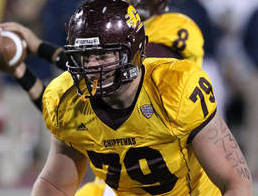 mlive.com
Pick: Eric Fisher, Offensive Tackle, Central Michigan
Fixing the Arizona Cardinals' quarterback situation has to do with more than improving the talent at that position. It'll be tough for any quarterback to find success behind an offensive line that has been among the league's worst over the past few years.
Central Michigan's Eric Fisher is the perfect player for the Cardinals to bring in to immediately improve the offensive line. He's a tough player who also possesses the athleticism to protect the edge. Adding Fisher to a line that saw a Bobby Massie improve throughout the season as well as the return of Levi Brown from injury could really improve the unit.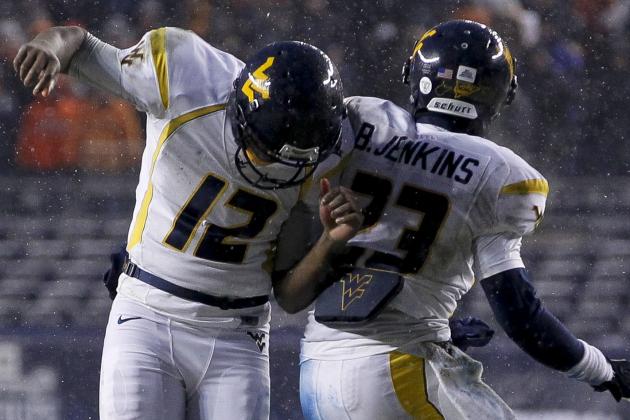 Jeff Zelevansky/Getty Images

Pick: Geno Smith, Quarterback, West Virginia
Buddy Nix has been very vocal about the Buffalo Bills' need to find a franchise quarterback. West Virginia's Geno Smith features the physical and mental attributes to develop into that type of player. The lack of talented free-agent quarterbacks will force the Bills to address this need via the draft.
Smith is a great candidate for Doug Marrone and company to mold. He's a hard worker, boasts a strong arm and is athletic enough to give the offense some versatility.
I am confident in Smith's ability to develop into an above-average starter. That confidence only increases if he lands with the Bills, as Marrone has the offensive mind to get the most out of Smith's talent.
This becomes an even greater need after the Bills released starter Ryan Fitzpatrick.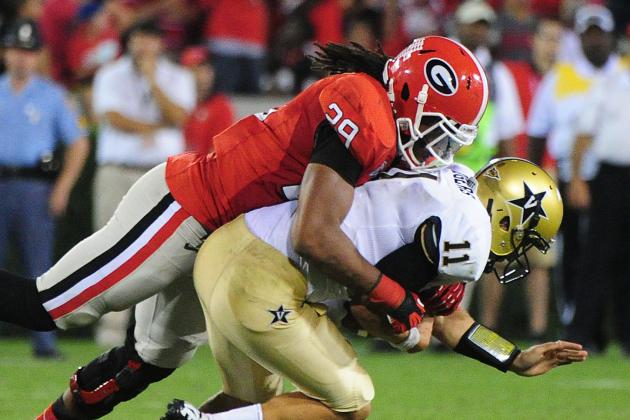 Scott Cunningham/Getty Images

Pick: Jarvis Jones, Outside Linebacker, Georgia
The New York Jets don't have the cap flexibility to be major players during the free-agency period. They'll need to find most of their upgrades through the draft process. Georgia's Jarvis Jones would represent both good value and fill a need.
New York lacks the edge rusher needed to consistently generate pressure on the quarterback. Jones has proven throughout his college career that he has the ability to wreak havoc in the backfield.
He creates pressure because of his combination of quickness, power and leverage. Jones does a great job getting inside hands and collapsing the pocket from the edge. He has a chance to top the double-digit sack mark as a rookie.
Pick: Chance Warmack, Guard, Alabama
The retirement of Steve Hutchinson has left a big hole along the interior of the Tennessee Titans' offensive line. Even with the signing of Andy Levitre, the Titans could stand to improve the interior of the offensive line. Alabama's Chance Warmack is the type of physical run-blocker who would be a great fit for a team with an elite running back like Chris Johnson.
Warmack does a great job generating a push off the line because of his explosive first step, raw power and commitment to using proper technique. He also has quick enough feet to mirror the pass rush and protect the quarterback.
Mike Munchak's presence puts a guy in the draft room who had a real appreciation for the offensive line.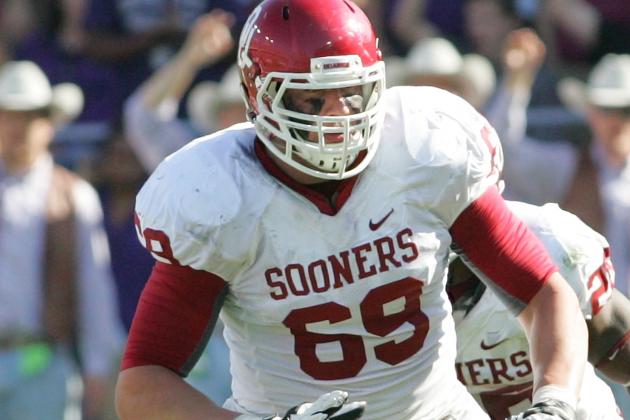 R. Yeatts/Getty Images

Pick: Lane Johnson, Offensive Tackle, Oklahoma
Philip Rivers has had back-to-back rough seasons; thanks in large part to issues along the offensive line. He isn't the type of quarterback who can move in the pocket and overcome consistent pressure. This is why the Chargers must find a way to upgrade the left tackle position.
Oklahoma's Lane Johnson is a gifted athlete who features the skills needed to develop into a top-notch pass-protector. His quick feet, good use of leverage and fluidity will help him make a quick transition.
San Diego doesn't typically spend big in free agency, that's why they weren't players for guys like Jake Long or Jermon Bushrod.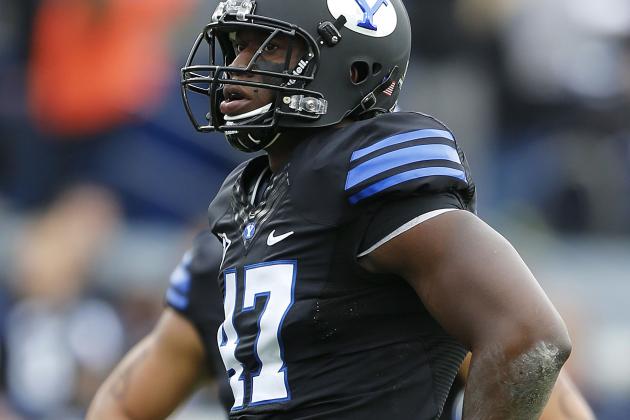 George Frey/Getty Images

Pick: Ezekiel Ansah, Defensive End, BYU
The Miami Dolphins filled a major need by signing Mike Wallace. This really opens up plenty of options in the upcoming draft. BYU's Ezekiel Ansah would be a great complement to Cameron Wake, who needs someone to help draw away double teams.
Ansah is still developing as a pass-rusher, but shows the athleticism needed to become an elite player.
This is a nice fit for the Dolphins because they've been miscasting Jared Odrick as a defensive end. There's also the age concern facing Wake, as he's 31 years old and approaching the back end of his career.
Miami also has a need at the cornerback position. However, this draft features excellent depth at this position. The Dolphins could find starters with the four picks they own in the second and third rounds.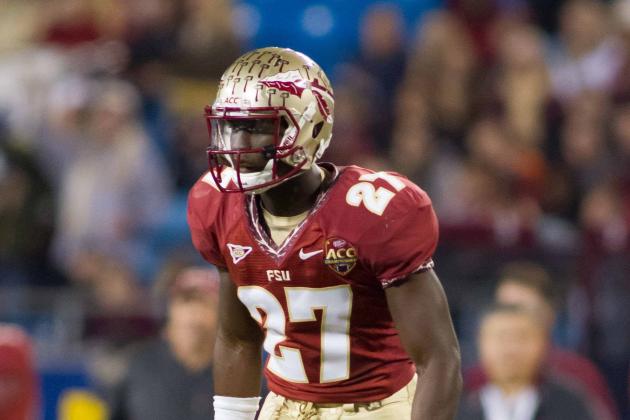 Jeremy Brevard-USA TODAY Sports

Pick: Xavier Rhodes, Cornerback, Florida State
Even if the Tampa Bay Buccaneers sign a big-money free agent at the cornerback position, they still should address the position in the draft. They're in a division that features talented wide receivers like Julio Jones, Roddy White and Marques Colston.
Because of his size and physical play, Florida State's Xavier Rhodes is the perfect candidate to matchup against the NFC South's talented wide outs.
There just aren't many cornerbacks who boast the same combination of size, speed and toughness as Rhodes.
The potential signing of (according to Steven Holder of the Tampa Bay Times) Dashon Goldson wouldn't alleviate the need at the cornerback spot, and neither would a trade for Darrelle Revis.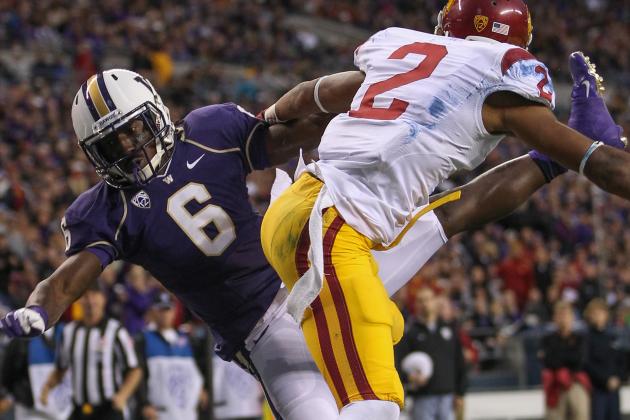 Otto Greule Jr/Getty Images

Pick: Desmond Trufant, Cornerback, Washington
Despite declining production and age issues, Chris Gamble provided the Carolina Panthers with a solid veteran in the secondary. His release, and retirement, opens a major hole at a very important position. Washington's Desmond Trufant is a strong candidate to step in and fill Gamble's shoes.
Trufant is a physical cornerback who is very confident in his abilities. He isn't afraid to go head to head against an opponent's top target.
Carolina also has needs along the defensive line and at the wide receiver position. This puts players like West Virginia's Tavon Austin, North Carolina's Sylvester Williams and Missouri's Sheldon Richardson also in play.
Pick: Sylvester Williams, Defensive Tackle, North Carolina
The New Orleans Saints' decision to hire Rob Ryan as their new defensive coordinator signals a major shift in the defense's philosophy. Changing to a 3-4 attack means the Saints will need to make several roster adjustments.
North Carolina's Sylvester Williams possesses the size, power and anchor to step in at the nose tackle position. He also has the quickness off the ball to work his way into the backfield. His athleticism means that the Saints could also use him at the five-technique from time to time.
Outside of addressing the defensive line, New Orleans will also be on the lookout for a pass-rushing linebacker and a left tackle to replace Jermon Bushrod. It's unlikely a top-notch left tackle like Luke Joeckel, Eric Fisher or Lane Johnson falls to No. 15.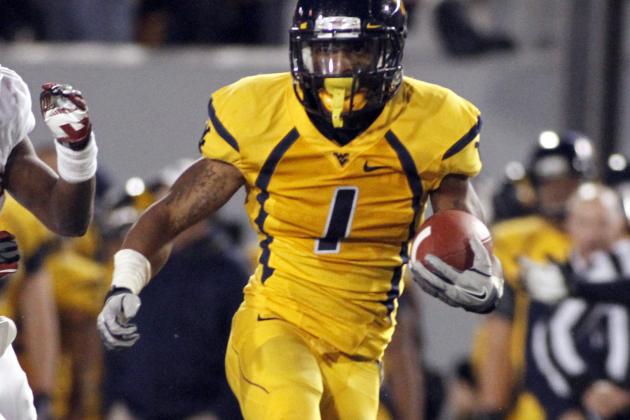 Justin K. Aller/Getty Images

Pick: Tavon Austin, Wide Receiver, West Virginia
Danny Amendola's free agency and history of injury problems mean the St. Louis Rams must address the wide receiver position during the draft. West Virginia's Tavon Austin will have no problems replacing Amendola as the Rams' slot receiver.
Austin's explosiveness will immediately make him the most dangerous playmaker on the roster. He's someone who can take a short screen pass and turn it into a long touchdown.
St. Louis can't continue to develop as a team unless they start to surround Sam Bradford with playmakers. Adding Austin to the mix would be a great way to complement the free-agent signing of Jared Cook.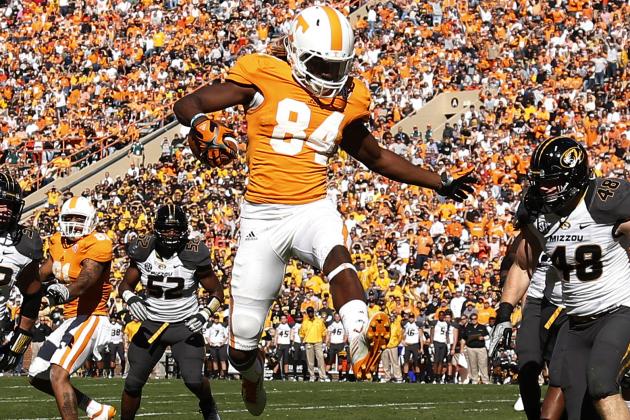 Joe Robbins/Getty Images

Pick: Cordarrelle Patterson, Wide Receiver, Tennessee
The Pittsburgh Steelers were unable to hang onto Mike Wallace because of salary cap issues and his high wage demands. Losing Wallace really hurts the overall explosiveness of the Steelers' offense. Because they lack the money to replace him on the free-agent market, Tennessee's Cordarrelle Patterson makes sense at pick No. 17.
Patterson is the same type of home-run threat as Wallace. He'll need time to fully develop, but his explosiveness should allow him to make an immediate impact.
The Steelers also have a few needs on the defensive side of the ball. They could potentially target a nose tackle, outside linebacker, inside linebacker, cornerback and safety. This wide-range of needs means this pick is a real tossup.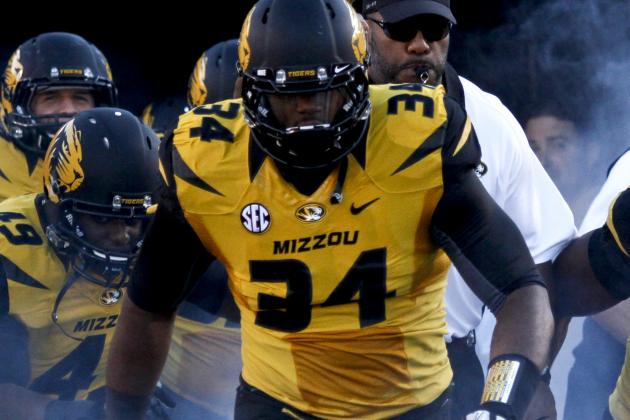 Ed Zurga/Getty Images

Pick: Sheldon Richardson, Defensive Tackle, Missouri
I'm still scratching my head over the Dallas Cowboys' decision to hire Monte Kiffin and move to a 4-3 alignment. This change opened more holes on the defense; starting with a major need for a disruptive defensive tackle. Targeting someone like Missouri's Sheldon Richardson seems like a wise approach for the upcoming draft.
Richardson features an explosive first step and the ability to shoot the gaps. Kiffin's defense requires a disruptive defensive tackle who can wreak havoc in the backfield.
North Carolina's Jonathan Cooper was another player I considered at this spot. The Cowboys couldn't go wrong with either player.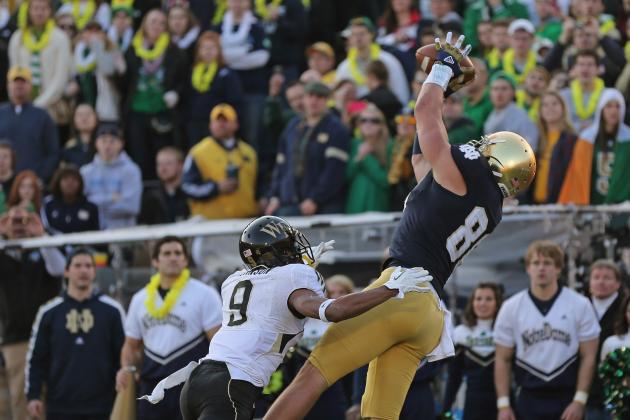 Jonathan Daniel/Getty Images

Pick: Tyler Eifert, Tight End, Notre Dame
The New York Giants' offense has made the tight end position a major part of the game plan over the past few years. This is why the loss of Martellus Bennett via free agency should spur some action in the draft. Notre Dame's Tyler Eifert is a playmaker in the passing game who would be a great fit.
He possesses the skills needed to step in and immediately take Bennett's plays in he lineup.
The only thing going against this pick would be the fact that New York has found a way to produce tight ends out of nowhere. For example, they signed Bennett last offseason to a low-salary deal. If the Giants don't see tight end as a need, North Carolina's Jonathan Cooper would make sense at this spot.
Pick: Jonathan Cooper, Guard, North Carolina
Even with the signing of Jermon Bushrod, the Chicago Bears still have holes along the offensive line. North Carolina's Jonathan Cooper is versatile enough to make an immediate impact at either guard or center. This versatility will also help the Bears figure out a plan for J'Marcus Webb and Gabe Carimi.
Adding Cooper to the mix would both improve the pass protection and create more openings in the running game.
Over the past few years, the Bears learned a hard lesson on how important an offensive line is to a team's success.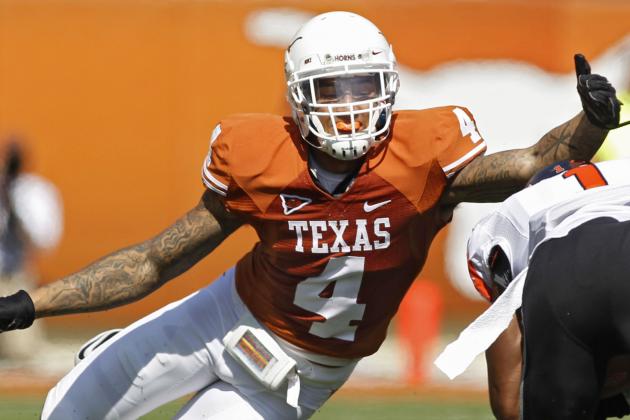 Erich Schlegel/Getty Images

Pick: Kenny Vaccaro, Safety, Texas
With the high possibility that Dashon Goldson lands with the Tampa Bay Buccaneers, the Cincinnati Bengals will likely need to use the draft to address their need at the safety position. Luckily, Texas' Kenny Vaccaro could be around when they select at No. 21.
Vaccaro is a versatile safety who can both support the run, cover sideline to sideline and play some man coverage. He and Reggie Nelson would make a great duo in the back end of the Bengals' defense.
Alabama's Eddie Lacy has a slim chance of also fitting in this spot. It'll depend on whether or not the Bengals feel comfortable with the running back situation heading into the draft.
Eric P. Mull-USA TODAY Sports

Pick: Jonathan Cyprien, Safety, Florida International
The St. Louis Rams appear poised to address their needs along the offensive line by signing Jake Long. This leaves the safety position as one of the bigger holes on the roster. Florida International's Jonathan Cyprien is a big hitter who can quickly replace the recently released Quintin Mikell.
Jeff Fisher is a defensive-minded coach who knows the importance of having a solid secondary. Even if the Rams add someone like Louis Delmas, Cyprien should still be in the mix at this spot.
The direction of this pick also depends on what direction the Rams go at No. 16. If they target a guard like Chance Warmack or Jonathan Cooper a wide receiver would make sense here.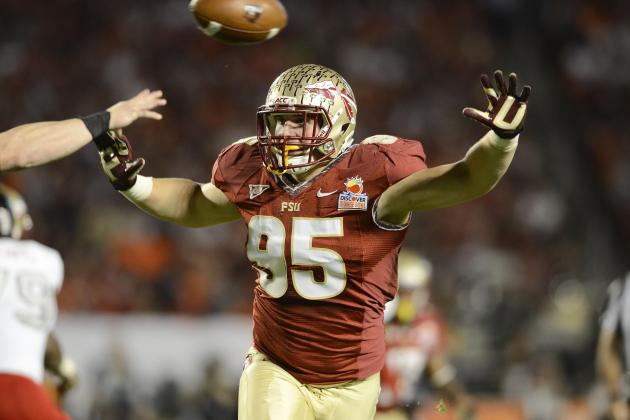 Ron Chenoy-USA TODAY Sports

Pick: Bjoern Werner, Defensive End, Florida State
The Percy Harvin trade doesn't necessarily mean the Minnesota Vikings need to target a wide receiver in the first round. This year's wide receiver class is deep enough that they could land a difference maker on the second day of the draft.
Florida State's Bjoern Werner would sort of be a luxury pick, but also make a ton of sense. Jared Allen is on the back-end of his career. The Vikings need to work on having a long-term replacement in line for Allen. It's important to note that Brian Robison is also near 30 years old.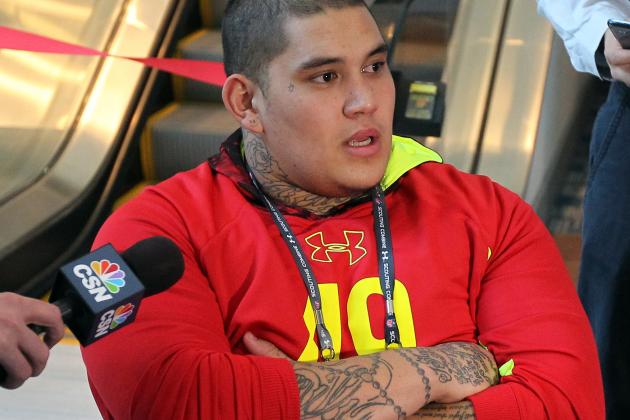 USA TODAY Sports

Pick: Jesse Williams, Defensive Line, Alabama
Alabama's Jesse Williams features the versatility to fit several spots along the Indianapolis Colts' defensive line. The signing of Gosder Cherilus makes more likely that the Colts target a defensive player with their first-round pick.
Outside of targeting defensive line help, Indianapolis could also add talent in the secondary. Don't rule out someone like Boise State's Jamar Taylor as a sleeper to make his way into the first round.
Taylor is a solid athlete with balance and above-average coverage ability.
Pick: DeAndre Hopkins, Wide Receiver, Clemson
Losing Percy Harvin left a major hole at the wide receiver position. While filling this hole doesn't necessary need to be a first-round priority for the Minnesota Vikings, it would be tough to pass up on a playmaker like Clemson's DeAndre Hopkins.
Hopkins is a good route-runner who always attacks the ball at its highest point. He would be a perfect target for a young quarterback like Christian Ponder.
The most successful wide receivers in the NFL are those who can make plays in any situation. This is what Hopkins brings to the table, as he can pull down a reception even when faced with tight coverage.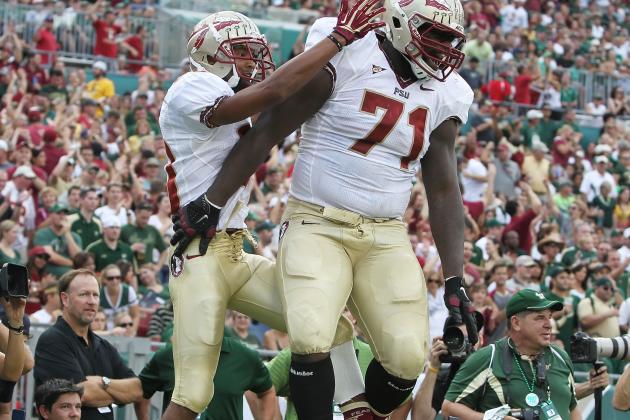 Kim Klement-USA TODAY Sports

Pick: Menelik Watson, Offensive Tackle, Florida State
The Green Bay Packers' most valuable asset is obviously Aaron Rodgers. This is why they must do what's necessary to keep him health. Florida State's Menelik Watson features a ton of potential at either the left tackle or right tackle spot.
He has a reputation as being very raw, but that's not completely accurate. Watson is more advanced than most realize. His overall technique and feel for the position could improve, but he's more than capable of becoming a instant starter at right tackle.
Green Bay also has a need at the running back position, which should put Alabama's Eddie Lacy in the discussion at this spot.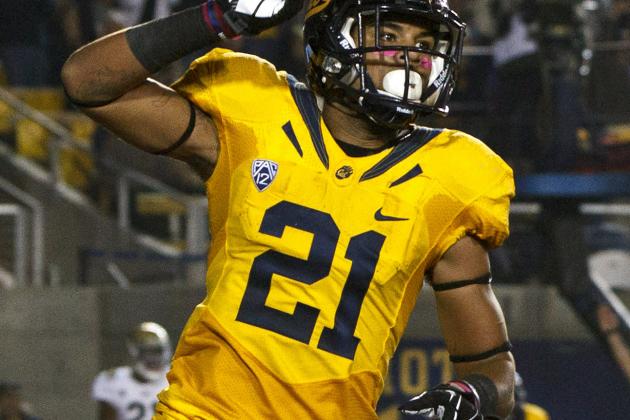 Jason O. Watson/Getty Images

Pick: Keenan Allen, Wide Receiver, California
The Houston Texans' offense lacks the playmakers at the wide receiver position to take the next step as a team. Their offense can't expect to help their team win a Super Bowl by relying on just Andre Johnson and Arian Foster to make plays.
California's Keenan Allen boasts the size and toughness to immediately help the Texans. He isn't afraid to go across the middle or go up in traffic to make a catch. His presence will make things easier for Foster, Johnson and Matt Schaub.
Houston also has a need at the middle linebacker spot, so someone like Notre Dame's Manti Te'o is also a good option.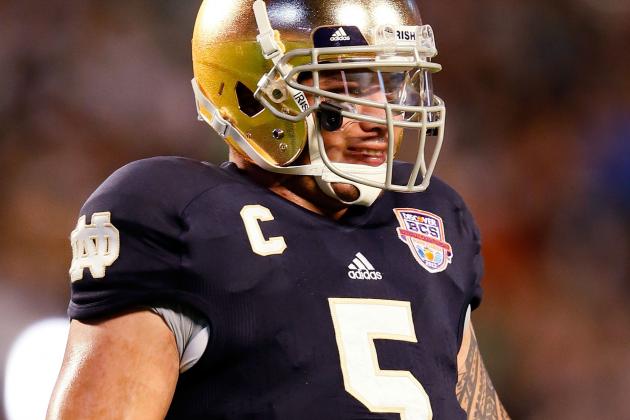 Kevin C. Cox/Getty Images

Pick: Manti Te'o, Linebacker, Notre Dame
Joe Mays has done a solid job for the Denver Broncos at the middle linebacker spot, but he has limited upside. Notre Dame's Manti Te'o would be an excellent replacement for Mays. Despite all the negative attention surround Te'o, he's still had a very productive college career.
Denver's roster is in a good enough situation that they could target the best player available on their board.
They still have a need at the cornerback position, but reports are that Dominique Rodgers-Cromartie is headed to town for a visit, according to the Denver Post's Mike Klis.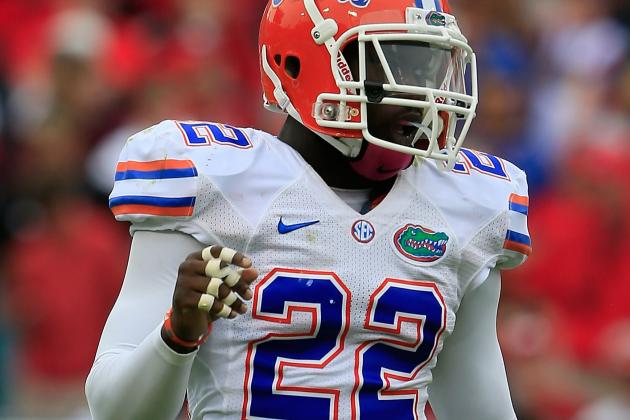 Sam Greenwood/Getty Images

Pick: Matt Elam, Safety, Florida
The back-end of the New England Patriots' defense has plenty of holes that need to be addressed during both free agency and the draft. An aggressive safety like Florida's Matt Elam is exactly the player the Patriots need to help set the tone in the secondary.
Elam is known for delivering big hits and striking fear into opposing pass-catchers. He also does a great job of attacking the line of scrimmage and supporting the run.
However, this isn't a player who's overly aggressive and will leave the defense open to allowing big plays. There's a sense of control to his aggressiveness.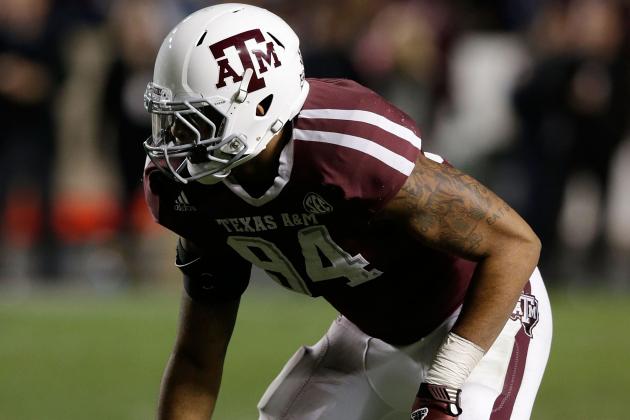 Scott Halleran/Getty Images

Pick: Damontre Moore, Defensive End, Texas A&M
Even after a disappointing performance at the combine, Texas A&M's Damontre Moore flashed enough talent to make him worthy of a first-round pick. His combination of length and solid motor makes him a real threat as a pass-rusher.
The Atlanta Falcons are in desperate need of an edge rusher after they decided to part ways with veteran John Abraham. Even if they find a way to bring Abraham back, they still need someone on the opposite side to balance out the attack.
It's hard to imagine the Falcons not targeting anything other than a pass-rusher at this spot.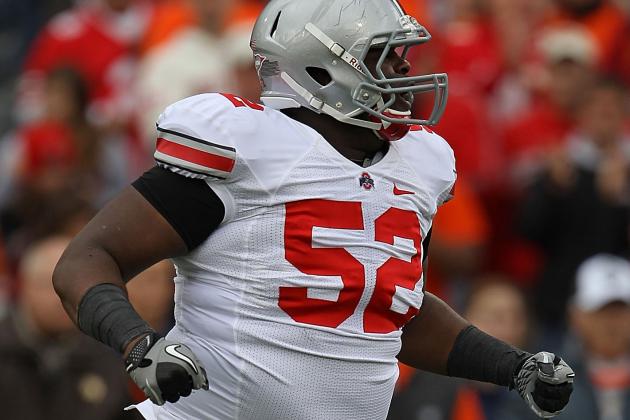 Jonathan Daniel/Getty Images

Pick: Jonathan Hankins, Nose Tackle, Ohio State
The San Francisco 49ers are facing the possibility of having to replace both Isaac Sopoaga and Ricky Jean Francois along the defensive line. They plan on giving Ian Williams an expanded role, but that doesn't completely fill the hole.
Ohio State's Johnathan Hankins has the perfect build to fit as a nose tackle in a 3-4 defense. His strong anchor and massive size help him control the line of scrimmage.
The nose tackle position is a demanding spot, which is why it's important to have depth at the position.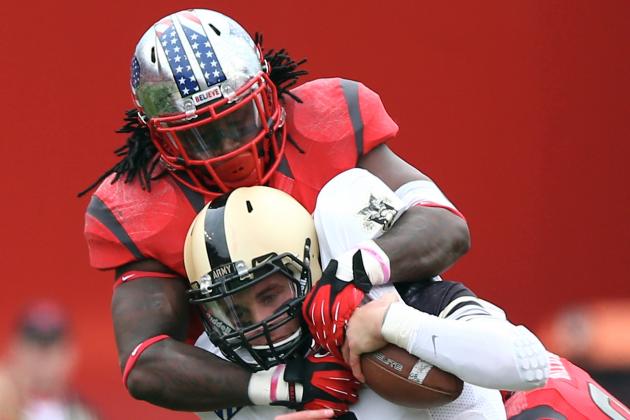 Elsa/Getty Images

Pick: Khaseem Greene, Linebacker, Rutgers
The surprise loss of Dannell Ellerbe to the Miami Dolphins via free agency creates a major problem for the Baltimore Ravens. They now have to replace both of their starting linebackers from the group that won the Super Bowl.
Losing Ray Lewis was going to be a big enough obstacle to overcome, so also seeing Ellerbe depart is devastating.
Rutgers' Khaseem Greene possesses the explosiveness and tenacity to make an immediate impact on this defense. He's the type of player who loves to deliver big hits and works to generate turnovers. I have a hard time seeing a scenario where the Ravens don't target an inside linebacker in the first round.