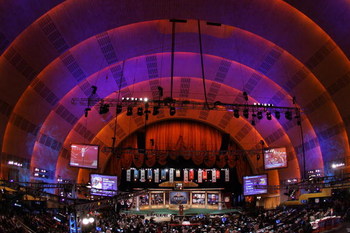 I figure it never hurts to take a crack at predicting the first round of the NFL Draft.
Many things have happened in free agency that have changed the landscape of the NFL Draft. Expect an exciting day of trades involving both picks and possibly even players.
There is a ton of talent in this draft and many teams are poised to fill some major needs.
Who will be a bust? Who will be a diamond in the rough?
Certainly every general manager would love to know that before making the decisions on draft day that may influence their franchises for years to come.
1. Detroit Lions: Matthew Stafford—QB, Georgia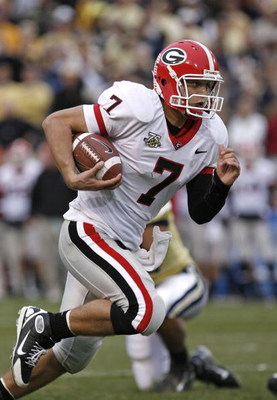 Detroit has long been searching for a franchise quarterback.
Matt Stafford may still be a little raw, but he has big-time potential.
If the Lions ever expect to climb out of the basement, they will need a quarterback who can make a difference.
2. St. Louis Rams: Aaron Curry—DE/LB, Wake Forest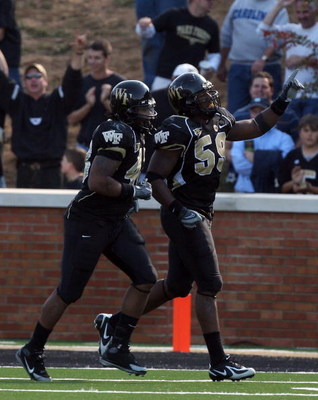 While the Rams may end up grabbing a tackle here, new defensive-minded head coach, Steve Spagnuolo must be salivating over this guy.
Curry has the intangibles to be a fantastic defender as a linebacker in the NFL.
3. Kansas City Chiefs: Jason Smith—OT, Baylor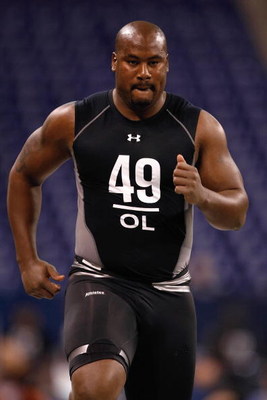 After going out and getting their franchise quarterback, it only makes sense for the Chiefs to go out and get him some protection.
Smith is a tremendous blocker, who at 6'5'' and 309 lbs., could even add a few more pounds.
Smith will be a good insurance policy for the health of Matt Cassel.
4. Seattle Seahawks: Mark Sanchez—QB, USC
Michael Crabtree would be a possibility if the Seahawks thought they could win now.
But with Matt Hasselbeck aging, they won't be able to pass up on Sanchez.
Coming from Pete Carroll's system, Sanchez will be able to transition to the professional game well.
A year under Hasselbeck will also make him even better.
5. Cleveland Browns: Brian Orakpo—DE, Texas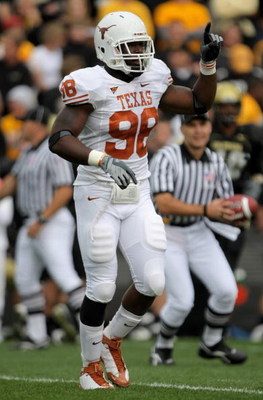 Orakpo just makes sense here.
The Browns need to generate more of a pass rush and Orakpo will do just that.
A tremendous player at Texas, he will be the type of guy that new head coach, Eric Mangini, will want to build his defense around.
They could also go with a receiver here should they trade Braylon Edwards.
6. Cincinnati Bengals: Eugene Monroe—OT, Virginia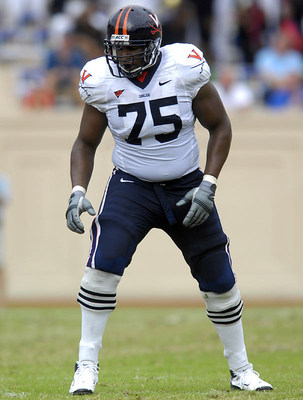 Carson Palmer has been put on his back and injured too many times.
A franchise quarterback needs to be standing to be effective. How do they solve that?
Drafting the quick and explosive Monroe from Virginia will help keep Palmer healthy.
7. Oakland Raiders: B.J. Raji—DT, Boston College
The Raiders were 31st against the run last year and that needs to improve.
B.J. Raji will help stuff up the middle while instantly being a huge help to the run defense.
Raji has shown he can use his tremendous size to, not only play the run, but also pressure the quarterback from the defensive tackle position.
8. Jacksonville Jaguars: Jeremy Maclin—WR, Missouri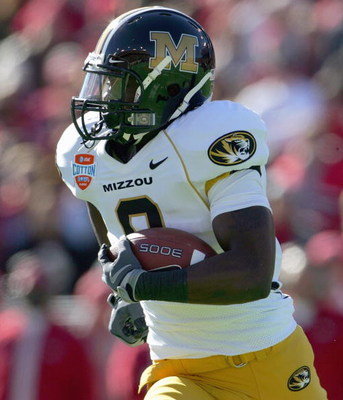 The Jaguars have brought in many receivers over the past few years in the hope of finding a number one threat. While only six-feet tall, Maclin uses his tremendous speed and route running ability to get open consistently. Yet while many think that the Jags are leaning towards replacing David Garrard, with a solid roster in place, Maclin could help them improve right away.
9. Green Bay Packers: Everette Brown—DE, Florida State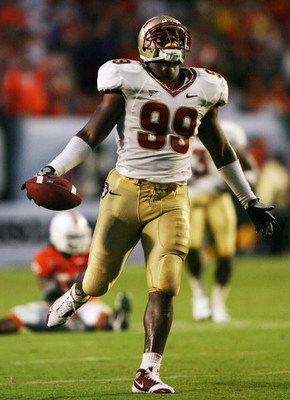 The Packers will continue to upgrade their pass rush with the selection of Brown.
While Aaron Maybin and Tyson Jackson are also major possibilities, Brown has shot up many draft boards with some good workouts.
This guy has the potential to be a big time threat coming off the edge.
10. San Francisco 49ers: Michael Crabtree—WR, Texas Tech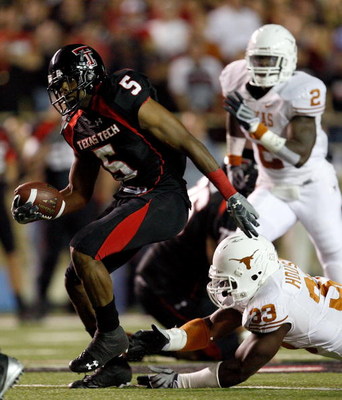 At one point he was considered a top-five pick, his injury has let him slide a bit.
What is certain about Crabtree is that he can just flat-out play. He has excellent route running ability and will give the 49ers a major threat at wide receiver.
11. Buffalo Bills: Aaron Maybin—DE/LB, Penn State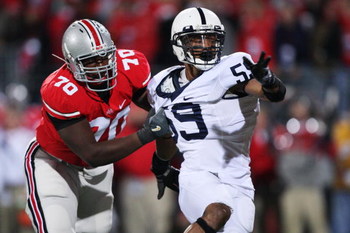 Maybin, who may very well be a linebacker in the NFL, will be a tremendous asset to the Bills defense.
At 6'4'' and 250 lbs., he has the size and speed to get to the quarterback.
The Bills coaching staff is in need of a winning season and Maybin is a safe pick that will only help their defense.
12. Denver Broncos: Robert Ayers—DE/LB, Tennessee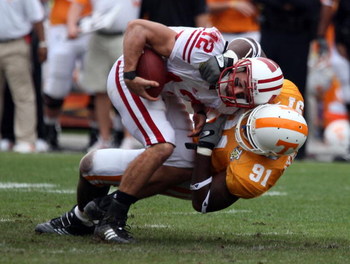 Robert Ayers will be a nice addition to a Broncos defense that needs some revamping.
Whether it is as a linebacker or as a defensive end, Ayers will help the Broncos get more pressure on the quarterback.
With many other options on the board, the Broncos may also go another direction on defense.
13. Washington Redskins: Tyson Jackson—DE, LSU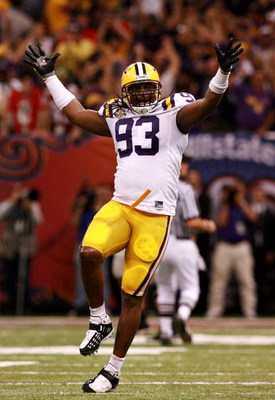 With the signing of Albert Haynesworth to create havoc up the middle, the Redskins now need to upgrade their pass rush off the edge.
A versatile player like Jackson could play up or down. He will give the Redskins someone with speed from the outside that can help draw some of the blocking away from Haynesworth.
14. New Orleans Saints: Chris Wells—RB, Ohio State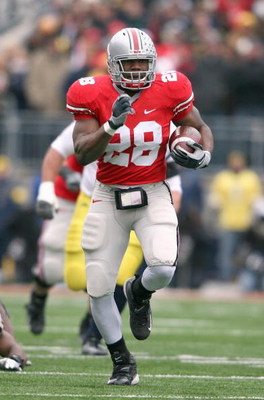 With the loss of Deuce McAllister, the Saints will be looking for a running back to compliment Reggie Bush.
At 6'1'' and 235 lbs., Wells is a powerful runner who will be able to take the pounding and wear down defenses for Bush.
Wells will be a perfect fit to the explosive Saints offense, giving them the reliable inside-the-tackles runner they need.
15. Houston Texans: Malcolm Jenkins—CB, Ohio State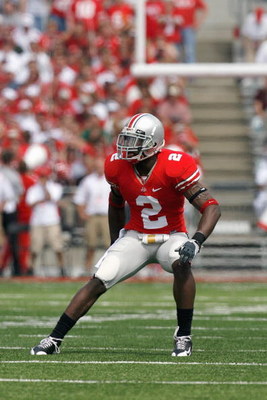 The Texans have spent many draft picks upgrading their defense and will continue to with the selection of Jenkins.
While his 40 times leave many to wonder if he will be more suited playing safety over corner in the NFL, he will be an upgrade to Houston's current secondary.
16. San Diego Chargers: Andre Smith—OT, Alabama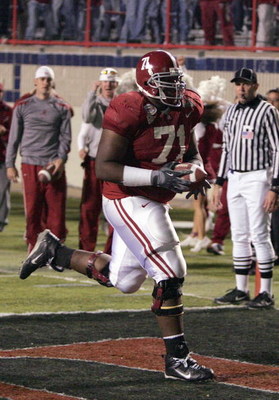 While some think that the Chargers will go after a running back here, after re-signing Tomlinson, that doesn't make that much sense.
Smith will probably not see much time as a rookie, but he will be someone who can develop into a stud tackle and protect Phillip Rivers for years to come.
17. New York Jets: Josh Freeman—QB, Kansas State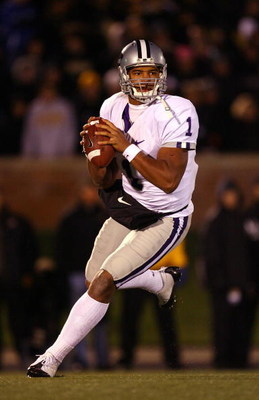 It is always hard to predict just what the Jets will do. But with Kellen Clemens being the likely starter heading into 2009, it makes sense for the Jets to address their quarterback issues with Freeman.
At 6'6'' and with good mobility, Freeman could really be a steal as well as a franchise quarterback.
18. Denver Broncos (from CHI): Peria Jerry—DT, Ole Miss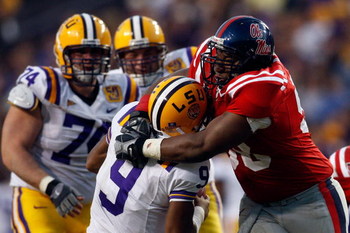 After selecting Ayers at No. 12, the Broncos will continue to build their defense with DT, Peria Jerry.
With his stocky, stout build and deceptive quickness, he will give the Broncos a force in the middle as they continue to revamp their defense.
19. Tampa Bay Bucs: Brian Cushing—LB, USC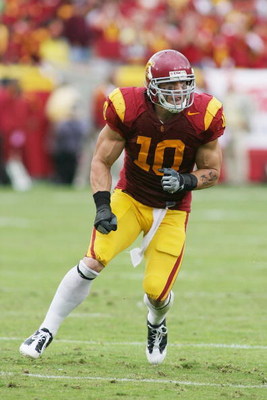 The Bucs need to get younger and bigger on defense so Cushing will be their man.
Many think the Bucs will try to grab a quarterback and could select Freeman if he slips. But with Freeman off the board, the Bucs will go with Cushing who has exceptional size and speed.
20. Detroit Lions (from DAL): Rey Maualuga—LB, USC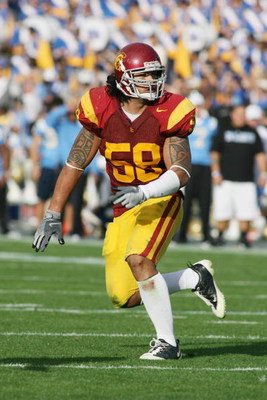 After grabbing a quarterback with the No. 1 pick, the Lions get a chance to upgrade their defense at No. 20.
Maualuga has tremendous speed and can also be effective as a pass rusher. He is the type of player that the Lions can use to start building a defense around.
21. Philadelphia Eagles: Michael Oher—OT, Ole Miss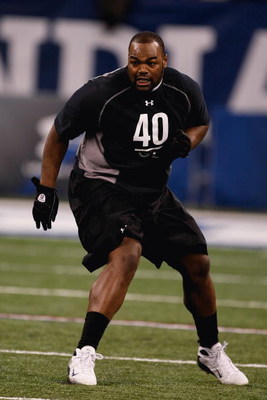 With the Eagles needing to get younger at the offensive tackle position, Oher, who drops to No. 21, will be a nice value here despite a number of offensive position players being available. After losing Tra Thomas, Oher does become a need.
22. Minnesota Vikings: Darrius Heyward-Bey—WR, Maryland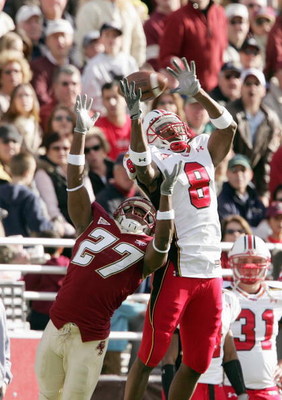 Outside of Bernard Berrian, the Vikings are weak at wide receiver. Heyward-Bey was impressive at Maryland and will give the Vikings another option to accompany their running game.
While the idea of them drafting a quarterback somewhere could make sense, Heyward-Bey will be a way to upgrade the passing game without bringing in another quarterback.
23. New England Patriots: Larry English—DE, Northern Illinois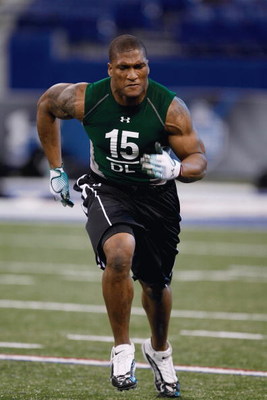 The Patriots will try to infuse more young blood onto their defense and English is the type of in between player that the Patriots love.
He doesn't have the size to really be a prototypical defensive end, but he could certainly be effective as a linebacker in the Pats' 3-4 scheme.
24. Atlanta Falcons: Clay Matthews—LB, USC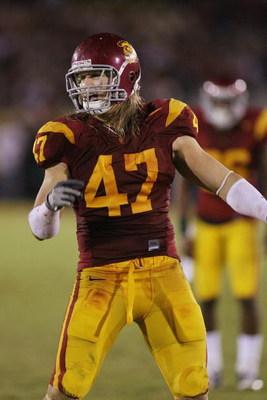 The Falcons want to upgrade their defense after they lost some key players in free agency.
Matthews doesn't have a huge body of work to look at but he may only have begun to show his real talent after showing flashes of brilliance last year with USC.
25. Miami Dolphins: Vontae Davis—CB, Illinois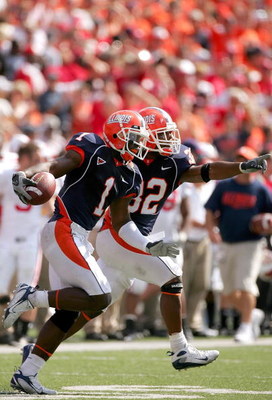 The Dolphins will look to add to their defense with the selection of Davis. He has some character issues but his speed and cover skills are excellent.
At 5'11'', he won't be able to out-jump some of the bigger receivers, but he will be able to stay with them using his quickness.
26. Baltimore Ravens: Hakeem Nicks—WR, North Carolina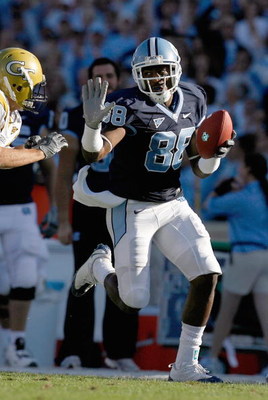 The Ravens need to upgrade their receiving corps and with the big arm of Joe Flacco, the speed of Nicks would be a great addition.
Nicks really came on late last year and showed that he has game changing ability.
The Ravens really struggled through the air last season so this pick makes sense.
27. Indianapolis Colts: Percy Harvin—WR/RB, Florida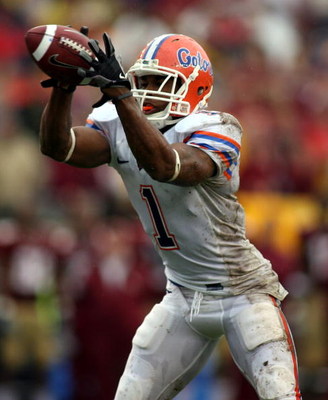 Percy Harvin is an interesting prospect because he can play receiver and also line up in the backfield. He could be a huge asset if placed in the right system where his versatility can be used.
The Colts could find ways to get this guy touches and would add another wrinkle to the Peyton Manning-led offense.
28. Philadelphia Eagles (from CAR): Brandon Pettigrew—TE, Oklahoma State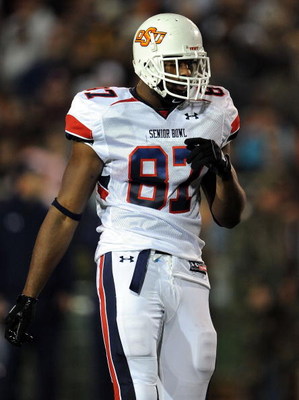 The Eagles lost L.J. Smith in free agency. Without a definite No. 1 receiver,
Pettigrew will give Donovan McNabb a big target over the middle. Pettigrew has excellent hands and runs well.
At 6'6'', he is also a fantastic blocker. If he does fall to the Eagles here, it would be a high value pick.
29. New York Giants: Kenny Britt—WR, Rutgers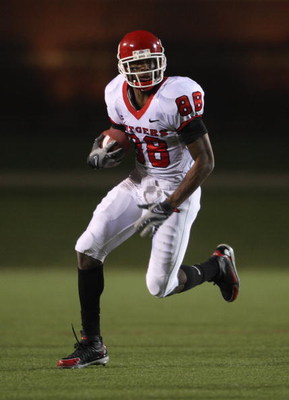 The Giants have a ton of depth at a lot of places, but a tall wide receiver is something they lack.
Britt uses his 6'4'' frame to position himself to make catches.
He finished with 87 catches this past season at Rutgers and could immediately become a favorite target for Eli Manning.
30. Tennessee Titans: Evander Hood—DT, Missouri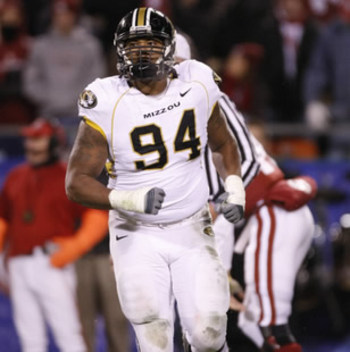 With Albert Haynesworth leaving, there is a gaping hole in the middle of the Tennessee defense.
Needing to add a defensive tackle, Hood is strong and plays extremely hard.
He will help offset the loss of Haynesworth and see a lot of reps as a rookie.
31. Arizona Cardinals: Knowshon Moreno—RB, Georgia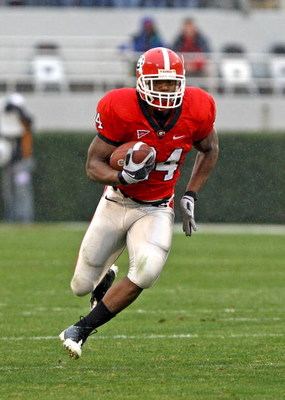 The Cardinals struggled running the ball last year and if Moreno is still on the board, it would be hard for them to pass him up.
He doesn't have a ton of pure speed, but he cuts well and can make defenders miss.
He also catches well out of the backfield. He could be a huge addition to the Cardinals' potent offense.
32. Pittsburgh Steelers: Alex Mack—C, California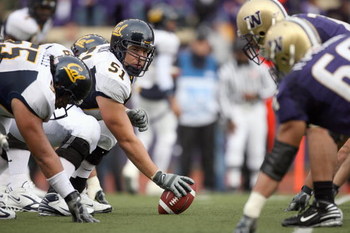 The Steelers need to upgrade their offensive line and Mack has the potential to be a perennial pro-bowler.
A smart athlete with good size and strength, he could find his way into the lineup and become the leader of the Steelers offensive line.
Keep Reading