NL East Preview: Full Forecast for Braves, Phillies, Nationals, Mets and Marlins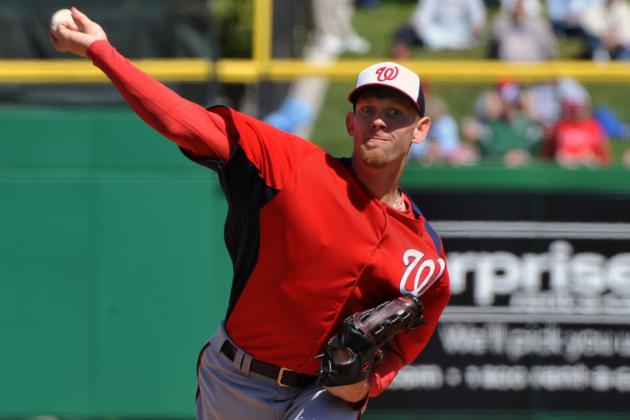 Al Messerschmidt/Getty Images
Without an innings limit this season, Stephen Strasburg should be in the middle of the NL Cy Young picture.
There was a changing of the guard in the National League East in 2012. After owning the division for the previous five years, the Philadelphia Phillies battled injuries and age en route to a .500 finish.
With the door wide open for some new blood, the Washington Nationals' rebuilding efforts yielded results a year or two sooner than expected. They posted a 98-64 record (the best in baseball) before losing in heartbreaking fashion to St. Louis in the division series round.
All of that is in the past, however, as the division begins anew.
There were plenty of changes in the division over the winter, leaving the top of the division up for grabs between at least two teams.
The Nationals didn't rest on their laurels, signing Dan Haren to a one-year contract in hopes that he can bounce back. They also traded for Denard Span to fill the hole at the top of the lineup and in center field and re-signed Adam LaRoche to provide some power in the middle of the order.
The Atlanta Braves lost Chipper Jones to retirement, but turned a fading Tommy Hanson into Jordan Walden, who has a great arm and could be just another weapon in an already-loaded bullpen. B.J. and Justin Upton will join Jason Heyward to form one of the best outfields in baseball.
The Phillies, Miami Marlins and New York Mets all appear to be at least one rung below the Nationals and Braves in the division—but stranger things have happened in baseball.
Here is a look ahead at what to expect from the National League East in 2013. It will include what teams need to happen, what could go wrong and final predicted standings.
Begin Slideshow

»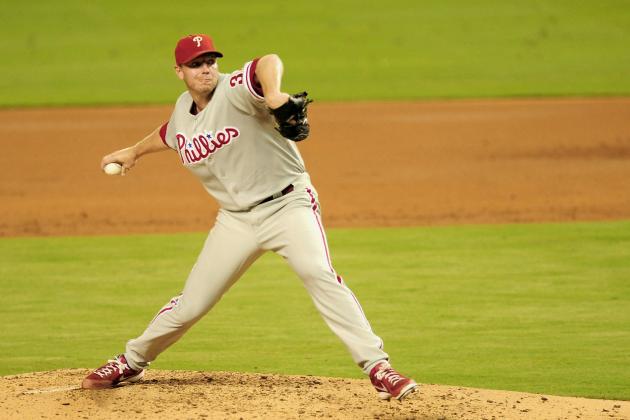 Jason Arnold/Getty Images
Roy Halladay's return will be one of the big questions for the Phillies this season.
2012 Record
81-81, third place in National League East
What the Phillies Need to Happen in 2013
Whatever general manager Ruben Amaro and his staff are doing with this franchise right now, it certainly leaves a lot to be desired.
First, the team acquired Michael Young from Texas to be the team's everyday third baseman. Young had the worst Wins Above Replacement in baseball last season at minus-1.4, according to Fangraphs. He has been a bad defensive player for years and just posted a .682 OPS in 2012.
Then came the Delmon Young signing and notion that he can be an everyday right fielder when he was so dreadful as a left fielder with Detroit. That's to say nothing of the fact that he hasn't had an on-base percentage above .308 since 2008 and is just a terrible person in general.
This is an aging team that doesn't appear to have any sense about how to fix things. All of the hopes around this team revolve around players well into their 30s, like Roy Halladay (35), Chase Utley (34), Ryan Howard (33), Cliff Lee (34), Michael Young (36), Jonathan Papelbon (32), Carlos Ruiz (34) and Jimmy Rollins (34).
Ruiz will miss the first 25 games of the season after testing positive for Aderall in the offseason.
A lot of balls are in play for the Phillies. What it comes down to is how much stock they have put into their pitching, specifically the trio of Halladay, Lee and Hamels.
Halladay is coming off shoulder problems last season that limited him to just 156.1 innings. He hasn't looked great this spring, either. David Murphy of the Philadelphia Daily News reported that Halladay's fastball was in the 86 to 88 mph range in a start on March 6.
That won't get it done for an entire season, I don't care how good Halladay has been at pitching in the past. When the stuff leaves, your margin of error is so small. Perhaps it will come back as we move closer to the regular season, but this does give you a lot of pause.
This team needs Utley to play 140 games. He did have a .365 on-base percentage and 11 home runs in 83 games last season.
Howard can't hit left-handed pitching anymore (.173/.226/.378 last season), so he is basically the most overpaid platoon player in baseball.
Lee was the unluckiest pitcher in baseball last season, yet he still has the best command in the game and should get 200 strikeouts again. They need that kind of production from him, especially with Halladay facing so many questions.
Hamels re-signed with the Phillies last season, making it the one good thing Amaro has done in the last year. He has to take over the mantle as "The Man" for this team if they hope to contend.
Because the defense is going to be so bad, with Michael Young at third, Delmon Young in right, Darin Ruf (likely) in left and Howard at first base, the pitching staff has to miss a ton of bats this season if it wants any chance of having success.
What Could Go Wrong?
Just look at the age and injury history at this roster—you will get your answer.
If Halladay can't come back and be close to the best pitcher in baseball again, the rotation loses a lot of its depth. Howard's problems against left-handed pitching become so severe that not even Charlie Manuel wants to play him against southpaws.
Utley's knees break down again, preventing him from playing more than half a season yet again. The team is able to see why Michael Young and Delmon Young were so readily available, though that might actually be an upgrade if the Phillies were to replace one or both of them.
This franchise needs a serious change in philosophy soon, because there is no immediate impact help coming in the farm system and some questionable drafts, as well as a number of trades, in recent years have really thinned out the minors.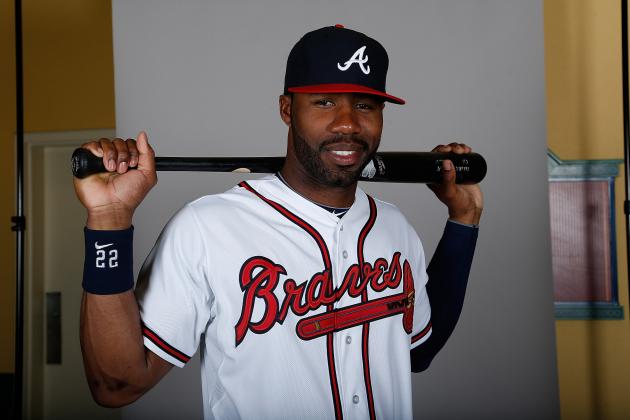 J. Meric/Getty Images
Even though the focus is on the Upton Brothers, Jason Heyward will be the best outfielder in Atlanta.
2012 Record
94-68, second in National League East (lost to St. Louis in Wild Card Game)
What the Braves Need to Happen in 2013
The Braves have usually been very conservative when it comes to free agency and trades in recent years, but with the retirement of Chipper Jones and free agency of Michael Bourn, the team found some money and spent it to bring B.J. Upton into the fold and dealt for Justin Upton.
The Upton brothers have more raw talent than 99 percent of outfielders in the game. Yet for whatever reason the consistency just hasn't been there. Both are solid defensive players—B.J. in center and Justin in right.
It is on offense where B.J. and Justin need to find their groove. Both have shown flashes of brilliance in that area, but nothing stays the same from a year-to-year basis. Justin was an MVP candidate in 2011 when he hit 31 home runs, yet he has hit a combined 34 home runs in 2010 and 2012.
To be fair to Justin, he did battle a hand injury last season that undoubtedly hindered his power production.
Those two have to be the middle-of-the-order run producers the Braves need, especially with Brian McCann's return from shoulder surgery keeping him out until at least April 16.
The rotation looks solid albeit unspectacular. Tim Hudson continues to defy age thanks to his ability to keep the ball on the ground. Kris Medlen was one of the great success stories in 2012, though the odds of him posting a 1.57 ERA again are about as good as my odds to win the lottery.
Brandon Beachy's return from Tommy John surgery, which will likely keep him out until at least July, could provide a boost to the rotation. But the risk in banking on a starter coming off an injury like that is high because you never know when the command will return.
If the Braves could get anything out of top prospect Julio Teheran this season, it would really stabilize the rotation.
The bullpen is so good and so deep, especially at the back with Craig Kimbrel, Eric O'Flaherty and Jonny Venters, that the Braves starters don't have to be lights out for this team to win.
What Could Go Wrong?
The Upton brothers are going to be the biggest question mark to watch at the start of the season. If they are hitting for power, even without the average, and playing defense up to their potential, all the questions will go away.
Banking on Medlen, who was off-the-charts good in 2012, as a rotation stalwart and Teheran, whose potential has dropped a bit in the last year due to the lack of development on his breaking ball, could leave the rotation with a lot more questions than answers.
Hudson could also hit that wall every pitcher hits at some point, though the fact he has made it to 37 and is still as good as he is speaks to how well he has changed his game.
McCann's shoulder problems from last season bleed over into this season, making that .230/.300/.399 slash line from 2012 more along the lines of what he will be moving forward.
There is also the issue of what will happen at third base. The Braves have Juan Francisco and Chis Johnson there to platoon. Francisco's career on-base percentage is .303, while Johnson's is .315.
Even with a dominant bullpen, the Braves could struggle to score runs and never really let those arms at the end of the game show what they can do in high-leverage, meaningful situations in 2013.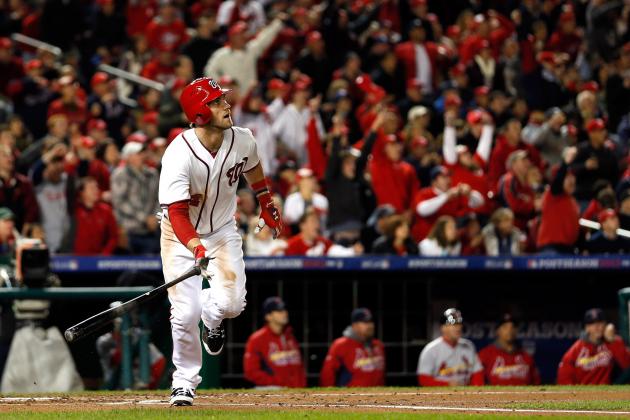 Rob Carr/Getty Images
After winning NL Rookie of the Year in 2012, what does Bryce Harper have in store this year?
2012 Record
98-64, first place in National League East (lost 3-2 to St. Louis in divisional series)
What the Nationals Need to Happen in 2013
As great as 2012 was for the Nationals, they are expecting bigger things this season thanks to full seasons (barring injuries) from Bryce Harper and Stephen Strasburg.
We might as well start with those two, since they are clearly the two biggest stars on the team and have the potential to do great things.
Harper was so impressive as a 19-year-old rookie last season, setting a new major league record for extra-base hits by a teenager (57). Not only that, but the way he made adjustments as the season went on spoke volumes about how good he already is.
Given the way Harper finished 2012, hitting .330/.398/.651 in September, he has high expectations for this season. Perhaps they are unfair just because he is so young, but until he fails, why bet against him?
Strasburg was the most controversial topic of discussion in September, with the Nationals deciding to shut him down and leave him off the playoff roster. He is the most unhittable pitcher in baseball when he is on, striking out 197 in 159.1 innings last year.
As long as Strasburg stays healthy, he will be one of the best pitchers in baseball. His stuff is so good and he commands everything so well that he will be in the National League Cy Young conversation.
Gio Gonzalez was masterful last season, though he still walks too many hitters to be considered a true No. 1 starter. As long as he is able to miss bats, like he did in 2012, the Nationals don't need him to be great again to succeed.
The offense needs Harper to take the next step, because the odds of Adam LaRoche hitting 33 home runs again doesn't seem likely. It is also hard to depend on Ryan Zimmerman playing 145 games like he did last year.
The acquisition of Denard Span and his .357 career on-base percentage should make it easier for the offense to be more potent in 2013. He is also a plus defender in center field, which should give them one of the best defensive outfields with Harper in left field.
Rafael Soriano was signed to be the team's closer. He has been great in two of the last three years, with Atlanta, Tampa Bay and New York, but was injured throughout 2011 with the Yankees.
That has been the story of Soriano's career. When he is healthy, he is a terrific reliever and done well closing out games. But he has had four seasons where he has thrown less than 40 innings due to injuries.
What Could Go Wrong?
Strasburg has already had Tommy John surgery once. Rafael Soriano has never been the model of health. Dan Haren's back issues could make him a nonfactor. Ryan Zimmerman has missed at least 56 games in two of the last five seasons.
Those are just a few injury questions. If Harper doesn't evolve like everyone expects, this offense could struggle to score runs. If he is just as good as he was in 2012, things will be fine. LaRoche does have some power, but he has only one other season with more than 30 home runs (2006).
Ian Desmond had a terrific 2012 season, posting a career-best .335 on-base percentage and hitting 25 home runs. I wouldn't expect to see that on-base proficiency continue in 2012, as his walk rate stayed largely the same as it was in his previous two seasons.
Gio Gonzalez's command issues could make him a big regression candidate, though he has shown a knack for being able to miss bats that will likely make him at worst a league-average starter.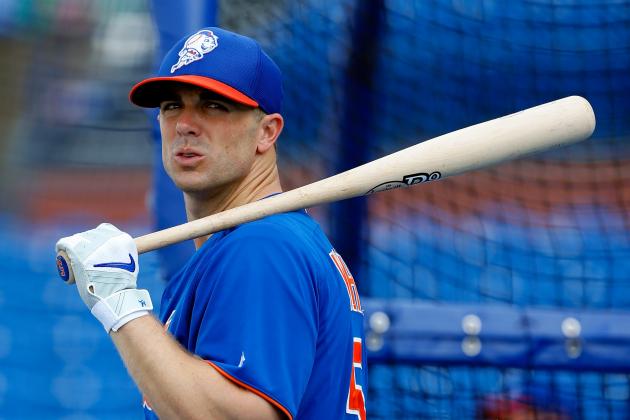 Chris Trotman/Getty Images
At least David Wright will be fun to watch, Mets fans.
2012 Record
74-88, fourth place in National League East
What the Mets Need to Happen in 2013
Anyone who tries to tell you that the Mets aren't rebuilding right now is delusional. That doesn't mean there aren't reasons to watch this team in 2013.
Matt Harvey looked outstanding in his brief run with the team last season and his upside has skyrocketed thanks to improved stuff, including a mid-90s fastball and knockout slider.
Top prospect Zack Wheeler will be up sooner rather than later, potentially giving the Mets a strong one-two punch heading into 2014. Even though the rebuild will likely take longer than that before they are competitive in this division, help is on the way.
The starting outfield is a mess, so much so that Bobby Bonilla and Jason Bay are the two highest-paid outfielders for the team in 2013.
The deal that sent R.A. Dickey to Toronto may not have been popular, but if Travis d'Arnaud can just stay healthy long enough to get called up, he has the best all-around tools of any catcher in the minors.
Getting young players like Harvey, Wheeler and d'Arnaud into the mix and playing alongside David Wright in Queens is what the Mets have to focus on in 2013.
It would also help them out if Johan Santana is healthy and pitching well around the trade deadline so they can try to add more talent to an improving farm system that still needs a lot of depth.
What Could Go Wrong?
Wheeler took several steps forward in Double-A and Triple-A, but he has just 33 innings of work at Triple-A. He also pitches in one of the best hitting environments out there, which could make his results look worse than his pitching.
If Wheeler struggles this season, the Mets' timetable for him will change and could hurt the development time for that one-two punch at the top of the rotation.
D'Arnaud's injury history in the minors shows up again, preventing the Mets from being able to either call him up or give him enough playing time to let him get challenged by the daily grind in the big leagues.
All of the attention should be on those two young players, as well as Harvey, because they are the future of this team and will play significant roles in how fast this franchise is able to compete for a playoff spot again.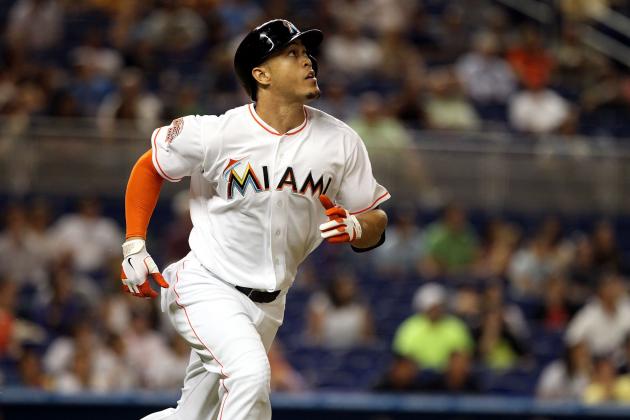 Marc Serota/Getty Images
It is a shame no one will show up for the games, because Giancarlo Stanton is worth the price of admission.
2012 Record
69-93, last place in National League East
What the Marlins Need to Happen in 2013
The Miami Marlins have had a relatively quiet offseason, trading away basically their entire starting lineup and rotation from last season over the last seven months and trying to convince people they have a championship-caliber team.
Marlins owner Jeffrey Loria believes in this team so much that he takes out full-page ads in local newspapers and doesn't even bother to learn the names of "the new shortstop" or "our second baseman."
Look, this franchise is dreadful. There is no hope of contention in 2013. They will compete with the Astros for the worst record in baseball this season. But at least Giancarlo Stanton is still with the team. He gives you a superstar to watch on a nightly basis, for now.
Everything else for the Marlins will be focused down in the minors. Jose Fernandez had a remarkable debut season, striking out 158 and walking just 35 in 134 innings across two levels.
He doesn't turn 21 until July, yet looks advanced enough that there is a chance he could debut before the end of this season.
Outfielder Christian Yelich just turned 22 in December, continues to show advanced plate discipline and power. He also has a shot to debut before the end of this season.
So there is some help coming, it just won't be nearly enough to put a playoff-caliber team on the field.
I don't know what the Marlins need to happen in 2013 because I have no idea what their plan is. If they want to turn a profit, there is a chance they could do it since the payroll is so low. But given the "line" for season tickets, even that seems like a long shot.
There are players who will be fun to watch—well, at least Giancarlo Stanton will be. When Fernandez and Yelich debut, they will also be worth watching. Other than that, just have fun laughing at Loria's inability to spin bad press.
What Could Go Wrong?
It is hard to imagine things getting worse for the Marlins as a franchise right now. On the field, if Stanton misses any time, this offense could be one of the worst we have seen in recent memory.
Again, it is hard to pinpoint what could go wrong with this team right now because we don't know what they are trying to do. If this whole thing is about making money, does anyone think they will do that on their own?
At least Loria can look forward to collecting all that revenue-sharing money.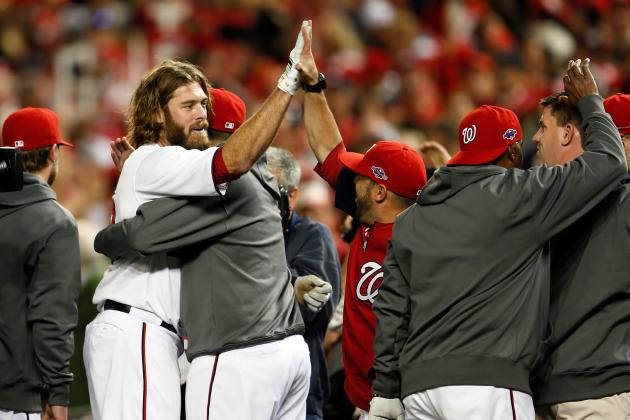 Rob Carr/Getty Images
The Nationals will be celebrating another division title in 2013.
Washington Nationals (94-68)
Atlanta Braves (89-73)
Philadelphia Phillies (77-85)
New York Mets (73-89)
Miami Marlins (61-101)
The Nationals have the best pitching rotation in the National League. If they can keep that group healthy, and Bryce Harper adds even more punch than he did in 2012, they should cruise to a division title.
I am being conservative with the Braves heading into the season, but I do think they will hang with the Nationals throughout the summer. I just wish I could say with some certainty what the Upton brothers were going to do.
The Phillies are a team that desperately needs to start the rebuilding process, yet they continue to fool themselves into thinking they are contenders.
The Mets have started their rebuilding process, but it is going to take a few years of adding talent to the farm system before it produces great results.
The Marlins...are a team that plays baseball in Miami. At least that's what Jeffrey Loria claims. We shall see what it looks like as a product on the field. But at least Giancarlo Stanton is still there.