Under the Knife: Latest News on Key MLB Injuries
J. Meric/Getty Images

Welcome to the first Under The Knife column at Bleacher Report! Under The Knife begins its 12th season of covering the world of baseball through the lens of sports medicine. After more than a decade, I still feel this is one of the most interesting and misunderstood areas in sports. Each week, I'll be detailing the most impactful injuries and giving you the insight you need to understand what it means for your favorite team or your fantasy team.
It may only be the start of March, but the injuries are already piling up. It's not just the Yankees that have felt the wrath of the early injuries, though it may seem like it to the Bleacher Creatures.
This has happened to the Yankees before. Remember the spring a couple years back when it seemed everyone was pulling a hamstring and it ended up costing some jobs? There's no one to blame for a series of traumatic injuries, but we'll see how well Brian Cashman and his team have done in building depth. The easy answer might be to pull out the checkbook and buy a player, but it's probably not the right answer.
The problem is that we're still looking for the right answers. Baseball has lost billions—yes, with a B—to injuries, and we're still no closer to finding answers then we were when I started writing this column back in 2002.
Prevention? Research?
I'll talk about the small positive steps we've made, but almost all of them in the last five years come from rehab and practice. Those are hard-fought and costly gains, ones that come from having too many injured players to practice on.
The worst of it is that the dollars often aren't a good measure. When we lose a young pitcher, there might be some lost bonus money but that's about it. What we don't figure is what a team lost in not being able to figure out that risk. We're never going to get to 100 percent, but we could get a lot closer than we are now.
Just think about Mariano Rivera. He announced his retirement this week and is universally praised as the best closer in the game and as a credit to the game, but he almost never made it. He's another that came from Dr. James Andrews' table and all the way back. He didn't have Tommy John surgery in the traditional sense, but had a hybrid procedure that allowed him another chance.
If it had happened a few years earlier, that chance might not have come. Which injuries that happened this year might be saved just a few years down the line? Which injuries could we prevent so that we have a few more pitchers who don't have that scarred signature of Andrews, Timothy Kremchek and Lewis Yocum on their elbows?
Powered by the start of a new era of UTK, on to the injuries:
Begin Slideshow

»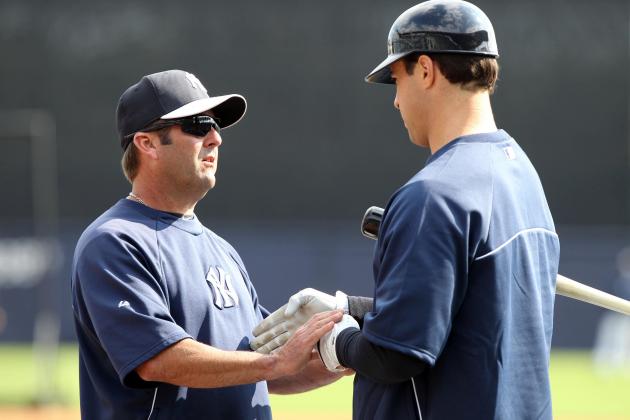 Kim Klement-USA TODAY Sports

INJURY: Strained wrist
EXPECTED RETURN DATE: May 10
Wrist issues for any power hitter, even a line-drive hitter like Mark Teixeira, are very concerning. It's more than just the time it takes for the wrist to heal up, but how it heals and how the player performs once he's back.
The first problem is one of anatomy. The wrist is a very complex structure of small bones, cartilage, tendons and ligaments. If just one of those gets a little out of whack, the whole structure has an issue. The problem with surgery is that it's difficult for any surgeon to open a guy up and figure out exactly how things were. Even with a healthy opposite wrist, it's just not the same. The better plan is to hope that the body can heal up with anti-inflammatories and rest.
Once a player does come back, the wrist is seldom back to normal. There's often a period between six and 10 weeks where the power is significantly down, and it can go longer than that.
Jayson Werth has said that over a year out from his traumatic wrist fracture, he's still not back to normal, and his numbers show it. A better case is Pablo Sandoval, who's needed surgery on both hamates, and while his power was down in the short term, it's come back both times.
Teixeira is a player with some real issues in April, so we'll see whether his problem is more about the weather or getting up to speed with real pitching. There's some indications that this could go positively or negatively. On one hand, Teixeira could get no better or have an early setback and need surgery that would cost him about half a season. On the other, he's actually doing well with rehab and a six-to-eight-week return is reasonable.
The Yanks will stay inside to replace Teixeira for now. Dan Johnson will get some time at first when Kevin Youkilis isn't there, while Jayson Nix is the likely plan at third for the times when Youkilis isn't there. It will be a mix-and-match job for Joe Girardi for the first month—something he hasn't excelled at in the past.
The Yankees will go a day at a time in hopes that they can stay close to Toronto, the projected "favorite" in the AL East, if you think that one game makes for a favorite.
Right now, it's a very tight race among the entire division, and an injury like this that could cost as many as two wins could be the difference alone. Boston actually has the easiest April schedule, going against Houston, Kansas City and Cleveland in the first few weeks of the season.
Opening with a set against the Red Sox means that just taking care of their own business will help the Yankees stay close.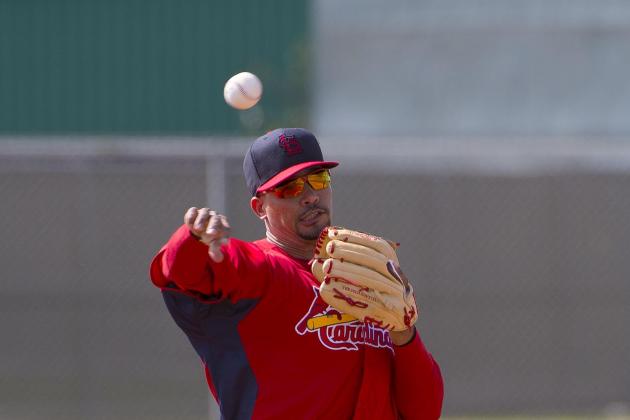 USA TODAY Sports

INJURY: Sprained ligament, elbow
EXPECTED RETURN DATE: DFS (done for season)
Here's rule No. 2 when it comes to sports medicine: You always have to do everything you can to avoid surgery. As good as surgeons are these days, aided by all the sports medical professionals around them, it's still tougher to go through that process.
That said, people are often frustrated when a player tries to rehab and then ends up having the surgery. When you hear that frustration, feel free to refer to rule No. 2 up there. Cardinals fans are doing that right now with Rafael Furcal. His elbow didn't hold up well despite a full offseason of hard work and rehab, forcing him to have Tommy John surgery, replacing the damaged ligament.
Now here's why it's hard, and it's one of the misunderstood parts of Tommy John surgery: In most cases, the ligament isn't ruptured. Ruptured means that the ligament is torn in two. That's an easy call, and if they were all like that, we wouldn't have this "let's try to rehab it" issue.
No, most cases have a sprain (remember a sprain is a tear) of less than half the thickness of the ligament. Anywhere between 25 and 33 percent on the low end is where most surgeons tend to say surgery is likely.
The easy assumption here is that Furcal's tear was significant and that rehab didn't heal it up, or that throwing tore away the scarring that heals any part of the body, including ligaments. That's not unusual, but it was the right by-the-book move.
Furcal, like most position players, will have a slightly shorter rehab from the surgery, which means in theory he could be back at the end of the season. That's unlikely, but possible. By having the surgery, Furcal has given a clear indication that he will try to return next season.
Rule No. 1, you ask? Prevention is better than rebuilding in every respect.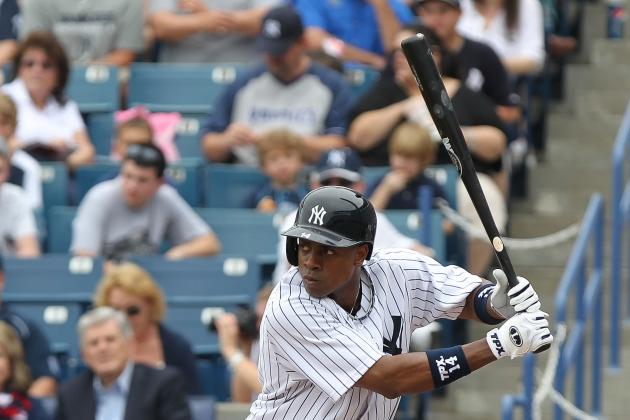 Kim Klement-USA TODAY Sports

INJURY: Fractured arm
EXPECTED RETURN DATE: May 1
Here's the simple way to tell the difference between Curtis Granderson's injury and Mark Teixeira's: Ignore that one is a fracture and one is a strain; the difference is that Teixeira hurt one of the many complex structures in his anatomic wrist.
Granderson broke a bone in his arm. Sure, it's near the wrist, but it's the arm.
Granderson should have none of the complications that those with anatomic wrist injuries have. Once his ulna has healed up, we'll get quick indications of when he'll be back and how. Watch for any signs of power—homers are easy, but even gap shots down in Tampa as he rehabs would be a big plus. The earlier the power comes back, the better, though I don't foresee any big issues here.
If you could go back into the history of injuries, you'd find one key piece of evidence in the wrist-arm differentiation. That's Derrek Lee, the Cubs first baseman, who was the first player to come back from a "wrist" injury and show immediate power. Lee's injury was almost exactly of the type Granderson suffered.
Granderson is dropping too far in average draft position right now. Prorate your previous projections for the lost month and bid accordingly. He still has 30-homer potential adding to his other pluses.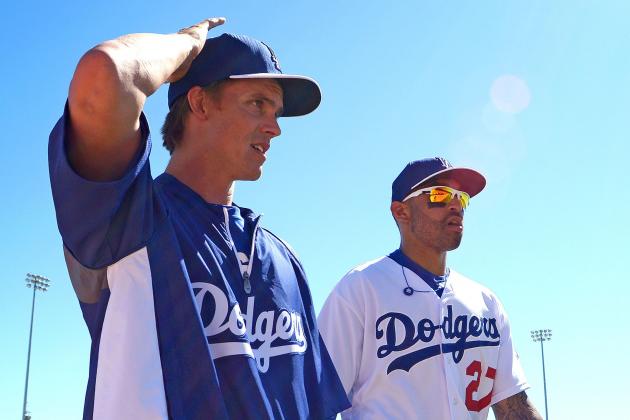 Jake Roth-USA TODAY Sports

INJURY: Inflamed elbow
EXPECTED RETURN DATE: April 7
Zack Greinke doesn't do well with spring training it seems. A couple years ago, a basketball game put him behind after injuring his ribs. This season, it's a baseball injury, and one that has to have Dodgers fans on edge.
Greinke has inflammation behind his pitching elbow, a worrisome location and injury. While Greinke is only expected to be shut down a few days, there's some concern. Greinke and the Dodgers medical staff elected to have PRP (platelet rich plasma) injections into the elbow. The Dodgers were one of the first teams to use this kind of therapy and have had solid results. Chad Billingsley is returning this spring claiming the PRP and rehab allowed him to avoid Tommy John surgery.
But it's this that should worry us. Billingsley is coming back well, but he's coming back after starting a rehab program last August. It's always difficult to tell when someone could have come back. Reports were that Billingsley was throwing simulated games in November, so even then, we're looking at months off.
That makes it very difficult to equate the success he's seen with what the Dodgers can expect from Greinke over the next few weeks.
If Greinke's throwing goes well, he could miss as little as one start. The Dodgers could merely reconfigure their rotation, making Greinke the de facto No. 5 starter rather than the 1A that the Dodgers thought they were getting. The key is keeping Greinke healthy and maximizing his opportunities, so don't be surprised if the Dodgers get a bit more conservative.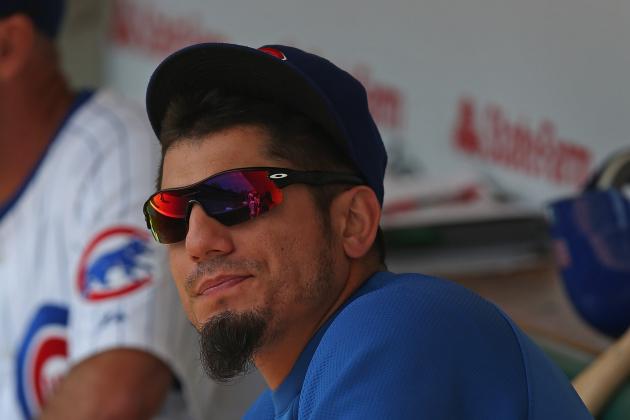 Jonathan Daniel/Getty Images

INJURY: Strained lat
EXPECTED RETURN DATE: April 20
Matt Garza might have a special elbow ligament, but that won't help his shoulder. Throwing is a series of events, done in a very specific sequence with forces that are carried up like a wave from the feet and legs all the way through the arm and into the ball. Like any chain, there's always a weak link. For some pitchers, that's the elbow, and for others, when one weak link is fixed, another pops up. That's the worry for Garza right now.
In coming back from his complex elbow injury, Garza had a quick strain of his latissimus dorsi muscle, the large muscle of the upper back and shoulder. That injury has tended to be one that shows a new weak link in the kinetic chain, such as with Ben Sheets or Jake Peavy.
The hope is that Garza can get back into his throwing program sometime this week, which would put him well behind the other starters, but along the same timeline as Scott Baker. Teams tend to have more off-days in April, so the Cubs could likely get away with missing two starters early more than they could later in the season. There is some speculation that this could range into May, if you want to be on the pessimistic side.
This all assumes that Garza doesn't have similar problems once he starts throwing again. It's not just the Cubs that are watching closely, but all the teams that had designs on Garza as a possible trade target.
Garza's health is key to a lot of things, but if you're trying to hedge the risk here, it's tough. The Cubs have a lot of back-end fodder, but not much of any upside there. Barret Loux was one name people thought might jump out, but he's been bad this spring.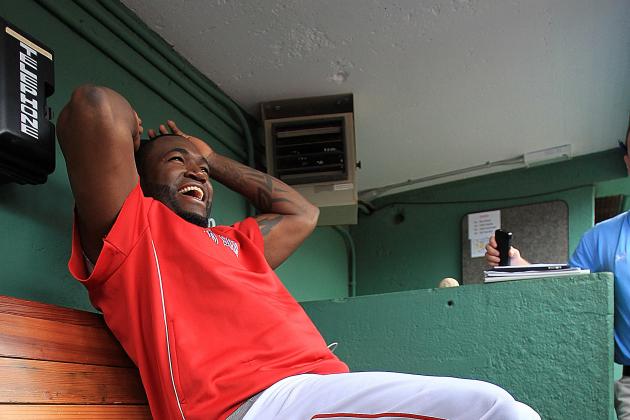 Jim Rogash/Getty Images

INJURY: Strained Achilles tendon
EXPECTED RETURN DATE: NMT (no missed time)
David Ortiz isn't having the spring he hoped. The Achilles tendon injury that cost him much of the second half isn't doing much better despite an offseason of rest and rehab. I've often worried that the changes that the Red Sox have made cost them the rehab advantage they had, and if so, they've got big issues. Ortiz's injury isn't helping that perception. (For more on this issue, see the Red Sox Team Health Report.)
Ortiz has been shut down for about a week to see what they can do with the tendon. Cortisone and other anti-inflammatories are a last resort here, especially given how Ryan Howard has pointed to those kind of treatments as a factor in why his Achilles snapped.
That leaves the Red Sox medical staff a puzzle of how they keep Ortiz both comfortable and functional. It would be easy to put him in a walking boot, but he couldn't play with that. He could play, but the tendon would be at risk right now. Finding that balance is going to be a tough task in the next couple weeks, which puts Opening Day at risk for Ortiz.
My pal Scott Isaacs asked if Ortiz would be "better off" had his Achilles popped and had surgery late last year. Ask Howard about how badly that can go, and it's hard to say that Ortiz is worse off than he might be. There's more uncertainty, which you know I don't like. Again, refer to medhead rule No. 2—you always have to avoid surgery if at all possible.
The downside is that avoiding surgery doesn't always work. I'm beginning to worry about Ortiz's season and maybe his career, but I'm not quite at the point where I'm even dropping him on my draft board.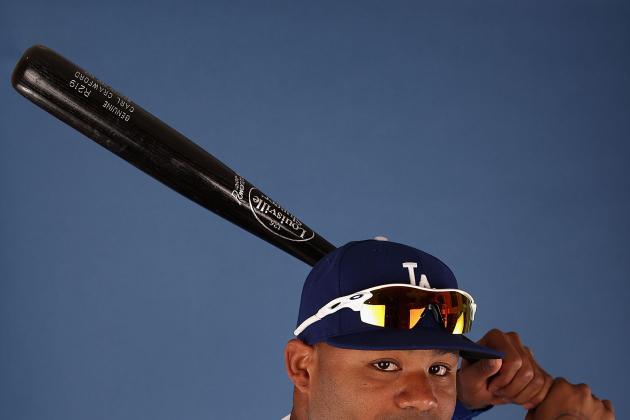 Christian Petersen/Getty Images

INJURY: Ulnar nerve irritation
EXPECTED RETURN DATE: NMT
"Shut down" is never a positive, but with Carl Crawford it could have been a lot worse. He's coming back from Tommy John surgery and one of the common complications is ulnar nerve irritation. How common is it? Tommy John himself had it, resulting in a second surgery to transpose the nerve. The ulnar nerve is commonly called the funny bone, so most of us know what it feels like to hit it. Few of us, thankfully, know what it's like to have a constant pain there.
Crawford was having that issue, and the Dodgers medical staff shut him down for a week. That's smart, and that he's already back doing some baseball activities is a big positive. Crawford is taking swings and making throws, so the hope is that the medical staff figured something out and has Crawford back in a place where he can prep for the season.
He's behind, and with the problems he had the past two seasons, it's very possible that the Dodgers might want to send him to Albuquerque (Triple-A) to start the season with some positive results before bringing him up. Crawford could use the boost, and DL moves like this help with those tough late-camp decisions by temporarily opening up an extra roster spot.
Crawford still profiles as a player that could be a big comeback candidate, but he'll have to get back to playing the way he did and getting the media out of his head. I'm curious to see if T.J. Simers takes a run at Crawford the way he has with other players in the past.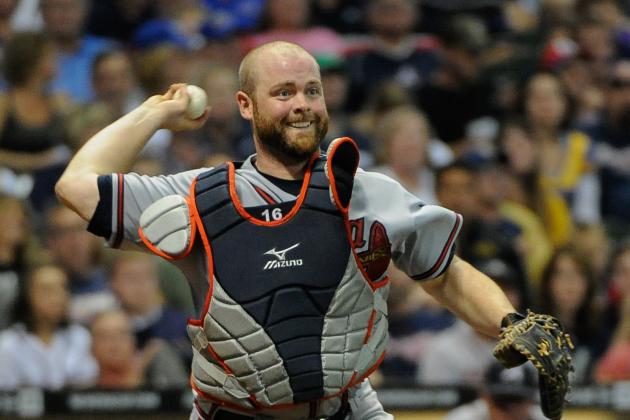 Benny Sieu-USA TODAY Sports

INJURY: Torn labrum, post-surgery
EXPECTED RETURN DATE: April 25
Brian McCann is making some progress, but his surgically repaired shoulder is not going to be ready for the season. The lack of DH puts the Braves in a tough position. They can't dislodge Freddie Freeman to put McCann in unless he's clearly a better hitter, and as yet, he's barely shown that he can hit on back-to-back days. He can't play third, for the same reason that he's going to have trouble catching.
Essentially, McCann is going to have to carry his arm with his bat. That's possible, and much of that will depend on how much the pitchers can pick him up. Scouts have told me that the Braves are making no secrets this spring of working on pick-offs and holding runners. Of course they are; that's the best thing they can do now, making other teams think about it.
McCann's 2012 season is an interesting one. He was playing with the damaged shoulder and he still managed a positive dWAR (defensive wins above replacement) that was actually above his offensive WAR (oWAR). If that's the worst-case scenario, the Braves would be very happy.
As a free agent after the 2013 season, McCann has every incentive to get healthy quickly and prove that the injury is behind him. The Braves really need a healthy McCann to contend, but don't be fooled—the early season will be a lot more Gerald Laird than McCann. Look for any sign of power from McCann, even in batting practice, as well as significant progress on his throws.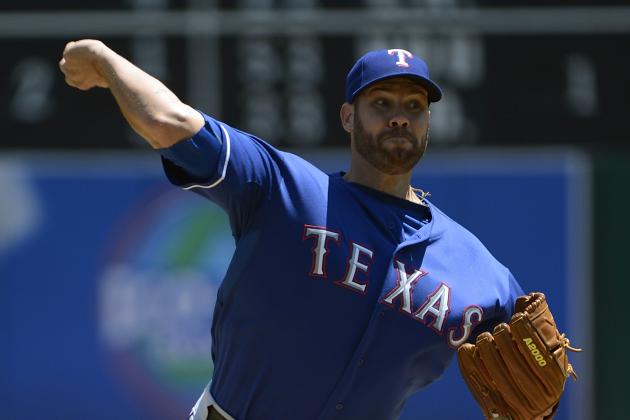 Thearon W. Henderson/Getty Images

INJURY: Strained flexor tendon, post-surgery
EXPECTED RETURN DATE: May 10
Colby Lewis might not be close to returning to the Rangers rotation, but he might just be ready for the RoughRiders before long. Frisco (Double-A) is the team of choice for Rangers rehab for a couple reasons. The first is the proximity, just across the metroplex at the beautiful Dr. Pepper Field. The second is the excellent results they've seen from Frisco's athletic trainer, Carlos Olivas.
With Lewis already throwing in the pen, he's likely to be throwing to live hitters before the Rangers leave Arizona, and while Lewis won't be ready then, it's likely that he'll continue his rehab with the team rather than staying behind. That means Frisco is the likely place to see Lewis throw first.
That could come as quickly as the first week of Frisco's season at this current pace, though the Rangers tend to be very deliberate with the pace of their rehabs. Assuming Lewis will need two or three starts to get his stamina, that could put him back at the end of April, which is ahead of even the most optimistic projections on his return.
I think we'll see the Rangers tug the reins a bit before Lewis becomes a RoughRider, with his rehab starting mid-April. That would put his return to Texas at almost the same time as Martin Perez, who is recovering from his fractured arm.
So far, there's been nothing but positives for Lewis in his return from forearm surgery. The hard sinker doesn't appear to be a significant issue in the injury or the return, giving Jon Daniels a lot of options as he puts together the pitching staff for the start of the season.
Right now Robbie Ross appears to have the rotation spot until Lewis is ready, but Derek Lowe's signing means something. Ross' real value might be in becoming the swingman that can go back and forth the way that Scott Feldman did for a couple seasons before moving on to the Cubs rotation and bigger dollars.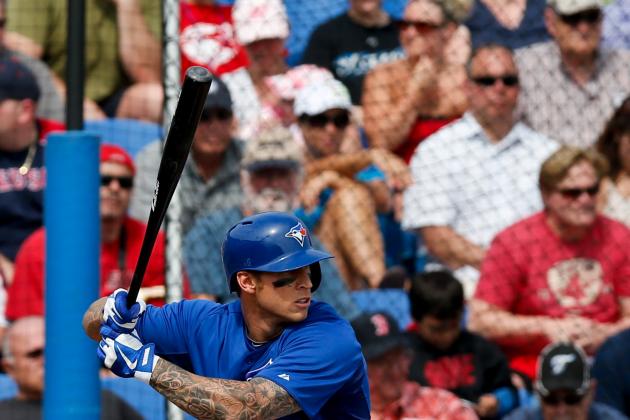 Derick Hingle-USA TODAY Sports

INJURY: Core strain
EXPECTED RETURN DATE: April 15
Brett Lawrie has an intracostal strain. Instead of boring you with an anatomy lesson, I'm going to simplify things for everyone. When it comes down to it, intracostal strains are very similar in function and time lost to oblique strains and both lower and upper abdominal strains. A muscle is a muscle, and all of these have similar function. That's why I've come to stop differentiating these and call them "core injuries." It's nice to note the actual precise diagnosis, but then it becomes much the same.
Lawrie does have a history with previous core injuries, so the Jays are likely to be more cautious with him at this stage of the season. More and more teams are using PRP (platelet rich plasma) for these kinds of injuries, as well as other injections to help healing.
The key is making sure that the injury heals up well. The use of ultrasound imaging is helping with this, as it makes checking pretty easy and clear, though not all teams have this available to them. Once the injury is healed, the rehab is pretty quick. If a player tries to come back too quickly, however, that's where the big setbacks happen and the time lost can be extended.
If you read the Jays Team Health Report, you'll know that the Jays are great with position player injuries but have terrible results with pitchers. That's good news for Lawrie. If Lawrie's injury does extend into the season—possible, but not likely—then Jose Bautista might play some at third. Depending on your league's rules, that could be a valuable occurrence.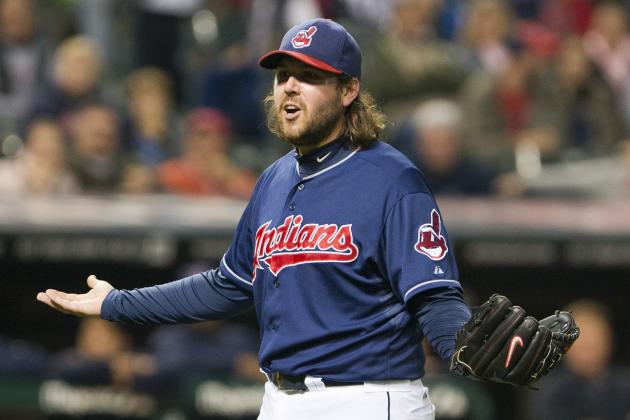 Jason Miller/Getty Images

INJURY: Shoulder soreness
EXPECTED RETURN DATE: NMT
Chris Perez is back throwing as of Sunday as expected. That's no surprise given how good Lonnie Soloff and his staff are at rehab. They're one of the organizations where, if they say something and it doesn't come off as expected, something's up. With others, well...you have to stock up on salt to take with their press releases and Twitter feeds.
Perez's sore shoulder is still a major concern for the new-look Indians. Terry Francona succeeded when he had a solid closer in Boston, and even though Jonathan Papelbon was no guarantee of success for him, it imprinted. Having Perez is important to the team, even if his role really isn't and if there's several good possible replacements.
Perez should be back into game action by the last week of spring training, which should be enough to show that he's ready to go. Watch to see that Perez doesn't have any quick setbacks as he begins throwing, especially as he gets onto the top of a mound.
Wait, top of the mound? Yes, that is an important thing. Sometimes you will hear about mound work and it will involve "half-mounds," which means just what it sounds like. Teams either use a smaller mound with a lower slope or put a pitcher halfway down the mound, with no rubber to minimize force. It's a key difference, and one that will help you understand when a pitcher is really back and when he's only halfway back.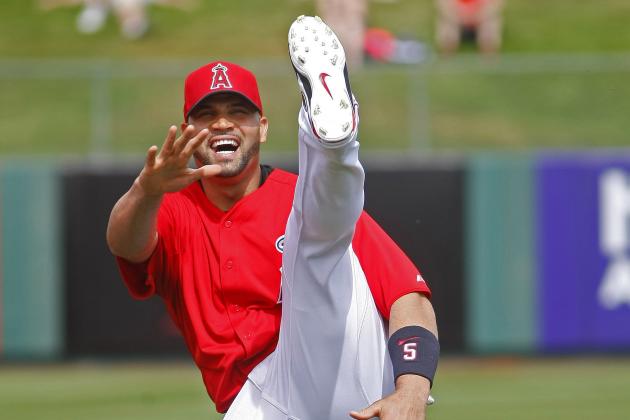 Rick Scuteri-USA TODAY Sports

The new format of UTK allows me to take "the dot dot dot" section onto it's own page, allowing me to do a little more with it than in the past. If you have a better name for this section than "The Dots," I'm listening.
Derek Jeter returned to the field after final clearance. He looks normal, which is about the highest compliment I can give. Move him up your draft boards and remember, I told you so back in October...
Phil Hughes is scheduled to throw on Monday. The Yankees haven't seemed overly concerned by Hughes' back injury, but part of that is that bigger injuries have distracted the fanbase. I'm very curious to see if Hughes does well over the next 10 days. Any setback will push him off the first week's rotation, opening a door for David Phelps to take a start or two...
The Orioles did a large-scale biomechanical test on a number of their pitchers, including uberprospect Dylan Bundy. The test was conducted by a company called Motus that has a mobile lab that can be brought to any spring training site. The excuses by other teams not to do this are running out. I'm told that just under half of teams do some kind of biomechanical testing, but only two are doing it in large scale (Orioles and Brewers) ...
The A's are smart to rest Brett Anderson after a mild trapezius strain. He'll miss a week and might be innings- or pitch-limited the first few weeks of the season, but that's not a bad thing at all...
The Padres have lost Casey Kelly for the season. The top prospect will have Tommy John surgery, a year after he was shut down to help the elbow heal. It didn't work and he'll be back in spring 2014...
Corey Hart is making solid progress in his rehab. A good MRI will let him amp things up, making a late-April return a possibility. It looks like Alex Gonzalez will have first shot at the first base job while he's out despite his lack of power...
Scott Baker had a nice simulation game on Friday. He's nearly got his velocity up to normal (89 versus 91) and is on track for his mid-April expected return...
Here's an odd one. The Cubs' two best third base possibilities both have quad strains. Ian Stewart and Josh Vitters are now competing in the training room as much as they are on the field...
Dustin Ackley is coming back from offseason ankle surgery, but isn't showing that his power is back. Watch this over the next week. A lack of homers would drop him down or even off draft boards...
Scott Kazmir is in Indians camp. While he'll be a tough make for that rotation, his out clause makes this a nice tryout for other teams. He's in the low 90s with his pitches, but he looks like he's lost significant weight. One scout I spoke with thinks someone should experiment with him in the pen...
Nick Markakis is headed for an MRI on his neck. The O's are being cautious here, but it bears watching...
The Angels finally got Albert Pujols on the field Thursday. Minor knee surgery is seeming to have more major consequences. Being cautious with such a valuable player is smart, but Pujols is not a player that anyone's ever been able to hold the reins on. Being too cautious could be as big a problem for the Angels.

Will Carroll is the Lead Writer for Sports Medicine at Bleacher Report. He is a member of the Baseball Writers Association of America and still thinks Dan Haren deserved the vote.