The Make-or-Break Player for Every 2013 World Series Contender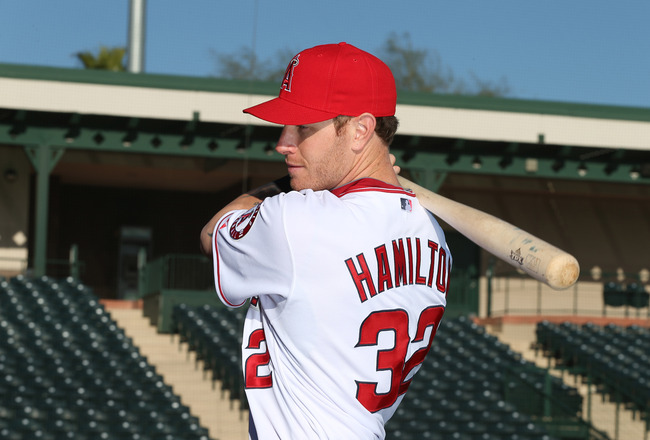 Mark J. Rebilas-USA TODAY Sports
In order for MLB teams to be World Series contenders, they need significant contributions from every single player on their 25-man rosters.
Baseball is a team sport that demands that each player do what they can to ensure the success of their team. A bench player drawing a walk as a pinch-hitter in the late innings of a tight game can be just as important to a team as the slugger that wallops a three-run home run.
However, each team has a go-to player as well—that one special weapon they can rely on to help carry them through. In many cases, that one player can be critical to a team's overall success.
Here is one player from each contending team in 2013 whose performance could make or break their team's chances of reaching the World Series.
Note: The criteria for World Series contenders is based on the latest odds for the 12 top teams posted by Bovada.
St. Louis Cardinals: Yadier Molina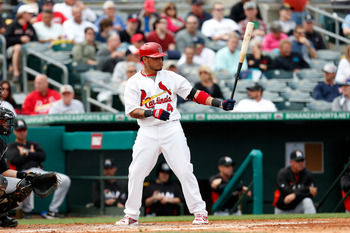 Chris Trotman/Getty Images
The St. Louis Cardinals figure to give the Cincinnati Reds all they can handle in the NL Central Division. In winning 88 games last season, the Cardinals got a significant offensive contribution from their rock behind the plate—Yadier Molina.
In the absence of Albert Pujols, Molina upped his game offensively, hitting .315 with 22 HR and 76 RBI. His fifth consecutive Gold Glove Award was a bonus as well.
Molina will need to once again continue helping out as much offensively as he does with the glove. He has become the unofficial leader in St. Louis, and his bat now carries as much weight as his outstanding defense.
Philadelphia Phillies: Ryan Howard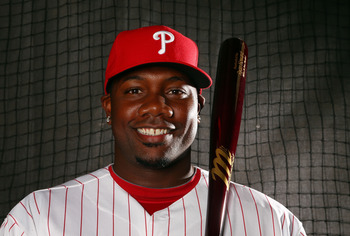 Elsa/Getty Images
The Philadelphia Phillies suffered last season for various reasons, chief among them the injuries to both first baseman Ryan Howard and second baseman Chase Utley that held them out for a significant portion of the first half.
Howard returned just prior to the All-Star break but struggled to find his stroke, hitting just .219 with 14 HR and 56 RBI.
Thus far in spring training, Howard has flourished, hitting .370 with three homers and 10 RBI to lead the Phillies.
The Phillies rotation is once again expected to be strong, with Cliff Lee, Roy Halladay and Cole Hamels leading the way. The additions of Ben Revere, Michael Young and Delmon Young should help the offense as well.
But Howard is still the driving force behind their offense. If he remains healthy and gets back to the production the Phillies have come to expect, they will have a much better chance of competing with the likes of Atlanta and Washington in the NL East Division.
Atlanta Braves: Brian McCann
Marc Serota/Getty Images
Coming back from a surgically-repaired right shoulder, Atlanta Braves catcher Brian McCann has a lot to prove this upcoming season.
He needs to show he can get back to form offensively after a disappointing 2012 season. Prior to last year, McCann won four straight Silver Slugger awards and was selected to the All-Star team six consecutive times.
McCann is also in the final year of his contract; his performance this season will likely dictate his future with the Braves.
More importantly, the Braves now lack a leader with the retirement of Chipper Jones. McCann could very well be the key for the Braves this season, both on the field and in the clubhouse.
Texas Rangers: Adrian Beltre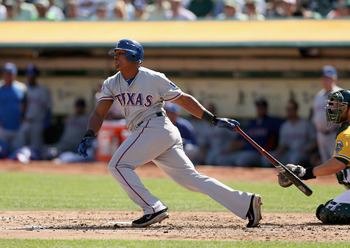 Ezra Shaw/Getty Images
The Texas Rangers have gone through massive upheaval this offseason, losing key offensive weapons Josh Hamilton, Michael Young and Mike Napoli.
They could be facing upheaval in the front office as well, if recent reports are to be believed.
The Rangers also watched as the Los Angeles Angels and Oakland A's took steps this winter to bolster their rosters as well.
The Rangers will be turning to a new face to be their primary slugger—third baseman Adrian Beltre.
Beltre has already been outstanding during his time in Texas, putting up two consecutive seasons with at least 30 HR and 100 RBI while hitting .310 and winning two more Gold Glove awards.
With Hamilton gone, Beltre becomes the main man in the middle of the Rangers lineup. He's certainly young enough, despite 15 years of major league service, to continue producing at a high level.
For the Rangers' sake, they'll absolutely need that production in 2013 from Beltre.
New York Yankees: CC Sabathia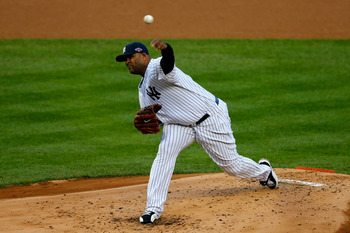 Alex Trautwig/Getty Images
The New York Yankees are old.
Now that that's out of the way, age likely won't be a factor in the Yankees' push for a World Series berth this season.
But the production of their ace certainly will go a long way in deciding their fate.
CC Sabathia has been a rock at the top of the Yankees rotation during his four seasons in the Bronx. However, a little chink in the armor appeared last season with Sabathia suffering through elbow issues.
He underwent surgery this offseason to clean up that valuable elbow and appears ready to go for Opening Day.
The Yankees don't have tremendous depth in their rotation. They've already taken a hit with Phil Hughes slowly coming back from bulging discs in his back. Michael Pineda won't be available until at least June as he works his way back from surgery to repair a torn labrum.
David Phelps and Adam Warren are the only viable candidates to help out in a pinch should any Yankees starter miss time in 2013.
Sabathia's full return to health and another productive season is almost a must at this point. The Yankees will be searching for ways to score more runs after losing over 100 home runs from their offense. It becomes even more important for their rotation to be effective and reliable.
San Francisco Giants: Buster Posey
Rich Pilling/Getty Images
Catcher Buster Posey has won two World Series rings in the two full seasons he has played in the majors.
That is not a coincidence.
Posey has already become the unofficial leader for the San Francisco Giants, with both his offense and his work behind the plate. The rotation raves about his game-calling skills, and the rest of his team lauds his ability to lead by example.
He is the straw that stirs the drink in San Francisco, without a doubt.
The Giants return a team with a roster largely intact. They are once again favorites to win another World Series championship.
But Posey's performance this season will go a long way towards deciding that fate. An 100 percent success rate in prior full seasons is a lot to live up to, but the Giants need that example and that leadership from Posey to help make it three-for-three.
Cincinnati Reds: Jonathan Broxton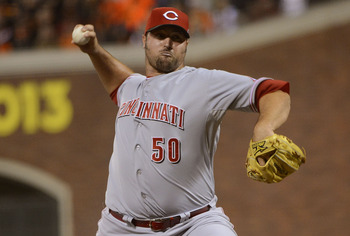 Thearon W. Henderson/Getty Images
When the Cincinnati Reds signed Jonathan Broxton to close games for them for the next three seasons, it allowed them to make a critical decision.
Broxton's signing allowed the Reds to follow through with moving closer Aroldis Chapman to the starting rotation.
The Reds tried moving Chapman last spring, only to move him back to the bullpen following injuries to Ryan Madson and Bill Bray.
With Broxton in the fold, Chapman would become the only southpaw in the starting rotation. His presence there, and his ultimate success, makes the Reds a very scary team in the National League.
However, if Broxton spits the bit or falls to injury, it would again have a domino effect. Broxton needs to be that stabilizing force at the back end of the bullpen if the Reds want to improve on last year's finish.
Los Angeles Dodgers: Matt Kemp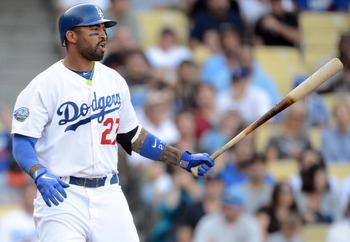 Harry How/Getty Images
It might be a bit unfair to pin the Los Angeles Dodgers' hopes of a World Series berth on just one player, especially for a team that has added over half a billion dollars in payroll in the past several months.
Regardless, Matt Kemp is still the force behind the offense.
Kemp's 2012 season was interrupted by two DL stints for hamstring issues and shoulder issues in September following a crash into a wall at Coors Field. Kemp underwent surgery in October to repair a torn labrum and rotator cuff damage.
Kemp returned to action this past weekend, appearing in two games as a designated hitter. He'll play center field for the first time when the Dodgers face off against the San Diego Padres on Tuesday.
Kemp doesn't have to be a 50/50 man, an aggressive goal he looked forward to last year prior to the start of the season.
But without question the Dodgers need Kemp to return to his form in 2011, a season that many believe should have garnered him an MVP Award.
The Dodgers will have the likes of Adrian Gonzalez, Hanley Ramirez and Carl Crawford for a full season, all of them All-Stars and key contributors in their own right.
But Kemp is still the driver of this offensive juggernaut, and his return to form is crucial to the Dodgers' success.
Los Angeles Angels: Josh Hamilton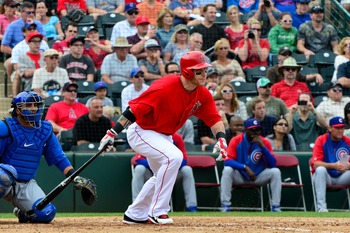 Matt Kartozian-USA TODAY Sports
In a new uniform for the first time in five seasons, outfielder Josh Hamilton will be looking to avoid the fate suffered by one of his new teammates last year.
Los Angeles Angels first baseman Albert Pujols took some time getting used to his new surroundings in 2012. A horrible start in the month of April was definitely a factor in the Angels getting off to a 6-14 start from which they were unable to recover.
Hamilton absolutely needs to make sure history doesn't repeat itself.
The Angels will have a full season with Mike Trout, almost assuredly a major plus. But Hamilton's early-season success will be a major factor in the Angels' early-season performance.
If the offense finds chemistry early on, last year's start becomes a distant memory and this year's promise for a World Series is heightened.
Detroit Tigers: Victor Martinez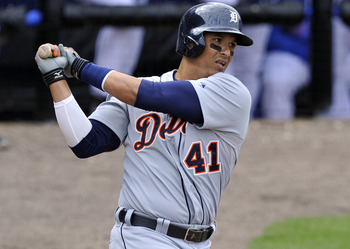 Brad Barr-USA TODAY Sports
The Detroit Tigers made it all the way to the World Series last year without a key offensive component.
Designated hitter Victor Martinez watched from the sidelines as his Tigers captured the American League pennant, only to fall short against the San Francisco Giants.
This year, Martinez returns healthy after rehabbing from a torn ACL, ready to make his mark once again in the middle of the Tigers' batting order.
Martinez will be a major factor. It's a bit much to think Miguel Cabrera can repeat his Triple Crown accomplishment, and at the very least Martinez will be expected to match the offense left behind by the departure of Delmon Young.
The Tigers have a plethora of weapons offensively, including Cabrera, Prince Fielder, Austin Jackson and the newly-acquired Torii Hunter.
But Martinez's return gives the Tigers an extra weapon and helps serve as protection behind Cabrera and Fielder in the batting order. A .300 with pop in his bat doesn't grow on trees—Martinez's successful return to form will be a major factor.
Toronto Blue Jays: Jose Reyes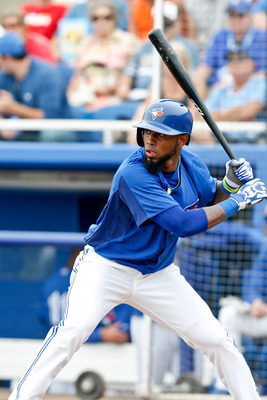 Derick Hingle-USA TODAY Sports
The Toronto Blue Jays rebuilt their starting rotation with the additions of R.A. Dickey, Josh Johnson and Mark Buehrle. They also rebuilt their middle infield by adding Maicer Izturis, Emilio Bonifacio and Jose Reyes.
While the Blue Jays are expected to be World Series contenders based on their offseason moves, much of their success at the plate hinges on Reyes at the top of the order.
Based on early results in spring training, Reyes is hell-bent on delivering.
Before departing to play for the Dominican Republic in the WBC, Reyes hit .643 (9-for-14) in five Grapefruit League games with a home run, three RBI and a stolen base.
Reyes' production at the top of the order will dictate the run-scoring opportunities for Jose Bautista, Edwin Encarnacion and Adam Lind in the middle of the order. While the new-look offense is indeed star-studded, Reyes is the key.
Washington Nationals: Ian Desmond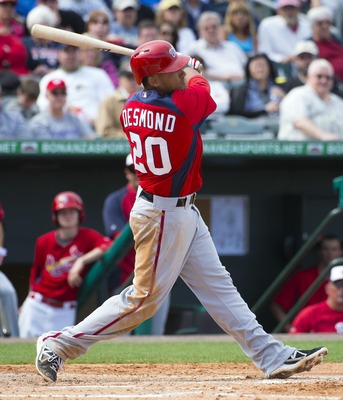 USA TODAY Sports
The Washington Nationals have assembled a team rife with talent across the board. A strong starting rotation with outstanding support from a deep bullpen along with an offense that is strong from top to bottom absolutely makes the Nationals a World Series contender.
But an injury or poor performance from one of those contributors could leave a gaping hole.
Shortstop Ian Desmond captured the Silver Slugger in the National League despite missing over a month of action. Desmond has matured into an outstanding hitter who is critical to Washington's ongoing success.
The Nationals have plenty of depth with Tyler Moore, Chad Tracy, Roger Bernadina and Steve Lombardozzi. However, none of them can step in at shortstop. Danny Espinosa would slide over from second with Lombardozzi acting as his replacement on the right side of the infield.
But the Nationals' offense would be considerably weakened. Desmond's breakout campaign last year needs to be repeated in 2013 for the Nationals to continue clicking offensively.
Keep Reading