Pitfalls Pittsburgh Steelers Must Avoid in Free Agency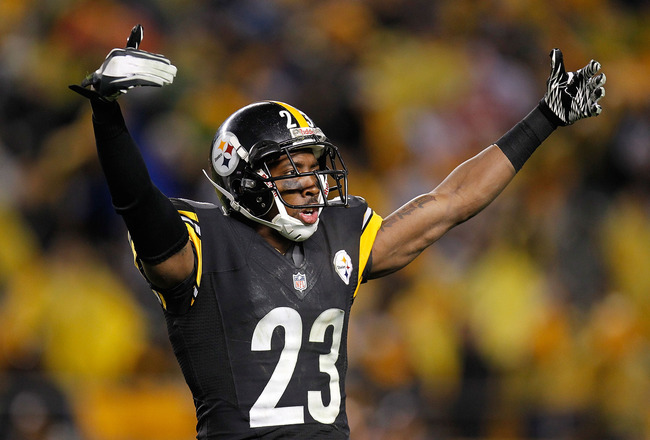 Gregory Shamus/Getty Images
For some NFL franchises, free agency is a figurative bar scene, where an unattractive team throws around mad money in hopes of landing a Kate Upton-level free agent to brag about the next day over breakfast at the local diner.
Instead, the team wakes up two years later next to the salary-cap equivalent of Abe Vigoda.
Fortunately for Steelers fans, their team exhibits a teetotaler mentality among a sea of drunkards.
But abstinence isn't without its pitfalls, specifically in the form of missed opportunities. Sitting one out can lead to losing a chance of signing the next James Farrior or Ryan Clark.
Moreover, the Steelers oftentimes become punch-drunk with their own players, which isn't necessarily a bad thing, unless that means overvaluing them and giving them bloated contracts that will eventually need to undergoing infinite "restructuring."
Looking forward to this years' free agency, here are several pitfalls the Steelers need to avoid so that 2013 doesn't become a tragicomic sequel to 2012.
Watching from the Sidelines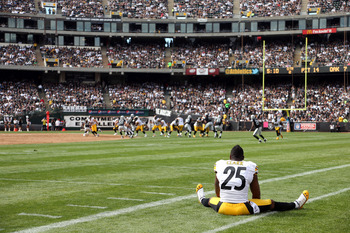 Ezra Shaw/Getty Images
Last year, the Steelers did absolutely nothing during free agency except sit by on the sidelines—out of both necessity and hubris—and it showed.
The team was severely over the salary cap and needed to make room. Signing a marquee free agent was not only impractical, it was impossible, unless said player was willing to play for a case of Iron City, slightly warm.
But the team also felt that it was in good enough shape and didn't need to bring anyone in. While a big signing wasn't necessary and isn't Steeler-like, an underappreciated veteran signed at a good value may have helped.
The front office used to excel in finding the gems that others teams tossed out in the trash.
Indeed, the Steelers almost routinely signed players like James Farrior, Ryan Clark and Jeff Hartings.
Lately, however, it appears that the front office just sits back and waits to be reunited with former Steelers looking for a farewell tour (see: Larry Foote, Antwaan Randle El, Bryant McFadden and Plaxico Burress).
The Steelers need to rediscover that old free-agent-signing magic.
Overvaluing Keenan Lewis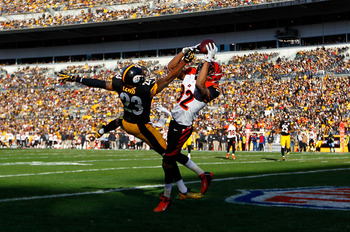 Jared Wickerham/Getty Images
If you spend your time reading the comments posted by many Steelers fans, you would think that Keenan Lewis is the next Rod Woodson.
It's true that Keenan Lewis has grown as a cornerback. It's also true that he was second in the league in passes defended.
But what also is true is that Lewis was the only player ranked in the top 10 of passes defended who did not have an interception.
Zero.
In fact, of the top 20 players in passes defended, only one other player didn't record an interception and that was J.J. Watt.
Yes, that J.J. Watt, the defensive end for the Houston Texans.
Therefore, Lewis had the same interception productivity as a defensive lineman.
That's quite an anomaly.
So, which stat is a better indicator of Lewis' ability?
More importantly, is last year enough of a sample size to warrant a big contract?
Indeed, Lewis has had only one year as a full-time starter. Prior to that, he couldn't beat out William Gay who left for the Arizona Cardinals via free agency after 2011.
Ironically, Gay re-signed recently with the Steelers after being released from the Cardinals, perhaps to reduce the impact of the potential loss of Lewis.
In his first stint with Pittsburgh, Gay had replaced Bryant McFadden who had left for the Cardinals and then came back to Steelers in 2011 for his reunion tour.
If the current trend continues, the Steelers could just wait to re-sign Lewis after he has been cut by the Cardinals in a couple of years.
They would get him at a cheaper rate.
Building for Todd Haley's System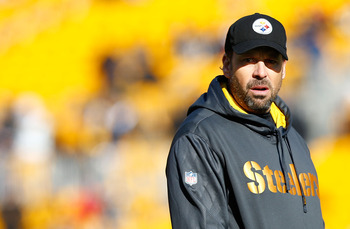 Jared Wickerham/Getty Images
Aside from the fact that Mike Wallace didn't have a good contract year, his other strike against him was that he was miscast in the system that Todd Haley employed in Pittsburgh last season.
Haley was charged with building an offensive scheme that protects the franchise quarterback Ben Roethlisberger. This meant that the Steelers ran more three-step drops and bubble screens.
Now, Antonio Brown and Emmanuel Sanders fit in well with that type of system.
Unfortunately, Wallace does not.
The third strike will be coming soon, when some team overpays for Wallace.
Letting Wallace go is the right move for Pittsburgh.
The wrong move would be if the team tries to fill the hole at the receiver position strictly with more guys that fit the system mold (read: Steve Breaston).
Why?
Because Haley could be gone next year, either by choice or by poor performance.
He could have been gone last year if the Cardinals had decided to meet his asking price. Instead, they went with Bruce Arians, thus continuing their fetish with ex-Steelers offensive coordinators.
And if Haley does ever leave, the Steelers would be stuck with a receiving corps full of mid-talent slot receivers.
Believing Ben Roethlisberger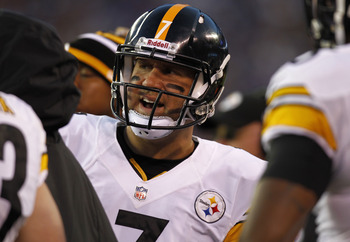 Jeff Zelevansky/Getty Images
According to an article written by the Pittsburgh Post-Gazette's Ed Bouchette, Ben Roethlisberger thinks the Steelers locker room is in good shape. Said Roethlisberger:
The important thing to know is, there are no issues in our locker room. There are no issues with LaMarr. There are no issues on our team.
He may be the only one.
Granted, Roethlisberger is supposed to say that. He is the face of the franchise.
To be sure, he needed to say something after the recent string of comments that came out, both anonymous and attributed, that stated the contrary.
However, the question is whether or not he truly believes it. More importantly, does the front office believe him?
If there are locker room issues, they need to be resolved and that could mean saying "farewell" to the infection, whoever that may be.
It also means finding the possible anecdote via free agency in the form of a good character guy similar to James Farrior.
Have I mentioned already that they need to find the next James Farrior?
Miscalculating on the Restricted Free Agents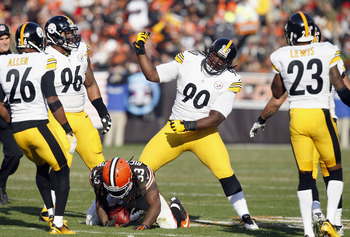 Matt Sullivan/Getty Images
Often overlooked in the grand scheme of things are the restricted free agents. Perhaps it's because they rarely go anywhere during free agency. But miscalculating on their value could come back to haunt the Steelers.
Right now, the Steelers are at a crossroads with several players.
Jonathan Dwyer and Isaac Redman are both restricted free agents. Although both have shown flashes, neither has amazed.
Unfortunately, the Steelers are razor thin at running back, so both will probably receive low right of first refusal tenders from the team.
While the Dwyer and Redman situation seems clear cut, Steve McLendon's is less so.
McLendon is it for the Steelers at nose tackle. Casey Hampton is several years past his prime and any player taken in the upcoming draft is a crap shoot.
The question is not whether or not the Steelers should tender McLendon an offer.
Obviously, they will.
It's whether or not the Steelers should try to lock McLendon to a long-term contract.
Sure, the team will likely take its wait-and-see tact with McLendon, but what if he has a breakout season?
The same question can be asked of Emmanuel Sanders.
Are either of those hypothetical situations with McLendon and Sanders off the mark?
Before last season, did you think that Keenan Lewis was going to be a sought-after free agent?
You see, guys like Lewis and Mike Wallace could have been locked up earlier at cheaper money, but the team decided to play its usual non-committal position with them and now both of them could be gone.
History could repeat itself this year, but with which player?
That is the million dollar question.
Keep Reading

Pittsburgh Steelers: Like this team?