2013 NFL Draft: Highlighting the 10 Best Plays of Future Superstars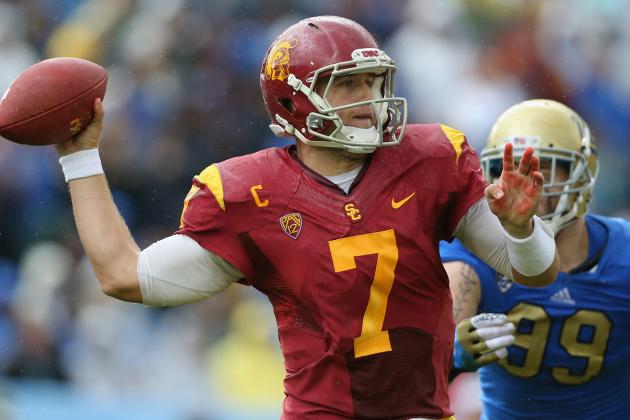 Jeff Gross/Getty Images

The 2013 NFL draft is approaching and without a clear-cut No.1 pick, there will be a lot of surprises on draft day. Each prospect in the draft has had a memorable play or game that many draftniks and college football fans will turn to when debating their rankings.
This slideshow highlights 10 of the best plays made by players expected to be selected in the top three rounds of the 2013 NFL draft.
Which plays missed the cut? Which plays shouldn't have made the list? Feel free to comment with your thoughts!
Begin Slideshow

»
West Virginia wide receiver Tavon Austin had one of the most dominating performances in the 2012 college football season when the Mountaineers took on the Oklahoma Sooners. The game turned out to be one of the most exciting contests of the season, but Oklahoma came away with a 50-49 victory.
However, Austin had an NCAA 13-like performance, catching four passes for 82 yards, rushing 21 times for 344 yards and two touchdowns, in addition to returning eight kicks for 146 yards.
Highlighted is just one of Austin's game-breaking touchdowns that night.
Clemson running back Andre Ellington has been overshadowed by fellow top running back prospects such as Alabama's Eddie Lacy and North Carolina's Giovani Bernard, but the Tiger has the potential to emerge as the best ball-carrier in the 2013 NFL draft class.
In Clemson's season opener, Ellington had a fantastic performance, gaining 228 yards on 25 carries.
Showcased are two runs that display his excellent vision, agility and speed.
South Carolina safety D.J. Swearinger is arguably the hardest hitting defensive back in the 2013 NFL draft class. In a game against the Clemson Tigers, running back Andre Ellington believed he had a clear running lane before Swearinger de-cleated him.
The flexing antic earned Swearinger a 15-yard penalty, but the devastating blow displayed his aggressiveness when attacking ball-carriers.
Swearinger finished his senior year with 79 tackles, two interceptions and two forced fumbles.
Georgia linebacker Jarvis Jones has been discussed as one of the top pass-rushing prospects in the 2013 NFL draft, after recording 85 tackles, 24.5 of which came for a loss, 14.5 sacks and forced seven fumbles in his junior year.
Against Florida, the Bulldogs had a 17-9 lead late in the fourth quarter when Gators' tight end Jordan Reed was running for what looked like a touchdown. Jones chased him down and punched the ball out, allowing Georgia to recover the ball and seal a victory.
That wasn't the only play Jones made against Florida, as he finished the game with 13 tackles, three sacks and forced two fumbles.
West Virginia quarterback Geno Smith put on a clinic when the Mountaineers took on the Baylor Bears. Smith completed 45 of 51 passes for 656 yards and eight touchdowns, without throwing a single interception.
The projected No. 1 quarterback of the 2013 NFL draft connected on a 52-yard touchdown to his star wideout Tavon Austin here that put West Virginia up 48-35 in the third quarter.
There isn't a more scrutinized quarterback in the 2013 NFL draft than Matt Barkley. He was projected as a top-three selection just a year ago, but failed to live up to the hype in his senior season.
Here, Barkley connects with his favorite weapon, Marqise Lee for an 83-yard score to give the Trojans a 30-21 lead over Utah. In the game, Barkley completed 76.7% of his passes for 303 yards, three touchdowns, without a single interception.
North Carolina running back Giovani Bernard is one of the highly regarded tailbacks in the 2013 NFL draft, but his impact wasn't only on offense.
The Tar Heels were tied with the N.C. State Wolfpack 35-35 with 30 seconds remaining in the fourth quarter, when Bernard returned a punt 73-yards for the game winning touchdown.
In addition to Bernard's punt return, he gained 135 yards and two touchdowns on 23 carries, and caught eight passes for 95 yards.
Regardless of his off-the-field issues, Notre Dame linebacker Manti Te'o had an incredible 2012 campaign with the Fighting Irish.
On October 27, Notre Dame had a 20-13 lead late in the fourth quarter over the Oklahoma Sooners. Sooners' quarterback Landry Jones fired off a pass that was tipped into Te'o's hands, eventually sealing a victory to keep the Fighting Irish's undefeated season alive.
Te'o finished the game with 11 tackles, one sack and an interception.
Alabama running back Eddie Lacy opened the flood gates in the BCS National Championship when the Crimson Tide took on the Notre Dame Fighting Irish. In what was expected to be a tightly contested game, Lacy put Alabama up 7-0 in less than three minutes.
He finished the game with 140 yards on 20 carries and added two catches for 17 yards with another touchdown.
Lacy is projected to be selected in the top 45 picks of the 2013 NFL Draft.
Despite playing just one year of major college football, Tennessee wide receiver Cordarrelle Patterson is projected to be a top-10 pick in the 2013 NFL draft. He's an explosive playmaker that was used in a variety of ways with the Volunteers.
Here, Patterson scampers for a 67-yard score on a reverse against the N.C. State Wolfpack. Patterson finished the game with six receptions for 93 yards and a score, while adding another 72 yards and a touchdown on the ground.
Oregon linebacker Dion Jordan is one of the most versatile defenders in the 2013 NFL draft. A projected top-10 draft pick, Jordan played defensive end, outside linebacker and even played slot cornerback in the Ducks' 3-4 defensive front.
Jordan had himself a game against Arizona State and here, he blows past the left tackle to deliver a blow on Sun Devils' quarterback Taylor Kelly.
Jordan finished the day with five tackles and two sacks.