NFL Draft 2013: Players Still Flying Under the Radar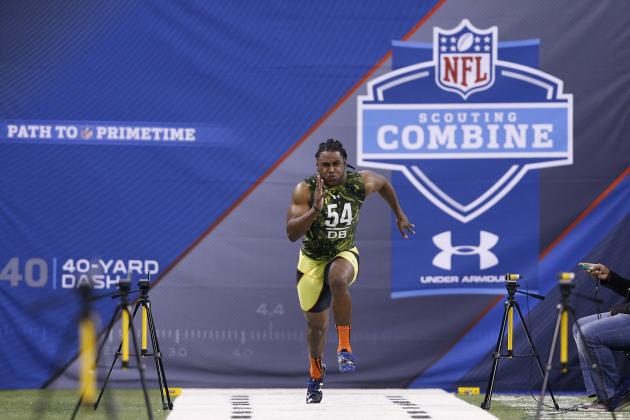 Joe Robbins/Getty Images
Players take part in the 2013 NFL Scouting Combine in Indianapolis.
The NFL Scouting Combine is in the books. More than 330 players showcased their talents, flashing their speed in the 40-yard dash, strength in the 225-pound bench press and agility during an assortment of drills—all in preparation for April's draft.
On the other side, general managers, coaches, scouts and other player personnel were on hand to interview, watch and further evaluate potential draft picks. Physical abilities, such as strength and quickness, were taken into account, as well as personal characteristics, such as intelligence, work ethic and overall knowledge of the game.
For the players, their work is done. Now, they wait for their pro days and that ever-so-important phone call during the draft.
Draft boards have been set. The top players at each position will certainly go in the first and second rounds.
As draft boards begin to dwindle down, teams will continue to search for hidden gems—players they feel aren't widely regarded.
The list of players flying under the radar for this year's draft is large in scope, but here are a few players who have the ability to become potential stars.
Begin Slideshow

»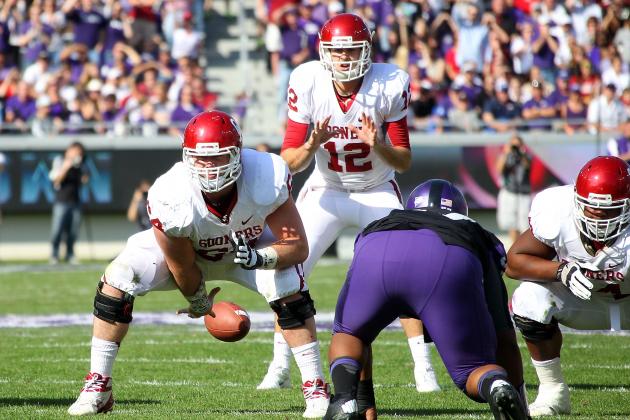 R. Yeatts/Getty Images
Sooners quarterback Landry Jones takes the snap against TCU in the regular-season finale, Dec. 1.
Landry Jones had a stellar career with the Oklahoma Sooners. The 6'4'', 218-pound quarterback threw for more than 4,000 yards in his last three seasons with the Sooners.
What's more, Jones threw 29 or more touchdowns in each of his last three seasons.
He's no Geno Smith of West Virginia, E.J. Manuel of Florida State or Matt Scott of Arizona. And the hype isn't there for Jones, which favors him heading into April's draft.
Jones possesses the skill set of a true pocket passer, with tremendous upside. He's got the height and build to be an NFL quarterback. He's also capable of stretching the field, which is what most teams envy.
But Jones tends to struggle under duress, which may push teams away from drafting him. No matter, Jones will be a coveted quarterback once the big names are taken off the board.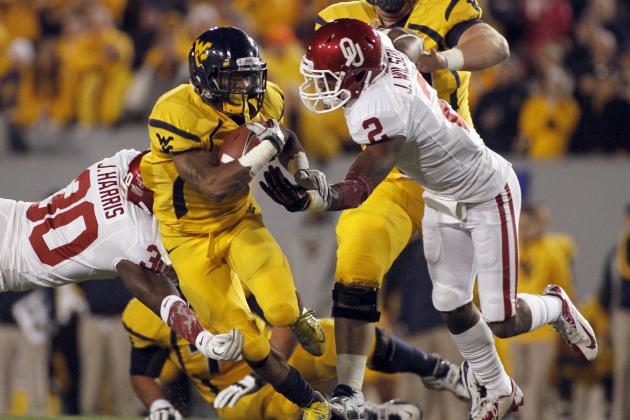 Justin K. Aller/Getty Images
West Virginia's Tavon Austin bulls through tacklers in a game against Oklahoma, Nov. 17.
At 5'8'' and 174 pounds, Tavon Austin doesn't look like your average receiver.
To most, his build resembles that of a cornerback.
But his forte is on the other side of the ball.
"A lot of teams are looking for a type of player who can do multiple things on the field," Austin said, courtesy of the St. Louis Post-Dispatch. "And I think I'm that guy."
His numbers speak for themselves. Last season at West Virginia, Austin had 1,289 yards receiving, 643 yards rushing, 813 yard on kickoff returns and 165 yards on punt returns.
"Austin was one of only two players in major-college football with 500-plus yards in three different statistical categories," Jim Thomas, of the Post-Dispatch wrote.
Austin posted 17 touchdowns last season. For a receiver, that's pretty impressive. What's more impressive is that Austin scored four different ways for the Mountaineers. He had 12 receiving touchdowns, three rushing touchdowns, one on a punt return and another on a kickoff return.
Many teams may overlook Austin because of his size. But that shouldn't hurt him in the draft, considering the speedster posted a 4.34 time in the 40-yard dash at the NFL Scouting Combine. His time was among the top participants at his position.
Teams looking for an instant game-changer should invest a draft pick in Austin.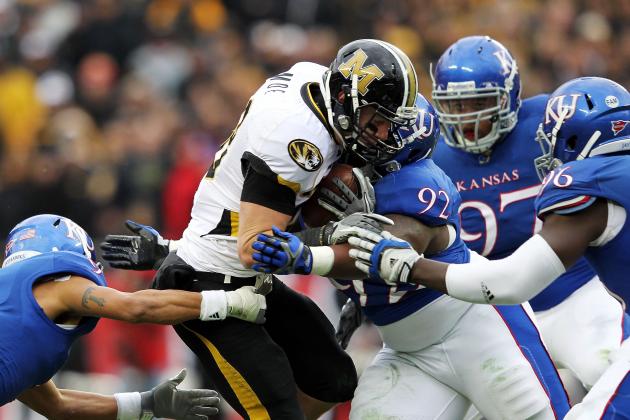 Jamie Squire/Getty Images
Missouri's T.J. Moe fends off tacklers in a game against Kansas, November 26, 2011.
His 40-yard dash time of 4.74 was anything but flashy, but Missouri's T.J. Moe will be another hidden talent in April's draft.
Moe's build resembles that of Wes Welker or Danny Amendola—a receiver with the ability to make plays during any situation on any down.
His strength is another positive. During the NFL Scouting Combine, Moe posted the most reps during the 225-pound bench press among participating receivers, with 26.
He's not considered a No. 1 receiver by any means, but Moe certainly would improve any team's receiving corps.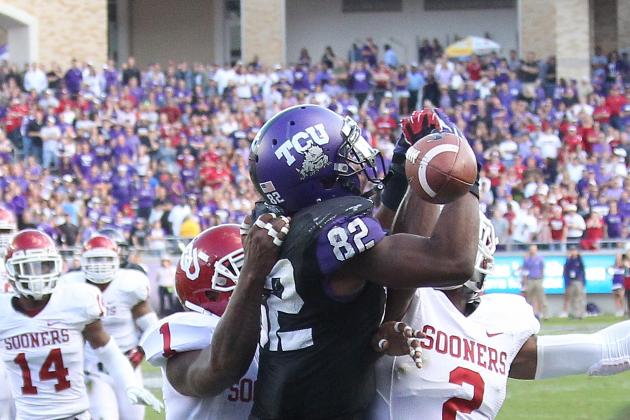 R. Yeatts/Getty Images
TCU's Josh Boyce leaps for a touchdown pass in a game against Oklahoma, Dec. 1.
Another undersized receiver entering April's draft is TCU's Josh Boyce.
At just 5'11'' and 206 pounds, Joyce has a strong build, with great hands. His time in the 40-yard dash was 4.38—rocket speed for a receiver.
Boyce snagged 61 and 66 receptions for the Horned Frogs during his sophomore and junior seasons, while averaging nearly 15 yards per catch.
He's capable of stretching the field and lining up outside or in the slot.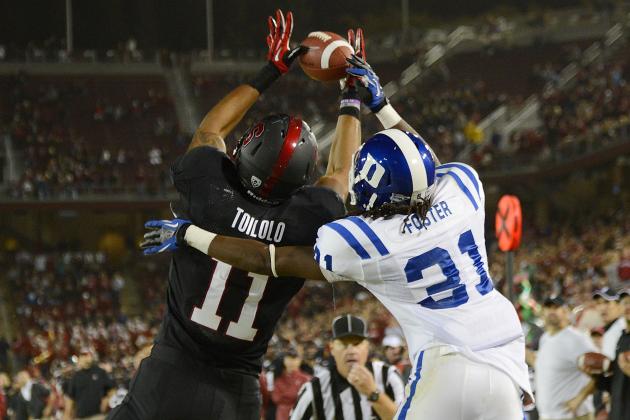 Thearon W. Henderson/Getty Images
Stanford's Levine Toilolo leaps for a catch in a game against Duke, Sept. 8.
Teams in search for physical and aggressive playmaking tight end should turn to Stanford's Levine Toilolo.
Standing at a monstrous 6'8'' and 260 pounds, Toilolo possesses the size and strength of a player every NFL team covets, especially at his position. Toilolo's tremendous build is accompanied by his hands, which resemble those of a catcher—quick, fast and always active.
In his three years at Stanford, Toilolo caught 50 balls for 763 yards and 10 touchdowns. Last season, the junior Cardinal posted 24 catches for 393 yards and four touchdowns. He snagged five balls for a season-high 141 yards and a touchdown in Stanford's thrilling 54-48 overtime win against conference foe Arizona on Oct. 6.
Teams may overlook Toilolo after he suffered a torn ACL in 2010, which ultimately cut his season short.
No matter, the team that ends up selecting him will receive a true playmaker with the ability to both run and pass block. Not to mention, his size and strength will make him a big red-zone threat in the NFL.