6 NFL Prospects on the Rise That the Detroit Lions Should Be Targeting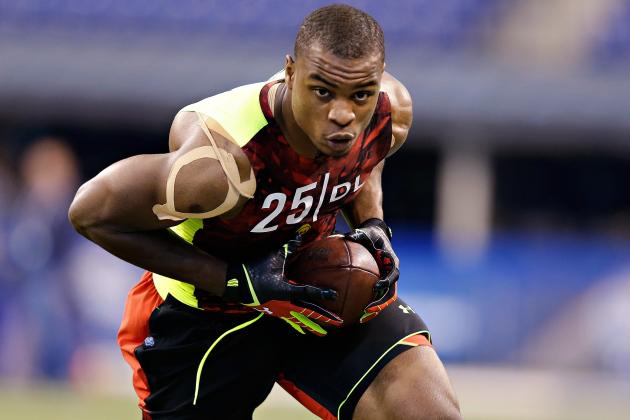 Brian Spurlock-USA TODAY Sports
Dion Jordan made a bigger name for himself at the NFL Combine./ESPN.com
The 2013 NFL Scouting Combine is in the books and as usual there was no shortage of awe-inspiring performances—particularly on the defensive side of the ball.
That's certainly good news for the Detroit Lions who are facing the potential loss of seven defensive starters via free agency. For that reason they'll look to build for the future in this summer's draft, but they'll also need to find players capable of contributing immediately.
Someone needs to fill in for all those departed starters.
Every team, including the Lions, had a wish list of prospects prior to the combine, but that list probably looks different now. Players who put up great numbers this weekend are shooting up everybody's draft boards quicker than Marcus Lattimore with two healthy knees.
Here are six defensive prospects whose stocks are on the rise, and who the Lions should target for April's draft.
* All combine stats courtesy of nfl.com
Begin Slideshow

»
More often than not Damontre Moore and Bjoern Werner were the pass-rushers projected to the Lions at No. 5.
That's no longer the case.
Jordan's performance at the NFL combine has his stock soaring and he's now one of the top-rated defensive end/outside linebackers in the draft. He ran the third-best 40-yard dash for his position with a time of 4.60.
Combine that speed with the quickness and athleticism he displayed in other drills and you have a prospect with tremendous upside. Barring any setbacks, Jordan is someone that the Lions absolutely will consider with their first pick.
NFL.com's Mike Mayock sees him as a "raw Aldon Smith."
ESPN lists him as a linebacker but in Detroit's 4-3 defensive scheme he'd fit in nicely as a DE. He certainly has the versatility to play both positions, and more. At Oregon he started out as a receiver, moved to tight end and even played some cornerback.
He'll need to add bulk to his 240-pound frame and he's due to have shoulder surgery after the combine, but he'll be ready to go by the start of training camp.
Word of warning: Jordan sounds eerily similar to another linebacker/defensive end tweener who was extremely quick but needed to bulk up. The Lions drafted Kalimba Edwards in the second round in 2002 and although he was said to have tremendous upside, he never reached his potential.
Here's Edward's scouting report courtesy of foxsports.com.
That's not to say that Jordan will be a bust, but the similarities are a bit scary.
Ezekiel Ansah and Jordan are very similar. They're pass-rushing specialists with tremendous upside who really improved their draft standing with impressive combine performances.
Yet both are viewed as project picks so there's still a lot of evaluation that has to take place. Ansah is the bigger project, but he's also the most freakishly athletic of the two. Prior to the combine No. 5 was seen as too high for him, but that's no longer the case.
Here's a summary of his combine performance, courtesy of nfl.com's Bucky Brooks who categorized him as "electric."
Measuring 6-foot-5 and 271 pounds, Ansah blazed the 40-yard dash in 4.63 seconds and posted a 34.5-inch vertical and a 9-10 broad jump. Additionally, Ansah flashed impressive movement skills and the ability to change direction while executing pass-rush moves and zone drops on the turf at Lucas Oil Stadium. Evaluators are completely smitten with Ansah's athleticism, speed and movement skills; the stock of the BYU star has soared through the roof in recent days.
Unlike Jordan, Ansah already has the NFL body, but he's not as polished a player. It's unclear whether he would need a year of seasoning or if he could contribute right away. The Lions are still in a position where they desperately need an impact player, now.
Particularly at the defensive end position.
Their entire defense is built on getting pressure on the quarterback, after all, and they need to upgrade that unit. They can't necessarily do that with a project pick.
With that said, Ansah has shown enough to warrant a high draft pick, the only question is how high Martin Mayhew has him on his board.
Did I mention the Lions are in need of a defensive end?
Of course I did, and here's another one that benefited himself at the combine: Devin Taylor.
Taylor already put the NFL on notice with a dominant performance in the East West Shrine Game but his combine performance really put him on the map.
He was the top performer in three categories: Vertical jump (35 inches), broad jump (128 inches) and 3-cone drill (6.89 seconds). His 4.72 seconds in the 40-yard dash was good as well.
His 14 reps on bench press were bad, but strength is something that can be developed, an ideal NFL body cannot. At 6'7" and 266 lbs with a nearly 87" wingspan and huge mitts, Taylor is a perfect fit as a 4-3 defensive end.
With that said he's not a first-round target. He lacks the quickness and technique of prospects like Jordan and Ansah. However, Taylor's rare combination of size and athleticism should make him a high-value target in the third or fourth round.
Given that he's been overshadowed by his more dynamic college teammate Jadeveon Clowney, Taylor might actually be undervalued at this point. The Lions would do well to add multiple pass-rushers in the draft and he would be a low-risk choice, especially in the third round.
Many fans might shudder to think that the Lions would take another defensive lineman In the first round. I would agree that they have much bigger needs. However, everyone knows the Lions don't draft according to need.
They draft the best player available and after his performance at the combine Sharrif Floyd could be the best player on the board at No. 5.
Here's Todd McShay's take on Floyd's combine results (ESPN):
Floyd was the real deal. He's 297 pounds and ran a 4.92 40-yard dash, had a 30-inch vertical leap and had a 8-10 broad jump. Overall, he looked good in drills. He has really good quickness and showed good agility throughout. He also showed the ability to bend and has flexibility. He's perfect in the three-technique, and he's bigger and a better football player than Missouri's Sheldon Richardson
It's not like Mayhew hasn't surprised anyone with his picks before. Who expected him to take a defensive tackle in 2011 when he took Nick Fairley in the first round, or a receiver last year when he selected Ryan Broyles in the second round?
With the possible loss of Corey Williams via free agency, picking a DT might not be as much of a reach anyway.
The point is everyone is predicting defensive end or offensive line in the first round—and those are huge positions of need—but there's no guarantee that's the direction Detroit will go.
Floyd's stock is rising and depending who goes off the board early, the Lions might be in a position to strengthen their defensive line once again. With Ndamukong Suh, Sammie Lee Hill and Fairley already in the fold, adding Floyd would make them one of the deepest DL units in football.
There's no question Dee Milliner is the top cornerback in this year's draft. His performance at the combine only solidified his status (cbssports.com).
However, if the Lions select Milliner at No. 5 I'll be in the market for a new remote control because I would have likely jettisoned it through the nearest window. The Lions should not draft Milliner, he's not an elite player and that's what you should expect with the fifth pick in the draft.
Besides, cornerback isn't even close to the Lions' biggest need.
It is a need though, and there's no reason the Lions can't get a quality corner in the mid to later rounds. They landed Jonte Green in the sixth round last year and he's performed very well.
Xavier Rhodes is a player who really improved his stock at the combine. He's a big body with near-elite speed—6'1", 210 lbs and a 4.43-second 40-yard dash—and he excels in press coverage.
He also was a top performer at the combine in the vertical jump (40.5 inches) and broad jump (132 inches).
He's got drawbacks of course, but there is no can't-miss prospect in this year's draft. ESPN's Mel Kiper believes that Rhodes could crack the first round after his performance at the combine. The Lions will hope he sticks around until the second.
Safety is an even bigger position of need than cornerback for the Lions, and while Kenny Vaccaro is everyone's top guy, he's not the only one that impressed during the combine.
Shamarko Thomas is an undersized safety, but led all performers in four out of five categories: 40-yard dash (4.42 seconds), bench press (28 reps), vertical jump (40.5 inches) and broad jump (133 inches).
There's no guarantee the Lions will re-sign Louis Delmas and Amari Spievey, last year's starters. Even if they do, adding depth at the position is a must because both are significant injury risks. To enter the season with no backup plan would be pure folly.
Thomas, along with third-year man Ricardo Silva, could be that insurance policy. He might only be 5'9", but he plays a lot bigger. He's a hard hitter and also athletic and speedy enough to stick with receivers.
Because of his size, some teams might stay away from him and that will be the Lions' gain. In the middle rounds Thomas is a great value.