MLB Preseason Evaluation Series Wrap-Up: Predicting the Winners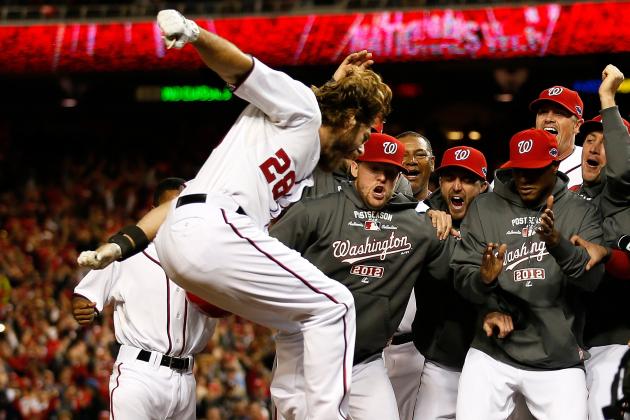 Rob Carr/Getty Images

If you missed my 30-day, 30-team preseason evaluation series over the past month or so, THANKS FOR NOTHING. Just kidding. But after a lot of hard work, research, analysis and more, I've evaluated every single MLB team based on their 2012-13 offseason and projected my resulting predictions for this year.
You can find links to all 30 evaluations on each team name as you go through. Or, if you want the shortened version, just click through these slides to see a quick write-up of each division, its winners and how I see the playoff teams faring in the postseason.
There were some surprises—like the Kansas City Royals making the playoffs in the American League—and a lot of familiar faces (four of five NL playoff teams from 2012 are returning, according to my predictions).
No matter what, this will be a fantastic baseball season (aren't they all?), and I look forward to eating my words on a few predictions, while puffing my chest at most. Check out who will make the 2013 playoffs in MLB and why, plus your way-too-early World Series champions are revealed.
Pesky problems such as injuries, suspensions and slumps could completely ruin all my predictions, especially over the course of such a long season. So keep in mind that rosters and resulting performance will change by the time the postseason rolls around.
Begin Slideshow

»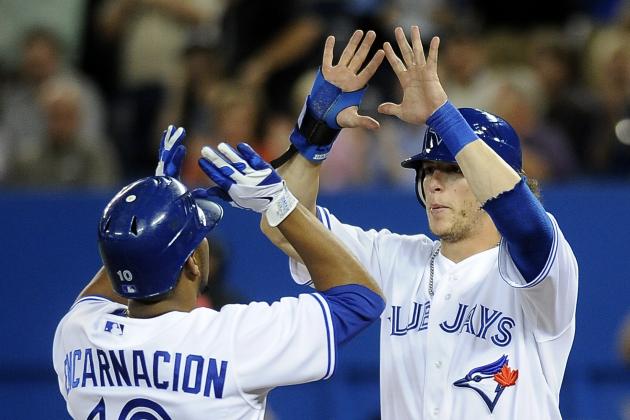 Brad White/Getty Images

1. Toronto Blue Jays (96-66)
2. New York Yankees* (91-71)
3. Tampa Bay Rays (86-76)
4. Baltimore Orioles (80-82)
5. Boston Red Sox (76-86)
*AL Wild Card team
One thing is for sure—the AL East is the best division in baseball again after a one-year hiatus in 2012. I do think the Blue Jays roster changes over the winter vault them into the position of "favorites" for 2013, though it will be interesting to see how Josh Johnson's health holds up in the rotation.
The Yankees might have been dealt a big blow losing Curtis Granderson for the first month of the season, but they will make it work. I think the rotation in the Bronx is underrated coming into the year.
Tampa Bay made a brilliant move in snagging Wil Myers (and a few other gems) from the Kansas City farm system, but will take an immediate hit from losing James Shields. They should still contend for most of the year, though.
I loved what Baltimore did in 2012, and I think they are built for a long run as contenders, but without any additional starting pitching help, they will fall back down to earth a bit this season. Look for Adam Jones to explode with the bat.
Lastly, the Red Sox will be more competitive than in 2012, but still come up short. I don't like the depth of the rotation and think former All-Star center fielder Jacoby Ellsbury will be traded before the deadline after putting up good first-half numbers.
AL East award predictions: David Price wins second straight Cy Young award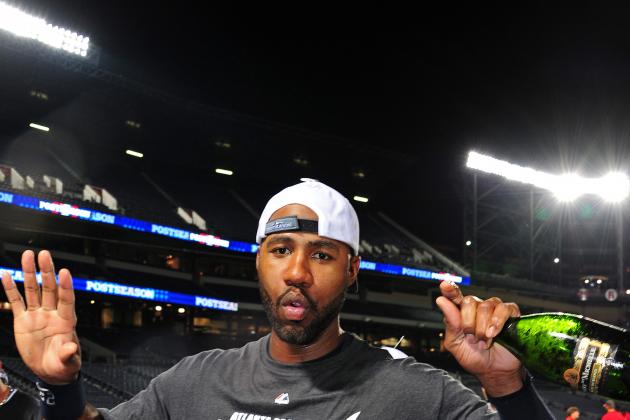 Scott Cunningham/Getty Images

1. Washington Nationals (100-62)
2. Atlanta Braves* (95-67)
3. Philadelphia Phillies (89-73)
4. New York Mets (79-83)
5. Miami Marlins (65-97)
*NL Wild Card team
The rich got richer and the poor got poorer in this division, as the defending champion Nats look to have their second straight year leading the majors in wins. Picking up Rafael Soriano to stabilize the back of that bullpen, plus a full year of Bryce Harper and the return of Adam LaRoche, makes Washington too tough.
Outfield envy will rest on Atlanta, which has assembled a ridiculously powerful, fast, young trio in Justin Upton, B.J. Upton and Jason Heyward. The only thing that holds the Braves back from a division title is the starting rotation. Slot them in for a playoff berth though.
In Philly, things are looking up as Chase Utley and Ryan Howard return to full health. They still have an excellent starting rotation and some good complementary pieces in the lineup. It's a tough rub to win almost 90 and not make the playoffs, but that is how good the National League is this year.
New York is on the right track, but it will need a few of its younger players to continue progressing if it wants any shot at contending in the next couple years. I don't think 2013 is the year, but one day soon the Mets will put two good halves together and make a run.
Finally, the Marlins will be a disaster, which is a shame. They were the story of the year in 2012, but for all the wrong reasons. They started over from scratch and will hope to keep slugger Giancarlo Stanton happy as they rebuild.
NL East bold prediction: Tim Hudson wins 20 games, Bryce Harper hits 30 homers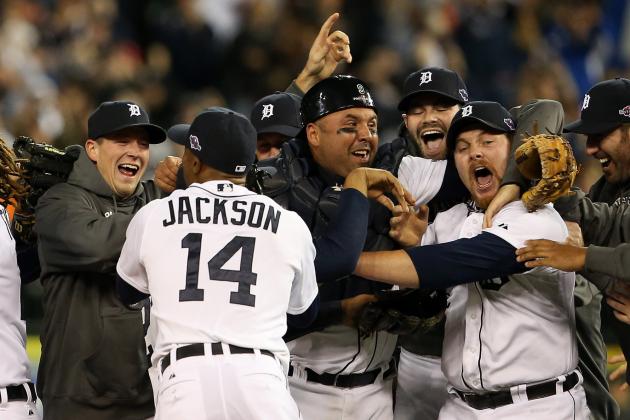 Leon Halip/Getty Images

1. Detroit Tigers (93-69)
2. Kansas City Royals* (88-74)
3. Cleveland Indians (79-83)
4. Chicago White Sox (74-88)
5. Minnesota Twins (67-95)
*AL Wild Card team
Detroit really put itself in position to return to the postseason by signing Torii Hunter to play right field. The rotation is there and the lineup will be fierce, especially with the return of Victor Martinez. My only question lies with young closer Bruce Rondon. I expect great things, but I've been wrong before.
Last season, I picked the Royals to contend for a wild-card spot. Oops. This year, I'm sold on their starting rotation (though Jeremy Guthrie and Ervin Santana are both streaky) and love the offense. Expect a bounce-back campaign from Eric Hosmer and for K.C. to squeak out a playoff berth.
My prediction on the Indians was made before they signed Michael Bourn, but I still think they finish in third. The win total will most likely increase (can't forget about the addition of Nick Swisher as well!), but I still think the starting rotation is just mediocre.
The White Sox made me look like a fool last year, but I'm sticking to my guns. They lost A.J. Pierzynski and have a pitching staff that I think many people overrate. Chris Sale will hopefully be studly again, but question marks abound after that.
And in the cellar again, the rebuilding Twins. I love some of the pieces they have, but really think Minnesota is years away from contention. It's a slow process being a small market team, but unless huge strides are made in 2013, Twins fans might need to get used to last place.
AL Central bold prediction: Eric Hosmer hits .300 with 25 homers and 100 RBI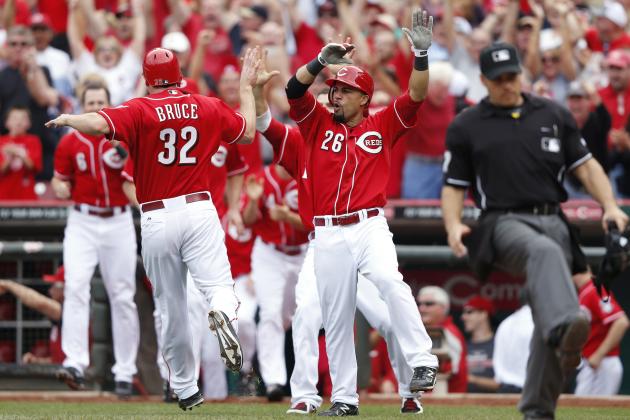 Joe Robbins/Getty Images

1. Cincinnati Reds (97-65)
2. St. Louis Cardinals* (91-71)
3. Milwaukee Brewers (87-75)
4. Pittsburgh Pirates (82-80)
5. Chicago Cubs (73-89)
*NL Wild Card team
The Reds look like a safe bet to reclaim their second straight NL Central title, but don't count the Cardinals or Brewers out. I like the Cincy pitching staff (especially the bullpen), but I'm not sure how Aroldis Chapman as a starter will turn out. Adding Shin-Soo Choo was huge for the Reds.
Losing Chris Carpenter is a huge disappointment for the Cardinals, but they seem to survive every season with either him or Adam Wainwright injured. The young pitching depth is plentiful in St. Louis, and the Cardinals will return one of the most dangerous offenses in baseball. Allen Craig is going to go off in 2013.
Milwaukee nearly snuck into the playoffs last year with a late run. It seems impossible that its bullpen could falter as much in 2013 as it did last year, but its hopes really hinge on whether Ryan Braun gets suspended. If he does not, the Brewers will be in the thick of the wild-card race all season long.
Rejoice, Pirates fans! I've got faith that your team finally cracks .500. Pittsburgh is actually built to contend very soon, I just don't think the starting pitching is quite there in 2013. Also, losing Joel Hanrahan may hurt more than most realize.
The Cubs are another squad heading in the right direction. Some of the young guys Chicago employs (Brett Jackson, Anthony Rizzo, etc.) are future stars. But the starting rotation is a little weak and the bullpen scares me. Give it another year or two and Chicago could be sneaky good.
NL Central bold prediction: Billy Hamilton plays in 90 games, steals 30 bags for the Reds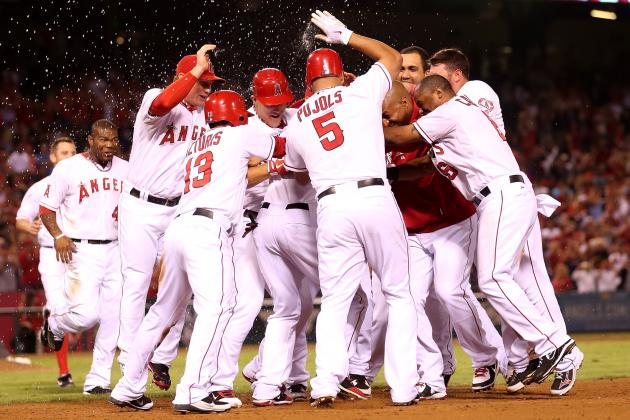 Stephen Dunn/Getty Images

1. Los Angeles Angels (94-68)
2. Texas Rangers (88-74)
3. Oakland Athletics (87-75)
4. Seattle Mariners (81-81)
5. Houston Astros (63-99)
After underperforming in 2012, I think the Angels have more than enough talent to take the division in 2013. Adding Josh Hamilton to the lineup is almost unfair, but did they sacrifice too much pitching this winter? I think the offense will make up for deficiencies in the starting rotation.
The Rangers mostly stood pat this offseason, and it will come back to bite them. Though I think the Rangers still field an excellent team, there is a starting pitcher or two missing. And in years past, they could make up for it with an explosive offense. This year, their best hitter moved on to a division rival.
The A's were a pleasure to watch last season, and I still think they are legit contenders in 2013, but a little seasoning on the young pitching is going to haunt them in the end. I can't wait to see what Yoenis Cespedes does in 2013, but Jarrod Parker, Tommy Milone and A.J. Griffin will be knocked around a bit.
One team I'm keeping an eye on is Seattle. After adding Kendrys Morales and Michael Morse to a lineup that had its fair share of solid, young hitters, the Mariners could surprise. I don't think 2013 is the year, but when three of their top pitching prospects join Felix Hernandez in the rotation in 2014, look out.
It's a rude welcome to the AL for Houston, which has to go into a loaded division and try to compete with bona fide All-Star teams or clubs that are on the rise much faster than the Astros are. There is a lot of really great young talent to watch, at least. Astros fans should take stock in that.
AL West award predictions: Mike Trout wins American League MVP honors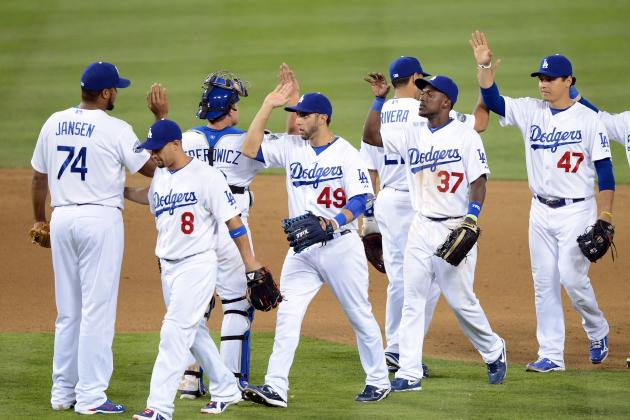 Harry How/Getty Images

1. Los Angeles Dodgers (94-68)
2. San Francisco Giants (90-72)
3. Arizona Diamondbacks (88-74)
4. San Diego Padres (78-84)
5. Colorado Rockies (69-93)
The Dodgers spent millions upon millions upon billions of dollars to put themselves in the best position possible to win. Ignore the people who claim team chemistry is an issue (at least until the issues actually pop up), and watch as Adrian Gonzalez, Matt Kemp and Hanley Ramirez all have huge years.
No disrespect to the defending champions, but they just got passed up. They are still going to be in the thick of the playoff race all season long, and I don't think the Dodgers just whisk away the division without a fight. But when all is said and done, Marco Scutaro and Angel Pagan will return to their career average numbers and sink the Giants' hopes.
Arizona is a sneaky, sexy pick for the 2013 season. The starting rotation could end up being the best in the league, and the offense still has tons of firepower. I don't think the D-Backs will score quite enough runs to keep pace with the Dodgers or pitch as consistently to keep up with the Giants. They will be close, though.
The Padres are doing everything right, just at a slow pace. People still don't realize that they were a pretty good team last year, and they should just build off of that success in 2013. Yasmani Grandal getting suspended and Rymer Liriano getting surgery don't help their chances immediately.
Finally, the Rockies will hopefully get a full season out of both Troy Tulowitzki and Michael Cuddyer, but having an epic offense will not make up for the worst starting rotation in baseball. Last year it wasn't even close, and this year I expect more of the same, though the starters will probably not register a combined 5.81 ERA again.
NL West award predictions: Clayton Kershaw wins his second Cy Young award in three seasons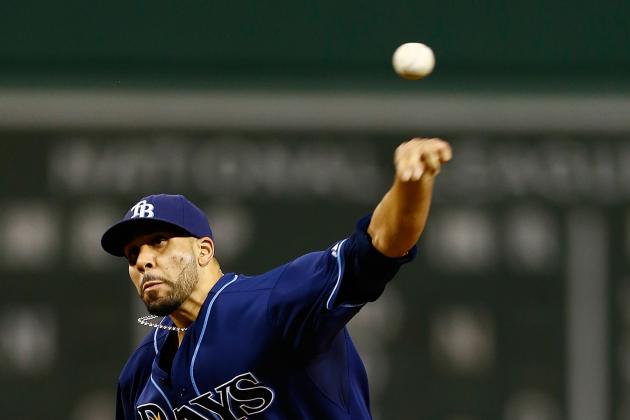 Jared Wickerham/Getty Images

National League
1. Washington Nationals (NL East champions)
2. Cincinnati Reds (NL Central champions)
3. Los Angeles Dodgers (NL West champions)
4. Atlanta Braves (Wild Card No. 1)
5. St. Louis Cardinals (Wild Card No. 2)
MVP: Joey Votto, Reds
Cy Young: Clayton Kershaw, Dodgers
Rookie of the Year: Zack Wheeler, Mets
American League
1. Toronto Blue Jays (AL East champions)
2. Los Angeles Angels (AL West champions)
3. Detroit Tigers (AL Central champions)
4. New York Yankees (Wild Card No. 1)
5. Kansas City Royals (Wild Card No. 2)
MVP: Mike Trout, Angels
Cy Young: David Price, Rays
Rookie of the Year: Mike Zunino, Mariners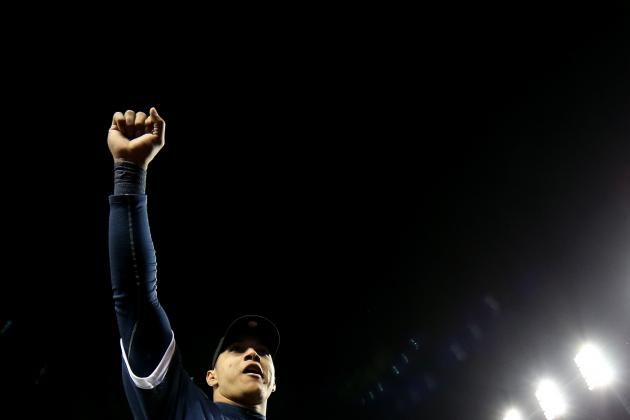 Leon Halip/Getty Images

National League
Wild Card and Division Series:
Atlanta Braves def. St. Louis Cardinals
Washington Nationals def. Atlanta Braves
Los Angeles Dodgers def. Cincinnati Reds
Championship Series:
Washington Nationals def. Los Angeles Dodgers
American League
Wild Card and Division Series:
New York Yankees def. Kansas City Royals
Toronto Blue Jays def. New York Yankees
Detroit Tigers def. Los Angeles Angels
Championship Series:
Detroit Tigers def. Toronto Blue Jays
World Series
Detroit Tigers def. Washington Nationals in six games