Mike Glennon is one of the players best positioned to put his talents on display at the 2013 NFL combine.
Many are projecting Glennon as a first-round draft pick, but he is not without his flaws.
Glennon's not very athletic, and his accuracy is a bit sketchy. With a solid performance at the combine, though, the former NC State Wolfpack QB can position himself as the second-best prospect in the draft at his position.
The biggest names are all throwing, so Glennon will be side by side with Matt Barkley and Geno Smith. Now is the time for him to make his move up draft boards.
Along with Glennon, here are three other players who could see their stock benefit from the combine.
EJ Manuel, QB, Florida State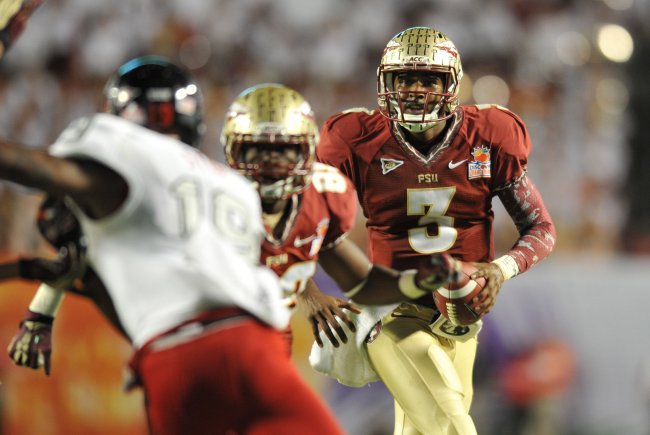 USA TODAY Sports
Nobody will make the argument that EJ Manuel is the best passer in this draft. His accuracy is questionable, and teams will have plenty of game tape highlighting his suspect decision-making as well.
No matter what the results of the combine, Manuel will remain an extremely raw prospect.
Where the former Florida State Seminole can excel is in the athletic drills.
Manuel is one of the fastest quarterbacks in this year's draft. That kind of skill is one that will leave scouts drooling because accuracy is something that can improve with the help of the right coaching.
You can't make a player that much faster.
With so few elite quarterbacks in this year's draft, the door is open for Manuel to present himself as a viable option in the early rounds. He won't do enough to warrant a first-round selection, but Manuel could very easily go in the second with a strong showing at the combine.
Giovani Bernard, RB, North Carolina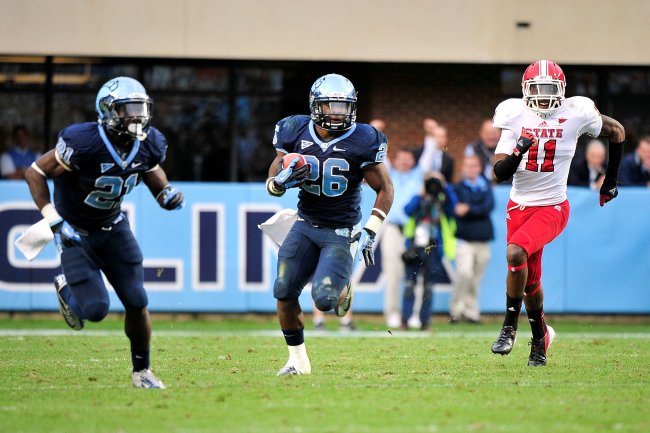 Grant Halverson/Getty Images
While the QB class is thin this year, teams will have even more trouble finding a solid running back. Few draft experts have one going in the first round of the draft. The player that some consider to be the best prospect, Eddie Lacy, will miss the combine because of a hamstring injury (h/t Adam Schefter of ESPN).
As a result of missing the combine, Lacy could be unseated at the top by somebody like Giovani Bernard.
Although Bernard wasn't prolific in his two seasons with the North Carolina Tar Heels, he's got the tools necessary to be a strong back in the league.
Bernard isn't the kind of running back who will elude opposing defenses with his speed and elusiveness. He's a solid power back and has shown an ability to wait for holes to open up and then explode through the line of scrimmage.
Aaron Mellette, WR, Elon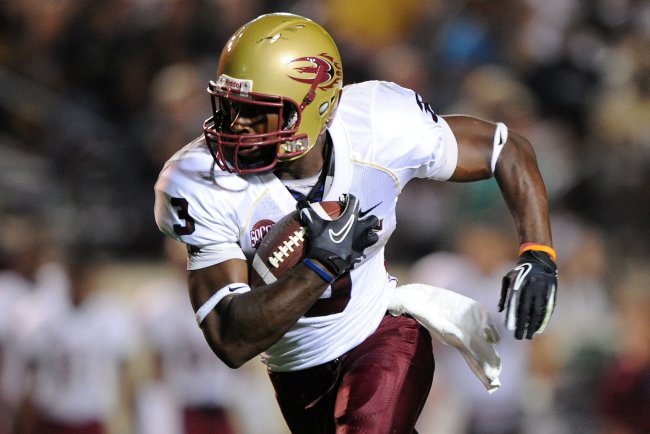 Don McPeak-USA TODAY Sports
Few receivers had the kind of career that Aaron Mellette did.
Over the past two seasons, he notched 3,047 yards and 30 touchdowns, and that was only with 11-game seasons. Many scouts are rightfully skeptical of the competition, though, as the Elon Phoenix are an FCS school.
The combine, much like the Senior Bowl, is the time when Mellette can have himself judged right next to his FBS counterparts. He had a very strong Senior Bowl, so he managed to get on many teams' radars. Now, Mellette needs to finish off the job at the combine.
He's not the most athletic receiver, and that lack of speed will be a definite mark against him.
Mellette does excel in pass-catching, however, which can more than outweigh his lack of physical tools. He is able to contort his body in a way that puts him in the best position to make a catch.
That will serve him very well in the NFL.