2013 Fantasy Value of Every Member of the Red Sox Starting Lineup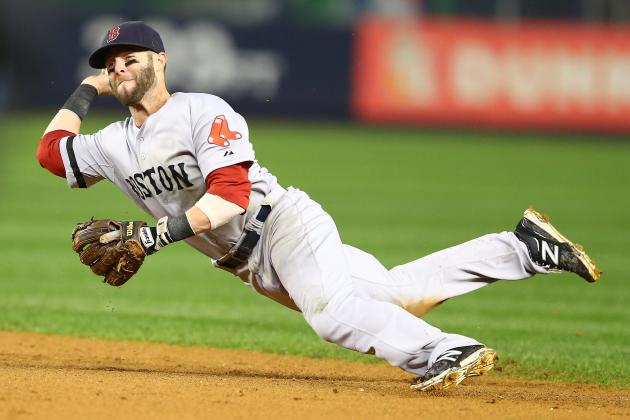 Al Bello/Getty Images

Last season, the Boston Red Sox were a complete mess. And with their clubhouse chemistry and winning ways went their fantasy value. Between injuries and slumps, the usually productive Red Sox lineup let down fantasy owners top to bottom.
While the lineup has been rebuilt, without Carl Crawford and Adrian Gonzalez, many of the same names are sure to pop up in fantasy drafts and they still come with the same risk, as well as the same reward.
Shane Victorino and Mike Napoli headline a cast of new characters in Boston that is worth taking a look at. The next few slides will highlight the projected starters and their fantasy value.
Begin Slideshow

»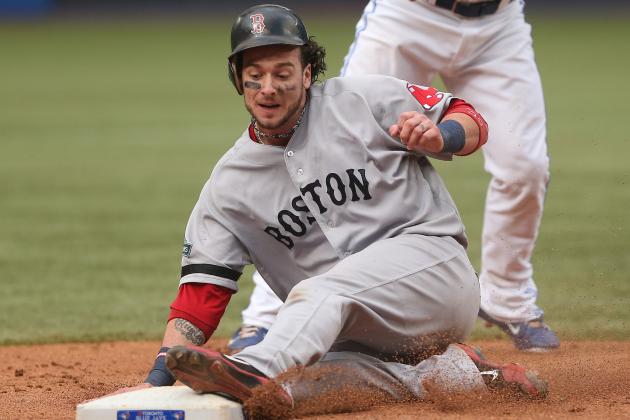 Tom Szczerbowski/Getty Images

After a three-year deal fell through, Mike Napoli still signed with the Red Sox and added to the complexity of the Sox backstop situation. Jarrod Saltalamacchia, Ryan Lavarnway and David Ross are all likely to get time behind the plate, pushing Napoli to first.
Napoli is still the most valuable catcher on the team. While his average plummeted almost 100 points in 2012 to .227, he produced his fifth straight 20-HR season, while playing just 108 games. If he manages more than that between catching and first base, he should hit closer to his career .259 number, as well as the usual 20-plus home runs.
Saltalamacchia hit 25 home runs in 2012, but also hit just .222, so a platoon version of Saltalamacchia would be hard to justify spending a draft pick on. But if he manages to hold onto the full-time catching job, with Napoli at first, he is worth a late pick as a backup.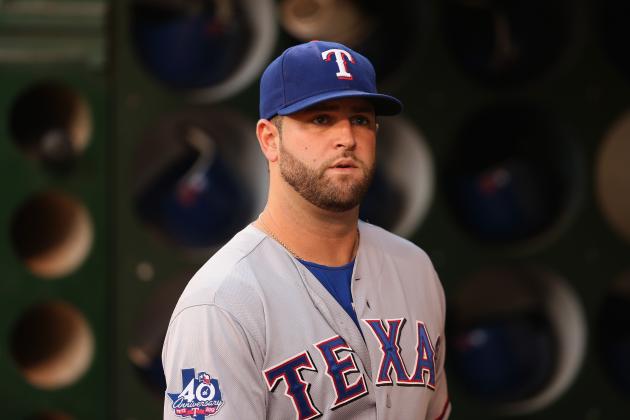 Ezra Shaw/Getty Images

While he has been a catcher for most of his career, the departure of Adrian Gonzalez and concerns about Napoli's health mean he is likely to slide into the full-time first base role.
While the power is intriguing, it is hard to nail down a projection for Napoli beyond the 20 HR. He batted .320 in 2011 and .227 in 2012. Napoli is a career .259 hitter who has batted between .250 and .270 zero times in his career. The power in consistent; the average is the risk.
Draft Napoli as a catcher who provides added flexibility but below average production at first base. There are better options if you are looking for a starter at first.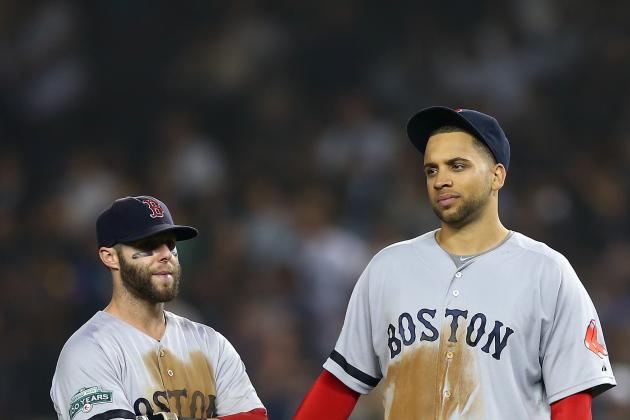 Elsa/Getty Images

Dustin Pedroia has been a mainstay in the top three among second basemen. While he had a down year in 2012, like the rest of the team, Pedroia's prior consistency makes him the easiest to pardon.
Pedroia's 15 home runs and his 65 RBI were his lowest since 2007 and his 81 runs scored were his lowest since 2006, his rookie year. While his .290 average was still helpful to fantasy owners, the career .303 hitter is in line for a rebound season.
While the loss of Crawford and Gonzalez may put Pedroia's runs scored at risk, .300, 15-20 HR, 80 RBI, and 20 steals are very acceptable numbers at second base.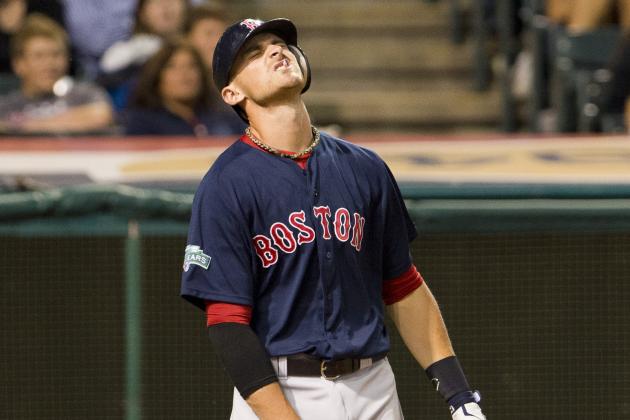 Jason Miller/Getty Images

While Kevin Youkilis might always be a Red Sock at heart, Will Middlebrooks is the only fantasy relevant third baseman who will play in Boston this season.
As a rookie in 2012, Middlebrooks batted .288, with 15 HR and 54 RBI in just 75 games. In 416 games, Middlebrooks batted just .276 in the minors, so expecting a repeat of the average may be optimistic, and Middlebrooks' 70 strikeouts against 13 walks adds to that speculation.
Approach Middlebrooks with hopes of a .260-270 average and you should enjoy the 25 home runs, with the upside for 30.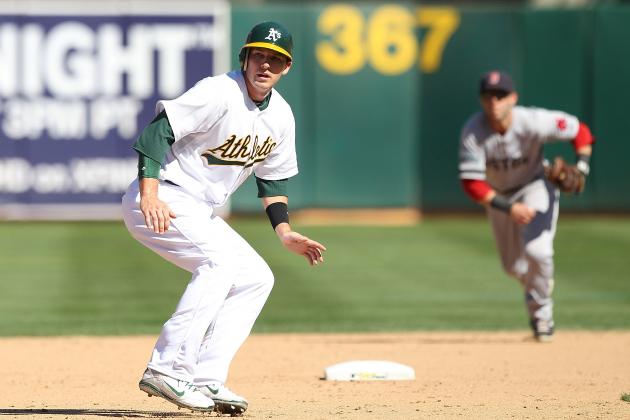 Tony Medina/Getty Images

Stephen Drew has been a "sleeper" shortstop since he hit .291 and 21 home runs in 2008 and followed that up by batting .261 with 12 home runs in 2009.
Drew has battled injuries recently, managing just 165 games over the last two years, but Boston threw a one-year deal his way this offseason, hoping health will bring a resurgence. Drew is 29 years old and still capable of a season in the range of .270, 15 HR and 70 RBI and runs scored.
Drew is still a marginal fantasy option with injury concerns. He may be worth a late flier in drafts, but do not bank on him to carry you at shortstop.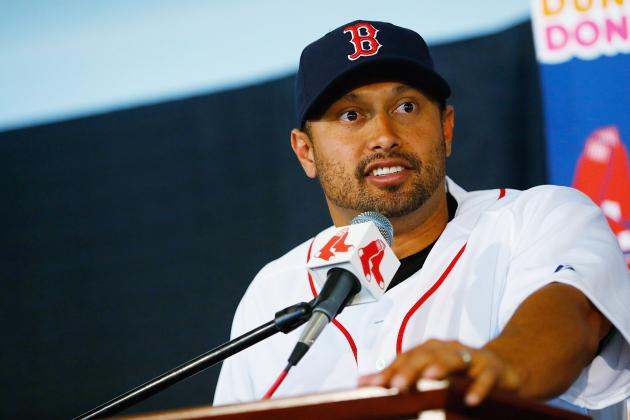 Jared Wickerham/Getty Images

Jacoby Ellsbury was a tragic first-round disappointment in 2012. He never fully recovered from an early rib injury and ended the season with just 74 games. But Ellsbury did post an all-world stat line in 2011, and is capable of returning to first-round value if he can stay healthy in 2013.
Shane Victorino joins Ellsbury in the Fenway Park outfield in 2013. He stole a career-high 39 bases between Philadelphia and Los Angeles in 2012, along with 11 HR and 72 runs scored. He has six straight seasons of double-digit homers and has five seasons of 25-plus steals in that span. Victorino may fall in drafts due to his age but could be a bargain.
The third outfield spot in Boston may end up as a platoon, but Jonny Gomes has the edge for the starting job. Twice in the last four years, Gomes has hit 18 or more home runs without playing even 100 games. Gomes will not be a boon to your batting average, but the power could be very useful, given full-time at-bats.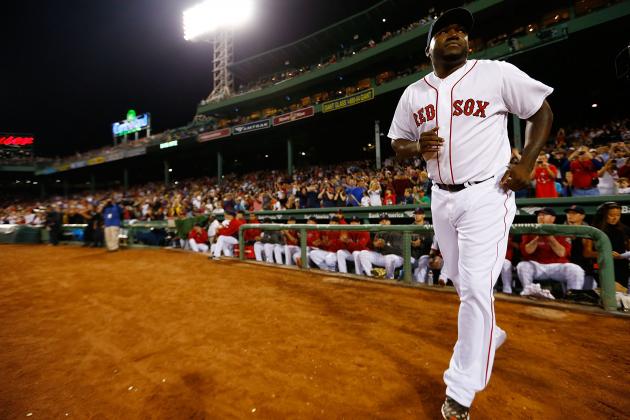 Jared Wickerham/Getty Images

David Ortiz hit 23 home runs in 90 games in 2012. Due to injury, Ortiz's homers, RBI and runs scored were all lows since 2002, but the per-game production is symptomatic of a player still possessing immense power potential.
Ortiz is 37 years old and cannot fight time forever. If healthy, Ortiz may be good for .300, close to 30 HR, 100 RBI and 80 runs, but not many players his age reach those numbers, and his draft-day value is likely to exceed the risk for a DH-only player.
The stats may be desirable in fantasy, but the lack of flexibility makes the price steeper than just the inherent risk in drafting a 37-year-old coming off an injury.