Breaking Down the NFL Free-Agent Tiers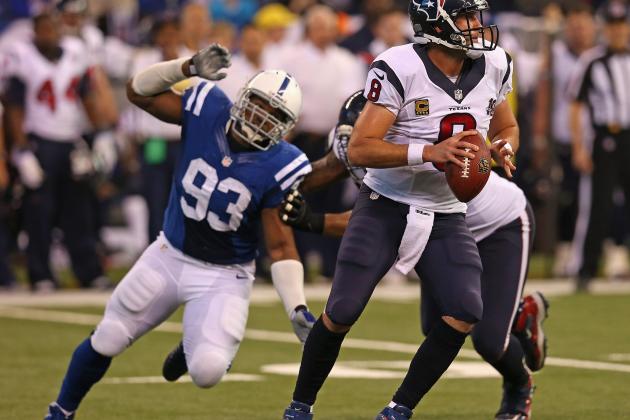 Jonathan Daniel/Getty Images

On draft day, every NFL team wants to make the grade. NFL front office executives talk a lot about "building through the draft," because smart drafting though all three days will fill out a roster with young (cheap) talent.
You'll never hear an NFL coach or executive say, "We want to build through free agency," because the most popular players cost top dollar—and many times, they aren't productive enough to justify their cost.
There is value to be had in free agency, though. Besides cap-strapped teams letting good players go because they can't pay market price, some teams have a wealth of talent at the same position, are ready to go younger or plan to run a scheme that doesn't fit that player.
Teams that do their homework on this year's class of free agents could find some instant contributors for not a lot of cash.
We've done their homework for them: Here are this year's free agents, graded on their potential to make a new team's roster better.
Begin Slideshow

»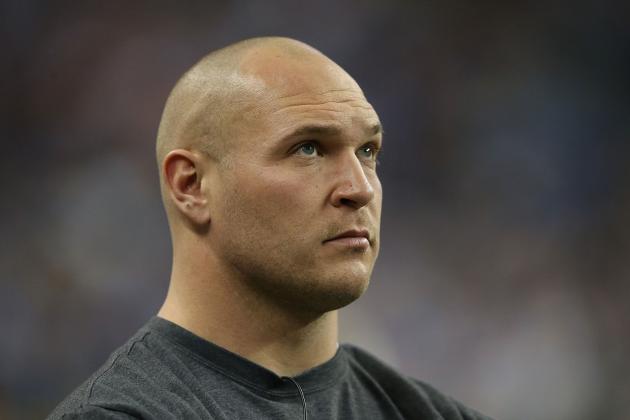 Leon Halip/Getty Images

These players all have big names, but their careers are at an end. Fans of teams that sign these players might get excited at first, but these players' time as impact contributors is over.
Randy Moss supposedly came back to win a ring but had only two catches in the 49ers' Super Bowl loss—and may have been responsible for Colin Kaepernick's interception. Brian Urlacher was Pro Football Focus' 44th-graded inside linebacker, and his shaky knee might not let him play any better.
Quarterbacks: Donovan McNabb, Byron Leftwich, Vince Young
Running Backs: Joseph Addai, Ronnie Brown, Ryan Grant, Brandon Jacobs, Thomas Jones
Wide Receivers: Plaxico Burress, Mark Clayton, Lee Evans, Randy Moss, Mike Sims-Walker, Mike Williams, Titus Young
Tight Ends: Kevin Boss, Chris Cooley, Daniel Graham, Jeremy Shockey, Kellen Winslow
Offensive Tackles: Jeff Otah, Jason Smith
Offensive Guards: Leonard Davis
Centers: Jeff Faine, Andre Gurode, Brad Meester
Defensive Tackles: Casey Hampton, Tommie Harris, Albert Haynesworth
Defensive Ends: Kyle Vanden Bosch, Vonnie Holliday
Inside Linebackers: James Farrior, Scott Fujita, Clark Haggans, E.J. Henderson, Paris Lenon, Kirk Morrison, Mike Peterson, Brian Urlacher
Outside Linebackers: Aaron Curry, Travis LaBoy, Shawne Merriman
Cornerbacks: Quentin Jammer, Will Allen (ex-NE)
Safeties: Bob Sanders, O.J. Atogwe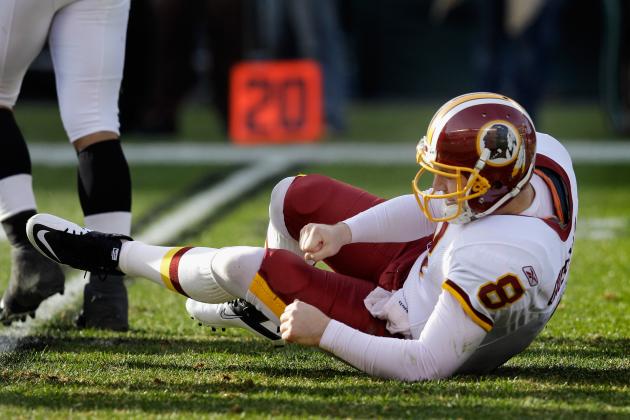 Rob Carr/Getty Images

These players earned an "F" grade. They're typically veterans coming off a disastrous year, career backups with no upside, young players who can't catch on anywhere or middling players currently injured.
Ryan Torain and Javon Ringer have talent, but who knows if they'll ever be healthy? Ted Ginn got more leash in San Francisco than he probably deserved and still couldn't run with it. Ray Edwards looked like a beast alongside the Williams Wall in Minnesota, but he's been invisible in Atlanta.
Quarterbacks: Charlie Batch, Rudy Carpenter, Rex Grossman, Josh Johnson, Matt Leinart
Running Backs: Brandon Jackson, Rashad Jennings, Ryan Torain, Javon Ringer
Wide Receivers: Steve Breaston, Ted Ginn, Kevin Ogletree, Mohamed Massaquoi, Donte' Stallworth
Tight Ends: Travis Beckum, Visanthe Shiancoe
Offensive Tackles: Jordan Black, Jeremy Bridges, Max Starks
Offensive Guards: Doug Legursky
Defensive Ends: Ray Edwards, Jason Hunter, Matt Roth
Inside Linebackers: Lorenzo Alexander, Antwan Barnes, Jasper Brinkley, Zac Diles, Tim Dobbins, Gerald McRath, Jordan Senn, Dan Skuta
Outside Linebackers: Mario Haggan, Rob Jackson, Matt McCoy, Scott Shanle
Cornerbacks: Zackary Bowman, Chris Carr, Shawntae Spencer
Safeties: Erik Coleman, Sean Considine, Tanard Jackson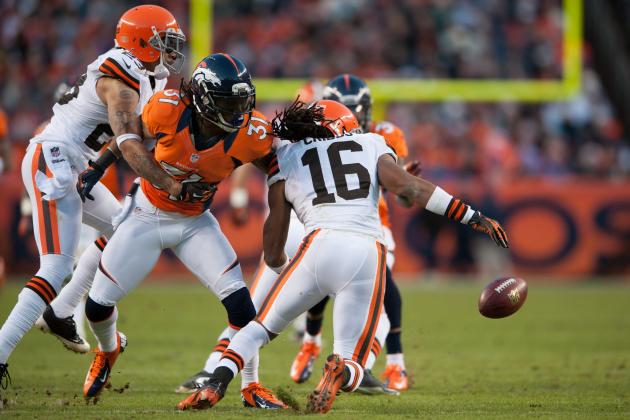 Dustin Bradford/Getty Images

Players earning a "D" grade are mostly veterans going through bad slumps, young players failing to make an impact, good players with injury problems or rotational players with little upside. Some players whose value is mostly on special teams were also marked with a "D."
David Garrard not being given an opportunity as an emergency backup in 2012 was a surprise. Kevin Smith played well while Mikel Leshoure served a two-game suspension but was passed on the depth chart by free agent Joique Bell.
Ma'ake Kemoeatu would likely best be served by going out on top and retiring with a freshly won Super Bowl ring. Josh Cribbs made the Pro Bowl as a returner but had only 13 offensive touches in 2012. Pure returners do not get fans and media booming "Pay the man!" on their behalf.
Quarterbacks: Derek Anderson, Brady Quinn, David Garrard
Running Backs: Tashard Choice, Justin Forsett, Tim Hightower, Kevin Smith, Cadillac Williams
Wide Receivers: Donnie Avery, Josh Cribbs, Brandon Gibson, Domenik Hixon, Steve Smith (ex-STL), Jerome Simpson, Brandon Tate
Tight Ends: Billy Bajema, Cameron Morrah, John Phillips, Leonard Pope
Offensive Tackles: Corey Hilliard, Frank Omiyale, Tyler Polumbus, Jonathan Scott, Jeremy Trueblood
Offensive Guards: Antoine Caldwell, Kory Lichtensteiger, Chilo Rachal, Deuce Lutui
Centers: Joe Berger, Chris Spencer
Defensive Tackles: Ricky Jean-Francois, Antonio Johnson, Ma'ake Kemoeatu, Ryan McBean, Tony McDaniel
Defensive Ends: Antwan Applewhite, Darryl Tapp, Lawrence Sidbury
Inside Linebackers: Chase Blackburn, Jonathan Casillas, Larry Foote, Gary Guyton, Brady Poppinga, Barrett Ruud, Brandon Siler, Tracy White, Chris Wilson
Outside Linebackers: Geno Hayes, Leroy Hill, Rocky McIntosh, Marvin Mitchell, Ernie Sims, Erik Walden
Cornerbacks: Michael Adams, Antoine Cason, Michael Coe, Rashean Mathis, Brice McCain
Safeties: David Bruton, Chris Crocker, Craig Dahl, Rashad Johnson, Sherrod Martin, Ryan Mouton, Ryan Mundy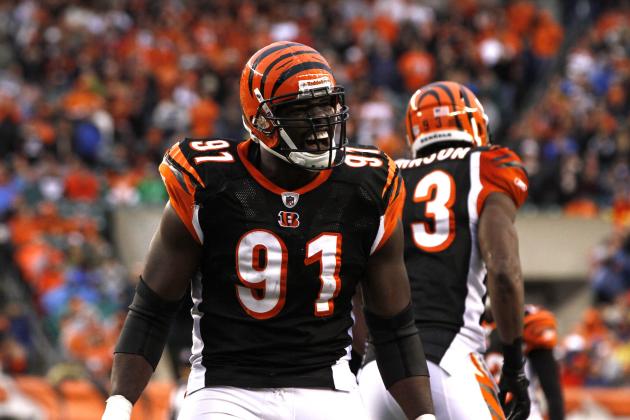 Tyler Barrick/Getty Images

Players with a "C" grade are players certainly worth adding to any team's roster. They're quality veteran depth guys, players with top tools but poor production, unheralded youngsters who've clawed their way up into the rotation and solid starters facing rehab from serious injury.
Austin Collie's injury situation really makes him more like a "D," but if you could guarantee his health, he'd be an easy "A." Todd Heap looked like he still had gas in the tank before he blew a tire.
As the weak link on an excellent pass-blocking line in Detroit, Stephen Peterman would be perfect veteran insurance for a team going young at guard. Robert Geathers has been an under-the-radar stud in Cincinnati for years, but over the last year or two he's been as invisible on film as in the media.
Quarterbacks: David Carr, Chase Daniel, Luke McCown, Bruce Gradkowski
Running Backs: Cedric Benson, Ahmad Bradshaw, Peyton Hillis, Felix Jones, LaRod Stephens-Howling
Wide Receivers: Austin Collie, Julian Edelman, Braylon Edwards, Louis Murphy, Brandon Stokley
Tight Ends: Gary Barnidge, Ben Hartsock, Todd Heap, Alex Smith, David Thomas, Ben Watson
Offensive Tackles: Khalif Barnes, D'Anthony Batiste, Demetress Bell, Sean Locklear, Will Svitek
Offensive Guards: Rex Hadnot, Leroy Harris, Stephen Peterman, Chad Rinehart, Chris Williams
Centers: Dylan Gandy
Defensive Tackles: Rocky Bernard, Shaun Cody, Mike DeVito, Leger Douzable, Glenn Dorsey, Sedrick Ellis, Sen'Derrick Marks, Roy Miller, Fili Moala, Pat Sims, Isaac Sopoaga
Defensive Ends: Robert Geathers, Kyle Moore, Turk McBride, Frostee Rucker
Inside Linebackers: Michael Boley, Keith Brooking, Moise Fokou, Larry Grant, Bradie James, Rey Maualuga
Outside Linebackers: Manny Lawson, DeAndre Levy, Kaluka Maiava, Calvin Pace, Shaun Phillips, Keith Rivers, Bryan Scott
Cornerbacks: Drayton Florence, Kelvin Hayden, Mike Jenkins, Terrence McGee, William Middleton, Chris Owens, Tracy Porter, Jerraud Powers, Dominique Rodgers-Cromartie, Stanford Routt
Safeties: Will Allen (ex-PIT), Alan Ball, Yeremiah Bell, Nate Clements, Matt Giordano, LaRon Landry, Jim Leonhard, Eric Smith, Madieu Williams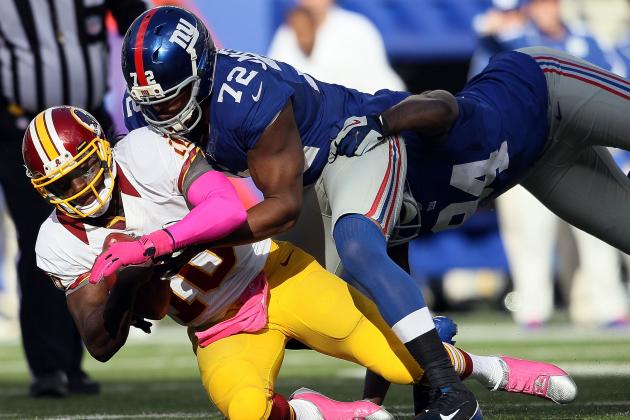 Alex Trautwig/Getty Images

The "B" free agents are quality players. They'd be great backups or solid rotational players anywhere; given a perfect fit they could start and play well.
Many of these players are young veterans who either haven't gotten a shot or have gotten a shot but couldn't quite lock down a starting job. Many of them are longtime starters beginning the backside of their career. Some of them are outstanding players, but with a specialized or rotational role.
Shonn Greene has never lived up to expectations, but he finished 2012 strong on a very poor Jets team. Will Heller has been a very reliable two-way tight end, stuck behind two quality pass-catchers in Detroit's lineup.
Bryant McKinnie has struggled with his weight but played very well during the Baltimore Ravens' playoff run. If he can keep healthy, he can still be a quality starter. If not...
Osi Umenyiora is not the terror off the edge he once was, but he's more than capable of providing a pass rush boost to a team that needs one.
Quarterbacks: Jason Campbell, Matt Moore, Drew Stanton, Brian Hoyer
Running Backs: Rashard Mendenhall, Shonn Greene, Danny Woodhead
Wide Receivers: Brian Hartline, Mike Wallace
Tight Ends: Dallas Clark, Fred Davis, Will Heller, Anthony Fasano, Brandon Myers, Dante Rosario, Delanie Walker
Offensive Tackles: Branden Albert, Jermon Bushrod, Winston Justice, Bryant McKinnie, Barry Richardson, Geoff Schwartz
Offensive Guards: Cooper Carlisle, Ramon Foster, Tyronne Green, Lance Louis, Garrett Reynolds, Matt Slauson, Louis Vasquez
Defensive Tackles: Justin Bannan, Alan Branch, Chris Canty, Nick Eason, Aubrayo Franklin, Sammie Hill, Terrance Knighton, Spencer Johnson, Jason Jones, Derek Landri, Pat Sims, Randy Starks, Kevin Vickerson, Corey Williams
Defensive Ends: Andre Carter, Kenyon Coleman, Wallace Gilberry, Kedric Golston, William Hayes, Lawrence Jackson, Trevor Scott, Matt Shaughnessy, Osi Umenyiora
Inside Linebackers: Nick Barnett, Daryl Smith, Demorrio Williams
Outside Linebackers: Connor Barwin, Victor Butler, Justin Durant, Quentin Groves, Erin Henderson, Thomas Howard, Akeem Jordan, Nick Roach, Bryan Thomas, Bart Scott
Cornerbacks: E.J. Biggers, Tony Carter, Derek Cox, Bradley Fletcher, Brent Grimes, Cedric Griffin, Jacob Lacey, Keenan Lewis, Captain Munnerlyn, Sean Smith, Greg Toler, Marcus Trufant
Safeties: Patrick Chung, Louis Delmas, Quintin Demps, James Ihedigbo, Michael Mitchell, Ed Reed, Jamarca Sanford, Charles Woodson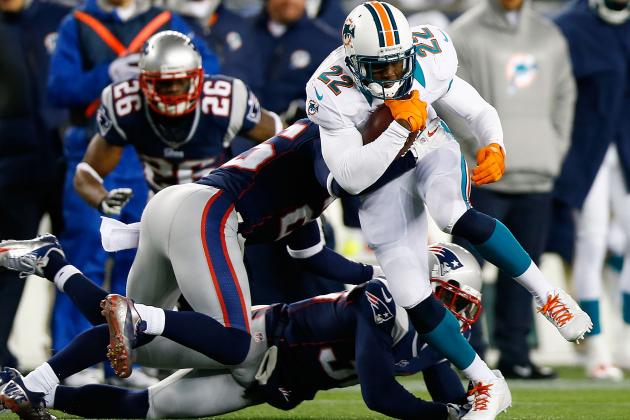 Jared Wickerham/Getty Images

Now, the honor roll: "A" players, who would start for nearly any team. These are proven players who can step in and make an impact right away. That's not to say they're flawless, but these players can make teams better, especially given the right fit.
The Dolphins making no attempt to re-sign Reggie Bush is a head-scratcher. Bush has been a very reliable all-around back and still has a lot of burst. Steven Jackson has taken a ton of abuse, but the old war horse still averaged 4.1 yards per carry in 2012; that's just shy of his 4.2 career average.
Danny Amendola is a quality inside/outside receiver with more speed than he's given credit for. Per Pro Football Focus, he was targeted on 95 of the 524 snaps he saw last season. That means his number was called 18.1 percent of the time his team snapped the ball with him on the field; that's "Randy Ratio" territory.
Dwayne Bowe is probably being oversold as a do-everything elite No. 1 target; he's got all the tools to be such but has never consistently applied them.
Dwight Freeney has been one of the best in the business for a long time, but playing out of position in 2012 hurt his production. NFL teams betting on him bouncing back into form are making a smart play.
Running Backs: Reggie Bush, Steven Jackson
Wide Receivers: Danny Amendola, Dwayne Bowe, Greg Jennings, Wes Welker
Tight Ends: Martellus Bennett, Jared Cook, Dustin Keller
Offensive Tackles: Sam Baker, Will Beatty, King Dunlap, Phil Loadholt, Jake Long, Sebastian Vollmer
Offensive Guards: Kevin Boothe, Nate Garner, Donald Thomas
Centers: Todd McClure, Dan Koppen
Defensive Ends: Cliff Avril, Dwight Freeney, Juqua Parker
Defensive Tackles: Richard Seymour, Vance Walker
Inside Linebackers: Dannell Ellerbe, Brad Jones
Outside Linebackers: Philip Wheeler
Cornerbacks: Kyle Arrington, Darius Butler, Joselio Hanson, Chris Houston, Leodis McKelvin, D.J. Moore, Adam Jones, Terence Newman
Safeties: Chris Clemons, Ronde Barber, Abram Elam, Dashon Goldson, William Moore, Kenny Phillips, Glover Quin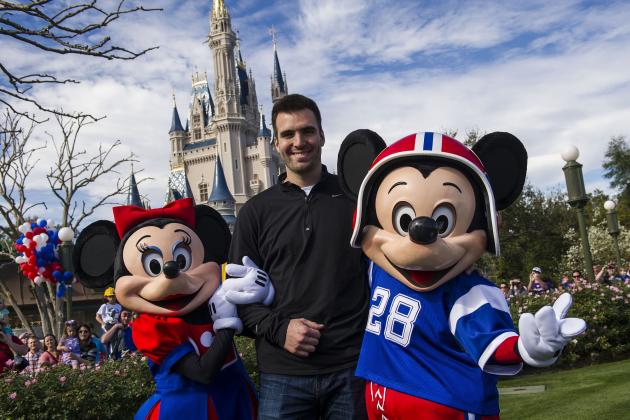 Handout/Getty Images

These are the best of the best, the dean's list of free agents. These are the players who would start for nearly any team and be a massive upgrade for most. These players rarely hit free agency and could command a huge price.
Joe Flacco, of course, will mostly likely be re-signed by the Ravens (one way or another). A young, reigning Super Bowl MVP just entering his prime never enters an offseason without a contract, though; this situation will be interesting to watch.
Andre Smith and Gosder Cherilus both had slow starts and behavioral issues after being drafted in the first round of the 2009 and 2008 drafts, respectively. In 2012, though, they were Pro Football Focus' No. 1 and No. 2 right tackles (subscription required).
Michael Bennett racked up nine sacks, 14 quarterback hits and 48 hurries about as quietly as one can do such a thing, and Paul Kruger single-handedly devoured Andrew Luck and the Indianapolis Colts in the playoffs.
Anthony Spencer was again all over the field for the Cowboys, but as NFL.com's Chris Wesseling says, it's looking unlikely Spencer will again be franchised.
Buffalo won't likely let Jairus Byrd leave, but secondary partner George Wilson has already been taking free-agent visits, according to the Detroit Lions' official website.
Quarterbacks: Joe Flacco
Offensive Tackles: Andre Smith, Gosder Cherilus
Offensive Guards: Andy Levitre, Brandon Moore
Defensive Tackles: Desmond Bryant, Henry Melton
Defensive Ends: Michael Bennett, Israel Idonije, Michael Johnson
Outside Linebackers: Paul Kruger, Anthony Spencer
Safeties: Jairus Byrd, George Wilson