NFL Draft Combine: 7 Under-the-Radar Players for New York Jets Fans to Watch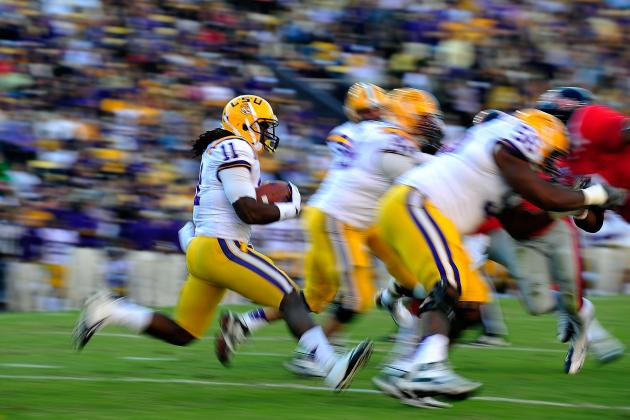 Stacy Revere/Getty Images

While the debate rages about the best first-round option in the NFL draft for the New York Jets, the truth of the matter is that they need to hit on multiple picks this year.
That being said, Jets fans who are so inclined to watch the NFL combine will have a number of players to keep an eye on.
Of course, fans will watch possible first-round targets like Jarvis Jones, Dion Jordan, Barkevious Mingo and Chance Warmack.
The quarterbacks will make an interesting group to watch for Jets fans, as will a number of running backs and some early-round receivers.
However, with over 300 players invited to the combine, that leaves a lot of shuttles, broad jumps and bench presses from little-known players to sift through.
This slideshow will take a look at seven "under-the-radar" players for Jets fans to scout.
Under-the-radar players will be classified as players who are mid-to-late round prospects who haven't been linked to the Jets in any of the major seven-round mock drafts on the internet.
Follow RC Cos and the BR Jets Report on Twitter: @BR_Jets_Report
Begin Slideshow

»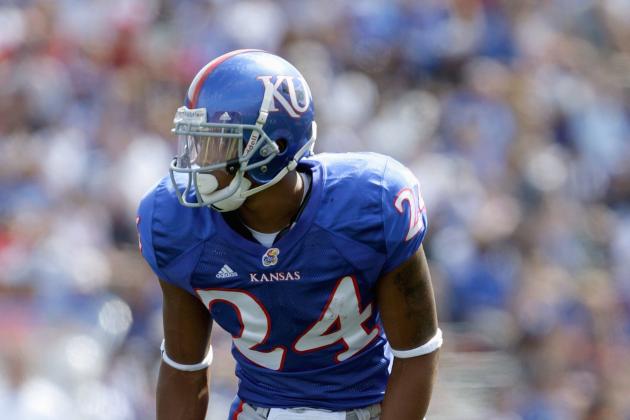 Jamie Squire/Getty Images

Bradley McDougald is one of the more interesting prospects slated to be taken late in the draft.
The free safety started the 2009 and 2010 seasons as a wide receiver for Kansas before switching to safety toward the end of both seasons.
The 6'0", 200-pound safety did well enough after converting to become the leader of Kansas' defense as a senior.
His athletic ability and 4.5 speed will cause him to stand out among safeties at the combine and could land him on the Jets radar.
McDougald is very similar to Josh Bush in his measurables, but could have a higher ceiling due to his lack of experience.
CBS Sports rates him as the No. 10 free safety in the draft and projects him as a sixth or seventh-round pick.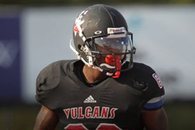 Photo courtesy of NCAAFootball.com
For combine fans who really like to dig, players don't get much more under the radar than Rontez Miles from Division II California University of Pennsylvania.
Miles took a long and winding road to the NFL draft, but in the end he is considered one of the top D2 prospects in the country.
According to NFLDraftScout.com, Miles was recruited by a number of SEC schools before ending up at Kent State. He then struggled academically, took classes at a junior college and ultimately ended up in the Pennsylvania State Athletic Conference.
While at Cal of PA, Miles was a dominant defensive player who was a four-time All-PSAC West player and the first two-time Defensive Player of the Year in a decade.
Miles is an obvious project who has a ceiling similar to Antonio Allen's. If Allen moves up into a starting role, Miles could be a candidate as a late-round developmental project.
CBS Sports rates Miles as a seventh-round draft choice and the No. 11 free safety in the draft.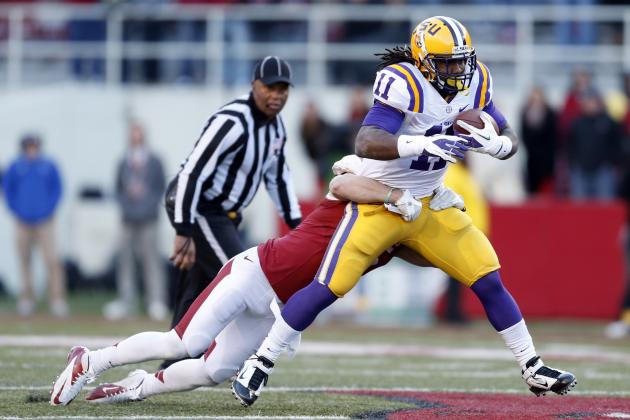 Wesley Hitt/Getty Images

Spencer Ware has a lot more name recognition than many others in this slideshow, but as far as the Jets' interests are concerned, he is not somebody who has been linked to the team much at all.
While the Jets need to focus on game-breakers on the offensive side of the ball, they will still be in the market for a tough runner once Shonn Greene is gone.
Ware could be just the candidate.
The 5'11", 225-pound Ware is going to rank near the bottom of the running backs in his 40 time at the combine, but he has the ability to rank near the top in strength categories.
Ware is no lock to be drafted at all right now, but he will be with someone come August.
While he isn't a true fullback, Ware could be a useful short-yardage runner and a power back to complement a team that lacks such a player.
If the Jets draft a player like Eddie Lacy early, Ware might not fit into the Jets plans. However, if they choose a speed back to add alongside Bilal Powell and Joe McKnight, Ware could fill a role.
The Jets took a chance on Terrance Ganaway at last year's draft, and that didn't work out. Keep a slight interest in Ware during the combine as he could turn up on the Jets radar if they look for a late-round power runner again.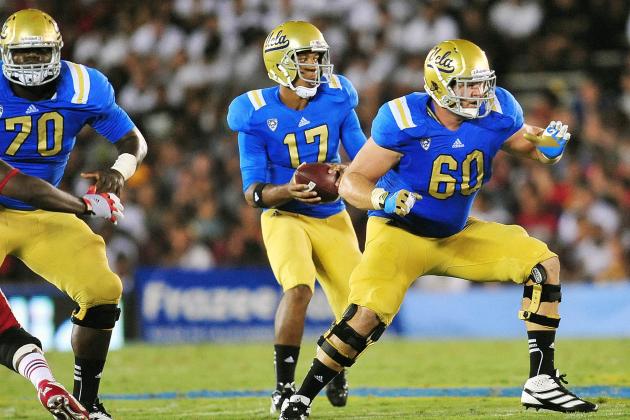 Gary A. Vasquez-USA TODAY Sports

With Brandon Moore and Matt Slauson both set to hit free agency, the Jets have a glaring need at guard.
Fans should expect the Jets to address the situation in the draft and should keep a close eye on Chance Warmack, Larry Warford and Jonathan Cooper for sure.
Those three names figure to be off the board in the first two rounds, so if the Jets don't grab them early, it will be time for them to take a chance on a mid-to-late round guard.
At 6'3", 295 pounds, Jeff Baca is an average-sized guard at best and could be bullied by bigger linemen. However, he plays with a nasty streak, and his game film will do more for him than his workouts.
According to CBS Sports, Baca projects now as a sixth or seventh-round pick based solely on his play on the field. If he shows improved strength during his combine workout, he could boost his draft stock into the top of the sixth round, right around where the Jets will be picking.
He is worth watching for Jets fans who want the team to avoid guards in the early rounds.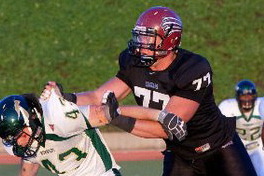 Photo courtesy of Azusa Pacific
The last time a prospect from NAIA school Azusa Pacific was seriously considered a candidate to be drafted it was 1987, and that player was Christian Okoye.
While Marquardt isn't as highly regarded as Okoye, he certainly will draw a lot of attention at the combine.
Marquardt stands at 6'9", which is two inches taller than any other lineman at the combine, and at 322 pounds, actually has the frame to add even more weight.
Marquardt will be fighting to get drafted at the combine and has been coached by Hall of Famer Jackie Slater. He is coming off a broken foot, so he is going to have to prove that he is fully healed and has gained back his agility as well.
The Jets aren't in dire need of a tackle, so they don't figure to draft one early unless they get incredible value.
With the release of Jason Smith, the Jets could use another tackle for depth and jumbo packages. A project like Marquardt could be the player with a high upside that the Jets could target late.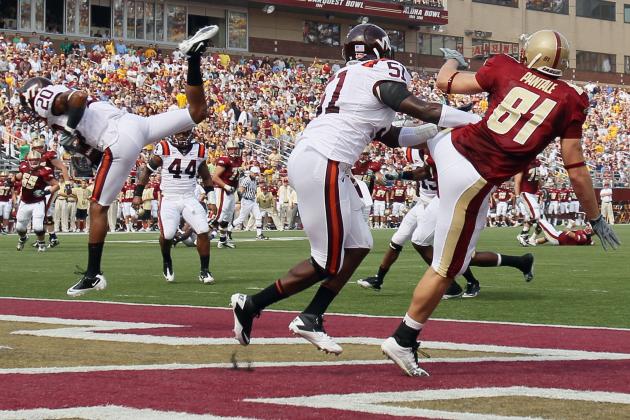 Elsa/Getty Images

It will be tough for Jets fans to track which tight ends to watch during the combine because the team needs will not be clear by that time.
If the Jets retain Dustin Keller, a player like Chris Pantale could be targeted by the Jets later in the draft.
Pantale is a developing player who was hindered by playing in a poor offensive system at Boston College. He needs to improve as a blocker and refine his routes, but has the potential to grow into an adequate NFL tight end.
If the Jets bring back Keller and Jeff Cumberland, a player like Pantale would be ideal as a developmental project.
However, if the Jets move on from Keller, they should target someone earlier in the draft who could make more of an immediate impact.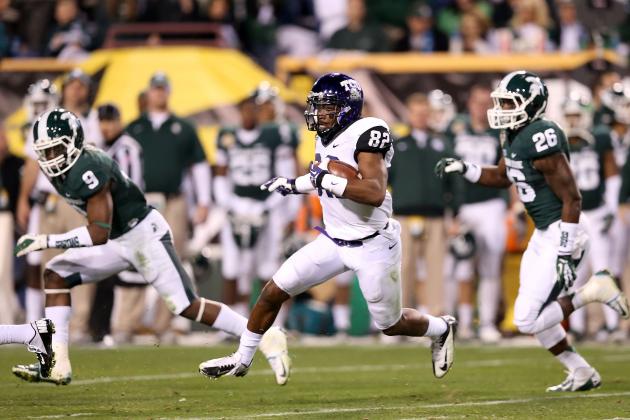 Christian Petersen/Getty Images

The Jets recently hit a home run with a mid-round receiver out of TCU, so why not try it again?
In fact, Josh Boyce's scouting report reads almost exactly the same as his former teammate Jeremy Kerley's.
Boyce is 5'11", 230 pounds and accomplished a great deal at TCU. In just three seasons, he became the school's all-time touchdown reception leader with 22 and is second all time with 2,535 receiving yards.
Although he played outside for TCU, Boyce projects as a slot receiver in the NFL. He is a savvy route-runner, and, although he doesn't have tremendous speed, his knack for getting open makes up for it.
Boyce doesn't project as a No. 1 receiver and would have a hard time cracking the lineup right away. However, Marty Mornhinweg's system utilizes many slant and crossing routes, and a player like Boyce is built perfectly for that.