Jacksonville Jaguars: Possible Cap Casualities Heading into 2013 Season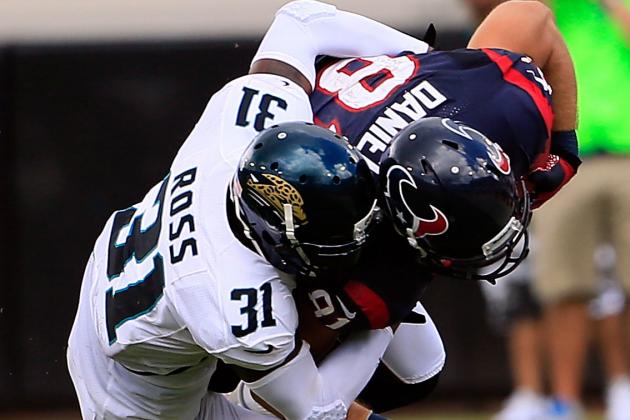 Sam Greenwood/Getty Images
CB Aaron Ross is only one year into a three-year contract, and may be on his way out of Jacksonville.
As the Jacksonville Jaguars eagerly await the beginning of the 2013 NFL Combine, the front office has already begun preparations for next year's squad.
One very important number kept in mind is the almighty salary cap, which is said to be upward of $122 million this season. The Jaguars currently sit somewhere around $22.5 - $25.5 million under the cap with the current contracts on the roster.
At 2-14, it is generally safe to say that the list of safe players on the Jaguars is rather limited with the new general manager and coaching staff.
Despite having more money than most heading into the offseason, there is no reason to believe that the Jaguars will not part ways with players that are simply not worth the money they are currently being paid.
With that being said, here is a look at ten players who may be cap casualties for the Jaguars.
*All cap related information is property of spotrac, and all statistical information is property of Yahoo! Sports.
Begin Slideshow

»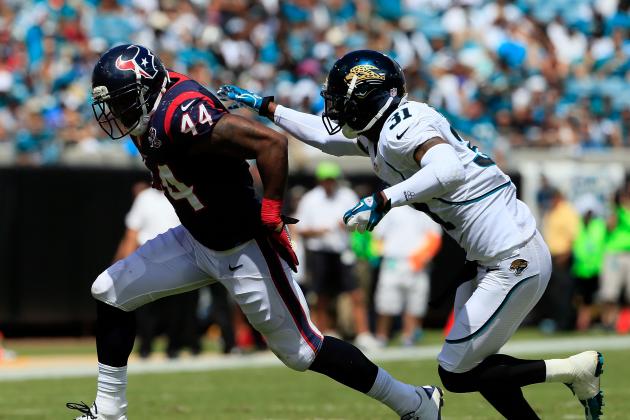 Sam Greenwood/Getty Images

2012 Stats: 14 GP, 46 tackles, 0 interceptions
Starting with the most obvious, CB Aaron Ross played below average at best this season. Ross was forced into the starting lineup many times throughout the season due to injuries and a lack of talent at the cornerback position.
Between Rashean Mathis playing poorly and Derek Cox nursing injuries, Ross saw the most starting time out of all Jaguars corners.
Ross signed a three-year, $9.75 million contract a season ago, and is due a $1.5 million roster bonus this offseason. With that being said, it seems obvious that it is only a matter of time before the Jaguars release Ross and remove the $3.705 million that Ross accumulates on the 2013 roster.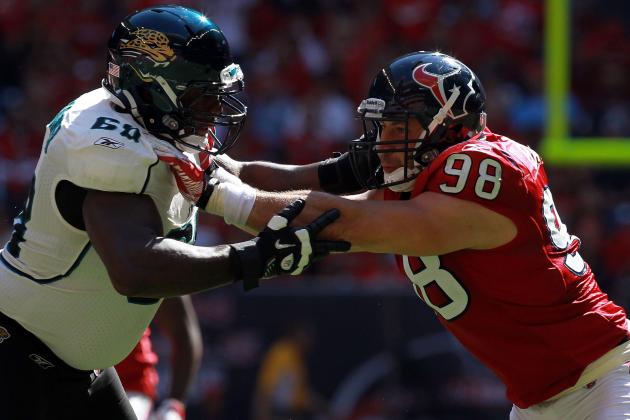 Ronald Martinez/Getty Images

Despite catching a touchdown last season, Guy Whimper doesn't seem to be quite as good as his price tag says.
With a cap number of $1.325 million this season, Whimper was signed to be a backup, but has not displayed any type of consistency to show that he worthy of keeping around. Whimper saw extensive playing time last season due to the highly inconsistent play of Cameron Bradfield, who is more talented than Whimper, but very raw.
Bradfield is likely to stick around as a backup next season due to his age and contract, leaving Whimper looking for a new team.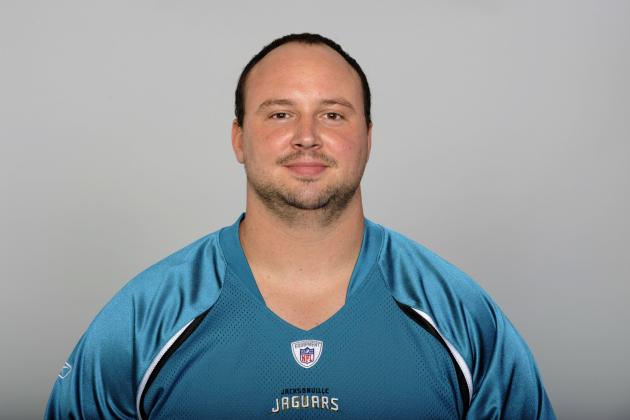 Handout/Getty Images

Jason Spitz was signed in 2011 to add valuable depth to an offensive line that needed quality backups.
Two years later, Spitz has seen plenty of injuries and very little playing time. On the books for $1.5 million this season, Spitz is one of the older players on the squad. The Jaguars will need to bolster both starters and backups for next season, but Spitz looks to be a little pricey as well as older than what the team may want.
With guards Uche Nwaneri and Will Rackley signed for next season, it is only a matter of time before the Jaguars part ways with the veteran.
Patrick Smith/Getty Images

2012 Stats: 7 games, 24 receptions, 252 yards, 0 touchdowns
Laurent Robinson was the prized free agent one year ago, now he is dealing with a decision to quit football or not after multiple concussions this past year.
In Robinson's defense, he was a pretty solid receiver aside from all of the concussion issues he dealt with. After I went back and watched the preseason as well as the first few games of last season, Robinson pulled down some beautiful catches.
The thought of putting him in the slot while having Justin Blackmon and Cecil Shorts III outside really is appealing, but is not worth the $2.7 million cap number that Robinson has this season (which shoots up into the $5-6 million dollar range the next three years).
Robinson said he will continue playing, but is yet to be cleared to resume football activities. I wouldn't be surprised if he is released, but at the same time, he is young, speedy, and has great hands.
Lets just hope this isn't Clint Sessions, round two.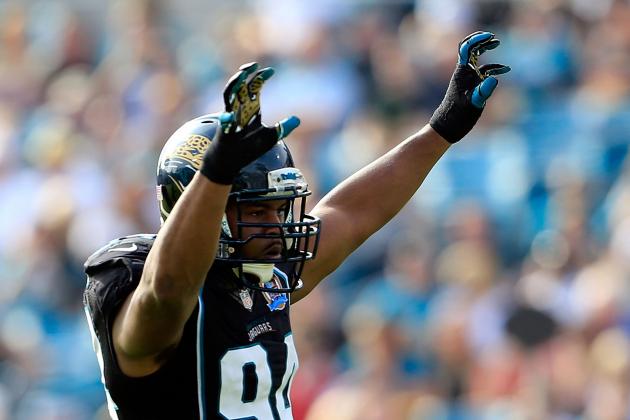 Sam Greenwood/Getty Images

2012 Stats: 16 GP, 41 tackles, 3.0 sacks, 2 FF
This is a name that hasn't been thrown out there much, but I am yet to hear of any real fit for Jeremy Mincey in Gus Bradley's defense.
Implementing his 4-3, 3-4 hybrid defense, Mincey is a prototypical 4-3 end who doesn't fit as well as Jason Babin, Andre Branch, or John Chick into the Leo role.
With a $1.775 million cap number this season, Mincey's contract doesn't really hurt the Jags until next season, but is he worth the cap space?
After recording a career-high eight sacks in 2011, Mincey's production dropped drastically last season and the fan favorite may not have a spot in the new look Jags defense.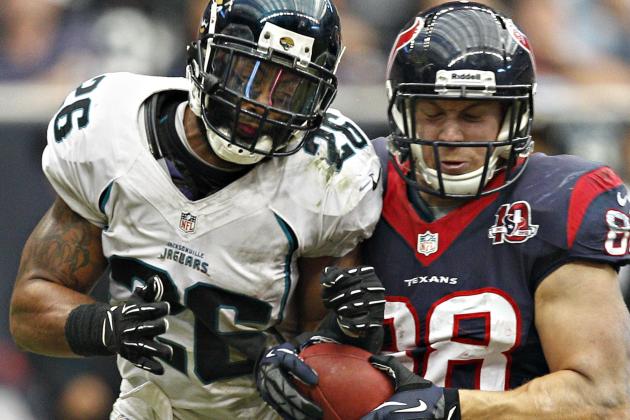 Bob Levey/Getty Images

2012 Stats: 16 GP, 100 tackles, 1 INT
A reliable player since signing a rich contract for a safety with the Jags, Landry isn't a guy who they may be quick to rid of. Landry filled a need for the Jags when they signed him in 2011, and has filled in somewhat admirably since.
Although safety isn't thought to be a position of need or change, I question whether or not the Jaguars really feel that the 30-year-old is still worth the $5.4 million cap number.
Landry is unquestionably the best strong safety on the roster, but if the Jaguars find cheaper, yet equal talent through free agency or the draft, he could be a candidate to be released.
This is more on the unlikely side, but on a 2-14 team anything can happen with the new management.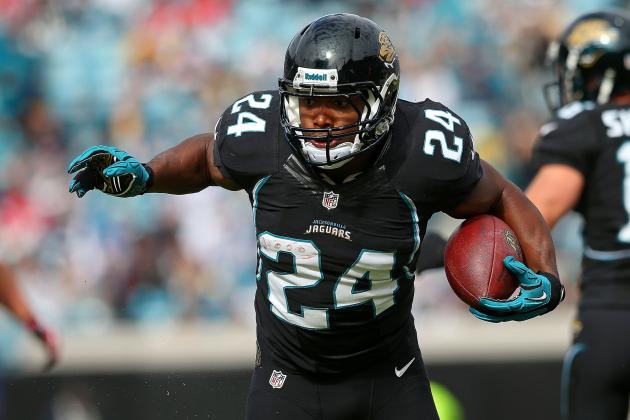 Mike Ehrmann/Getty Images

2012 Stats: 13 GP, 42 carries, 209 yards, 1 TD
A guy who actually impressed many people a season ago was Montell Owens. Owens is a duel threat, as he is a special teams All-Star as well as a backup running back.
Owens signed a very rich contract for a special team's ace and still has another three years remaining on it, however, it may be too rich for a guy who could be ousted at the running back position if the Jaguars draft an eventual replacement to Maurice Jones-Drew in the draft.
Owens will be turning 29 prior to the start of the season, and the Jaguars will need to determine if he is worth that $2.005 million cap number this season, as just the special teams stud. We saw that Kassim Osgood was not worth it to the Jags, so Owens may not be either.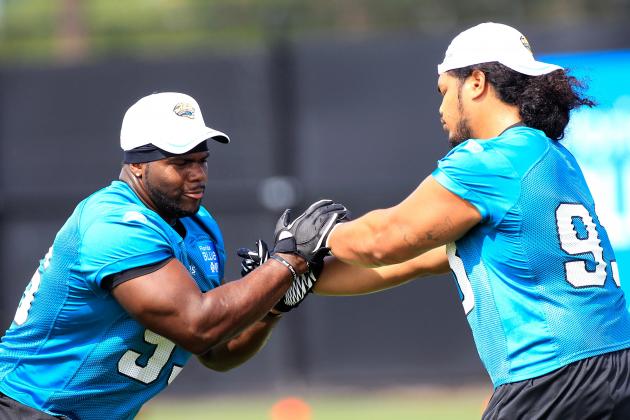 Sam Greenwood/Getty Images

2012 Stats: 8 GP, 10 tackles, 0 sacks
A guy who was dealt much misfortune his first two seasons, Smith had a chance to shine last season after being selected in the third-round of the 2010 draft.
A Gene Smith special, Smith didn't show much to excite anybody watching him, and with a new group of bosses, it is hard to believe that he will be kept around with C.J. Mosley and Tyson Alualu already inked through next season.
Smith is only scheduled to impact the Jaguars cap by $630k, but that is money that can be freed up to bring in a veteran or rookie.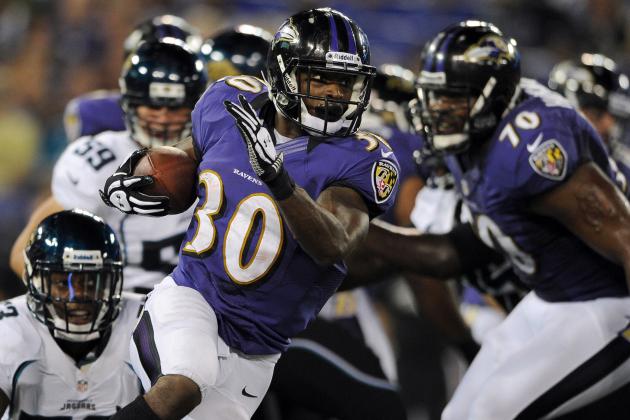 Patrick Smith/Getty Images

2012 Stats: 5 GP, 2 tackles
After taking him in the fifth-round of the draft last season, Brandon Marshall had a very rough season.
Marshall had every opportunity to start with the injuries and lack of depth at linebacker, but never proved worthy of the shot, and played only on special teams in the regular season.
Only seeing action in five games, it's hard to imagine that Marshall will be retained after a horrible season without making any real impact on special teams.
Counting for only $480k this year, it won't make much on an impact, but room is room.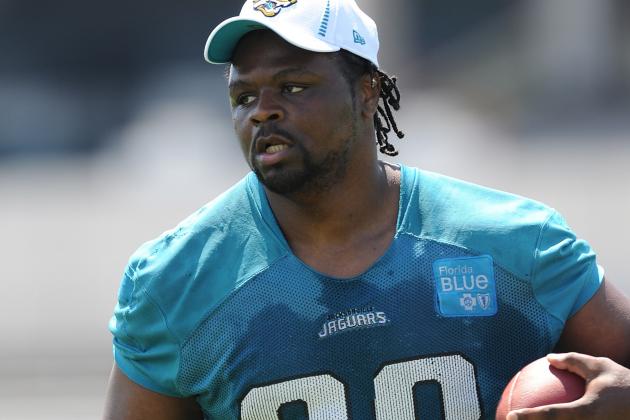 Rick Dole/Getty Images

2012 Stats: 4 GP, 1 tackle
If only heartwarming stories meant success in the NFL, I would love to see Jeris Pendleton stay in Jacksonville. Unfortunately, Pendleton doesn't look like he is quite cut out to stay on the Jags roster.
After a year buried behind the rest of the defensive tackles on the Jaguars, Pendleton and the $480k cap he carries, is likely to be released prior to next season.
Pendleton will be turning 30 this November despite being in only his second NFL season. Yet another small-school find by Gene Smith, Pendleton's heart and determination cannot be questioned in any move.