San Diego Chargers: Under-the-Radar Prospects at the 2013 Scouting Combine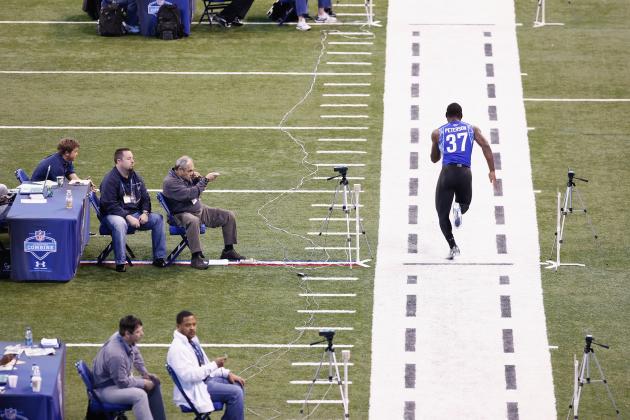 Joe Robbins/Getty Images
Which overlooked player at the combine will make an impact in San Diego?
The world's most intense job interview.
That's how the commercials portray it, anyway.
Prospects at this weekend's NFL Scouting Combine will be run through a multitude of interviews, drills, tests and measurements to see if these top players can translate their skills from college to the pros.
Most San Diego Chargers fans will have keen eyes attuned to Eric Fisher and Lane Johnson, the two left tackles most associated with the Bolts' first pick in the draft at No. 11. Fans wanting to know what the future may bring should watch this highly-publicized job interview with interest, but not just the potential first- and second-round players.
Whether they played at a small school, in a weak conference or are just being overlooked, many under-the-radar prospects will have a chance to make an impact for an NFL team, including San Diego.
All heights and weights are from NFL.com unless otherwise noted.
Begin Slideshow

»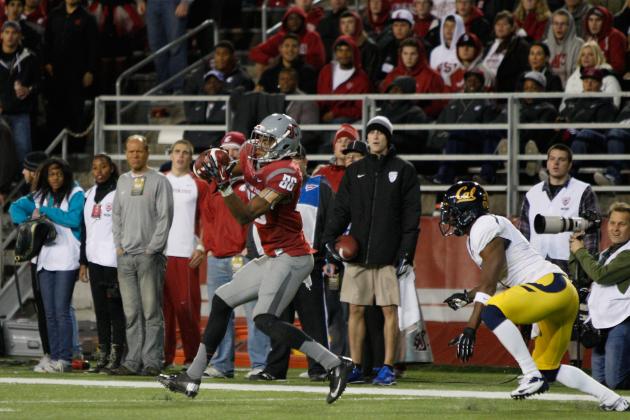 William Mancebo/Getty Images
Marquess Wilson (88) will try to catch on to an NFL team after he walked out on his Washington State team before the season was over.
Miguel Maysonet was primed to showcase his running back skills at the East-West Shrine game, but the Stony Brook star hurt his hamstring and could not participate in the all-star contest.
Maysonet, who is a three-time All-Big South selection, will not run the 40-yard-dash and may be slowed in other drills, but he is someone to keep an eye on as the draft draws near.
Washington State wide receiver Marquess Wilson has a lot to prove to NFL brass while in Indianapolis, but few of that has to do with his on-the-field performance. The lengthy (6'4") Wilson has the tools teams are looking for, but his maturity might be in question.
He was suspended after nine games for "violation of team rules," after which he quit the team and accused head coach Mike Leach and his coaching staff of bullying players.
It's hard to call a potential second-round draft pick under-the-radar, but Tennessee's Dallas Thomas is rarely mentioned when talking about top left tackle prospects. Thomas started two years at left tackle before moving to guard for the Vols. At 6'5" and 300 pounds, Thomas could be part of the answer to the Chargers offensive line woes.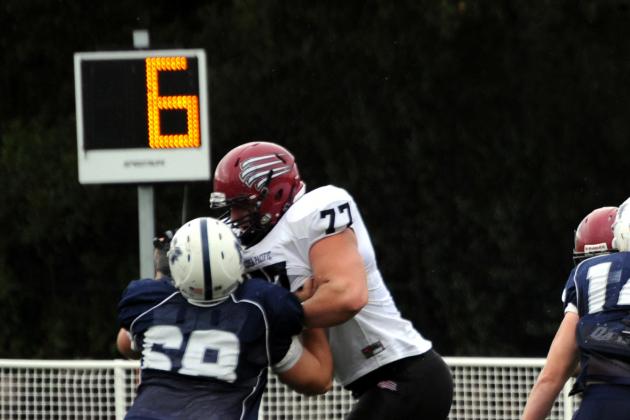 Luke Marquardt (77) has the size and coaching NFL teams will covet. Photo courtesy Azusa Pacific Sports Information
It is no secret the Chargers need to address the offensive line. It will take more than free agency to fix what ails this unit. Pieces need to be added via the draft as well.
Pay attention to Luke Marquardt during the combine.
He is huge (6'9", 322 lbs.) and is the type of athlete scouts have been looking for lately.
It is well-documented Oklahoma's Lane Johnson played quarterback and tight end before settling in at left tackle. Florida State's Menelik Watson (a possible second- or third-round pick right tackle) was praised for his basketball background.
Marquardt originally went to Azusa Pacific to play basketball, but ended up on the football team, where he started out as a tight end.
Because of injuries to starters, he was switched to left tackle his sophomore year. He blossomed under the coaching of NFL Hall of Famer Jackie Slater.
Watch his footwork in drills and see what his bench press is, as those (and lack of quality opponents in college) are going to be the biggest aspects scouts are worried about. He will probably be the tallest participant in the combine, but could be a major find in the late rounds or as an undrafted free agent.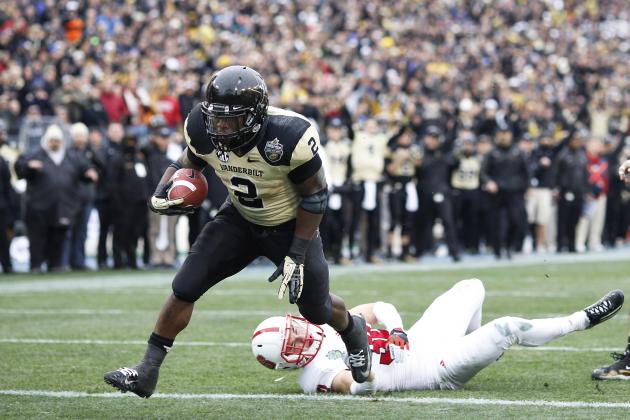 Joe Robbins/Getty Images
Stacy (2) is a strong runner who could give Ryan Mathews a rest.
Ryan Mathews has missed 10 games in his three-year career with the Chargers. In addition to losing playing time, the former first-rounder has also lost the ball. Mathews has fumbled the ball 12 times, with the defense recovering the loose ball seven times.
While an ineffective offensive line can be blamed, at the very least Mathews need to have a viable backup.
Most of San Diego's current running back group is about to become free agents, meaning RB will be an area of interest while in Indianapolis.
Vanderbilt's Zac Stacy rushed for 1,141 yards, third-most in the SEC. Stacy is a big, punishing back (5'9" 220 lbs.) who looks for defenders to hit rather than run away from.
This punishing style has led to a couple of injuries for Stacy, but he ended his career as the Commodores all-time leading rusher (3,143) and all-time rushing TD scorer (30). He could become the go-to short-yardage running back for San Diego.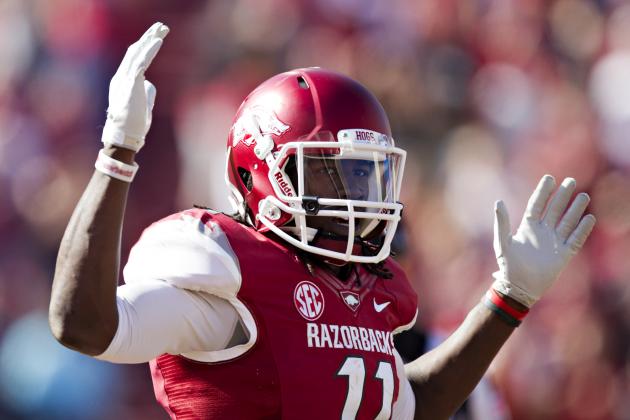 Wesley Hitt/Getty Images
Hamilton was first-team All-SEC, so why is he overlooked?
It's not often an All-SEC first team selection is viewed as "under-the-radar," but this is the case for Arkansas' Cobi Hamilton.
In fact, NFL.com has two SEC wide receivers rated higher than Hamilton (Cordarrelle Patterson and Justin Hunter, both from Tennessee).
Hamilton has great size (6'3", 209 lbs.), great hands (second in the SEC with 90 receptions), and great speed, having run the 200 meters for the Razorback track and field team in 2010.
So why is he projected as a third-round pick instead of a first- or second-round choice?
Hamilton did not play well against press coverage. Despite his size, he was pushed around at the line of scrimmage.
He also catches the ball in his chest and against his body too often, instead of with his hands. If he has a decent bench press (about 15 reps) and catches with his hands in drills, Hamilton could be erase those concerns.
Even though wide receiver may not be the most pressing need, adding quality targets for quarterback Philip Rivers is still a need. Hamilton has the size and speed the Chargers have typically gone after in the past.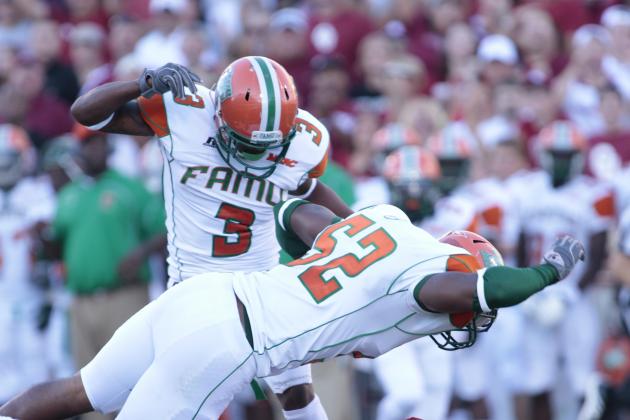 Brett Deering/Getty Images
San Diego could take a flyer on Hepburn (52) and gain a mature leader.
If NFL teams were looking to draft upstanding men in the community, Brandon Hepburn would be one of the top of prospects in consideration.
The Florida A&M inside linebacker worked at a homeless shelter, drove children to church, was the president of the school's chemistry club, earned a degree in biochemistry, and also helped find a way to kill cancer cells.
But the NFL is not filled with choir boys. A quick look at the police blotter will let you know which player has been arrested for drugs, assault, gun possession, DUI and more.
For better or worse, off the field character means less than on the field production. Hepburn can flat-out play.
He led the Rattlers with 60 solo tackles and 86 total tackles. His 5.5 sacks was tied for most on the team and his 9.5 tackles-for-loss were second-most.
The Chargers have yet to decide the future of Takeo Spikes or Shaun Phillips, and Hepburn has the experience at inside linebacker and the size for outside linebacker.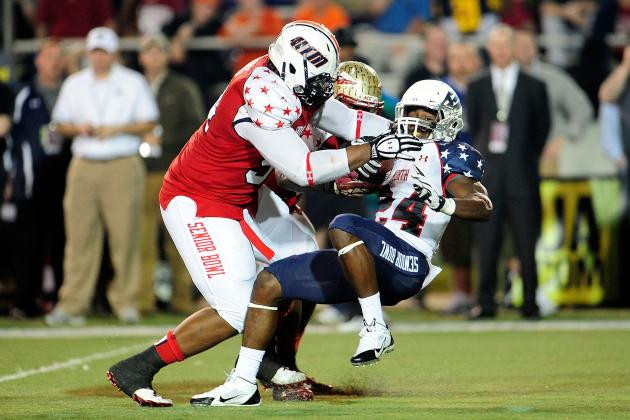 Stacy Revere/Getty Images
About the only thing small with Hughes is his college.
Montori Hughes is a massive defensive tackle (6'4", 330 lbs.) who had to transfer from the University of Tennessee because of academic problems.
Hughes has the size and strength to play nose tackle, which is a need for San Diego.
At the Senior Bowl, Hughes showed he can take on double teams from elite offensive linemen and still make plays. The major knock on him (as expected with big-bodied linemen) is he does not have great endurance and takes plays off.
It will be interesting to see how Hughes performs in drills as the day rolls on.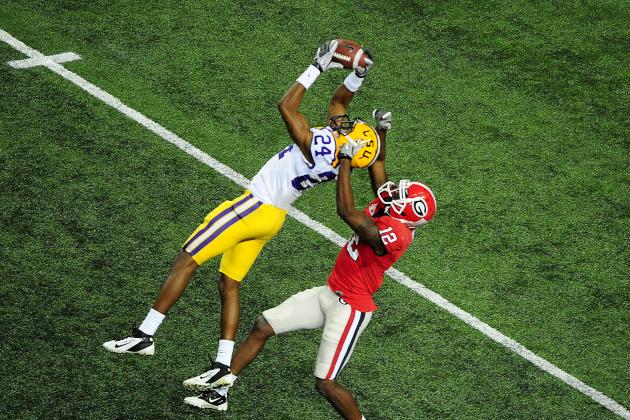 Scott Cunningham/Getty Images
Simon (24) has the length NFL teams are looking for in CBs.
Richard Sherman (when he isn't engaging in fantastic Twitter wars) is proving to be one of, if not the best cornerback in the NFL.
He has fluid hips, tracks the ball well and at 6'3" has incredible size.
LSU's Therold Simon is no Sherman, but he has a lot of those same qualities.
Simon is fluid, can track the ball well and has size (6'3", 193 lbs.). One thing Simon needs to work on is press-coverage.
While there are no press-coverage drills at the combine, his bench press mark will be relevant. And when he is doing positional drills, watch to see if he can get his tall frame low when needing to change direction.
San Diego is in need of a cornerback as both Quentin Jammer and Antoine Cason are about to become free agents. Simon could fill one of those former starters' shoes.