Pittsburgh Steelers: Is Tim Tebow a Quarterback Option for the Steelers?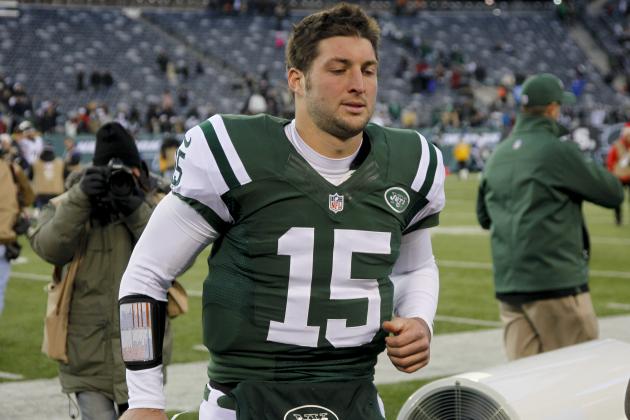 Jeff Zelevansky/Getty Images

One of the largest question marks on the Pittsburgh Steelers' roster next year is the backup quarterback position. Byron Leftwich and Charlie Batch left something to be desired, and a youth movement is necessary in the position behind Ben Roethlisberger.
Could Tim Tebow be in play if the Jets decide to cut him loose? It's tough to imagine the Steelers trading for him and his first-round salary, but the team could kick the tires on the polarizing quarterback if he's available for anyone to sign to a cheap deal.
Let's look at a few reasons why Tim Tebow might (and might not) be the next backup quarterback for the Pittsburgh Steelers.
Begin Slideshow

»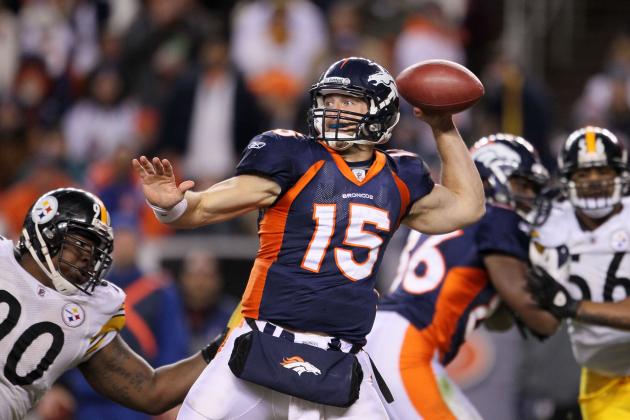 Jeff Gross/Getty Images

The Steel City witnessed firsthand what Tim Tebow can do against an elite defense when his Broncos downed the Steelers in the 2011 NFL Playoffs.
Tebow threw deep pass after deep pass, culminating with an 80-yard touchdown toss to Demaryius Thomas to beat the Steelers in overtime. Tebow finished the day with 316 yards on just 10 completions, and he added 50 more yards on the ground.
The Steelers underestimated Tebow when they met that January night, and they might not want to do so again if they have the chance to bring him aboard.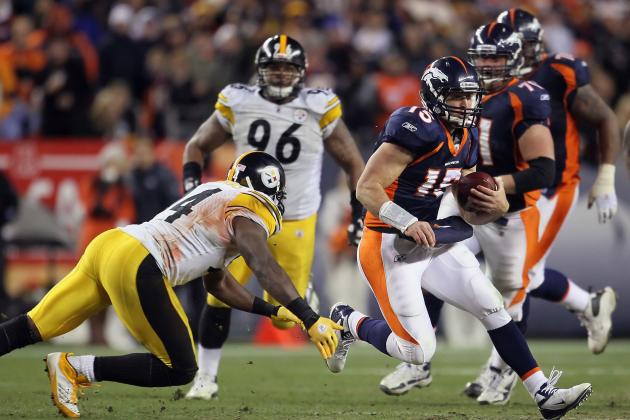 Jeff Gross/Getty Images

The loss to Denver left a bad taste in the mouths of Steeler Nation, and it's possible that it soured the Steelers opinion of Tebow as well.
The mixed feelings on bringing in a guy that dealt Pittsburgh a truly embarrassing playoff loss might be a pill that's too bitter to swallow. Tebow's success against the Steelers may have cost him a shot at coming to the Steel City.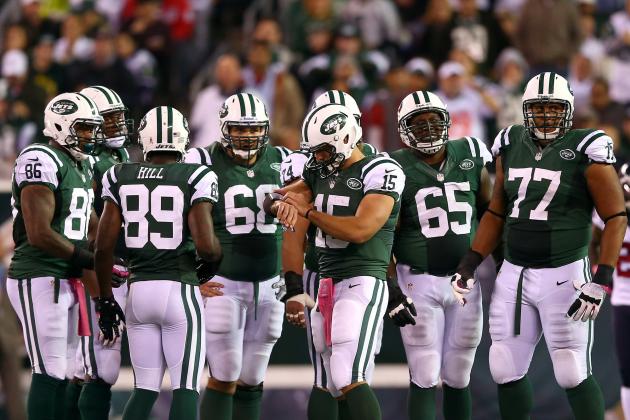 Elsa/Getty Images

The leadership void in Pittsburgh's locker room was palpable last season. No one was willing to step up and inspire the team.
Tebow has been doing just that his entire career, and that's something teams want from the quarterback position.
Think back to his time at Florida after the tough loss to Ole Miss in 2008. Tim Tebow responded with this speech during his press conference, which is now immortalized on a plaque in Gainesville:
To the fans and everybody in Gator Nation, I'm sorry. I'm extremely sorry. We were hoping for an undefeated season. That was my goal, something Florida has never done here. I promise you one thing, a lot of good will come out of this. You will never see any player in the entire country play as hard as I will play the rest of the season, and you will never see someone push the rest of the team as hard as I will push everybody the rest of the season, and you will never see a team play harder than we will the rest of the season. God bless.
Doesn't that make you want to get up and play for this guy? This is the kind of leadership that Pittsburgh lacked last year.
More importantly than anything else, Tebow delivered.
The Gators rolled all the way to the National Championship game, where Tebow led Florida to a comeback victory over Alabama. It doesn't get any better than that.
He continued to show his moxie in the NFL, racking up six come-from-behind victories in his first 11 starts. Whatever the "clutch bone" is, Tim Tebow has it.
Jim Rogash/Getty Images

Tim Tebow could use some refinement when it comes to playing the quarterback position. He has improved his mechanics, but his accuracy and decision-making abilities are definitely a work in progress.
He is very dangerous when he decides to tuck and run, but the NFL is still a passing league. Tebow will need to improve his ability to hit receivers, on time and on target, in order to stick in the NFL.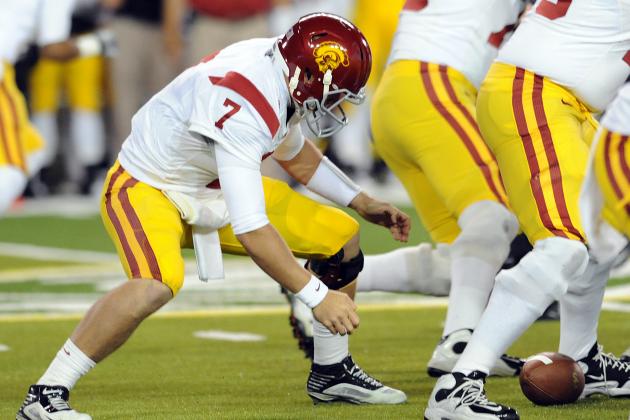 Steve Dykes/Getty Images

I think that the Steelers' quarterback of the future is in next year's draft.
I'd like to see them eventually land Aaron Murray or Tajh Boyd, but this year's draft is full of mediocre prospects. Signing Tebow would allow the team to avoid wasting a precious draft pick on a player they aren't high on.
I'm not saying that they should sign Tebow to a mega-deal. Instead, have him be a Band-Aid for one season while the Steelers evaluate which of the quarterbacks in next year's draft will eventually replace Ben Roethlisberger.
Tebow has been solid in spot duty when he isn't getting jerked in and out of game action after a snap or two. If Roethlisberger misses game action in 2013, Tebow could take the reins and be effective in the short-term.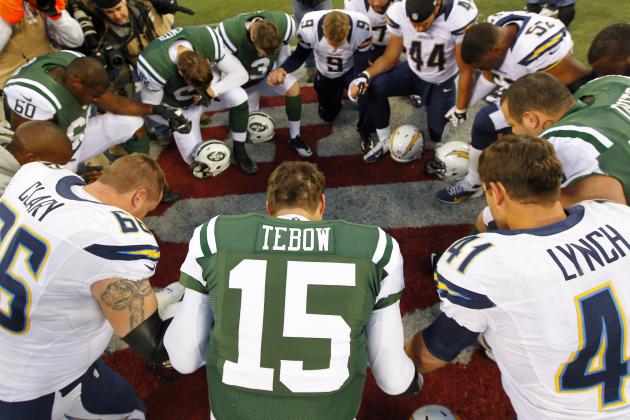 Rich Schultz/Getty Images

Tim Tebow, because of his very public statements concerning his faith and his values, is the most popular and polarizing player in the NFL—at least from a buzz standpoint. Everyone has an opinion on him, and often people are very vocal about what that opinion is.
The Steelers might not want that kind of publicity for any of their players, especially a backup quarterback. In a city where no player is above the team, Tebow might bring with him attention that the Steelers don't want.