Dallas Cowboys: 12 NFL Combine Prospects That the Cowboys Must Closely Watch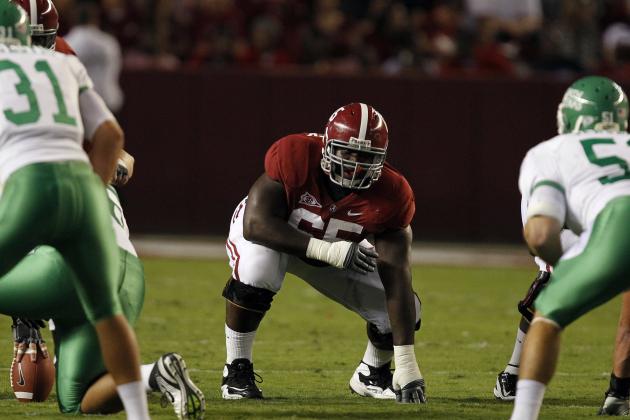 Butch Dill/Getty Images

Ladies and Gentleman, The 2013 NFL Season is about to begin!
The NFL Combine is this upcoming weekend and it signifies the start of another hopeful NFL season.
The Cowboys are a team that will be relying heavily on this draft to help ease the transition to the Tampa 2 defense and to fill holes on their offensive line.
With a ton of depth in this draft and some very solid players that could contribute immediately, the Cowboys will be very busy during the Combine.
Who will the Cowboys be watching?
I would expect the Cowboys would do their due-diligence with all prospects that fit their needs, but there are some stars that they'll be watching a little more closely.
Let's see who they will be.
Begin Slideshow

»
One of the most decorated offensive lineman, Jones has been watching his draft stock fall lately. Jones suffered a Lisfranc injury that has threatened his NFL draft preparation and subsequently, his status with NFL teams.
At one point Jones was considered a high first round pick. He is a versatile offensive lineman who has experience playing all positions. He is smart, strong and athletic. When you watch Jones you see a guy who doesn't make mistakes and understands defensive schemes. He has great footwork, balance and hand placement.
The Cowboys are in serious need of an upgrade on the offensive line. With Doug Free coming off his worst season, the guard position in need of an upgrade and uncertainty at center Barrett Jones would be an instant starter.
At the Combine the Cowboys will talk to team doctors who will evaluate Jones. If they believe that he will recover from this injury with no setbacks, then Jones could be a steal in the second round of this draft.
Warmack is the elite guard prospect of the 2013 NFL draft class. He is an old-school type player that carries a mean attitude with his play.
When you watch Warmack it's hard not to fall in love with him. He has elite size, strength and natural ability. When blocking he doesn't have many weaknesses; He is a force against interior rushers and rarely gets beat. The only downside to Warmack's game is that he is strictly a guard and offers no positional versatility.
The Cowboys need to upgrade their offensive guard position. Mackenzy Bernadeau and Nate Livings haven't lived up to the contracts they were given last offseason and Warmack would immediately stabilize a unit on life support.
The last of the elite Alabama offensive lineman, Fluker is a mammoth right tackle.
Fluker is the type of guy that intimidates opponents. He plays with a mean streak and has great strength. While he isn't going to be an elite blindside protector, he is a mauler and would be a huge upgrade over Doug Free.
Fluker is going to offer some great value in the second round. He's a solid blocker in both schemes, but still has room to grow. The Cowboys will be interested to watch Fluker because of his size and raw ability. Fluker is a guy that can still develop some and could eventually be among the best right tackles in the league. He's an intriguing option opposite Tyron Smith.
The Tampa 2 defense relies heavily on having a rangy free safety that can be trusted in single high coverage.
Enter Eric Reid.
Reid is a rangy guy who had a down season at LSU. He has natural coverage ability and is formidable when playing in the box as well. Reid has to show some consistency and that he has elite speed. I believe that Reid is a solid player who suffered last year because of a lack of talent around him. His best season came when he played along side Morris Claiborne.
Reid will likely not be the number one safety on the Cowboys' list, but he might offer the best value. Some are predicting that Reid could be there in the second and maybe even the third round. If the Cowboys don't feel comfortable with some of the other safeties early, Reid could be a steal if he plays to his potential.
By now you guys know the story. The Cowboys need an offensive guard and Jonathan Cooper is the second ranked offensive guard in the NFL draft.
Cooper isn't anything like Chance Warmack, but that doesn't make him a less appealing prospect. Cooper is an athletic prospect that is a tremendous run-blocker. He isn't an elite pass-blocker, but he is still solid with greater potential. One thing to love about Cooper is his athleticism; he's quick enough to get to the second level with ease and to be a force when asked to pull.
The Cowboys are going to focus more on utilizing a run-balanced offense that is going to require the offensive line to be great at the point of attack and will ask the guards to pull often. Cooper is a great fit for the Cowboys and also offers some position flexibility as he could slide over to center and still be productive.
Cyprien rocked NFL scouts and draftniks when he arrived to the Senior Bowl. Cyprien went from being relatively unknown to an elite safety prospect in one week.
Cyprien is everything you want out of an NFL safety. He has speed, range and is a big time tackler. He is a true playmaker; he sees the field so well and understands what offenses are doing. His instincts will allow him to become elite. It's his measurables, however, that have made him the second round prospect that he is.
The Cowboys will keep their eye on Cyprien in every drill. They'll want to see how he weighs in, what his vertical is and how he runs in drills and the timed run events. Cyprien could be a perfect fit as a true free safety in the Tampa 2 defense.
The defensive tackle position is as deep as it's been in a long time. In most cases, Short would be a solid first round prospect, but in 2013 he'll be a value pick for a team looking in the second round.
Short is a dynamic 3-technique who plays tough and fast. He is good at understanding how to attack interior lineman and sheds blocks with relative ease. Short has an explosive first step and gets up the field quickly.
The Cowboys have seen their defensive tackles suffer at the hands of the law. With Josh Brent likely facing jail time and Jay Ratliff facing a potential suspension, the Cowboys are depleted at the defensive tackle position. To make matters worse, there was already a huge need at the 3-technique spot. Now, it's bare, and Short would go a long way at solidifying that for the future.
Often referred to as an immovable object on the offensive line, Warford is the "value guard" in this NFL Draft.
Warford has the ability of a high first round draft pick. Typically NFL teams stay away from guards early on and that could work out in the Cowboys' favor.
Warford is a big, strong and surprisingly athletic guard prospect that has caught the eyes of NFL scouts. He is a phenomenal blocker who shuts down defenders once he gets his hands on them. Warford can be slow at times off the snap and will have to prove to teams that he can be more explosive.
One thing to watch here is Warford through his athletic drills. The Cowboys will want to see how good he is with his feet and the fluidity of his game. If he can prove to be among the best at those drills, he'll be a consideration in the first round.
Raise your hand if you're tired of dealing with the nagging injuries that have ruined the Cowboys' rushing attack.
That should be all of you.
The Cowboys need to make it a priority to look at the running back position. A prospect who might offer some great value is Montee Ball out of Wisconsin.
Ball isn't a burner by any means, but he is a capable complete back. He is a hard worker who has excellent vision. He knows where the goal line is and fights to get there. He is reliable as a receiver and could feature in many offenses.
The Cowboys need someone they can rely on as an every-down back in the event that DeMarco Murray suffers another big injury. Ball could be a reliable guy that could eventually come in and be the starter for the future.
A favorite of many Cowboys fans, Floyd is as dynamic a 4-3 defensive tackle as you're going to get.
Floyd is a blue collar type player who has a very good motor. He is stout at the point of attack and has a knack for getting to the ball. He could come in and immediately be the best defensive tackle on this team. He is great against the run and is capable in pass rush. He isn't a blazing fast guy and he might struggle getting up field, but he makes plays.
Defensive tackle is arguably the Cowboys' biggest need this offseason. The Cowboys could select Floyd and nab one of the few elite prospects in this draft. Jerry Jones and Co. will be watching Floyd during speed drills. Before they select him they'll want to feel comfortable with Floyd as a player who can consistently get up the field.
While Floyd might be the best overall 4-3 defensive tackle in the draft, Richardson is the best fit for the Cowboys' Tampa 2 scheme.
Richardson is a guy who has a relentless motor. He understands how to beat his opponent and does it with great speed and strength. Richardson is your prototypical Tampa 2 3-technique; he is always getting up field and is disruptive in both pass rush and run pursuit. Richardson projects as a guy who could develop into a very special player in the right scheme.
The Cowboys will watch Richardson more closely than any other player. They'll want to know everything about him from his strength numbers to his speed. Richardson is a very realistic option in the first round and the Cowboys will do their due diligence to make sure he's the best pick.
Tony Romo isn't getting any younger, folks. He also isn't getting any more durable, especially at the hands of that offensive line.
It's time to consider a potential developmental guy who can be groomed for the future.
Bray is every bit the talent as that of the top quarterbacks in this draft. Bray is a guy with a canon arm and great pocket presence. What Bray struggles with is his footwork and decision making, both are habits that can be broken with good coaching.
Bray could come in and develop into something special behind Tony Romo. The Cowboys will be watching to see how he does with his footwork and accuracy. If there is a sense that the Bray could develop into a solid NFL starter, then expect the Cowboys to jump on him if he's available in the fourth.