Scrapheap Signings Who Actually Have a Shot at Opening Day Rosters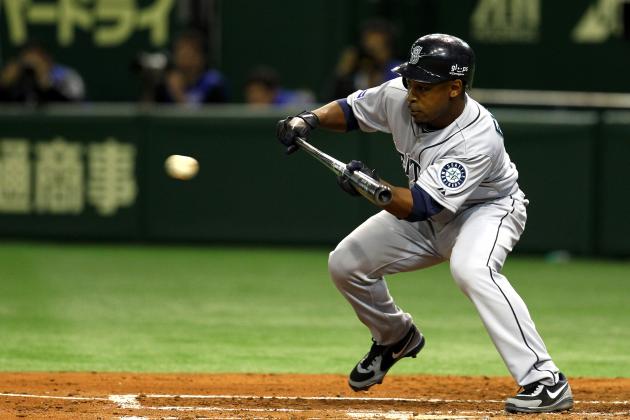 Koji Watanabe/Getty Images

Picking from the scrapheap in baseball is a lot like picking your nose—while you aren't entirely sure what's going to come out, you're fairly certain that it won't be pretty.
It's a place where players far removed from their former glory wind up, desperately hoping for one more chance to occupy a roster spot and extend their playing careers. If this were college, we'd see general managers making the dreaded "Walk of Shame" back from the pile after inking someone to a contract.
Nobody wants to be associated with it.
Yet year after year, a handful of players whose playing careers were left for dead do just enough in spring training to earn a spot on a team's 25-man roster.
This season won't be any different.
Let's take a look at the small group of players inked to minor league contracts with an invitation to spring training who have a realistic shot of breaking camp with their new clubs.
Begin Slideshow

»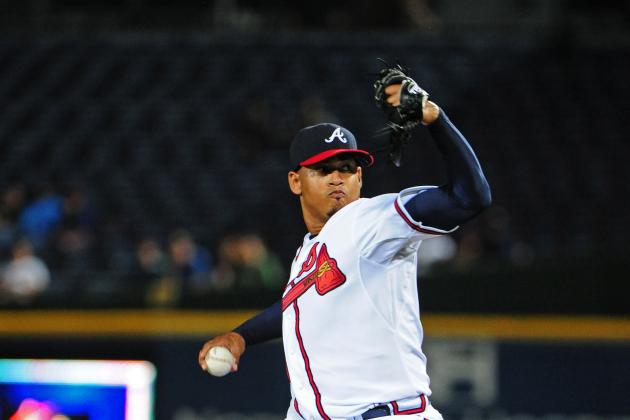 Scott Cunningham/Getty Images

Baltimore signing Jair Jurrjens could be one of the shrewdest moves of the winter.
The 27-year-old right-hander was never right last season, battling inconsistency and injury while spending the bulk of the year in the minor legues. In 11 games (10 starts) for Atlanta, he went 3-4 with a 6.89 ERA.
Jurrjens, an NL All-Star in 2011 with the Braves, is 53-37 with a 3.62 ERA over 125 career starts, all but seven in Atlanta. He told the Baltimore Sun's Eduardo A. Encina that he hasn't felt this good in years.
Another thing working in Jurrjens' favor is that his competition doesn't include top prospects Dylan Bundy or Kevin Gausman, according to manager Buck Showalter.
If Jurrjens is healthy, with his previous big league success, it's hard to imagine that Jake Arrieta or Zach Britton, who have both struggled to get major league batters out consistently, has a real shot of beating him out for the fifth and final spot in Baltimore's starting rotation.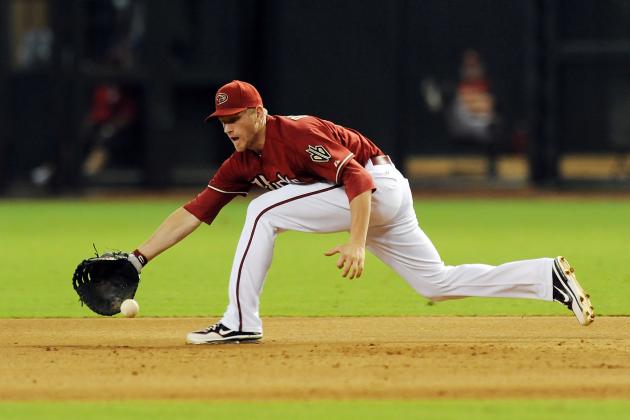 Norm Hall/Getty Images

Boston was concerned enough about first baseman Mike Napoli's hip that it backed out of the three-year, $39 million deal it originally agreed to and wound up signing the 31-year-old to a one-year, incentive-laden deal worth at least $5 million.
With that in mind, you can be sure that the Red Sox are going to carry a capable backup, someone who won't hinder the team's chances to win a game when called into action.
Mauro Gomez, 28, a career minor-leaguer who appeared in 37 games for Boston down the stretch in 2012, looks like Lyle Overbay's biggest competition for that backup job as spring training gets underway.
Overbay, 36, hit .259 with a pair of home runs and 10 RBI for the Arizona Diamondbacks and Atlanta Braves in 2012. He's a shell of the player he once was with the Milwaukee Brewers, but for a backup first baseman, Overbay is more than capable.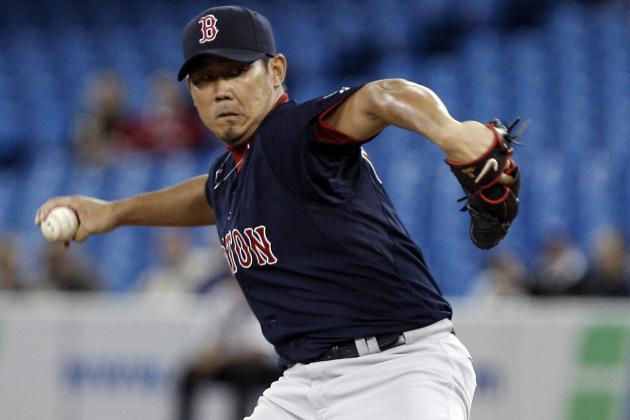 Abelimages/Getty Images

OK, so Daisuke Matsuzaka didn't have 25 different pitches, the pitches that he did have became hittable and he simply wasn't worth the more than $100 million that it cost the Boston Red Sox to sign him out of Japan.
But it's a new day for Dice-K, and being reunited with skipper Terry Francona, a man who saw both the best and worst that he the 32-year-old right-hander had to offer in Boston, may be exactly what he needs to get his career back on track.
Cleveland's starting rotation was one of the worst in baseball in 2012, and while Ubaldo Jimenez, Justin Masterson and Brett Myers are assured of a spot in the Indians rotation, the last two spots are far from locked down.
It will take a strong showing in spring training, but there's no reason that Matsuzaka couldn't beat out the likes of Carlos Carrasco, Zach McAllister and prospect Trevor Bauer for one of those two spots in the rotation.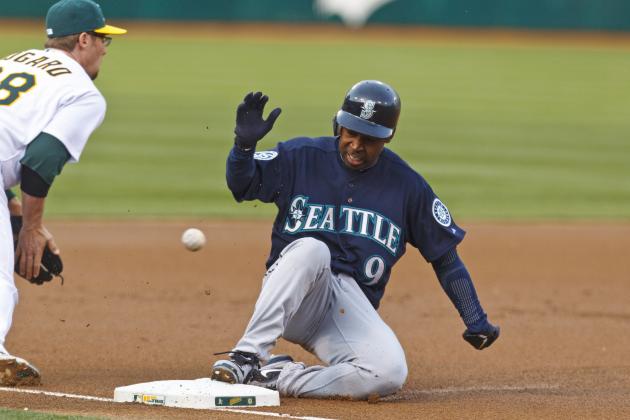 Jason O. Watson/Getty Images

Aside from Giancarlo Stanton, Rob Brantly and the oft-injured Logan Morrison (who is still recovering from knee surgery), Miami's new manager, Mike Redmond, doesn't have a whole heck of a lot to work with.
While 35-year-old Chone Figgins hasn't hit above the Mendoza Line since 2010, posting a .185/.249/.253 slash line over the last two seasons with the Seattle Mariners, he's got a legitimate shot to make Miami's Opening Day roster.
Figgins isn't likely to hit much, and the explosive speed that made him one of the game's most electrifying players during his heyday with the Los Angeles Angels of Anaheim is a thing of the past.
But he offers Miami versatility, having spent time at every position other than first base, catcher and pitcher over the course of his career. On a team with limited resources, both financially and talent-wise, Figgins very well may already have a roster spot locked up before he even plays a spring training game.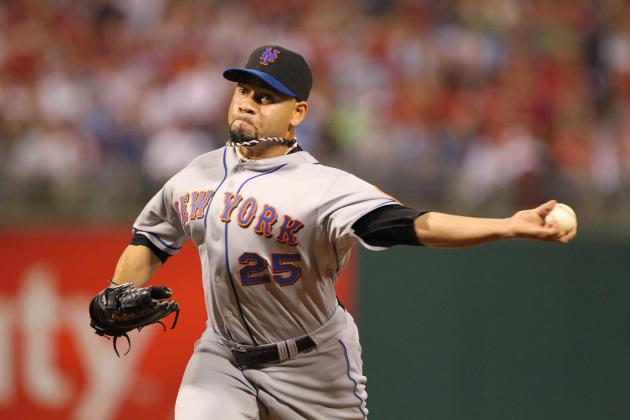 Hunter Martin/Getty Images

The New York Mets have turned to a familiar face to try and bolster what was one of the worst bullpens in all of baseball last year—and he's got a real chance of sticking.
Left-hander Pedro Feliciano, who spent the first eight years of his career in Flushing, returns to the team that, according to New York Yankees GM Brian Cashman, "abused" the now 36-year-old reliever.
After appearing in 266 games for the Mets from 2008 through 2010, either tying for or leading the league in appearances each season, Feliciano signed a two-year deal with the crosstown Yankees as a free agent.
He hasn't thrown a major league pitch since, spending most of his two years in the Bronx on the disabled list.
While the Mets have added a number of relievers to the mix, none of them are left-handed, which gives Feliciano a leg up on the other non-roster relievers in camp.
His primary competition for one of the two left-handed spots in the bullpen, Josh Edgin and Robert Carson, combined to go 1-2 with a 4.62 ERA and 1.18 WHIP in 39 innings of relief for the Mets in 2012.
Feliciano, who pitched to a 1.23 ERA in seven relief appearances during the Puerto Rican winter league this offseason, has a real shot of making the Opening Day roster with a strong showing in spring training.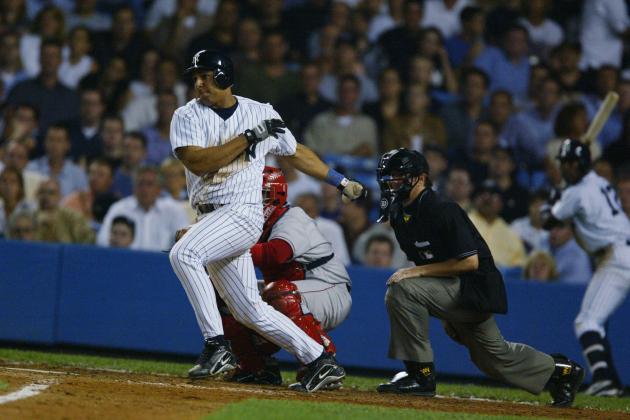 Al Bello/Getty Images

He never lived up to the hype that made him one of the top prospects in the New York Yankees system in the late 1990s and early 2000s, but Juan Rivera has put together a respectable 12-year major league career that has come full circle.
Rivera, 34, is one of many players vying for the spot of right-handed hitting outfielder off of the bench in spring training, but he's got a leg up on his competition in that he can also play first base.
Kevin Youkilis, the Yankees' best option to fill in for starter Mark Teixeira when he needs a day off, is entrenched at third base in place of the injured Alex Rodriguez, while Nick Swisher, who moved to first from his spot in right field in years past, is now in Cleveland.
Rivera will likely face a challenge from Dan Johnson, who hit .170 with five home runs and 10 RBI in just over 100 at-bats for the Tampa Bay Rays and Chicago White Sox since 2010. By comparison, Rivera, in just over 300 at-bats for the Los Angeles Dodgers last year, hit .244 with nine home runs and 47 RBI.
The Yankees could live with that kind of production from a part-time player.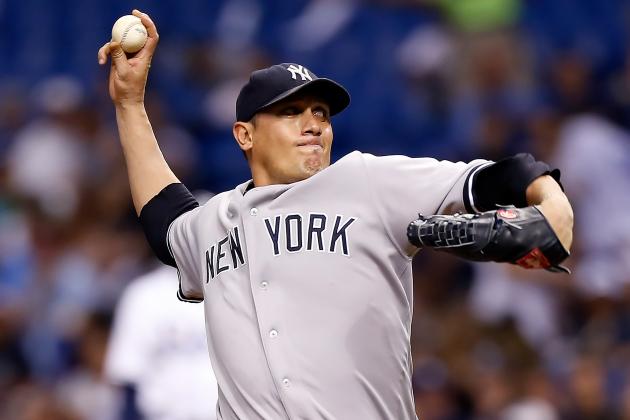 J. Meric/Getty Images

San Diego Padres GM Josh Byrnes has done a solid job of accumulating young talent for his rebuilding franchise, but one area where the team is still lacking is in the starting rotation.
As it stands now, three of the Padres' starting pitchers—Andrew Cashner, Cory Luebke and Joe Wieland—are still recovering from injuries and aren't likely to be ready for Opening Day.
That leaves the Padres rotation thin, and it opens the door for Garcia to break camp with the Padres.
Garcia, 36, has spent the past two seasons as a swing man for the New York Yankees, appearing in 56 games, 42 of which were starts. In those starts, Garcia has gone 17-14 with a 4.45 ERA and 1.39 WHIP.
He's not going to wind up receiving support in the NL Cy Young Award voting, but Garcia has enough left in the tank where he could be a reliable arm for manager Bud Black to give the ball to every fifth day.