2013 Boston Red Sox: 5 Reasons John Lackey Will Find Success Again in 2013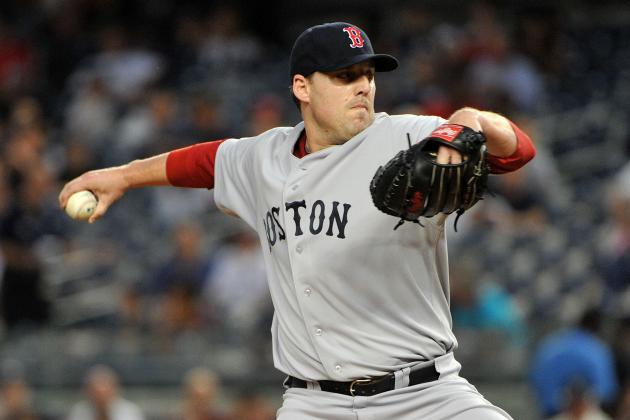 Christopher Pasatieri/Getty Images
Lackey has been a sad sight in Boston since day one
Since joining the Boston Red Sox, John Lackey has been notable only for his disappointing lack of production on the mound.
The Red Sox initially signed him to a five-year, $82.5 million deal after he had several All-Star-caliber seasons with the Los Angeles Angels. Instead of building on his past success, Lackey has been a disappointment since day one.
However, after a lost 2012 season due to injuries, there is renewed hope that Lackey may return to form in 2013 now that he is fully healthy. Here are five reasons why he will finally find success in 2013.
Begin Slideshow

»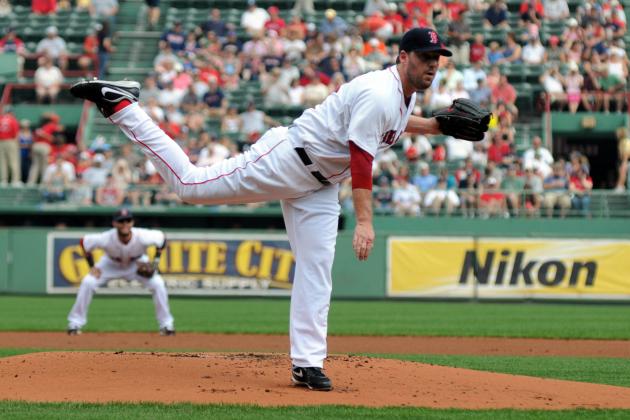 Darren McCollester/Getty Images

Lackey's reputation precedes him as a very durable pitcher, capable of working late into games, regardless of his pitch count. Although you won't mistake him for Roy Halladay, Lackey is a workhorse.
He's thrown over 200 innings six times in his career thus far, and he has thrown at least 160 innings every year since his rookie season in 2002.
Much of Lackey's value rests in his ability to eat innings. Fortunately for the Red Sox, he has shown no signs of regressing in this area. Lackey tossed an impressive 375 innings in 2010 and 2011 for Boston.
Jon Lester is the only member of the Red Sox staff who completed more innings of work over that time period.
Endurance aside, a healthy John Lackey can be an effective pitcher.
In his first year with the Red Sox, Lackey saw his ERA jump, his walk rate increase and his strikeout rate decrease. Furthermore, his 4.40 ERA was a less-than-ideal performance from a player making $16 million per year.
However, upon closer inspection, Lackey was not all that bad. His Fielding Independent Pitching (FIP) in 2010 was a very solid 3.85, and his WAR checked in at 4.1, greater than that of Clay Buchholz and Josh Beckett in the same year.
Furthermore, in Lackey's disastrous 2011 season, where he posted a 6.41 ERA, his FIP was much lower at 4.71.
This statistic suggests that Lackey's poor performance was as much the result of defensive shortcomings as it was his own pitching.
This is interesting, because as most Red Sox fans know, Lackey has a nasty habit of flailing his arms around in annoyance whenever a defender makes on error while he is on the mound. His low FIP suggests that his anger may not be so unwarranted.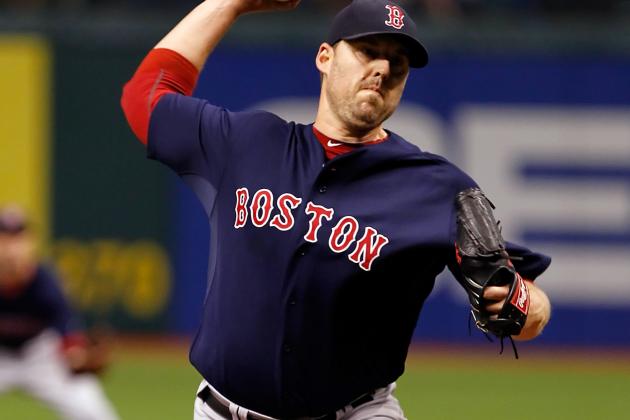 J. Meric/Getty Images

Lackey lost a large portion of his 2011 season due to discomfort in his elbow that eventually sidelined him as the season wore on. His elbow eventually needed surgery, forcing him to sit on the bench for the entirety of Boston's horrendous 2012 season under Bobby Valentine.
This spring, Lackey is returning from successful reconstruction of the ulnar collateral ligament in his throwing elbow. Assuming he doesn't meet any setbacks, he will be healthy and ready for Opening Day.
Historically, pitchers who undergo this procedure, known commonly as Tommy John surgery, often return to baseball rejuvenated and strengthened. Some pitchers who undergo the procedure even see an uptick in their fastball velocity.
Recent examples of this phenomenon include Cardinals ace Chris Carpenter, who had the best statistical season of his life after returning from the surgery. Tim Hudson rejuvenated his career with his best season in half a decade after undergoing Tommy John.
While not all cases are as inspiring as the two aforementioned (Dice-K anyone?), there are enough success stories following Tommy John surgery to spark some modicum of hope in the minds of Red Sox fans.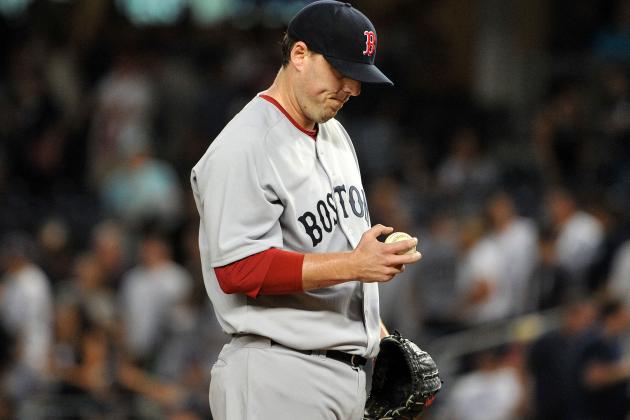 Christopher Pasatieri/Getty Images

Just recently, pitchers and catchers reported to Fenway South, marking the much-anticipated start to the baseball season.
As disappointed Patriots fans build up hope for the coming Red Sox season, they will look to its greatest weakness: Pitching.
To that end, the addition of John Farrell should help greatly. While nobody doubts that Farrell will be a hue asset to younger arms like Clay Buchholz and Jon Lester, he may very well hold the key to restoring Lackey to his former glory.
Farrell worked with Lackey in 2010. He knows the ins and outs of his motion and pitches.
With any luck at all, Farrell will notice some mechanical flaw or gripping error in Lackey's pitching.
At the very least, Farrell will be a supportive voice among pitchers such as Lackey who have struggled lately. With confidence issues being cited as a primary reason for the rotation's lackluster performance over the past two years, that strong clubhouse voice may be all Lackey needs to achieve his goals.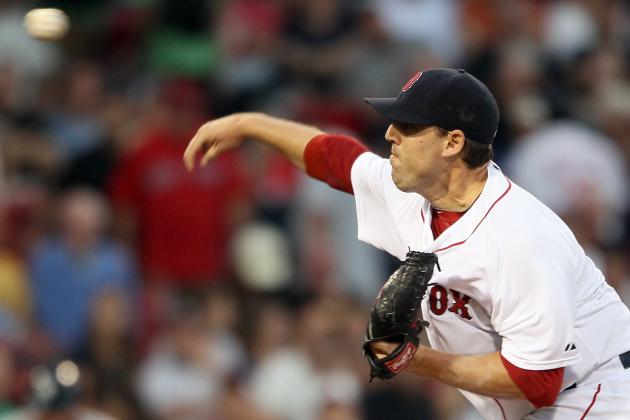 Elsa/Getty Images

Ask any Angels fan about Jon Lackey, and the reaction will always be positive. The Angels remember Lackey as a durable, quality pitcher who led the league in ERA in 2007, in route to a third-place finish in Cy Young voting.
In his most successful days with the Angels, John Lackey relied primarily on a four-pitch mix of a fastball, curveball, slider and a rarely used changeup.
In those years, Lackey's fastball averaged a littler over 91 mph. Interestingly enough, his fastball velocity in Boston is roughly the same as it was in LA all those years ago. He still throws a curveball, slider, and changeup as well.
One major difference that scouts will point out is that Lackey's curveball ,his best off-speed pitch, lacks the same shape and depth that it had when he was pitching for the Angels, thus forcing him to rely more heavily on his slider.
There are several possible explanations for this.
One, Lackey's elbow injury in 2012 adversely affected his ability to throw his curveball. Two, Lackey is making a mechanical error in throwing his curveball that has caused problems. This is where John Farrell would hopefully assist.
And the third, and most unfortunate potential explanation, is that Lackey has lost the ability to throw his curveball due to age or some other irreversible problem.
Fortunately, Lackey's slider is a very strong secondary offering that he can rely on. However, a rejuvenated curveball could go a long way toward returning him to success.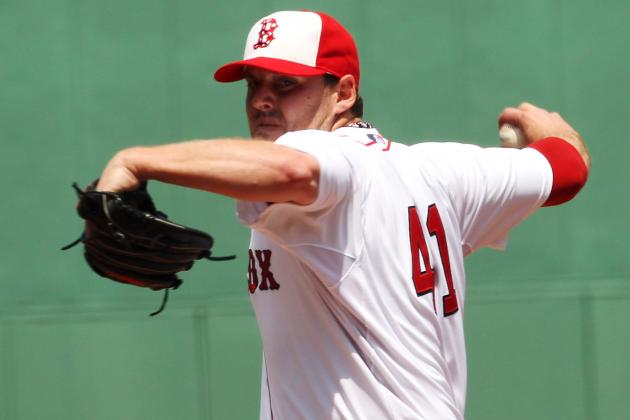 Jim Rogash/Getty Images

As mentioned in the first slide, Lackey's struggles in recent years have stemmed, in large part, from defensive inadequacies behind him. Thanks to Ben Cherington's offseason work, that will hopefully no longer be an issue.
The Red Sox defense is very strong this year.
Up the middle, Gold Glover Dustin Pedroia forms a very strong double-play team with Stephen Drew. Will Middlebrook's arm at third is a huge asset. Mike Napoli may be nothing to brag about, but he should get the job done at first.
Red Sox backup catcher, David Ross, is also a defensive stud.
In the outfield, the Red Sox have a speedy two-headed monster in Jacoby Ellsbury and Shane Victorino. The two Gold Glove winners should provide top-notch defense spanning all the way from left center field to Pesky Pole in deep right field.
Johnny Gomes is an adequate defender in left, but his likely platoon partner, Ryan Sweeney, is a defensive specialist who will handle any outfield position effortlessly.
The Red Sox defense this year is a huge strength, one that should go a long way toward helping John Lackey and others regain and maintain their former success on the mound.
All statistical information obtained from Fangraphs.com unless otherwise specified.