Analyzing Every Red Sox Pitcher's Best Pitch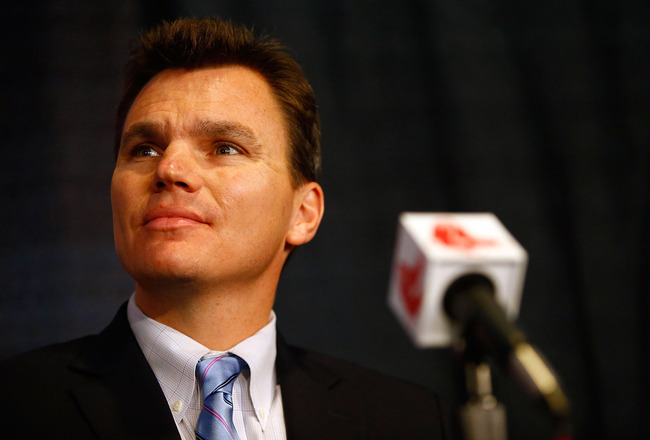 Ben Cherington has put together a strong bullpen.
Jared Wickerham/Getty Images
With pitchers and catchers having reported to Fort Myers, Fl. and starting preparation for the 2013 season, it is a good time to discuss each Red Sox pitcher's best pitch.
The Starting rotation is all but set and the bullpen looks like it could be Boston's best in years.
I have broken down the starters and relievers and which pitch they rely on when they need a strikeout, to induce a double play or get that lazy fly ball to end an inning.
Jon Lester, LHP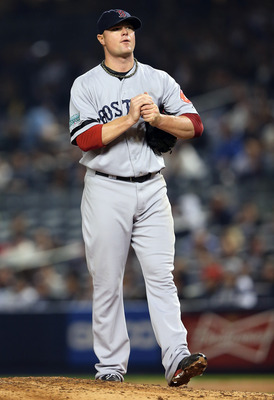 The Red Sox need Jon Lester to return to being a Cy Young caliber pitcher.
Elsa/Getty Images
The hulking lefty struggled in 2012, but with familiar a face—manager Jon Farrell—back, expect Jon Lester to have a bounce back year.
Lester's primary arsenal consists of a mid-90's fastball a cutter and a mid-70's curveball.
While the 29-year-old mixes in a slider or changeup, it's Lester's cutter that is his go-to-pitch.
Lester can use this to jam right-handed batters or induce weak grounders against lefties.
Clay Buchholz, RHP
Clay Buchholz needs to stay healhy if the Red Sox are going to succeed.
Jared Wickerham/Getty Images
The wiry Clay Buchholz's ERA wasn't stellar in 2012, but he was healthy, and like Lester, he should benefit from having Farrell back.
Buchholz isn't a strikeout pitcher, but when he mixes his pitches, he can be lights out.
The 28-year-old throws a mid-90's fastball, a 12-to-6 curveball and a devastating changeup.
Buchholz is cerebral and utilizes the changeup in numerous ways.
He can throw it for strikes to get ahead early in the count, induce weak grounders as hitters roll over the top when they are expecting a fastball and, at times, use it as a strikeout pitch.
John Lackey, RHP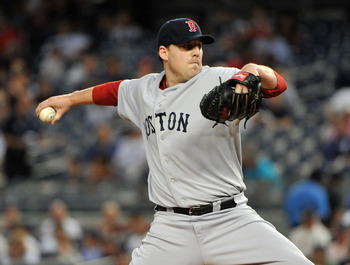 John Lackey can win back fans with a solid 2013.
Christopher Pasatieri/Getty Images
It would be an understatement to say that John Lackey's time in Boston has been disappointing.
However, as we learned he was hurt for much of that time while also dealing with an ailing wife and then a divorce. The real world affects us all, even professional athletes.
Despite under-performing, Lackey has a good repertoire.
He throws both a four-seam and two-seam fastball, but his go-to pitch is his curveball.
Lackey utilizes his curveball to get a strikeout and to induce groundballs.
Ryan Dempster, RHP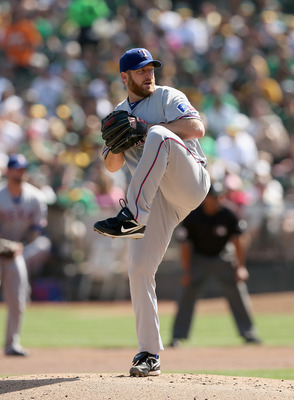 Ryan Dempster is a dependable workhorse.
Ezra Shaw/Getty Images
The former Chicago Cub comes to the Red Sox as after a brief stint with the Texas Rangers.
Ryan Dempster has been utilized out of the bullpen and as a starter, really thriving in the latter role.
While the veteran righty doesn't have overpowering stuff, he utilizes an odd delivery that includes some glove movement to distract hitters.
The 35-year-old throws several pitches including a fastball, splitter, sinker, cutter and a changeup.
However, Dempster's out-pitch is his slider which generates the most swings and misses.
Felix Doubront, LHP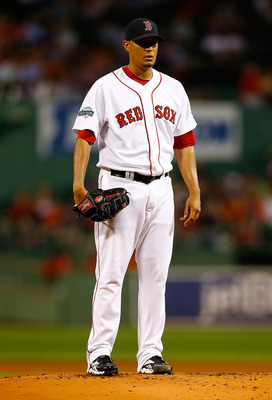 Felix Doubront needs to avoid the sophmore slump.
Jared Wickerham/Getty Images
Rounding out the starting rotation is second year man Felix Doubront.
The lefty from Venezuela showed he has what it takes to make it as a major leaguer, but sophomore years tend to be a challenge for pitchers as hitters have time to watch tape and learn tendencies.
Doubront showed he has the repertoire to be a strikeout pitcher with his best pitch being an above average changeup that generates swings and misses.
Alfredo Aceves, RHP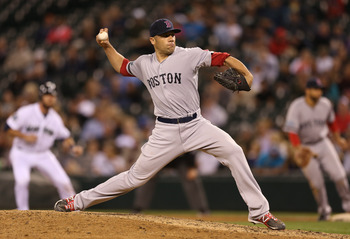 Alfredo Aceves can be a differece maker in the bullpen.
Otto Greule Jr/Getty Images
The rubber-armed Alfredo Aceves will be used as a reliever at least to start the 2013 season.
While Aceves seems to have what it takes to be a spot starter, he is better served as a reliever.
With a more defined role, expect Aceves to be a significant factor in the bullpen and part of that is his above average sinking fastball that produces ground balls.
Andrew Miller, LHP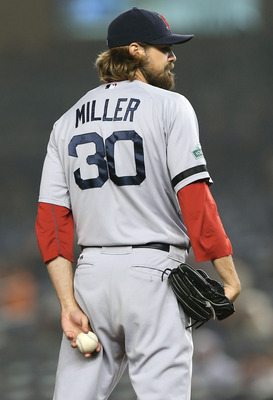 He'll never be Randy Johnson, but Andrew Miller can be a really good lefty out of the pen.
Elsa/Getty Images
2013 may have been Andrew Miller's best season as a pro, and most of that can be attributed to having a defined role as a lefty specialist.
While the former sixth overall pick may never live up to early expectations, he has everything it takes to be a dominating reliever.
While the 27-year-old struggled with command, his curveball is above average with a lot of sweeping action.
However, it is his mid-to-high-90's fastball that is his best pitch.
When his mechanics are solid, he can jam right handed batters and get lefties to chase pitches up in the zone.
Junichi Tazawa, RHP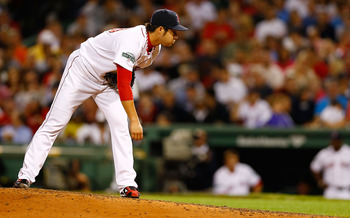 Junichi Tazawa is the anti-Dice-K.
Jared Wickerham/Getty Images
After recovering nicely from Tommy John surgery, Junichi Tazawa has become a strike throwing machine for the Red Sox.
While none of Tazawa's pitches are special, he works the zone nicely with his fastball and when he needs to get a punch out or a weak ground ball he utilizes an above average curveball.
If Tazawa improves, he could see himself thrust into high leverage situations in 2013.
Daniel Bard, RHP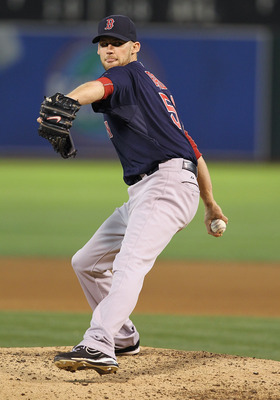 Daniel Bard can rebound under John Farrell.
Tony Medina/Getty Images
After failing as a starter in 2012, Daniel Bard will return to the bullpen under John Farrell.
Bard's mechanics were sloppy as a starter and lead to tremendous control problems.
When Bard was a setup man he had a phenomenal one-two punch with a devastating upper-90's fastball and a knee-buckling slider.
Bard's slider was his best pitch when he was running on all cylinders, as he could drop it in for a called strike or drop the hammer and generate misses.
Craig Breslow, LHP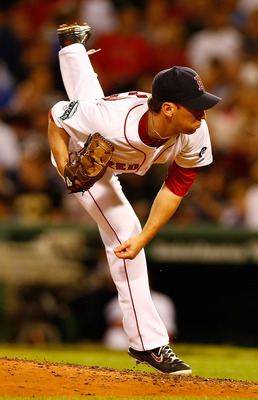 Craig Breslow is dependable and will help solidfy the bullpen.
Jared Wickerham/Getty Images
The veteran lefty was acquired last season from Arizona, and this will be Craig Breslow's first full season in Boston.
Breslow throws a fastball, sinker and changeup, but his best pitch is his cutter.
The Yale graduate can use the cutter to generate strikeouts, jam right handed hitters or induce weak grounders against lefties.
Koji Uehara
Koji Uehara is a strike throwing machine.
Ronald Martinez/Getty Images
When the Red Sox signed Koji Uehara they got themselves another strike throwing righty to add to the bullpen.
The 37-year-old has great command of his fastball, throws a tight slider and a slow curveball.
Though, it is his splitter that causes the biggest problems with hitters. Uehara can get hitters to chase the pitch for a strikeout or cause them to hit weak ground balls.
Franklin Morales, LHP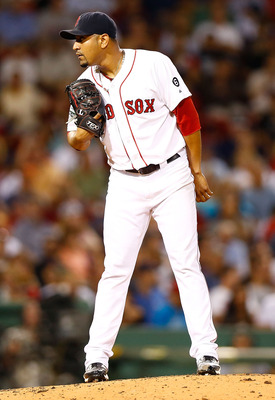 Franklin Morales is capable of starting in a pinch but will be a force as a full time reliever.
Jared Wickerham/Getty Images
Like Aceves, Franklin Morales will have a more defined role in 2013. After going back and forth between the bullpen and the starting rotation, Morales will be a full-time reliever in 2013.
The Venezuelan lefty throws a hard mid-90's fastball and a decent splitter.
Morales' out-pitch is a sharp curveball, which is effective against both righties and lefties.
Andrew Bailey, RHP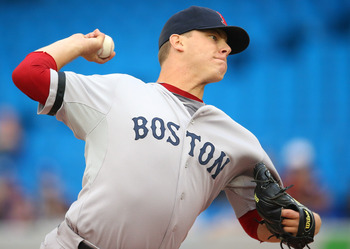 Andrew Bailey can still prove he has what it takes to perform in Boston in 2013.
Tom Szczerbowski/Getty Images
Acquired from Oakland last offseason, Andrew Bailey has closer stuff, but will be the primary setup man in 2013.
Bailey possesses a hard mid-90's fastball, his best pitch is a plus curveball, but part of the reason why he dominates is because he mixes in a cutter and a changeup to keep hitters off balance.
If Bailey bounces back from his injury, the Red Sox will have a devastating one-two punch at the back of their bullpen.
Joel Hanrahan, RHP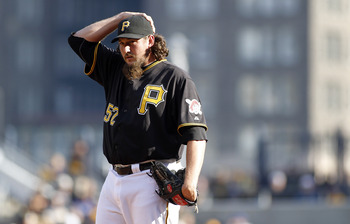 Joel Hanrahan needs to prove he can do it in the AL East.
Justin K. Aller/Getty Images
The affable Joel Hanrahan will be Boston's third closer in as many years.
Acquired in an offseason trade, Hanrahan is very similar to former closer Jonathan Papelbon.
Hanrahan throws a mid-to-high-90's fastball, and his out-pitch is a filthy slider.
The flame-throwing righty mixes in a decent changeup, but it is his slider that can get him out of jams.
Keep Reading

Boston Red Sox: Like this team?