San Francisco Giants: 5 Important Questions Heading into Spring Training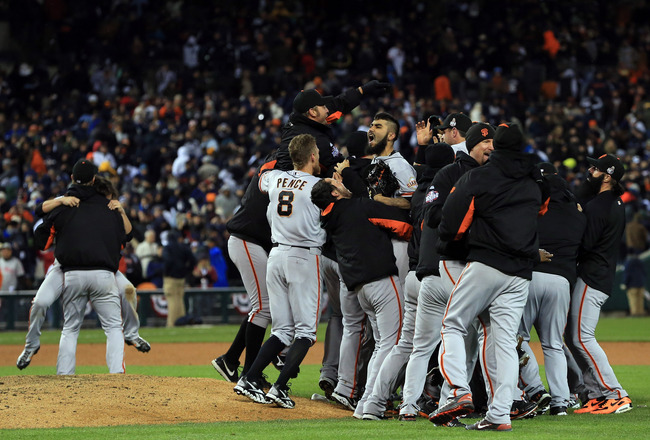 Doug Pensinger/Getty Images
With pitchers and catchers set to report on Tuesday, the San Francisco Giants are about to begin their quest for a third title in four seasons.
The reigning champs decided to keep their core in tact by re-signing free agents Angel Pagan, Marco Scutaro and Jeremy Affeldt, all key contributors in the Giants' run to their seventh World Series title.
General manager Brian Sabean brought back some familiar faces as well in signing free agents Andres Torres and Ramon Ramirez (to a minor league contract), both of whom played important roles in the team's 2010 title. Ironically, they were the two players dealt to the New York Mets for Angel Pagan back in 2011.
With every key player returning from last year's playoff squad that rallied to win six elimination games in a row against the Reds and Cardinals before sweeping the Tigers, the Giants have more than enough talent to be right back in the Fall Classic eight months from now.
The Los Angeles Dodgers and their deep pockets will certainly have something to say about that. San Francisco's arch-rivals are stacked with both bats and pitching after their new ownership spent obscene amounts of money to equip them with talent to compete for years to come.
In the Giants' last title defense in 2011, the Bay Area had their hearts broken when Buster Posey tore ligaments in his left ankle in a home plate collision with Scott Cousins.
Barring any major injuries (knocking on a lot of wood), there is no reason not to think that this team will be near the top of the NL West standings along with the Dodgers and in the playoff hunt, ready to go for another shot at the World Series.
Here are five of the most fascinating questions as the Giants head into spring training.
5. Will Key Veterans Repeat Their Successful Seasons?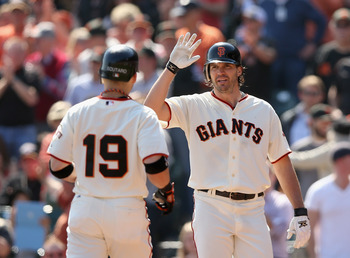 Ezra Shaw/Getty Images
Heading into Game 1 of the World Series last October, the Giants were being led by some unexpected faces.
On the mound was the once forgotten about Barry Zito, who has received so much criticism over the years for underachieving with his massive salary. 36-year-old Marco Scutaro was coming off an NLCS MVP performance in which he posted a ridiculous .500 batting average with 14 hits in the seven game series.
These savvy veterans were huge contributors to the team's success in the regular season as well.
After Tim Lincecum, Madison Bumgarner and Matt Cain were unable to lead the Giants to a win in the first three games of the year, it was Zito that pitched a complete game, four-hit gem against the Rockies to earn the team their first appearance in the W column. Overall, Zito had his best record ever for the Giants going 15-8 while posting a 4.15 ERA.
When the Giants traded for Scutaro back in July, he was batting a decent .271 for the Rockies. They did not expect him to be even close to as good as he was. In 61 regular season games for the Giants, he batted .362 with 44 RBI and was arguably the most consistent player as the Giants pulled away from the Dodgers to capture the division title.
Zito, 34, is entering the final year of his infamous seven year, $126 million contract. Scutaro is entering the first year of his three year, $20 million contract. You never know what to expect from a player in a contract year or in the first year of a lucrative new deal.
If these two players can maintain their steady productivity so late in their careers as they did in 2012, the Giants will be in great shape. However, don't be surprised if either of their performances take a dramatic dip. The Giants have seen that before after re-signing Aubrey Huff to a huge raise after the 2010 title.
4. What Will the Left Field Platoon Look Like?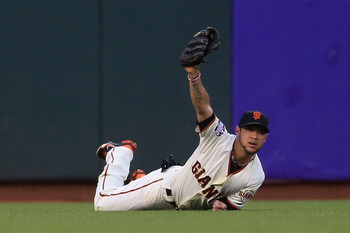 Doug Pensinger/Getty Images
Gregor Blanco was an important part of both the regular season and playoffs last year, but the one thing that kept the security of his starting position in question was his lack of consistency.
He started off the year well displaying both excellent defense and steady plate production and beat out Nate Schierholtz for the right field spot in the beginning of the year after batting .315 in May.
However, his batting average started taking a huge hit in June (.218) and July (.197), so the Giants decided to make a big move and trade for Hunter Pence in order to provide an extra bat in the outfield.
However, plans seriously changed when Melky Cabrera was suspended 50 games for testing positive for testosterone. With Schierholtz involved in the Pence trade, Blanco was the only option to take over for Cabrera in left field.
Blanco ended up batting .244 on the year, but it was his defense that was so important to the Giants success. His range in the outfield was the main reason he kept his starting spot throughout the World Series.
Torres played a similar role for the Giants in 2010 when he was the speedy leadoff hitter that provided great defense and decent, but inconsistent hitting with a .268 average. The past two years, Torres has struggled mightily at the plate batting .221 for the Giants in 2011 and .230 for the Mets last year. Nonetheless, Giants fans know that he can be a valuable player.
Bruce Bochy noted that he liked the versatility that bringing back Torres provides the team, and it will be interesting to use exactly how he plans to use the Blanco-Torres platoon.
Since both are fairly similar players with terrific defense and erratic hitting, it seems that whoever is hotter at the moment may get the nod, unless someone clearly pulls away in the positional battle.
3. Can Hunter Pence Regain His Old Form?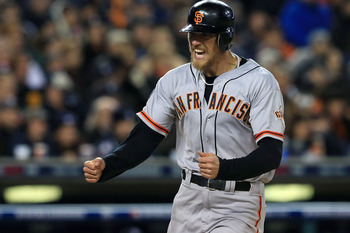 Doug Pensinger/Getty Images
Fortunately for the Giants, the team's pitching all came together at the perfect time as they put up a very good 2.88 ERA in the playoffs and an even better 1.46 ERA in the World Series.
San Francisco can't rely on getting that kind of stellar pitching throughout the whole year, as was evidenced by their 3.68 ERA in the regular season.
In order to make up for those rough stretches when the pitching struggles, the Giants need someone other than Buster Posey to provide consistent power-hitting and run production.
When the Giants acquired Pence last summer, they thought he would be the one to fill that void.
Pence was an All-Star in 2009 and 2011 and has hit over 20 home runs in every one of his six MLB seasons excluding for his rookie year. Those power numbers did not translate to San Francisco.
Although Pence ended up hitting 24 balls out of the park last year with a .253 average, only seven of those home runs came in a Giants uniform and his batting average after the trade was an abysmal .219.
While he did provide some key hits in the World Series, his .210 batting average in the postseason was less than impressive.
Hunter Pence may give some goosebump-inducing speeches, but the Giants also need him to regain his old form and hit the ball out of the park more often and strikeout far less often.
2. Which Brandon Will Take the Next Step?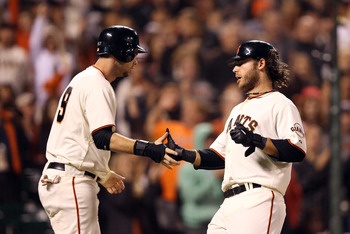 Ezra Shaw/Getty Images
Brandon Belt and Brandon Crawford both established themselves as staples in the Giants starting lineup last season. While both are more trusted for their defense than offense, both Brandons possess a lot of hitting potential.
If one of them, or even better both, can take their offensive production to the next level and provide the team with a consistent, run-producing bat in the middle of the lineup, it would pay great dividends.
Belt ended up batting a solid .275 with 56 RBI and was good at drawing walks, which helped lead to a .360 OBP. He went through many hot and cold streaks, which is what makes him such an unpredictable player.
At times, Belt looked like he could easily be an All-Star. In August, he batted a terrific .349 with seven RBIs and followed up in September by going .316 with 16 RBIs.
Other times, he looks absolutely lost and whiffs on pitches by three feet. Before his hot streak to end the year, Belt batted an awful .186 with 30 strikeouts in 70 at-bats in July. Last year, you never knew which Brandon Belt you were going to get.
Brandon Crawford will unquestionably be a Gold Glove candidate for years to come as his defense saved multiples run throughout the regular season and playoffs. It is his offense though, that remains somewhat of a weakness.
Overall, he batted .248 with 45 RBI and four home runs. Crawford needs to be more patient at the plate and develop a better eye for pitches, as he often swings at balls outside of the zone that turn into pop-ups and groundouts.
Coming into 2013 with another year of big league experience and the confidence of being key parts of a World Series title should propel both of them to new heights.
If they can produce the same way on offense as they do on defense, the Giants could be scary.
1. How Will Timmy Start from Day 1?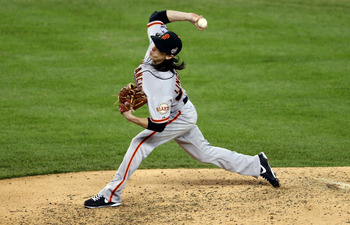 Christian Petersen/Getty Images
There is one player in particular that everyone in the Giants organization will be looking at from the second that pitchers and catchers step onto the field.
Tim Lincecum. The Freak.
The two-time Cy Young winner and 2010 Postseason MVP was far from freakish in 2012.
Lincecum had by far the worst campaign of his career as the Giants' former ace went 10-15 with an incredibly high 5.18 ERA and 1.47 WHIP. Yikes.
After losing his rotation spot for the playoffs, he was able to salvage his season somewhat and become an X-factor out of the bullpen by posting a 2.55 ERA and striking out 20 batters in 17.2 innings pitched. Safe to say, Lincecum never wants to see a bullpen again. He knows he is a starter.
When he is on top of his game, Lincecum holds some of the best swing and miss pitches in all of baseball and is feared as much as anybody. Whether or not he can regain that high level of pitching is at the top of the team's concerns heading into spring training.
Lincecum enters the final year of his two-year, $40.5 million contract and his play this year will largely dictate the kind of offers he receives from both the Giants and other ball clubs following this season. If he struggles the way he did last year, he may have end up losing a lot of money after turning down a long-term extension reportedly worth at least $100 million last offseason.
However, if Timmy does find the stuff that earned him the NL strikeout crown in 2008, 2009 and 2010, the Giants 1-2-3 punch of Cain-Bumgarner-Lincecum might very well be the best in the league.
Lincecum is the player the Giants need the most to deliver if they want to win their third World Series in four years and officially seal the dynasty label on this team forever.
What other key questions should the Giants be looking to answer in spring training? Voice your opinions below.
All statistics courtesy of ESPN.com.

Keep Reading

San Francisco Giants: Like this team?