The Most Dominating Fastballs in Major League Baseball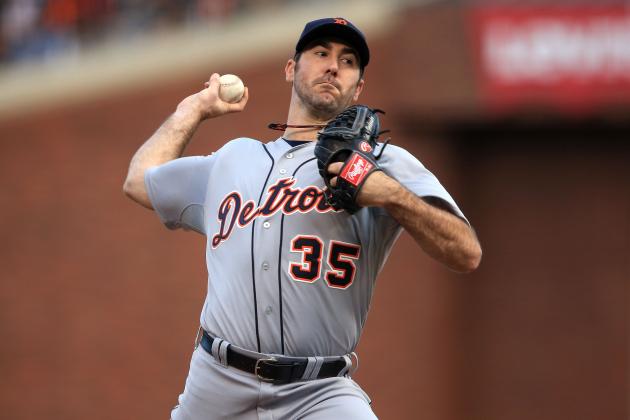 Doug Pensinger/Getty Images

When you think of Bob Gibson or Randy Johnson, you think about the dominant fastball. Obviously, both of these pitchers had a lot more going on than just a fastball, but the root of their success was simply being able to overwhelm and sometimes intimidate opposing hitters.
However, dominant fastballs are not obsolete.
There are plenty of powerhouse pitchers in baseball right now, and here are the top 10. All velocity and standard statistics are coming from Fangraphs.
Begin Slideshow

»
2012 Average Fastball Velocity: 96.8 mph
2012 Strikeouts: 86 in 72 innings
Motte has a powerful fastball, and he certainly used it effectively last year as he assumed the closing duties for the St. Louis Cardinals.
Even though he only used the fastball 72.1 percent of the time, which is a little bit low for the relief pitchers on my list, the simple fact that he was able to turn up the velocity so high was a great indicator.
After his success as a setup man for several seasons, it was nice to see him step out into the ninth inning and do a great job.
2012 Average Fastball Velocity: 94.4 mph
2012 Strikeouts: 175 in 177.1 innings
Moore is yet another product of the Tampa Bay Rays' pitching pipeline. At only 23 years old, his potential is phenomenal, and even though Tampa Bay decided to trade away James Shields this winter, Moore is capable of supporting David Price in their rotation.
For a starting pitcher, Moore relies on his fastball quite a bit. Last season, he threw it 65.9 percent of the time and only really has three pitches to begin with.
That is somewhat rare for a starting pitcher, but as long as he continues throwing the ball well, no one will complain.
2012 Average Fastball Velocity: 95.7 mph
2012 Strikeouts: 73 in 55.1 innings
McGee came into his own last season by posting a 1.96 ERA on the virtues of his strong fastball. He threw that pitch 87.2 percent of the time.
He also showed remarkable control that had not been there before. He only issued 11 walks over his 55.1 innings, which came to a much lower walks per nine innings rate than he had posted in 2011.
I know that he is somewhat of an unknown on this list, especially compared to some of the other names you read or will be reading, but he had quite a bit of success on the merits of his fastball.
2012 Average Fastball Velocity: 97.0 mph
2012 Strikeouts: 66 in 66.0 innings
Ogando began his career a long time ago as a five-tool outfielder, but when the Texas Rangers finally took him in the Rule 5 draft, they put him on the mound and never looked back.
The arm that used to gun down baserunners has transitioned to throwing darts from the mound. Almost definitely, his velocity will decrease this season as he transitions back to the starting rotation, but he still throws with quite a bit of power.
In 2011, when he was also in the rotation, his fastball still hit 95.1 miles per hour on average, so it would not be surprising to see him put up that type of heat again this season.
2012 Average Fastball Velocity: 96.8 mph
2012 Strikeouts: 116 in 62.2 innings
Kimbrel lives on his blazing fastball and a crazy slider/curveball pitch. He has saved a combined 88 games over the past two seasons, and he is only 24 years old.
As he has matured, he has relied on his fastball less and less, but he still threw it 67.6 percent of the time last year.
His 1.01 ERA last season is a pretty strong indication that whatever he is doing is working well. It will be interesting to see if he continues to develop and improve. How much better can one closer get?
2012 Average Fastball Velocity: 95.5 mph
2012 Strikeouts: 205 in 211 innings
Price won the American League Cy Young Award in 2012, so that is obviously a testament to his all-around excellence.
However, his fastball velocity also climbed almost a mile-per-hour each of the past three seasons. Has he reached a maximum yet? He already has one of the best in baseball, but with more maturity comes more control, and if velocity is still climbing, it should get even better.
He does offer a pretty good pitch variety, and he certainly does not rely on it too much. However, it is his main weapon and is one of the best in baseball.
2012 Average Fastball Velocity: 94.3 mph
2012 Strikeouts: 239 in 238.1 innings
Verlander is quite frankly the best pitcher in baseball. Although he did not win the Cy Young Award last season, his 17-8 campaign with a 2.64 ERA in the American League was incredibly impressive.
While his fastball is actually the slowest on this list, the fact that it is 15 miles per hour faster than his changeup makes it dominating. That speed differential is incredibly valuable.
As a starting pitcher, he obviously needs a variety of pitches to be successful, and that explains why he only throws his fastball 55.9 percent of the time. Nevertheless, it is still a powerful pitch that he executes very well.
2012 Average Fastball Velocity: 95.7 mph
2012 Strikeouts: 197 in 159.1 innings
The Washington Nationals wanted to play it safe and limit Strasburg's workload this season. However, he didn't play it safe with his fastball.
This young man became famous for his power, and it served him well in Washington this year.
As a starting pitcher, he naturally needs to rely on other pitches as complements, but he still managed to throw his fastball 64.9 percent of the time.
2012 Average Fastball Velocity: 98.5 mph
2012 Strikeouts: 77 in 84 innings
I know that Herrera is young and has not necessarily converted his live fastball into strikeouts as of yet. However, when a guy is nearing triple digits on his average fastball, you have to pay attention.
It is even more impressive that he is only 5'9" and 190 pounds. Although he does not nearly have enough credentials to perhaps merit this comparison, from a purely physical perspective, he reminds me of Billy Wagner.
Obviously he can develop a lot more, but that fastball is impressive.
2012 Average Fastball Velocity: 97.7 mph
2012 Strikeouts: 122 in 72.1 innings
As a closer who saved 38 games last season, Chapman was able to let loose and unleash his devastating fastball without having to worry much about running out of fuel.
He threw his fastball 87.9 percent of the time, so it is obvious that most of his success came from that weapon.
In his career, he has been clocked over 100 miles per hour multiple times, and he was a pretty easy selection for the top of this list. He has a great fastball, and he uses it effectively.
Whether you think I know everything or nothing about Major League Baseball, you should follow me on Twitter or become a fan on Facebook and keep in touch. I love hearing what you all have to say!