Pittsburgh Steelers: 7 Safeties the Steelers Could Draft in 2013
Jim McIsaac/Getty Images

There are several safety prospects in this year's NFL Draft that seem able to contribute right away to the Pittsburgh Steelers.
Regardless of the health of Troy Polamalu and Ryan Clark, the problem of safety depth is not going anywhere. Both top backups—Will Allen and Ryan Mundy—are unlikely to re-sign, while Robert Golden is not ready to take over yet.
The Steelers need to draft a safety, and it's a safe bet that they select at least one of these prospects.
Begin Slideshow

»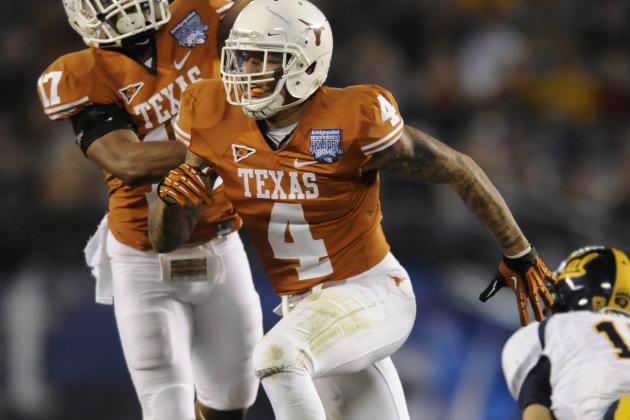 Christopher Hanewinckel-US PRESS

Vaccaro is a combination of safety and nickelback, so his versatility is a great asset. He takes good angles to the ball and deals damage once he gets there.
Vaccaro is a serviceable athlete and he has a high motor that keeps him in a lot of plays. He has a high willingness to compete, but he won't come up with many interceptions. He also lacks a second gear and really isn't a fast-twitch kind of athlete.
Vaccaro is at his finest in man-to-man coverage and in run support where his physical nature can be on display. At 6'1" and 215 pounds, he has the frame to really lay the wood on opposing targets.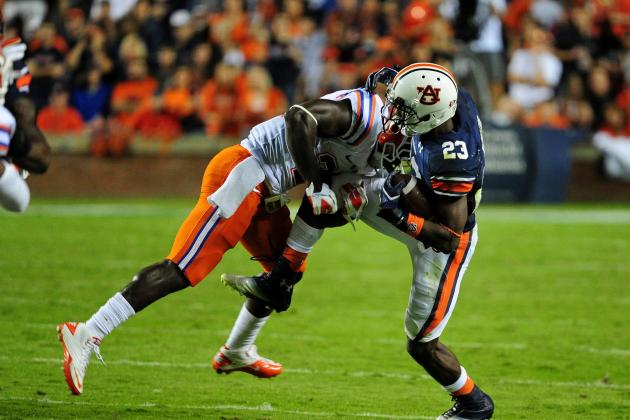 Scott Cunningham/Getty Images

When people talk about the "eye test," Matt Elam is one of the reasons.
Standing at 5'10" and 206 pounds, Elam is a bit shorter than the prototypical safety. However, he is an absolutely explosive hitter. It seems like he doesn't even need to make solid contact to send ball-carriers flying backwards.
He is an extremely sure tackler, wrapping up and driving backwards with his legs. Elam plays with a palpable mean streak and he relishes the opportunity to dish out some punishment.
Elam's heart and emotion are contagious, making him extremely fun to watch. I would like to see more out of him in pass coverage, so he may project better as a strong safety than a free safety.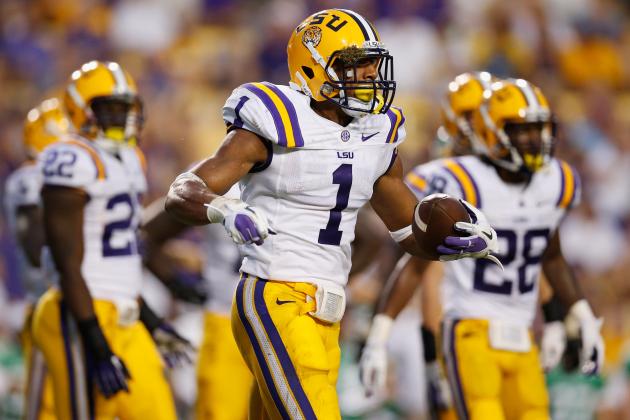 Chris Graythen/Getty Images

This Bayou Bengal continues the theme of hard-hitting safeties in this year's draft.
Reid is wildly athletic and harnesses it well, flying around the field making plays. He will remind some of a bigger Troy Polamalu.
Reid stands at 6'2" and has good leaping ability that allows him to be a factor in jump-ball situations. He should be able to cover all but the most elite tight ends at the NFL level, and he has an innate ability to hit the receiver just as the ball is arriving.
Reid will tend to be overaggressive, but I'd rather Dick LeBeau have to calm a player down than have to amp him up.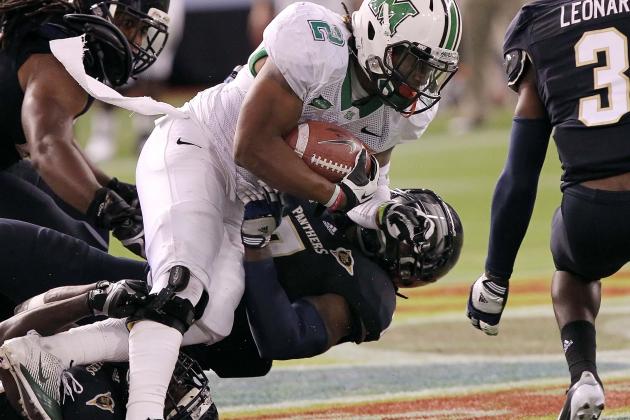 Kim Klement-USA TODAY Sports

As the star of the Senior Bowl, Cyprien turned heads with his performance in the safety drills. He wasn't highly regarded due to his lack of measurables and the fact that he didn't play for a football factory hurt him as well.
Cyprien is a really smart, heady player. This helps him to overcome his lack of range. Inside the box, he is a force of nature. Plus, his ability to hit rivals any safety in this year's class.
He's comfortable blitzing off the edge, so he'll fit perfectly into Dick LeBeau's scheme. Hopefully Cyprien could play the William Gay role, except without getting roasted in pass coverage.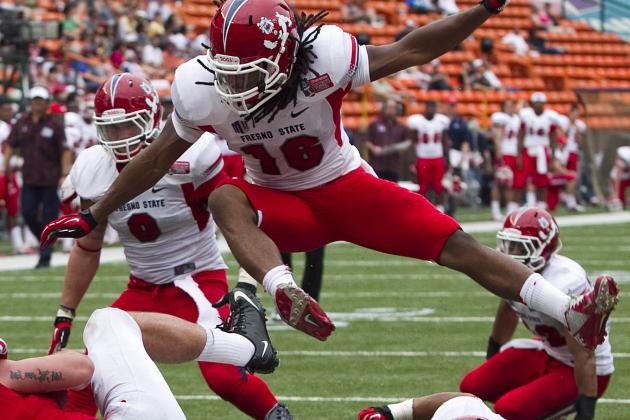 Marco Garcia-USA TODAY Sports

With all the hype surrounding the top-four safety prospects, Phillip Thomas has flown under the radar. This is surprising considering that he was a unanimous First-Team All-American who led the nation with eight interceptions.
Thomas is very athletic and could play either safety position at the next level. His ability to make spectacular, difficult interceptions could spice up a Steeler defense that didn't get many of them this past year.
He makes one-handed catches when necessary and his run support doesn't lag behind his ability to defend the pass.
Whichever team snags the 6'1" senior will have landed a heck of a player, especially if he stays healthy. Thomas missed all of 2011 with a broken leg and dislocated ankle that he suffered during a non-contact drill just before the season began.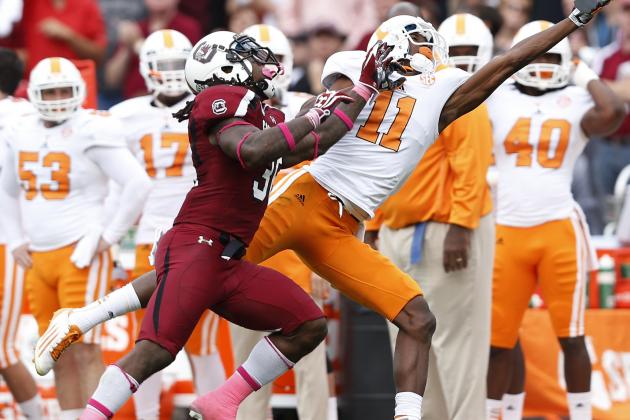 Joe Robbins/Getty Images

Here's another big hitter with a mean streak. Sprinkle in some diving interceptions, and you have D.J. Swearinger.
He is rangy, although at the NFL level, the Steelers may not want to leave him alone up top.
The big issue with Swearinger is that he may not be able to control his emotions effectively enough on game day. He always has something to say to receivers after the play and it seemed like he was involved in every scuffle after the whistle.
Swearinger was suspended for the game against Missouri for a hit on a defenseless receiver. He plays borderline dirty, but if he can toe the line on Sundays, that's not necessarily a bad thing.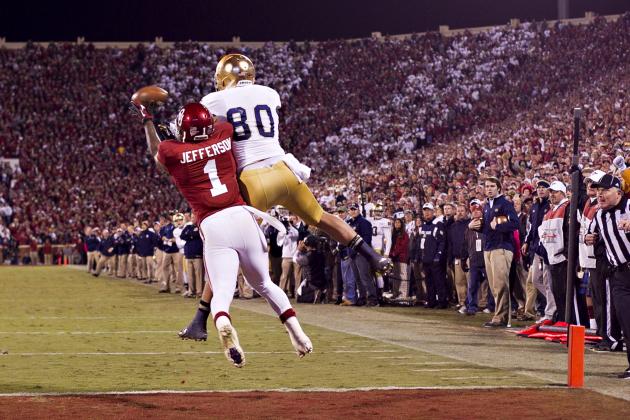 Wesley Hitt/Getty Images

If you like Ryan Clark, Tony Jefferson is the guy for you.
His 113 tackles led the Big 12, and a lot of them were jarring hits.
Jefferson can handle receivers and tailbacks on shorter routes and will surprise people with his ability to compete for balls in the air. His 5'11" stature seems small, but he packs on 212 pounds to back it up.
Jefferson and Clark both play the role of "Sandman" for their respective teams, but pairing them up in a defensive backfield will keep AFC North receivers up at night worrying about them.