11 Big-Name Prospects with Most to Gain at 2013 NFL Scouting Combine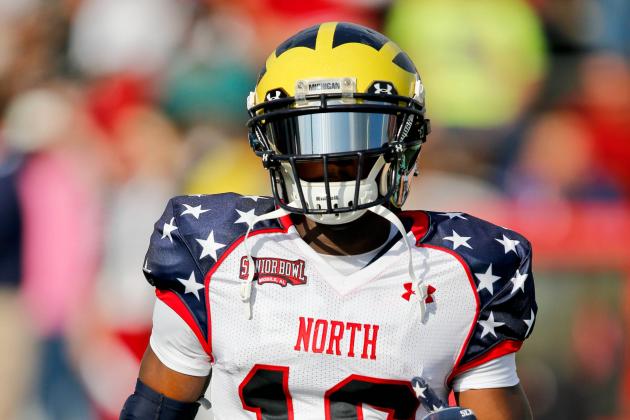 Derick E. Hingle-USA TODAY Sports

Don't look now, but the scouting combine is less than two weeks away, and it is time to start looking at possible risers and fallers at the annual NFL meat market in Indianapolis.
While the most important aspect of the combine will always be the medical evaluations—it was why the combine was instituted in the first place—this is also a great chance for elite athletes to showcase their unique talents. Prospects who lean more on technique and IQ tend to see a dip in their stock when compared to those blessed with incredible athletic traits.
Here are players that will have the most to gain at this year's annual NFL Scouting Combine.
Begin Slideshow

»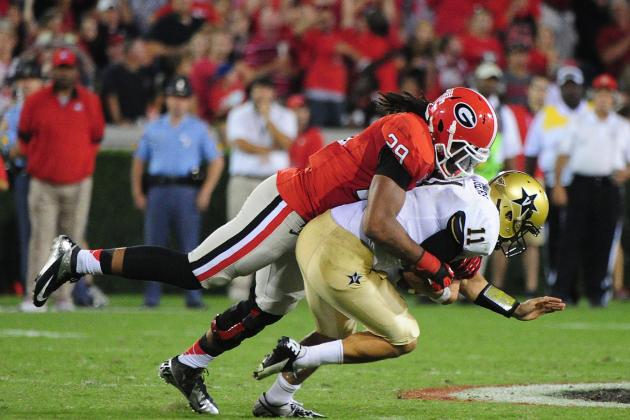 Scott Cunningham/Getty Images

From an on-the-field perspective, there is not much to not like about Jones. His pass-rushing acumen is worthy of a top-five selection.
The issue with Jones is that he has been diagnosed with spinal stenosis, a condition described as a narrowing of the spinal column. It does not impact Jones on a play-by-play basis, but could be just one awkward hit away from serious spinal damage that could potentially end his career.
This condition did not prevent Georgia doctors from clearing Jones, which led to his transfer from USC, which may mean there is a bit more to the injury than the public is led to believe.
If there is more to the injury, NFL teams are going to find out, and perhaps consider taking a chance on him earlier in the first round.
The combine is the perfect venue for top-class athletes to show off their other-worldly abilities.
Originally recruited as a tight end at Oregon, Dion Jordan may be the most athletic defensive end in the draft. He has the speed to run right around offensive tackles, which is a trait that will not translate well in the NFL.
Still, Jordan will likely outrun just about every pass-rusher at the combine. He should also perform very well in the cone drills with his agility and change-of-direction.
There are legitimate questions of whether or not Jordan's lack of ideal size, technique and strength will translate to the next level, but scouts will be taken aback by his athleticism at the combine and will figure that there is a way to get him to use it properly.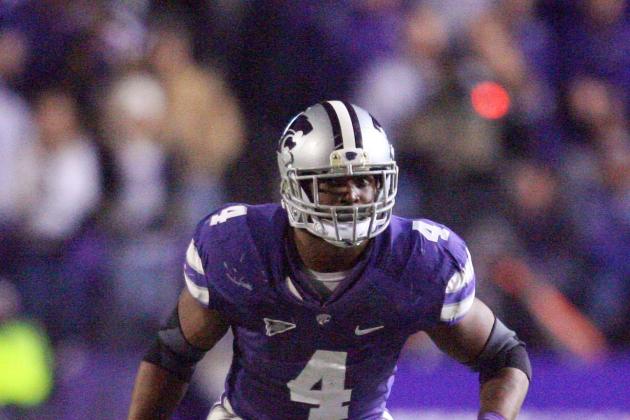 Scott Sewell-USA TODAY Sports

While he may not have as much name recognition as other prospects at his position, Brown is arguably the best linebacker in the draft and can cement his status as the top 'backer with a strong showing at the combine.
Where Brown separates himself from other prospects at the position, such as Manti Te'o, is in his speed and athleticism. He has more range than any other inside linebacker in this class because of his lateral movement and straight-line speed.
Brown's smaller frame should allow him to run his 40-yard dash somewhere in the 4.5-second range, which is lightning-fast for a linebacker. He should also excel in the vertical jump and cone drills, which measure explosion and lateral agility, respectively.
A terrific showing in the 40-yard dash and linebacker drills should draw up some buzz around Brown, which could possibly result in a top-15 selection.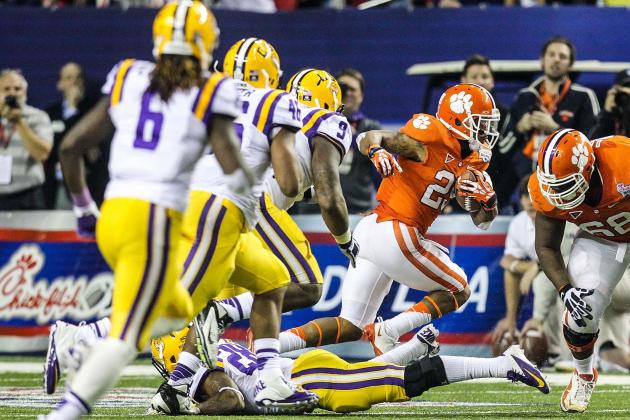 USA TODAY Sports

This year's running-back class is a bit muddy in that despite there being a handful of talented players, there is no clear-cut candidate to be the best runner in this group. Therefore, the combine is even more important to allow prospects to be evaluated doing drills right next to each other.
Of all the runners scheduled to be at the combine, Andre Ellington's speed, burst, and agility will be the most well-showcased by the combine drills. He reportedly ran a 4.44 40 time at Clemson, which is fast enough to qualify as a top time for a cornerback or wide receiver.
A good 40 time will not be enough to propel Ellington into the first round, but it could entice a team to take him early in the second and have Ellington be the first runner taken in the draft.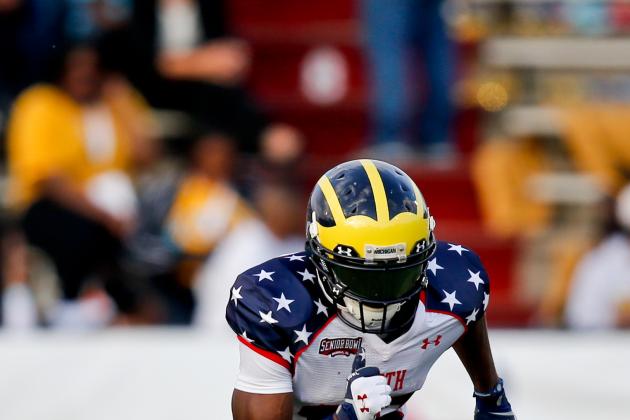 Derick E. Hingle-USA TODAY Sports

While Denard Robinson's tenure as Michigan's quarterback never quite worked out, it is clear that he has rare running traits that could lead to a very successful career in the NFL as a running back or wide receiver.
Despite his rather limited experience playing the two positions at the college level, his faults in technique will not be exposed running speed and agility drills at the combine. Instead, Robinson will excel at the premier drills, particularly the 40-yard dash. In fact, Robinson has a chance to run the fastest time at the combine.
If he catches well in the passing drills, teams in search of a developmental receiver will be much more enticed by Robinson as well.
In any case, the combine is tailor-made for players like Robinson to show off their elite athletic ability.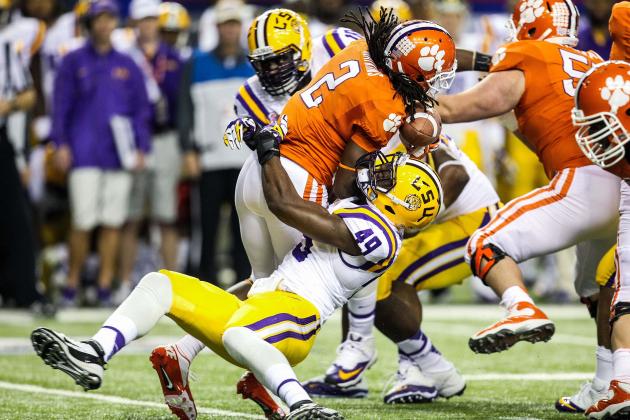 USA TODAY Sports

Like Jordan, Barkevious Mingo's elite athleticism is what separates him from the average defensive end or outside-linebacker prospect.
While Jordan has elite speed and quickness for the position (and Mingo is anything but slow), Mingo's insane burst is what will ultimately make him a potential top-10 pick in April. He should excel in the jumping drills, which are the closest measurement to explosion at the combine.
Most of the questions about Mingo stem from a stretch in the middle of the 2012 season when his production was not matching the hype surrounding him, but tackle and sack numbers are not measured at the combine; speed, strength, explosion and agility are.
As long as Mingo displays the athleticism that he has flashed over the past two seasons, he should have no problem securing his position as a top-10 pick.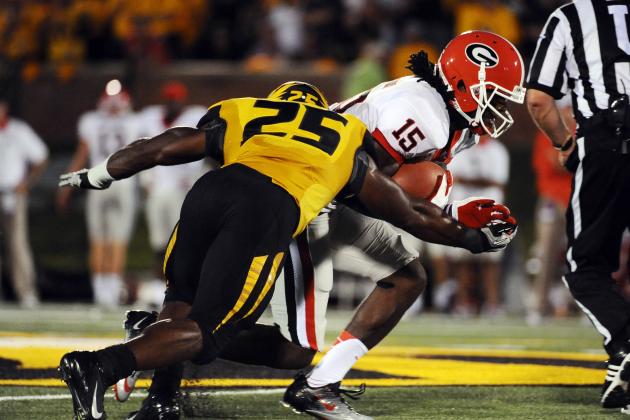 Dak Dillon-USA TODAY Sports

Held back by nagging hamstring injuries in 2012, Gooden's stock should only go up after he gets his turn at the combine.
Since hamstring injuries can heal in a matter of weeks when well-rested, his medical evaluation should ease any concerns NFL teams may have about it.
Gooden relies on his athleticism as much as any linebacker in this class. When healthy, he is fluid in coverage, able to run with tight ends and some slot receivers in coverage. He is an explosive blitzer who can change directions very quickly.
As long as he does not aggravate his hamstring training for the combine, Gooden should put on a show in Indianapolis.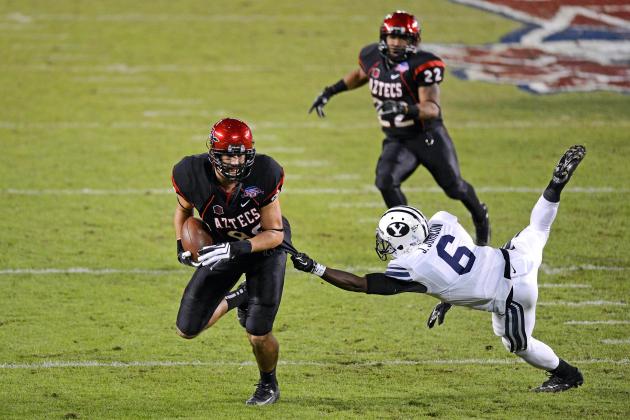 Jake Roth-USA TODAY Sports

Outside of Tyler Eifert and Zach Ertz, Gavin Escobar may be one of the best tight ends in the draft because of his ability as a receiver.
Outside of the bench press, there are a lot more opportunities for a receiving tight end prospect to show off his raw ability than a blocking tight end.
Escobar has terrific hands and uses his large frame (6'6", 245 pounds) to make contested catches, but there are still some questions about his elite speed. If he runs well, he could vault up draft boards and even possibly be a second-day pick.
While he did not have quite the spectacular senior campaign we expected from the first-round prospect, there is no denying Reid's natural athletic ability that will be on full display at the combine.
Reid's skills in coverage stem from his closing speed and fluid running ability, which he will be able to display in the cone and hip-movement drills.
Reid will also measure very well with his long arms, which obviously help in terms of high-pointing passes and holding receivers out of position.
However, Reid tends to be a bit of a build-up speed runner and figures to run somewhere in the 4.5-4.6 range. That is far from an average time for a safety, but his lack of acceleration will effect his 10-yard splits.
If he can improve his 40 time enough to keep it in the low 4.5s, Reid will be much closer to solidifying his first-round status.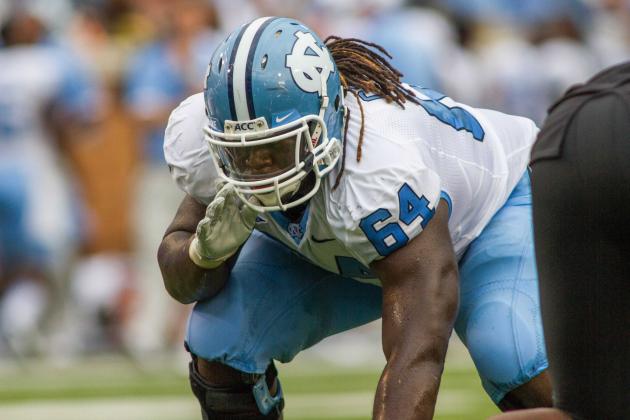 Jeremy Brevard-USA TODAY Sports

Chance Warmack may be the most well-known guard in this class because he just won a national championship, but Cooper is almost on-par with Warmack as a pro prospect.
Cooper is not quite the brute mauler that Warmack is, but he is arguably the best athlete from the guard position in this year's draft, as he excels in pulling and making blocks in the second and even third level.
Cooper also has the initial quickness to hold off even the quickest of defensive lineman. He has the strength to operate in man-to-man schemes and athleticism to work in the increasingly-popular zone blocking concepts.
With a strong showing at the combine, Cooper may push himself into the bottom of the first round.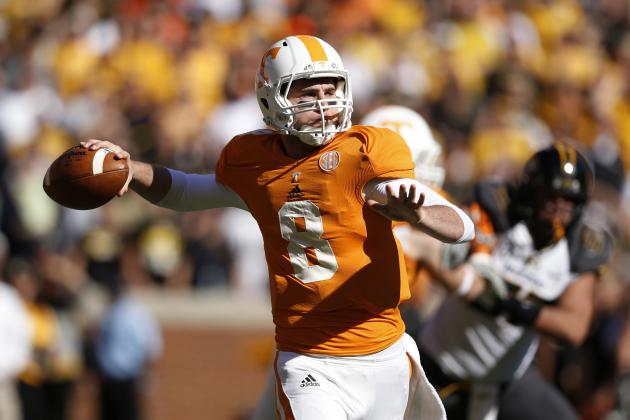 Joe Robbins/Getty Images

Usually, quarterbacks have little to gain by throwing at the combine. Throwing in shorts and a t-shirt, they are expected to make perfect throws despite throwing to receivers they have never even met. When they connect, it impresses no one, and when they miss, it looks ugly.
Therefore, most of the top quarterbacks decline to throw at the combine, but Tennessee quarterback Tyler Bray has volunteered to throw:
Not sure how this rumor got started, but #Tennessee QB Tyler Bray was invited to the NFL Combine based on ability, not to be a "throwing QB"

— Dane Brugler (@dpbrugler) February 8, 2013
Bray has never quite lived up to his potential at Tennessee, but he still dazzles with a handful of throws per game that entice scouts.
Now that he has volunteered to throw, it shows that Bray is not afraid to put himself out there for criticism, and that will be looked upon as a positive by many teams.
Bray will not be a first-round pick, but this rather bold decision could interest a team to take a chance on him much earlier than expected.
For draft insight through a Jets lens visit NYJetsDraft.com.