2013 NFL Draft Prospects Who Were Born to Play for Pittsburgh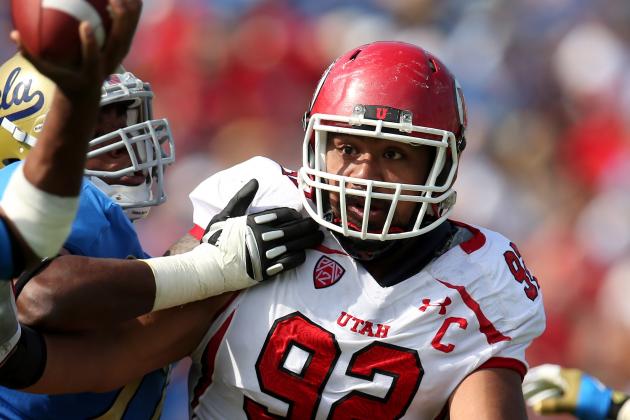 Stephen Dunn/Getty Images

One of the most iconic franchises in NFL history, the Pittsburgh Steelers have come to acquire a sort-of stigma about the way they play and the kind of players they're looking for.
Since the early '70s when the great Chuck Noll took over the team, Pittsburgh has been known for its physical, hard-nosed style of play. Brutal and hard-hitting defenses instilled fear into opponents while the offense punished its rivals on the ground.
Things stayed the same through the Cowher years, and even as passing became the dominant force in the league, the Steelers could still run the ball with the best of them.
But it seems as though Pittsburgh has gone astray from some of the ways it used to build a team. The Steelers have struggled to run the ball over the last two seasons and no one is afraid to line up and play their aging defense anymore.
It's up to Mike Tomlin and Kevin Colbert to right the ship in Pittsburgh, and traditionally, that's been done through the draft. Let's check out five guys who look as though they were born to play in the Steel City.
Begin Slideshow

»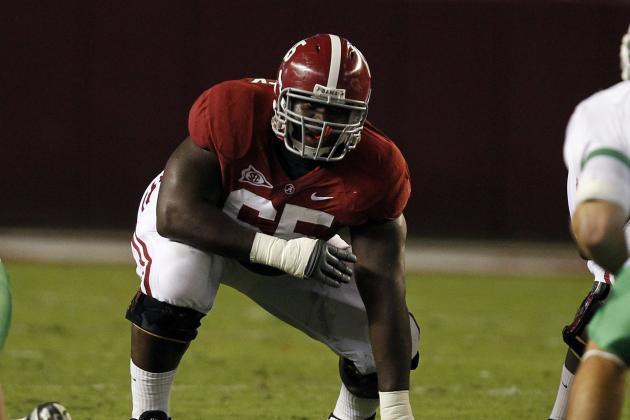 Butch Dill/Getty Images

Younger Steelers fans may not be privy to this knowledge, but once upon a time, Pittsburgh had one of the most feared offensive lines in football. But, of course, that was way back when the team was reeling off four Super Bowl wins in six seasons.
Even with their fifth Lombardi Trophy, the Steelers' offensive line was amongst the league's elite. But the sixth title was the final straw.
Now, Pittsburgh can't seem to put anything coherent together across the offensive front. Give management credit, they've tried. But injuries and poor play have halted any opportunities the group has of growing as a cohesive unit.
Alabama's Chance Warmack has "Steeler" written all over him. Warmack is a big, road-grading blocker up front who controls the line of scrimmage and can dictate where the play is going. He instantly makes any back behind him better because of the holes he can open up.
Right now, this isn't a match made in heaven. The Steelers just spent a first-round pick on a guard last year in David DeCastro and Willie Colon has shown serious promise since moving inside.
But there's the matter of the Steelers cap situation and how Colon affects it.
Colon is set to make over $5 million this coming season, but most will argue he hasn't earned it. In fact, the guard has played in just 13 games over the last three seasons and has probably accumulated more penalty flags than starts over that same span.
Warmack, like DeCastro last season, is ranked as a top 10 prospect by most outlets, but guards have a tendency to drop in the draft. If the Steelers decide that Colon is too pricey, they may make a run at the Alabama product.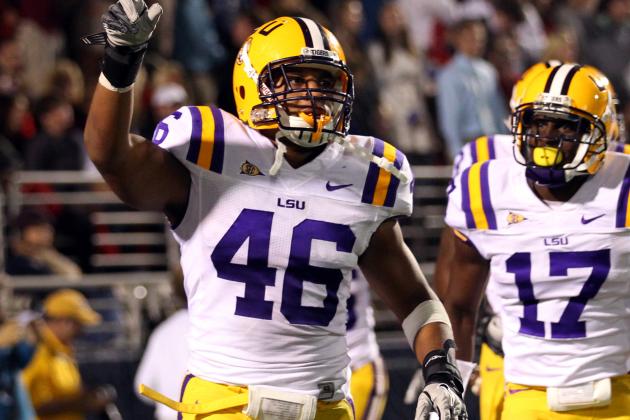 Joe Murphy/Getty Images

The Steelers have had some great inside linebackers throughout their history. From Jack Lambert to Levon Kirkland and more recently James Farrior, Pittsburgh has been able to grab guys who can play inside in its defense.
Kevin Minter may be one of those guys.
Both Lawrence Timmons and Larry Foote had very good seasons for the Steelers last year, but Foote is on the wrong side of 30 and doesn't necessarily fit the role of the BUCK inside linebacker the Steelers are used to seeing. Pittsburgh also spent a third-round pick on Sean Spence last season, but he never saw the field after getting injured in the preseason.
I'm not a true believer in Spence in this defense and I think Foote's best days are behind him. But more important than that is the fact that neither player fits the role the Steelers want them to play. The BUCK inside linebacker is primarily responsible for the run while Timmons is more of a sideline-to-sideline runner who can cover.
Minter has great size at 6'2", 245 pounds and has proven to be a terrific run defender. He recorded an impressive 20 tackles in a loss to Florida and also recorded 19 stops in the Chick-fil-A Bowl. Minter also added four sacks to his season total.
Minter also showed his leadership this season, and that's something the team sure looked like it missed in 2012. Pittsburgh probably won't be able to pull him in in the second round unless it moves up, so if the Steelers want him, they'll have to be absolutely positive.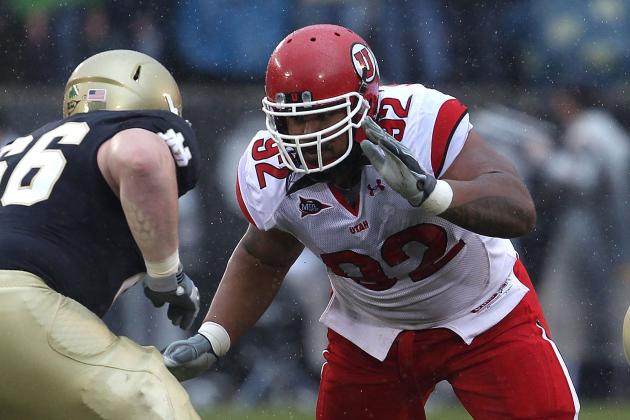 Jonathan Daniel/Getty Images

It is very rare in the NFL to find truly impact players at the 3-4 defensive end position. The Texans J.J. Watt and Ravens Haloti Ngata are two examples of when teams find these players, and so far, it's worked out for them.
Utah's Star Lotulelei may be the next in a long line of these players.
Lotulelei is a freak both in terms of his size and athleticism that accompanies that size. He's got the skills to play in almost any defensive scheme one could think of and excel at it. That includes playing all three spots across the front of a 3-4 defense.
The Steelers were once known for being able to take late-round fliers and turning them into solid contributors at this same position. Guys like Aaron Smith, Kimo von Oelhoffen and Brett Keisel all come to mind when you think about how the Steelers used to look at defensive end.
But now, guys like Ziggy Hood and Cameron Heyward have come in as early picks and failed to make any kind of impact on the defense.
Lotulelei is going to be a high pick come April and will almost certainly be off the board inside the top 10 picks. But if the Steelers have an opportunity to grab a player like this, they shouldn't hesitate to pull the trigger. Just ask the Ravens and Texans if they would.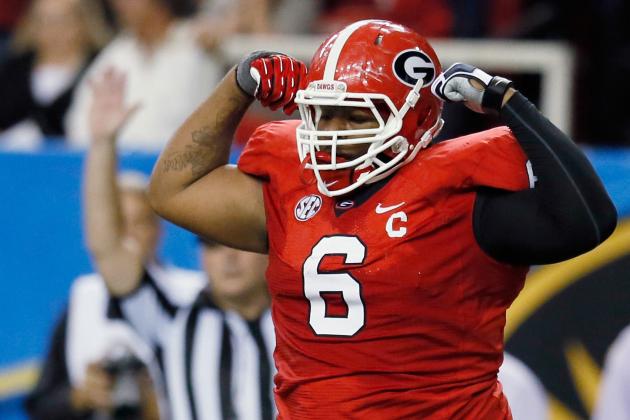 Kevin C. Cox/Getty Images

When it comes to the 3-4 defense, many experts like to attribute the explosion of the scheme to Steelers defensive coordinator Dick LeBeau. And when it comes to the 3-4 defense, there might not be a more important position than nose tackle.
For Pittsburgh, Casey Hampton has held down that spot for over a decade and he's been one of the best we've ever seen. Hampton deserves a spot amongst the all-time Steelers greats for his role in perfecting LeBeau's defense.
But it's become pretty apparent over the last two seasons that Hampton's play has slipped and his age has caught up with him leading to the speculation that it's time for the team to move on from the big man in the middle.
If the Steelers are looking to the draft to replace an all-time great, they should look no further than Georgia nose tackle John Jenkins.
Jenkins is massive, weighing over 350 pounds and is the definition of a space eater. He doesn't give you much in terms of rushing the passer, but when it comes to stuffing the run, there's no one better in this draft.
It all depends on how the Steelers feel about Alameda Ta'amu who, after some legal issues, found himself in hot water with the team. If Pittsburgh moves on, Jenkins would be a welcomed addition.
Streeter Lecka/Getty Images

Running backs were once huge part of the Steelers' history, especially big backs with deceptively effective speed. Of course I'm talking about Franco Harris and Jerome Bettis who could both bowl through linebackers and put the moves on safeties.
Alabama running back Eddie Lacy isn't as big as Bettis or as fast as Harris, but he's still a very good running back and the kind of back the Steelers need at a time like this.
Pittsburgh struggled mightily to run the ball and, admittedly, a lot of that can be attributed to the woes of the offensive line. But Rashard Mendenhall was an utter disaster in 2012 and Jonathan Dwyer and Isaac Redman struggled to stay healthy.
Lacy is a physical, bruising back who won't hesitate to lay the lumber on anybody that stands in his way. But he's also shown to have deceptively good speed down the field.
Lacy is a hot target right now after blowing through the defense of the Fighting Irish in the BCS National Championship Game, but if he's still around for the Steelers in the second round, he could be an absolute steal.