What Blue Jays Fans Have to Look Forward to Most in Spring Training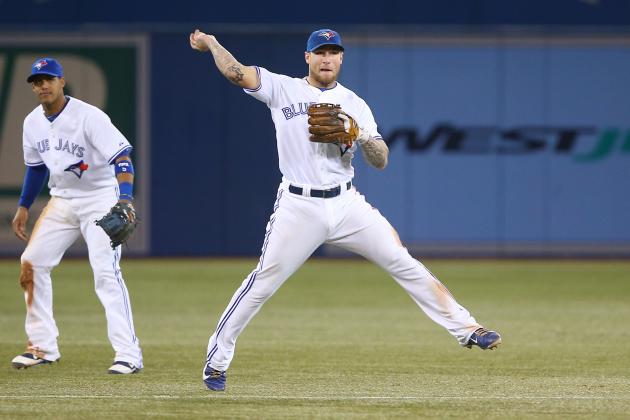 Tom Szczerbowski/Getty Images

Feel free to take a minute to pull out your calendar, because February 12th is the first date in a long line of exciting moments for the Toronto Blue Jays this year. It is when Blue Jays pitchers and catchers report to Dunedin, Florida for spring training, just days in advance of the rest of the team.
For the players, getting back to playing baseball is always a welcome time of the year, while the fans have a lot to look forward to as well.
The Blue Jays play in the Florida Grapefruit League during spring training along with 14 other MLB teams. They will begin their spring training schedule on February 24th before they head north to open the season against the Cleveland Indians in Toronto.
The Blue Jays have slightly over a month in Florida to prepare for the season, and the fans have plenty to look forward to during that time, besides the warm weather ahead. Here are 10 things Blue Jays fans can look forward to during spring training.
Begin Slideshow

»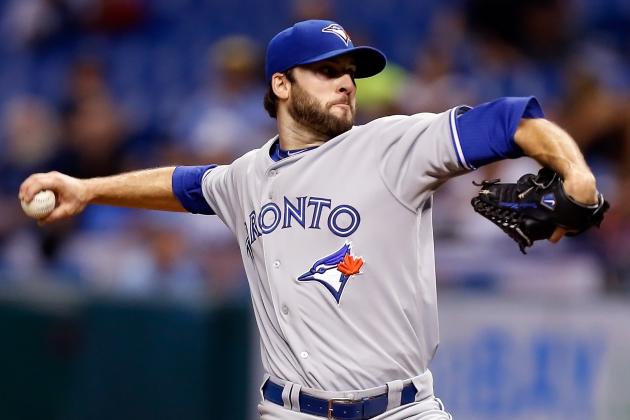 J. Meric/Getty Images

What was a point of weakness last year, now looks to be a source of strength after a series of offseason moves. Newcomers Josh Johnson, Mark Buehrle and R.A. Dickey will join Brandon Morrow and Ricky Romero in the rotation.
Although there do not appear to be any crucial position battles on the mound, the depth of the starting pitching staff is something fans can look forward to as spring training inches closer.
Manager John Gibbons recently said the Opening Day starter will be R.A. Dickey, but how the rest of the rotation shapes up is something fans can look for during spring training.
The depth of the rotation is also something fans can appreciate, as veteran starter J.A. Happ will be waiting in the wings to get another crack at pitching in the major leagues, should his number be called.
The bullpen features seven returning players, three new additions and should be a promising situation this year as well. The pool of major league-ready pitchers runs fairly deep in the Blue Jays organization, and is something fans can look forward to.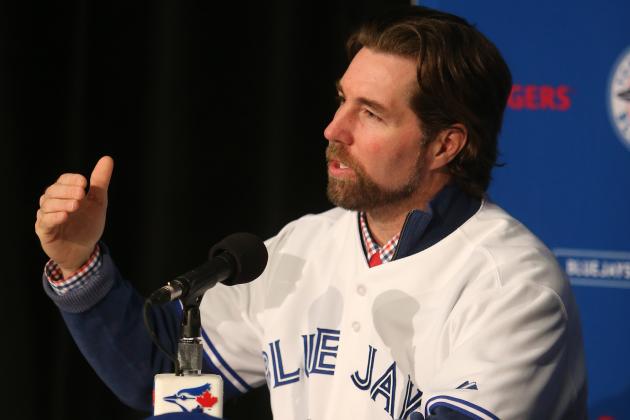 Tom Szczerbowski/Getty Images

The last time the Blue Jays had a reigning Cy Young winner join them for spring training was in 2004 when Roy Halladay reported for work. It's been a long eight years for fans, but the highest honor a pitcher can receive is back in blue and white.
R.A. Dickey won the NL Cy Young award last year and was acquired by the Blue Jays in December. Travis d'Arnaud, John Buck, Noah Syndergaard and Wuilmer Becerra were sent to the New York Mets in exchange for Dickey.
Having depth in the rotation is always something to look forward to, but having a bona fide 'ace' in the staff is equally thrilling. Last year Dickey had 20 wins for the Mets and posted an ERA of 2.73. He had career lows in hits allowed and strikeouts per nine innings. It has been a long time since Toronto has had a player in its lineup with as much hype as Dickey.
His game on the field is complemented by his personality off the field, as he has impressed fans and reporters alike with his press conferences wherever he goes.
Needless to say, R.A. Dickey is absolutely something fans can look forward to during spring training.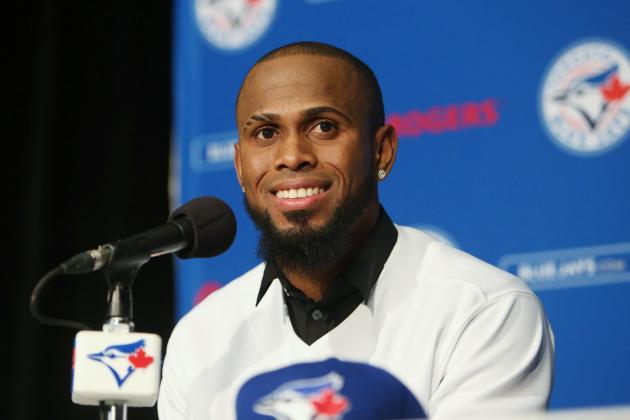 Tom Szczerbowski/Getty Images

It may take some getting used to, but there are more than a few new faces in Toronto this season.
As it stands right now—and I say that because with Alex Anthopoulos calling the shots, no one knows what is coming next—the Blue Jays starting lineup has seven new faces that fans will be seeing regularly.
Melky Cabrera, Jose Reyes, some combination of Emilio Bonifacio or Maicer Izturis, Josh Johnson, Mark Buehrle and R.A. Dickey are all first-time Blue Jays. Not to mention Josh Thole, Esmil Rogers and Jeremy Jeffress who will also find themselves in a few games.
For the first time in a long time, the new faces that will be hanging around the clubhouse this season are proven veterans and not young players hoping to make a name for themselves.
The Blue Jays only saw Kelly Johnson and Yunel Escobar depart from their 2012 starting lineup, while they acquired four veteran position players, giving manager John Gibbons plenty of options in the field.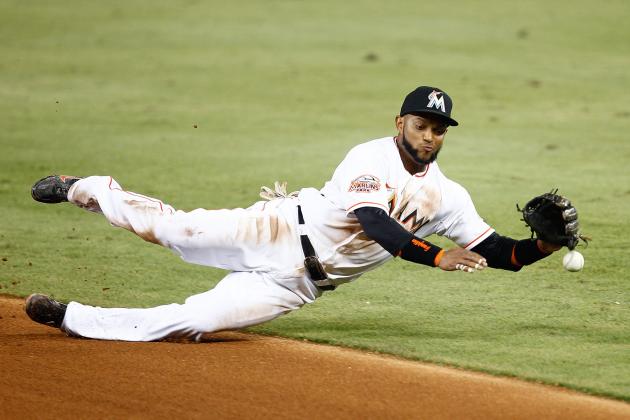 Sarah Glenn/Getty Images

A by-product of all the new faces in town is that the Blue Jays now have some much needed depth around the diamond. This depth will prove to be an important factor during the season, but in the short term fans can get excited about the possible lineup combinations.
When Rajai Davis or Emilio Bonifacio see time in the outfield, how will that impact the batting order? When Encarnacion plays out of the DH spot, who will fill in at first base? This is the best time of the year for fans to speculate and fantasize about lineup combinations. The depth the Blue Jays have in the field gives the fans a lot of options to work with.
The depth at each position will quickly become a source of contention amongst fans, each attempting to prove why their choice should play at each position. Enjoy it while it lasts because the position battles are coming.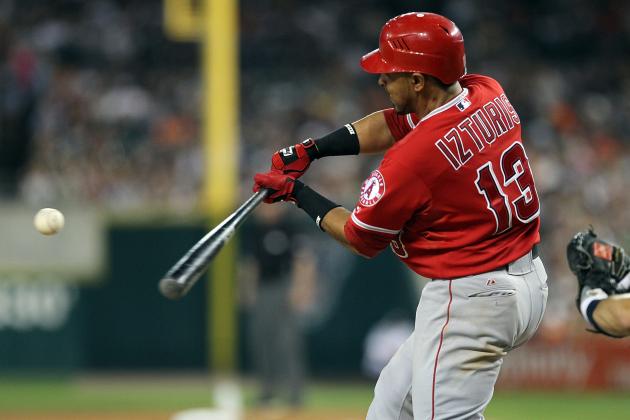 Dave Reginek/Getty Images

As the saying goes, some healthy competition never hurt anyone. At least I think that's a saying. Frankly, it does not matter, because whether or not the competition will be healthy, it will certainly be present at Blue Jays spring training.
Although most positions are spoken for, there are a few spots on the diamond that are still undecided.
Who will be the regular second baseman is still up in the air, as both Emilio Bonifacio and Maicer Izturis bring a valuable skill set to the table. There are also a surplus of outfielders and surprisingly enough, a potential controversy could be brewing behind the plate.
Josh Thole came to Toronto by way of New York and has experience catching R.A. Dickey's knuckleball. Although there is no sign of a change behind the plate, the presence of a fellow catcher could motivate J.P. Arencibia to raise his game. If Arencibia is unable to handle the knuckleball, perhaps Thole could see game action every five days when Dickey takes the mound.
It may manifest itself into a non-issue, or if Arencibia struggles it could become a genuine battle.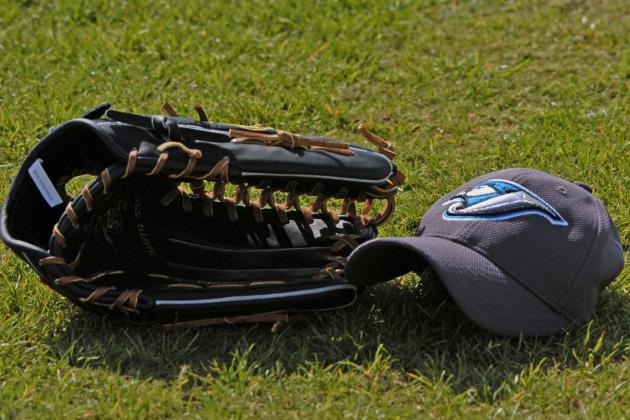 A. Messerschmidt/Getty Images

Every few years, the MLB decides it is time for new spring training hats. Sometimes they have goofy pieces of fabric on the sides, or different color lines along the seams, but in the end it does not matter.
Save for a few caps in hat retailers, the hats won't make the trip back north and definitely will not see any time on the AstroTurf of the Rogers Centre.
The new caps are okay at best. Far from awesome, far from hideous.
Let's move on…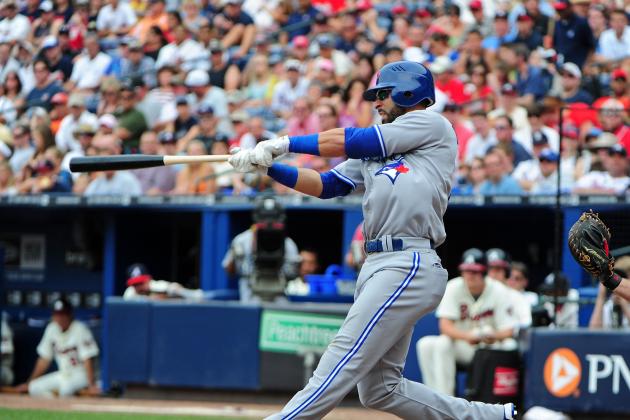 Scott Cunningham/Getty Images

Although Alex Anthopoulos dealt away a small fortune of prospects in order to assemble the starting lineup that will tip their cap on Opening Day, he did it without giving up much offensive talent.
Given all of their struggles over the past couple years, one aspect of the Blue Jays game that has been a source of strength is their offense.
They retained their two best power hitters, Jose Bautista and Edwin Encarnacion, and added a dangerous leadoff hitter in Jose Reyes, as well as Melky Cabrera (.284 career batting average).
If past statistics are any indicator, the Blue Jays should see an increase in runs, home runs, on-base percentage and runs batted in. An increase in offensive output is something fans will get excited about, and rightfully so.
Mitchell Layton/Getty Images

John Gibbons will have some tough choices to make throughout the year, but regardless of them, it is almost a guarantee he will have speed on the basepaths.
Returning speedsters Rajai Davis and Brett Lawrie are joined by Jose Reyes and should create the core of a lethal base stealing team. Aggressive baseball by advancing runners 90 feet at a time is one of the many new game plans fans can look forward to thanks to the offseason additions.
The Blue Jays began last season playing aggressive baseball and swiping bags at a moments notice, but got away from that game plan as the season progressed. A number of factors influenced that decision, none more so than injuries to their pitching staff that did not allow Toronto to gamble with potential runs.
The man behind the implementation of this speed is someone that fans have seen before, but is still a worth getting excited about.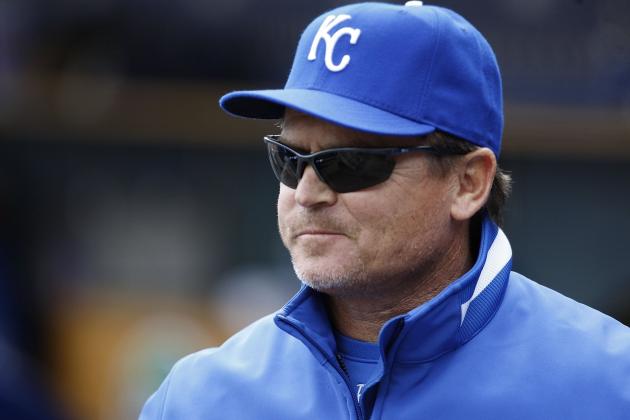 Leon Halip/Getty Images

By hiring John Gibbons, general manager Alex Anthopoulos shocked fans and insiders alike. In a move that very few saw coming, Gibbons joined the Blue Jays for the second time as manager.
In his first stint as manager, Gibbons posted an even .500 record over five years. The team Gibbons was coaching the first time around was a much different team to say the least. Few people, and I am not one of them, would argue that the Blue Jays of the early 2000s were better off than the 2013 edition of the team.
It will be intriguing to see how Gibbons utilizes the new weapons at his disposal. How he uses the speed on the basepaths, whether or not he uses a platoon at second base and what kinds of late-game decisions he makes will all be intriguing plot lines as the season progresses.
Gibbons will be fun to watch during spring training, and should he be able to manager the team effectively could become a major storyline throughout the season.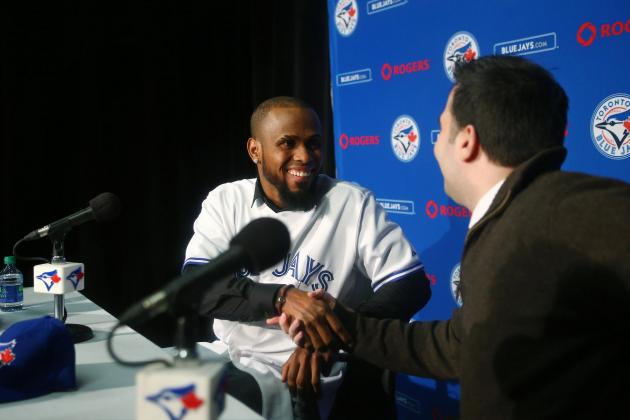 Tom Szczerbowski/Getty Images

When the Blue Jays open spring training, there will be an increase in media attention compared to previous years. This is a side effect of building a team in the offseason because the entire media world takes notice.
The Blue Jays broadcaster, Sportsnet, has also signed Jack Morris as the color analyst for their radio broadcasts. Morris will also fill in on TV and with some solid coverage, the Blue Jays could see a fair number of nationally broadcast games.
Marquee games against teams like the Yankees, Red Sox, Giants or Angels could be picked up by ESPN, giving the team added exposure.
This is great news for fans who will likely see more of their favorite team, and potentially an increase in fans south of the border. Unfortunately this is a double-edged sword for the players. While an increase in attention has its merit, as Toronto sports fans can attest, a media crazy market can have some unwanted effects on players as their every move is scrutinized.
Hit me up on twitter Follow @applebyinc