10 MLB Teams Who Are Enjoying Awesome Offseasons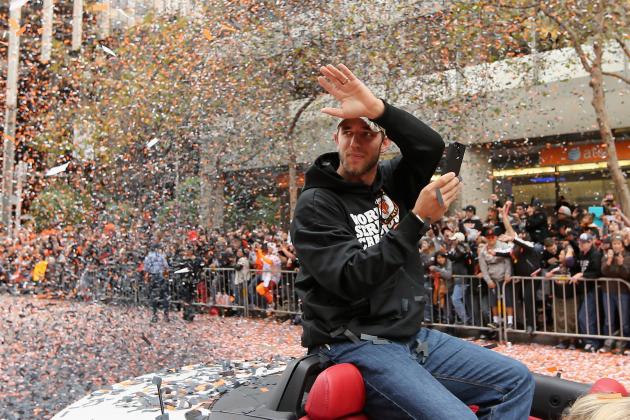 Ezra Shaw/Getty Images
Madison Bumgarner and the San Francisco Giants enter the season as defending World Series champs.
We are now just a week away from the first day of Major League Baseball spring training. The offseason has been full of twists and turns, with many teams making big moves hoping to improve on last season's results, while others cut bait in efforts to shed salary.
In this slideshow, we'll examine the teams that had a more positive outcome from the past few months.
Begin Slideshow

»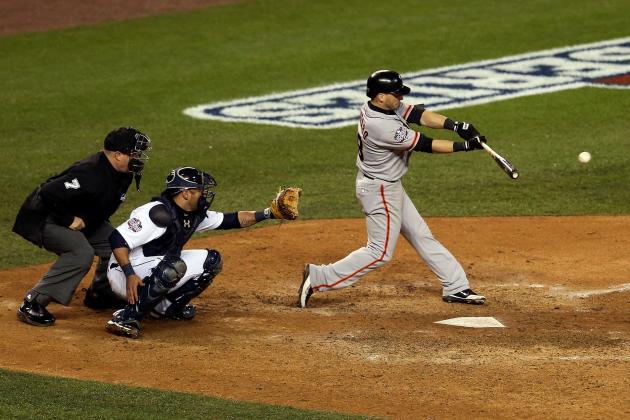 Jonathan Daniel/Getty Images
Playoff hero Marco Scutaro is sticking around with the Giants.
Clearly, the team that just won the World Series is going to have a positive offseason. After all, they are the champions of the baseball world. And the San Francisco Giants are just that, having won their second title in three years.
In the midst of all their glory, though, they've certainly made some good moves to solidify that position. They've re-signed key figures like bullpen ace Jeremy Affeldt, outfielder Ángel Pagán, and World Series hero Marco Scutaro.
Additionally, the only key figure they've "lost" is Brian Wilson (and his beard), but he could still re-sign after being non-tendered. Besides, the Giants discovered their next big-time closer in Sergio Romo. Same blazing fastball, same facial hair (almost).
Oh, and Buster Posey was named Most Valuable Player in the National League.
What's not to like in San Francisco right now? In terms of baseball, that is.
Tom Szczerbowski/Getty Images
José Reyes is among Toronto's shiny new players.
One of the toughest divisions in baseball to win just got even tougher. With the Tampa Bay Rays, Baltimore Orioles, and New York Yankees all having great 2012 seasons, the Toronto Blue Jays knew they had to act fast to catch up.
And boy, did they ever act fast.
In a ridiculous trade not-too-uncommon from their business partners, the Jays acquired shortstop José Reyes, pitchers Mark Buehrle and Josh Johnson, utility man Emilio Bonifacio, and catcher John Buck from the Miami Marlins for infielder Yunel Escobar and a slew of others.
They later flipped Buck, top prospect Travis d'Arnaud, and two others to the New York Mets for NL Cy Young Award winner R.A. Dickey. Put that together with what ought to be a full return to health for José Bautista, and this is going to be a formidable team.
A hugely successful offseason in Toronto; but will it translate to a successful regular season? Who knows?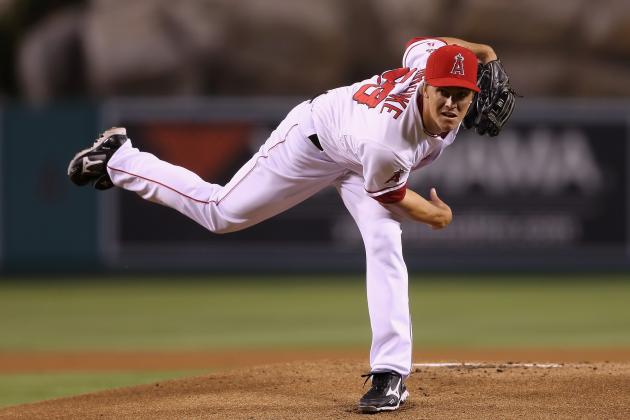 Jeff Gross/Getty Images
Zack Greinke's signing headlines the Dodgers offseason.
The Los Angeles Dodgers had an intriguing 2012 season. They got off to a blistering start in April, but stalled after that and slumped to eight games behind eventual the World Series champion Giants.
Part of that slow middle part of the season came down to the troubling injury situation surrounding superstar Matt Kemp, who missed significant time in the second half with various injuries. However, this offseason has seen him close in on full health.
He could partner up with mid-season acquisition Carl Crawford, who himself is recovering from injuries, but an outfield trio of a healthy Crawford, Kemp, and Andre Ethier is certainly fearsome.
Combined with big-ticket free-agent signing Zack Greinke to partner former Cy Young Award winner Clayton Kershaw, the Dodgers are looking like a serious threat in the National League.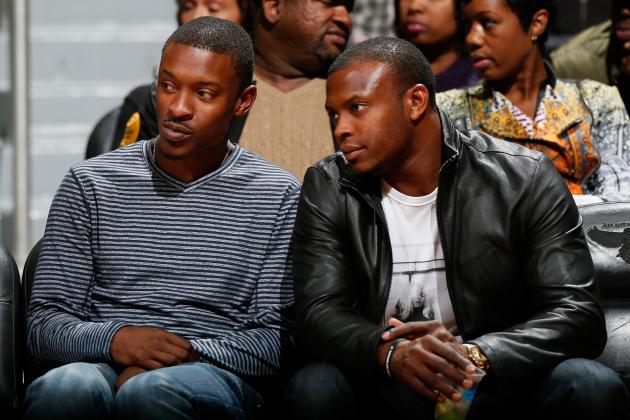 Kevin C. Cox/Getty Images
(L-R) B.J. and Justin Upton are fresh new faces in Atlanta.
At one point in the last decade, the Atlanta Braves featured two star players named "Jones," but the two (Chipper and Andruw) were of no relation. In 2013, the Braves will feature two star players named "Upton," and although neither are Kate, they are B.J. and Justin, and they are brothers.
With B.J. joining as a free-agent after a long spell in Tampa Bay, he set the precedent for his younger brother Justin. It took a couple of months, but the Arizona Diamondbacks finally relented and traded their star outfielder to the Braves.
Yes, the Braves lost Martín Prado in that trade, which I discussed last week. But an outfield featuring the Uptons and Jason Heyward looks poised to make a run at the National League East title once again.
Additionally, the Braves retained reliable starter Tim Hudson, and flipped oft-injured arm Tommy Hanson to the Los Angeles Angels for bullpen depth in fireballer Jordan Walden. All the pieces are in place for a successful season after a good offseason.
They just have to contend with another team for that division crown…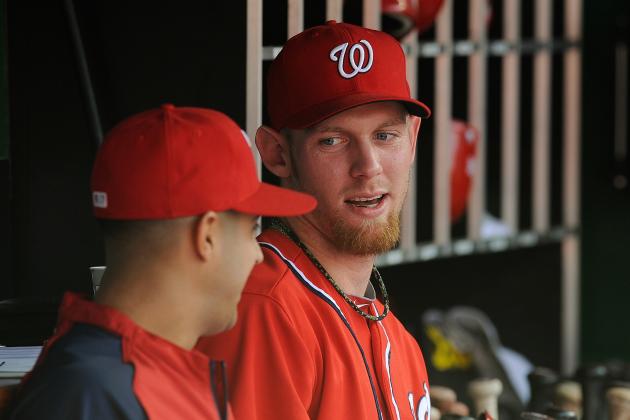 Patrick McDermott/Getty Images
Stephen Strasburg looks set to dominate for a full season in 2013.
And of course, that would be the defending division champions, the Washington Nationals. The perennial bottom-dwellers and former Montreal Expos finally broke out in 2012, surging to the best record in baseball at 98-64.
A disappointing Divisional Series exit at the hands of the St. Louis Cardinals was a bitter pill to swallow, but NL Manager of the Year Davey Johnson and the rest of his crew took the offseason by storm to pick up some reinforcements.
Among those new signings is speedy outfielder Denard Span, whose defensive prowess will aid Rookie of the Year Bryce Harper in the Nationals' outfield and will be a strong top-of-the-lineup presence. The club also re-signed veteran first baseman Adam LaRoche, who had an excellent 2012.
In the pitching department, the Nationals added former Angel and Diamondback Dan Haren, who will join a rotation featuring youngsters like Gio González, Jordan Zimmermann… and, oh yeah, Stephen Strasburg, who will pitch this season with "no restrictions" (via New York Times).
They also added formidable closer Rafael Soriano to lock down close games.
Basically, the Nationals look like they've gotten stronger to match the Braves getting stronger. This will be very intriguing battle to watch in 2013.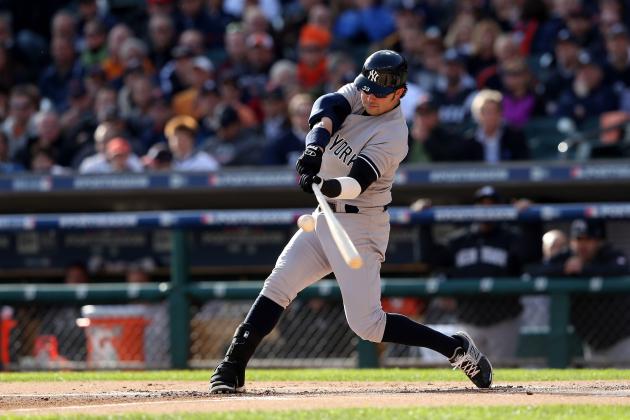 Leon Halip/Getty Images
Nick Swisher could prove a shrewd signing for the Indians.
The Cleveland Indians may have fallen from the heights they reached in the late stages of the 20th century, but this offseason has looked like an encouraging one.
This starts with a new look in the dugout, where former Boston Red Sox manager Terry Francona returns to management after a year's hiatus. His hard-nosed attitude and penchant for getting the best out of his players could turn the club around.
New playing personnel doesn't hurt either. In trading away fan favorite Shin-Soo Choo, the Indians received Drew Stubbs in return. Stubbs can provide some good pop as well as speed near the top of the order. They also got highly-touted pitching prospect Trevor Bauer from Arizona in the process.
Cleveland also picked up some solid veteran bats, with former New York Yankee Nick Swisher signing a four-year deal and former Baltimore Oriole Mark Reynolds penning a one-year deal. Swisher in particular is an excellent pickup, having been a consistent high performer in pinstripes.
They may not win the AL Central, but they'll certainly be a team worth watching.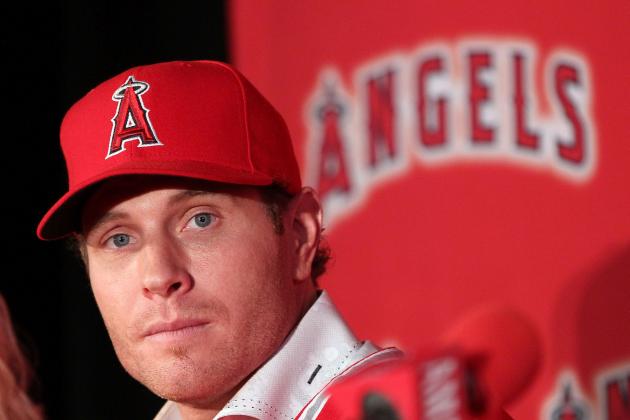 Victor Decolongon/Getty Images
Josh Hamilton changed teams within the same division.
It's not often that a team can lose the likes of Zack Greinke, Kendrys Morales, and Dan Haren, and then be put in a list of teams with great offseasons. But the Los Angeles Angels of Anaheim would be in that lesser company.
The major reason for this is that they signed sought-after free agent Josh Hamilton. A five-year deal was enough to bring in the slugger, taking him away from their division rivals, the Texas Rangers. Hamilton, Mike Trout, and Albert Pujols in one lineup? Talk about deadly.
As for their pitching staff, the Angels quickly moved to plug the gaps left by Greinke and Haren with cheaper options. They first traded extra bullpen arm Jordan Walden to Atlanta for Tommy Hanson, and then added Jason Vargas from the Seattle Mariners in exchange for Morales, who would have seen limited playing time.
The club also brought in more bullpen help, adding Ryan Madson and Sean Burnett. So while they may not have the star power they did last season, they've still got themselves a great bunch of players who will be very competitive.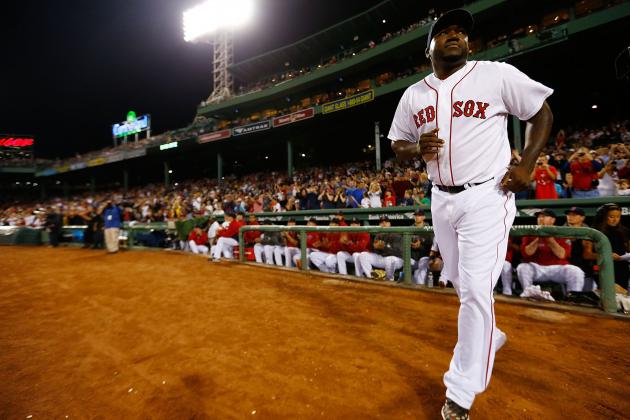 Jared Wickerham/Getty Images
David Ortiz is back in Boston.
The Boston Red Sox have not had a good run over the last couple of years. Last season pretty much ended when they traded Adrián González, Carl Crawford, and Josh Beckett to the Dodgers.
However, they'll enter the 2013 with a completely revamped lineup. Bolstered by returns to health from Jacoby Ellsbury, Dustin Pedroia, and Will Middlebrooks, they've already got a good core to build around, which they certainly did.
The re-signing of Ortiz came alongside acquisitions of veteran outfielder Shane Victorino, a dependable fielder and leadoff-type hitter, and catcher-turned-first-baseman Mike Napoli, who can provide some good pop in the middle of the lineup.
The pitching staff wasn't completely ignored, either. Long-time major leaguer Ryan Dempster was brought in to solidify the rotation behind Jon Lester. And the bullpen was re-tooled, with the additions of Koji Uehara and Joel Hanrahan, the latter of whom will likely compete for the closer position.
All in all, it was a positive offseason for the Sox. But they've still got work to do if they want to win their division.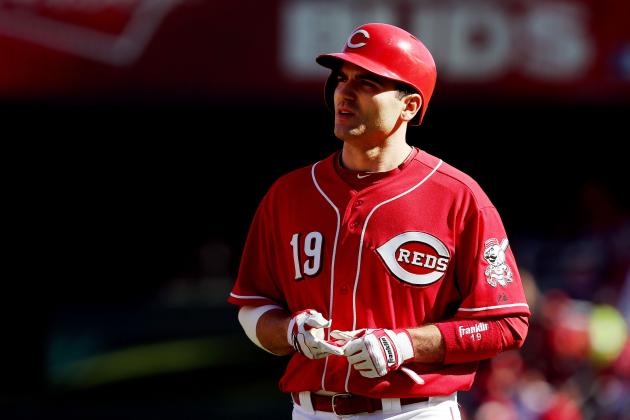 Jonathan Daniel/Getty Images
Having Joey Votto at full health will be key for Cincinnati.
The Cincinnati Reds have been a pretty consistent contender in the NL Central. Last season was no exception as they comfortably won the division over their biggest rivals, the St. Louis Cardinals.
They did it despite star first baseman Joey Votto missing two months through injury. Now that he is back at full health, he'll get back to being a dominant force in the Reds lineup.
He'll be joined in that lineup by new acquisition Shin-Soo Choo, who came over in a trade with Cleveland. He is a definite upgrade over Drew Stubbs due to the former's better contact ability while still having 20-homer, 20-steal potential.
That outfield will also feature returning power presence Ryan Ludwick, though we may not see speedy phenom Billy Hamilton in center as he looks set to spend most of his time in AAA.
The pitching core was not ignored here, though. The loss of Ryan Madson hurt, but Madson himself was hurt through the entire season, leaving the door open for Aroldis Chapman to blow everyone out of the water. Jonathan Broxton, however, was retained to be a reliable set-up presence.
With that in mind, expect Cincinnati to be favorites to win their division once again.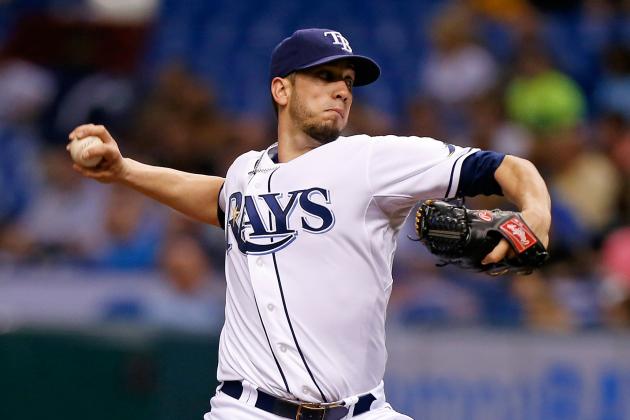 J. Meric/Getty Images
James Shields was brought in to lead the Royals rotation.
A lot of what the Kansas City Royals did this offseason was based around completely rebuilding their starting rotation. Though they did so at the expense of top prospect Wil Myers, the end product should be worth it.
James Shields and Wade Davis came over in a trade with Tampa Bay that sent Myers the other way. The Royals then brought in free agents Ervin Santana and Jeremy Guthrie. Combined with promising youngster Danny Duffy, this could be one of the best rotations in the American League.
They didn't do a lot to rebuild their offense, though, with Xavier Nady and Endy Chavez brought in as veteran options. However, they should get plenty of production from their youngsters.
Top catcher Salvador Pérez will likely see a full season of action after missing parts of 2012 through injury, while first baseman Eric Hosmer will be a prime candidate for a big bounce-back season.
So while the Royals might not contend for the postseason, their good offseason will have them looking up in 2013.