What Caliber of Player Will Be Available to the New York Mets in the Draft?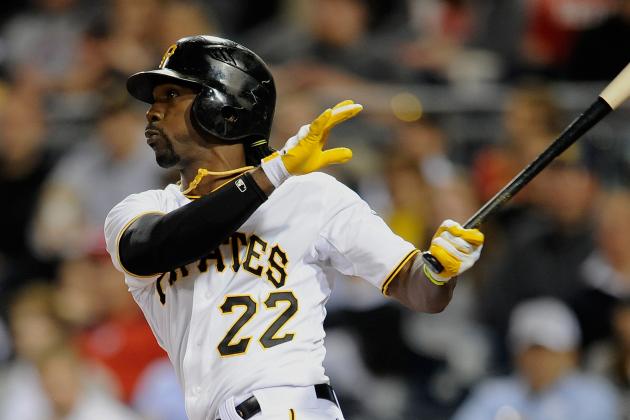 Joe Sargent/Getty Images
Andrew McCutchen was drafted 11th overall by Pittsburgh in 2005
The NFL season is now over, and pitchers and catchers report to spring training next week. That's always a wonderful thing to read, isn't it?
The annual Major League Baseball amateur draft is not until June, and the New York Mets own the 11th overall selection. They've never had the 11th pick before in team history. Now would be a good time to reflect on some previous No. 11 overall selections and see what caliber of player has been available at that pick in the past.
The MLB amateur draft dates all the way back to 1965, when outfielder Rick Monday of the Kansas City Athletics was the first player chosen. Monday ended up spending his best seasons with the Cubs and Dodgers.
Stanford University right-hander Mark Appel is considered the top prospect in this year's draft. Appel was selected eighth overall in 2012 by Pittsburgh but returned to Stanford instead of signing with the Pirates.
So just how good were the players who were selected in years past with the 11th overall pick in the draft? Quite honestly, the list is not that overly impressive. However, there have been some excellent players chosen in the 11th slot. Maybe the Mets will nab one in June. Let's take a look at the all-time top five.
Begin Slideshow

»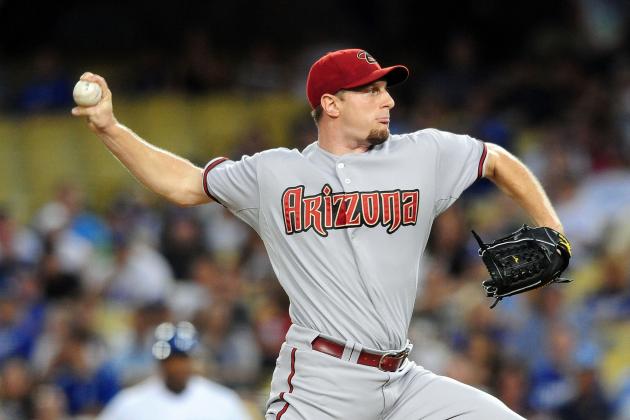 Jacob de Golish/Getty Images

The St. Louis native debuted in 2008 with the Diamondbacks and, despite posting an 0-4 record, showed a great deal of promise. He had a 3.05 ERA in 16 appearances, including seven starts, and fanned 66 batters in 56 innings (10.9 SO/9).
That excellent strikeout rate in his rookie campaign was an omen of things to come.
After suffering through a sophomore slump in which he posted a 9-11 ledger with a 4.12 ERA, the hard-throwing right-hander was traded to Detroit as part of a blockbuster three-team deal that sent Curtis Granderson to the Yankees, Ian Kennedy and Edwin Jackson to Arizona and Scherzer, along with three others, to the Tigers.
Scherzer has since blossomed in the Motor City, going 43-27 in three seasons, including a 16-7 record last season with a 3.74 ERA for the American League champs. His 11.1 SO/9 ratio led the American League, and he finished second in the AL with 231 strikeouts.
Scherzer is in his prime at age 28 and should be a solid starter in Jim Leyland's rotation for years to come.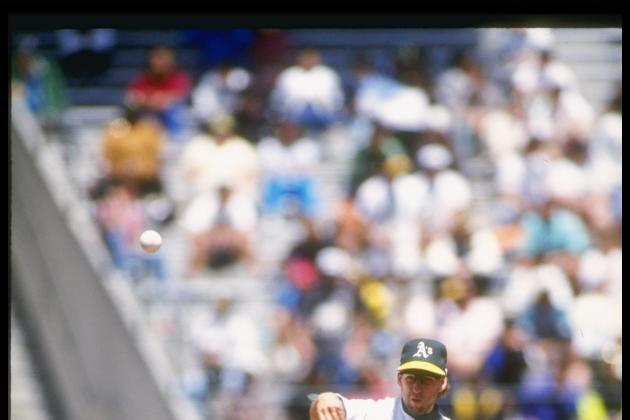 Otto Greule Jr/Getty Images

Weiss burst onto the scene for an up-and-coming A's team in 1987 by hitting a robust .462 in just 26 at-bats. He followed that up by winning the American League Rookie of the Year Award in 1988 and helping the A's capture the World Series title the following season.
The University of North Carolina product did not finish with a stellar lifetime batting average (.258), but he played 14 seasons in the majors, made the All-Star team with Atlanta in 1998 and was the defensive glue on many winning squads as a slick-fielding shortstop.
Weiss finished in the top five in fielding percentage among shortstops six times and was fourth in shortstop assists four times. He was very steady, if not spectacular.
The A's never would have brought home a World Series trophy in 1989 without him.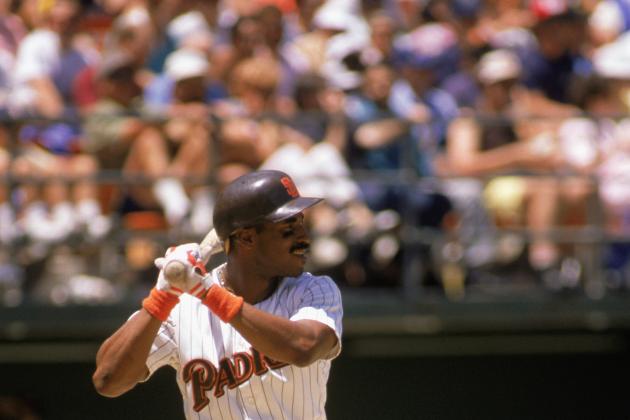 Stephen Dunn/Getty Images

The fleet-footed outfielder was drafted by the Padres in 1984, but his career really blossomed after he was acquired by the Minnesota Twins in the 1989 Rule 5 draft.
Mack batted just .241 in two abbreviated seasons with San Diego, but once he landed in the Twin Cities in 1990, his talent was on full display. He batted .326 in 313 at-bats in 1990 and then helped the Twins win the World Series in 1991 by batting .310 with 18 HR and 74 RBI.
Mack enjoyed his finest overall major league campaign the following season by batting .315 with 16 home runs and a career-high 75 RBI. He added 26 stolen bases and led the league by being hit with a pitch 15 times. He was fourth in the American League in hits (189) and seventh in runs scored (101).
When it was all said and done, Mack carved out a very fine career for himself. He just missed hitting .300 overall (.299) and played nine seasons before retiring with the Royals in 1998.
He'll always sport that championship ring, as well. A lot of players wish they could do that.
Simply put, Andrew McCutchen is one of the best players in all of Major League Baseball.
And he's only getting better.
After being selected 11th overall by the Pirates in 2005, the Fort Meade, Fla. native exploded onto the scene with Pittsburgh on June 4, 2009, and he's been a joy to watch ever since.
After batting .286 in his first two seasons, the five-tool outfielder saw his average dip to .259 in 2011, but he showed increased power with 23 HR and 89 RBI. Last season? Well, 2012 was off the charts.
McCutchen finished third in the National League MVP voting, made his second All-Star team in a row and came in second in the NL batting race (.327). He led the league in hits (194), smashed 31 home runs, knocked in 96 runs and stole 20 bases. McCutchen ranked third in slugging percentage in the NL (.553) and third in OBP (.400) while also winning a Gold Glove and a Silver Slugger award.
How good was he in center field last year? McCutchen committed one error all season long. One. He has outstanding range and has a plethora of highlight reel catches.
Heck, he probably could have tried out as a wide receiver for the Steelers and made the team.
McCutchen is that good–and he's still just 26 years old.
The sky is the limit.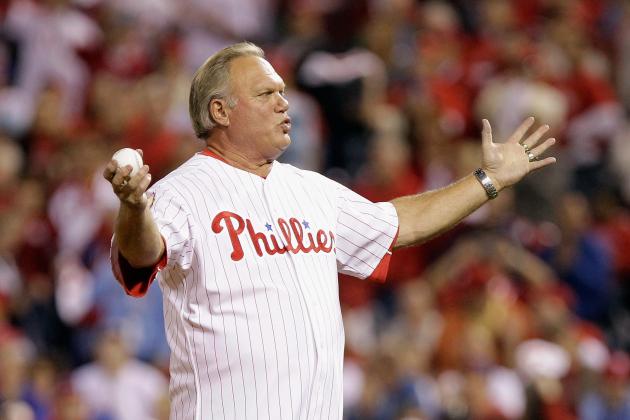 Rob Carr/Getty Images

A four-time All-Star, Greg "The Bull" Luzinski was one of the most feared power hitters in the National League in the 1970's. He teamed with Mike Schmidt to give the Fightin' Phils one of the best home run duos in baseball.
A strong, powerfully built right-handed-hitting outfielder, Luzinski hit 307 home runs and had 1,128 RBI during his 15-year career with the Phils and White Sox, including some of the longest round-trippers ever hit at Veterans Stadium in Philadelphia. He was also a force on the road: I remember a game at Shea Stadium that I attended as a teenager, in which he belted a home run off southpaw Jerry Koosman that still has not landed.
Luzinski hit 30 or more home runs in a season four times, drove in over 100 runs four times (including a league-leading 120 RBI with the Phillies in 1975) and concluded his career with a .478 slugging percentage. He also had a very respectable .276 lifetime batting average.
Luzinski was a member of the 1980 World Series-champion Phillies contingent that defeated the Kansas City Royals in six games. He was purchased by the White Sox in March 1981 and was a solid designated hitter for four seasons with the Chisox before calling it quits in 1984 after belting 84 home runs for the South Siders.
Luzinski's "Bull's BBQ" is one of the most popular dining establishments at Citizens Bank Park in the City of Brotherly Love.