Super Bowl 2013: Power Ranking Sunday's Top MVP Candidates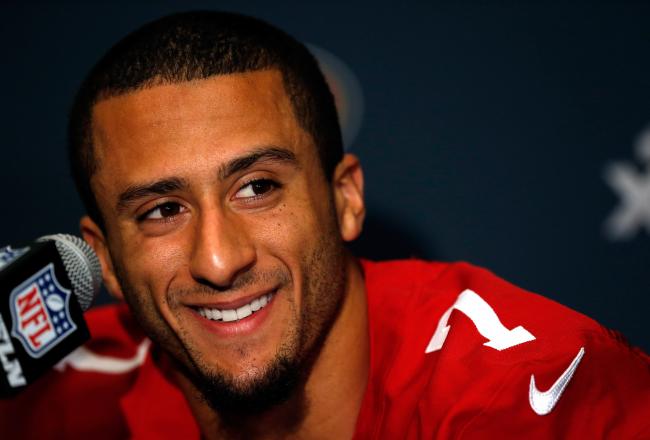 Scott Halleran/Getty Images
The winner of the Pete Rozelle Trophy for Most Valuable Player in Super Bowl XLVII between the San Francisco 49ers and Baltimore Ravens clearly depends on who wins the game.
But with quarterbacks garnering the unique distinction in six of the previous seven occasions, Niners QB Colin Kaepernick and counterpart Joe Flacco have to be the odds-on favorites should they emerge victorious.
Here is a breakdown of the two red-hot signal-callers, as well as other viable candidates that have an outside chance at capturing Sunday's ultimate individual accolade.
4. Ray Lewis, LB, Baltimore Ravens
Video Credit: NFL Network
There have only been seven defenders to win the MVP on 46 previous occasions, but Lewis was one of them. He keyed Baltimore to victory in Super Bowl XXXV as the heart of one of the most dominant defenses in NFL history.
Lewis is still performing at a legendary level despite being 37-years-old and not quite as fast as he used to be. With 44 combined tackles in three postseason appearances thus far, it's clear that Lewis can still play.
This is his going to be his final game, and if any player is truly going to leave it all on the field, it's going to be Lewis.
It will be interesting to see how he adjusts at the line of scrimmage to the much younger Niners QB Kaepernick, and how effectively he can get his unit in the right position to stop San Francisco's extremely versatile offense.
Should the Ravens win a low-scoring battle, don't be surprised if Lewis gets the nod for the second time in his illustrious career, which would be unprecedented for a defensive player.
3. Frank Gore, RB, San Francisco 49ers
Video Credit: NFL Network
The Niners have too many weapons in the passing game that are too sporadically productive to be considered for the MVP. Baltimore also has a much more evenly distributed backfield, which exclude both Ray Rice and Bernard Pierce from this discussion.
However, if the Ravens try to take away Kaepernick's ability to run, Gore will be the focal point of the San Francisco offense and a prime MVP contender.
Once Gore gets going, it's extremely difficult to bring him down. As reputedly physical as the Baltimore defense is, it will have its hands full in trying to prevent Gore from rolling up big yards between the tackles.
After going down 17-0 in the NFC Championship game, it was the rushing attack fueled by Gore that opened up the offense for the Niners to get back into the game.
Should they finally get off to a good start in the playoffs, it will likely be because of Gore gashing the Ravens. He has gotten 25 and 21 touches respectively in the Niners' two postseason games, and should have just as many—if not more—opportunities in New Orleans.
2. Joe Flacco
Video Credit: NFL Network
No one has experienced quite the rapid rise that Flacco has in the playoffs, silencing doubters by the second after so frequently falling short.
The attacking, vertical style the offense has taken on since Jim Caldwell took over as offensive coordinator has led to Flacco averaging over nine yards per attempt during this Ravens run.
Flacco also has eight touchdowns and zero interceptions in his past three games, which shows that he is perfectly blending the acts of being judicious but aggressive with the football. That is characteristic of an elite quarterback.
After so much inconsistency and reliance on the defense for much of his prior postseason success, this has been a huge step up for Flacco. He has been the key to the Ravens' postseason victories rather than the benefactor.
Flacco has a chance to cap off one of the most impressive postseason stretches by a QB of all-time with a win on the biggest stage imaginable.
Should he light it up again and throw for something like 300 yards, the Ravens will likely win, and Flacco will likely find himself holding the MVP trophy along with the coveted Lombardi.
1. Colin Kaepernick
Video Credit: NFL Network
The game plans designed around Kaepernick continue to baffle opposing defenses.
With an extra week to prepare, it will be exciting to see what head coach Jim Harbaugh and offensive coordinator Greg Roman draw up for the second-year QB to attack the Ravens.
As seen during the divisional round, when Green Bay Packers DC Dom Capers elected to blitz Kaepernick frequently, he will make defenses pay when they bring the house—through the air or on the ground.
When the Atlanta Falcons took away his edge on the read-option play, Kaepernick simply settled in the pocket and beat the NFC's No. 1 seed with his cannon arm.
The Niners have gotten off to bad starts in both previous outings in these playoffs, but Kaepernick has been the driving force to get his team back into the game. He is incredibly explosive, and can put the ball in the end zone more quickly than just about anyone.
Who will win Most Valuable Player in Super Bowl XLVII?
As smart and savvy as Baltimore's defense is, it isn't very fast in the linebacker corps. That means if Kaepernick gets the edge on an option play or breaks contain, he could easily take it to the house.
It's a bad matchup for the Ravens, since Kaepernick already has a solid grasp on how to put his team into good plays and presents an obvious formidable test in terms of his unique athletic ability.
San Francisco is favored to win this game, and quarterback is the favored position to win Most Valuable Player. That makes Kaepernick the clear favorite to take home the hardware.
This article is
What is the duplicate article?
Why is this article offensive?
Where is this article plagiarized from?
Why is this article poorly edited?