Alabama Football: What AJ McCarron Must Do to Be a First Round NFL Draft Pick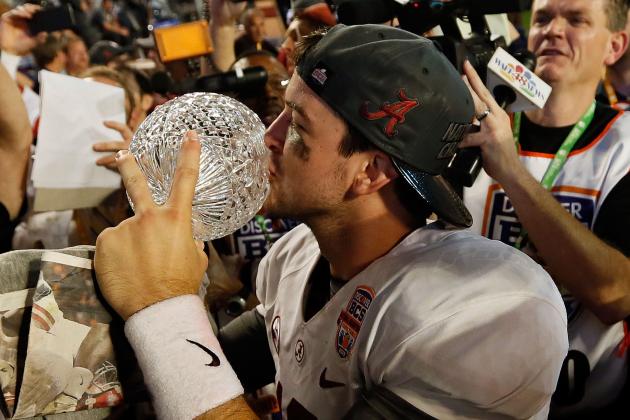 Kevin C. Cox/Getty Images

Twelve months from now, Alabama quarterback AJ McCarron will be anxiously awaiting the announcement that he has been chosen in the 2014 NFL draft.
But in the meantime, McCarron has some work to do.
At this point, little doubt remains that the bow-tie wearing, tattooed, model-dating leader of the Tide offense will go down in Alabama history as the best to ever throw a pass at the Capstone.
Statistically, no one even comes close.
Having said that, there is no certainty the NFL has the same confidence in McCarron that the Crimson Tide Nation does.
Even with his 25-2 record as a starting quarterback and two BCS national titles under his belt, McCarron has struggled to shake the title of "game manager" from his resume. Unfortunately, this unwanted moniker may prevent him from becoming a first-round pick in the NFL draft.
There are a few things McCarron can do to overcome this. Over the next year, this will be the task at hand for the Alabama superstar—as if he didn't have enough on his plate already.
Here is what McCarron can do to firmly cement his place as a first-round talent in next year's NFL draft.
Begin Slideshow

»
Kevin C. Cox/Getty Images

We have seen McCarron connect on the deep pass with receivers like Kenny Bell and Amari Cooper. At the same time, we have seen him miss on a number of deep balls as well.
In 2012, McCarron completed 65 percent of his passes thrown for 20 yards or more, compared to just 39 percent in his sophomore campaign.
In 2013, he must match his effort from a year ago, but also needs to throw downfield more often. Until NFL executives respect that he can be a consistent downfield thrower, he is going to have a tough time breaking into the first round of the draft.
Yes, some of this is because Alabama does not toss the ball around recklessly like other programs, with coach Nick Saban preferring to minimize his offensive risks.
Perception, though, is reality. McCarron is well known for many things, but throwing a consistently accurate deep ball is not one of them.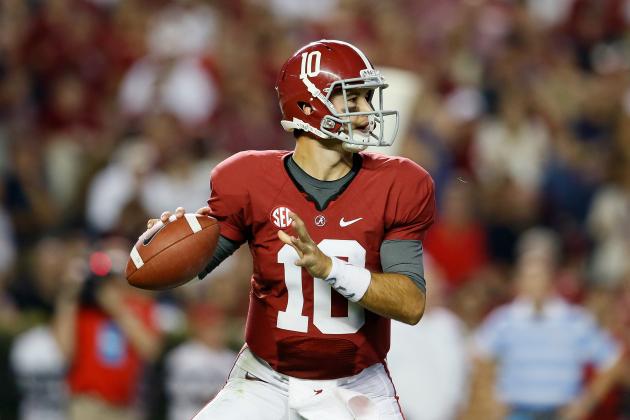 Kevin C. Cox/Getty Images

Only three FBS quarterbacks completed over 70 percent of their passes in 2012. McCarron did not miss the mark by much, connecting on just over 67 percent of his throws, good for 15th nationally. In 2011, he was less than a half percentage point under 70.
The consistency has no doubt been there.
There is something magical, though, about hitting that 70 percent. Yes, we may be splitting hairs here, but there are specific landmark numbers that can make the difference between a first- or second-round draft pick.
If McCarron can bring his completion percentage up just a wee bit and keep his quarterback rating at or near the top of the nation, it will be hard to pass on him in the first round.
Again, statistics matter. Add in that, to date, McCarron has thrown 49 touchdown passes and just eight interceptions in his career.
The only thing that he can really improve numerically is his completion percentage.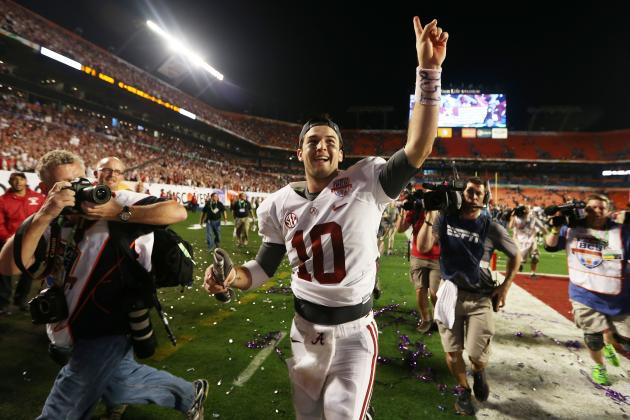 Streeter Lecka/Getty Images

The NFL loves winners.
Winning a national title is great. Winning two is better. Winning three is unheard of.
Alabama is known for its physical rushing attack, its dominant offensive line and its stifling defense. Alabama is not known for its quarterbacks.
Not lately, anyway.
McCarron's detractors will revert to the "game manager" speak. They will say that he is little more than a product of his environment and has found his success on the coattails of Saban's standout running backs.
McCarron helped bust up these theories by blistering Notre Dame for his second BCS title. If he can win a third, he will render any arguments against the significance of his contribution to the Tide program useless.
Obviously it won't be easy, as it has never been done before.
But if the Tide can reach the pinnacle of college football for a third consecutive year with a third man playing the role of feature running back, McCarron will have to be given much of the credit.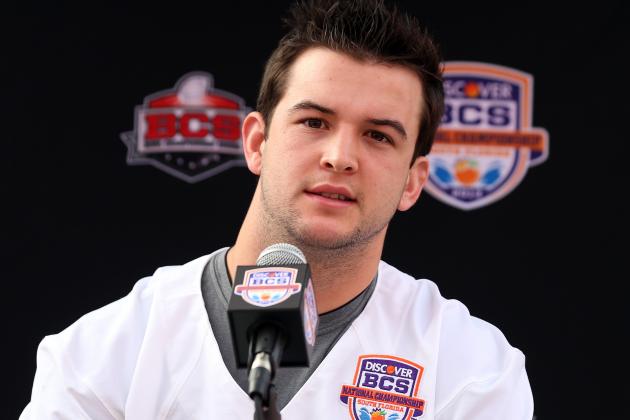 Streeter Lecka/Getty Images

McCarron is quickly becoming somewhat of a folk hero in the state of Alabama. The kid did not come to Tuscaloosa with as much hype as many of his teammates.
In just two years as the Tide's starter, he has clearly surpassed any expectations that preceded his arrival.
He has quite a lot on his plate, though, as he enters his senior year of eligibility.
He has a model girlfriend that has seen her celebrity rise to epic levels thanks to ESPN announcer Brent Musburger. As a result, he has taken the role of "big man on campus" to a new level.
And he has the weight of the elusive three-peat hanging around his neck.
In 2013, McCarron must block out these distractions and clutter that will surround him throughout the season. Like vultures, everyone he comes in contact with will be a potential threat to his focus.
There will be more interviews, more stories, more fame—more of pretty much everything.
So far, McCarron has played the "aw shucks" role of the kid from Mobile who just wants to play football. He has been himself, proving focused and determined not to let anything get in his way.
If he can continue on this path, he will reach the aforementioned goals, and the NFL will have no choice but to appreciate McCarron for what he is: an NFL-ready winner.