New Alex Rodriguez and MLB PED Revelations All MLB Fans Must Know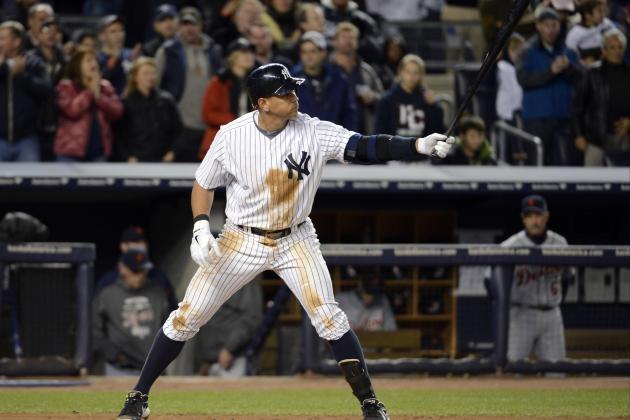 Robert Deutsch-USA TODAY Sports

In 2012, new MLB PED revelations alarmed the baseball world. Melky Cabrera, Bartolo Colon and Yasmani Grandal were all handed 50-game suspensions for testing positive for banned substances.
Two of those players were mentioned in a shocking exclusive report published by the Miami New Times.
Biogenesis, a small medical clinic located just a stone's throw from the University of Miami campus, was apparently just a front—they were, in fact, selling testosterone, HGH and other steroids.
Biogenesis closed its doors a month ago, and its owner, Anthony Bosch, completely disappeared at the same time.
A former employee of Biogenesis got their hands on several documents—the documents were clear in revealing that Biogenesis sold anabolic steroids and many other performance-enhancing drugs to dozens of athletes, including several MLB players.
We will take a look at some of the players who were mentioned prominently in the Biogenesis documents.
Note: All excerpts come directly from MLB.com or the report published by the Miami New Times. In addition, some players who have been mentioned in the report have never tested positive for PED use by MLB. Their inclusion in the report does not necessarily equate with guilt.
Begin Slideshow

»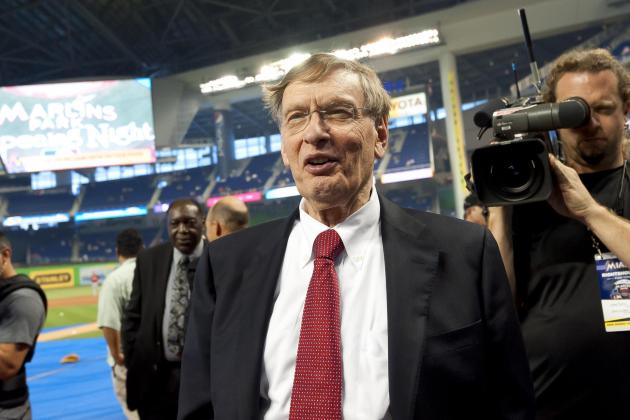 Steve Mitchell-USA TODAY Sports

As expected, MLB wasted no time getting in front of today's report published in the Miami New Times.
Here is their official statement:
We are always extremely disappointed to learn of potential links between players and the use of performance-enhancing substances. These developments, however, provide evidence of the comprehensive nature of our anti-drug efforts. Through our Department of Investigations, we have been actively involved in the issues in South Florida. It is also important to note that three of the players allegedly involved have already been disciplined under the Joint Drug Program.

The recommendations of the Mitchell Report have once again played a critical role in Major League Baseball's ongoing efforts against performance-enhancing drugs. MLB implemented all of the recommendations made by Senator Mitchell in 2007, several of which emphasized the significance of installing proactive investigative services.

The establishment of our Department of Investigations has represented a critical advance in these comprehensive efforts. In the years since its formation, DOI's work has proven pivotal to bringing to light information regarding the use of performance-enhancing substances. Furthermore, DOI has built strong working relationships with federal and local law enforcement authorities. These relationships are crucial because only law enforcement officials have the capacity to reach those outside the game who are involved in the distribution of illegal performance-enhancing drugs.

Vigilance remains the key toward protecting the integrity of our game. We have the best and most stringent drug testing policy in professional sports, we continue to work with our doctors and trainers to learn what they are seeing day-to-day and we educate our players about the game's unbending zero-tolerance approach. We remain fully committed to following all leads and seeking the appropriate outcomes for all those who use, purchase and are involved in the distribution of banned substances, which have no place in our game.

We are in the midst of an active investigation and are gathering and reviewing information. We will refrain from further comment until this process is complete.
What is troubling about the report and MLB's statement is exactly what they knew and when they knew it.
In the statement, MLB acknowledges being "actively involved" in the investigation into Biogenesis. They, of course, put themselves in a positive light, saying that three of the players allegedly involved were, in fact, disciplined.
However, MLB right now just smacks of indignation and arrogance. Considering that Melky Cabrera was suspended back in August, that would indicate that MLB has had knowledge of what was going on in South Florida for quite a while.
And yet they chose to remain completely silent about it?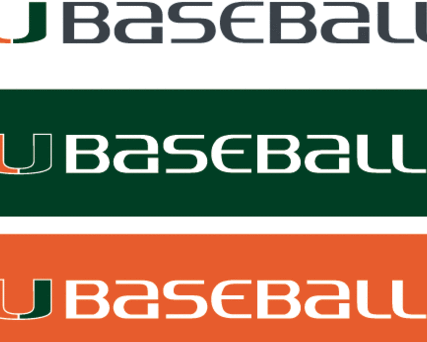 Photo courtesy owncoralgables.com
Several of the players mentioned in the report published by the Miami New Times have direct ties to the University of Miami or the city of Miami itself.
In the report, Miami Hurricanes strength and conditioning coach Johnny Goins is mentioned prominently. Goins has overseen strength and conditioning at the prestigious baseball school for the past nine years.
According to the report:
Goins is recorded in multiple client lists; in one detailed page dated December 14, 2011, Bosch writes he's selling him Anavar, testosterone, and a Winstrol/B-12 mix and charging him $400 a month. Another, from this past December, includes sales of HGH and testosterone.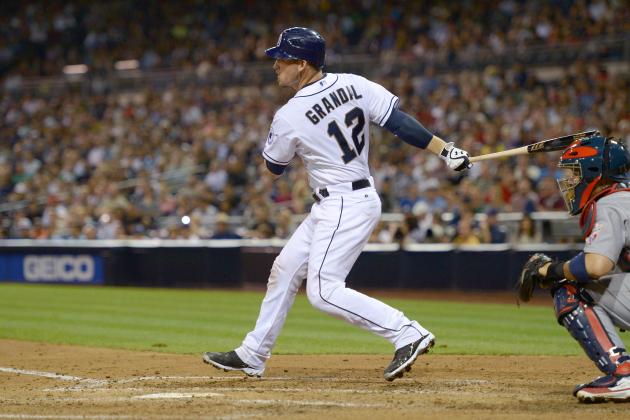 Jake Roth-USA TODAY Sports

On Nov. 7, San Diego Padres catcher Yasmani was suspended 50 games by MLB for elevated levels of testosterone.
Grandal became the third prominent player suspended last year for PED use. Not coincidentally, he was mentioned prominently in documents obtained by the Miami New Times from Biogenesis.
In detailed notes written by Biogenesis owner Anthony Bosch, he refers to Grandal by the nickname "Springs."
Here is one excerpt:
Deliver April 4 (in person or by mail). He is in Tucson. Waiting for his call to see if he can drive to Phoenix. Payment will be made by his [illegible], $500 of expenses.
Bosch also mentions Grandal's girlfriend:
A lengthy regimen for morning and evening HGH injections, for "six days on and one day off," with testosterone and IGF-1 treatments as well. "Pink cream prior to game," he writes, later adding a troche with 15 to 20 percent testosterone "prior to game."
Given the fact that Grandal's girlfriend wasn't taking testosterone "prior to game," one could assume that Bosch was referring to Grandal.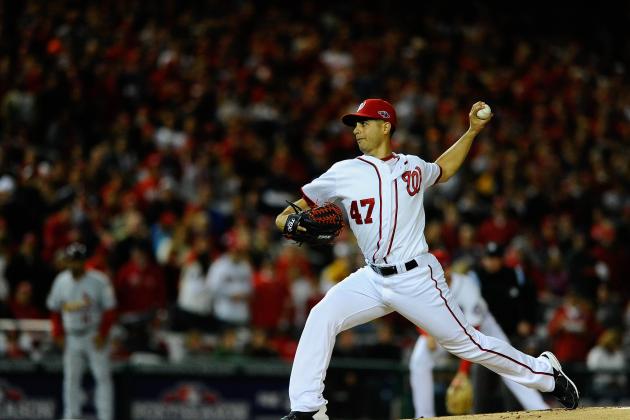 Brad Mills-USA TODAY Sports

In 2012, southpaw pitcher Gio Gonzalez had a breakout season in his first year with the Washington Nationals. He finished third in Cy Young Award balloting and led the majors with 21 wins.
In notes that Biogenesis owner Anthony Bosch wrote in 2012, he mentioned Gonzalez's name five times.
Here is one excerpt:
Order 1.c.1 with Zinc/MIC/... and Aminorip. For Gio and charge $1,000.
(Aminorip is a muscle-building protein.)
However, Gonzalez's father Max also appeared in Bosch's notes, oftentimes together with his son.
Gonzalez told the Miami New Times that his son never once saw Bosch or has any connection to Biogenesis.
"My son works very, very hard, and he's as clean as apple pie," the elder Gonzalez says. "I went to Tony because I needed to lose weight. A friend recommended him, and he did great work for me. But that's it. He never met my son. Never. And if I knew he was doing these things with steroids, do you think I'd be dumb enough to go there?"
Gonzalez had never previously been tied to PED use in any way.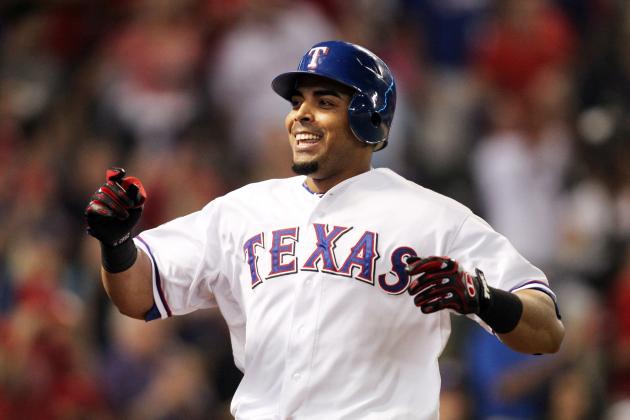 Tim Heitman-USA TODAY Sports

Another name of note appeared in notes compiled by Biogenesis owner Anthony Bosch—Texas Rangers right fielder Nelson Cruz.
In his notes, Bosch refers to Cruz by the nickname "Mohamad."
Here is an excerpt taken from Bosch's 2012 notes:
Need to call him, go Thur to Texas, take meds from April 5-May 5, will owe him troches and... and will infuse them in May.
According to Mosby's Medical Dictionary, a troche is described as "a small oval, round, or oblong tablet containing a medicinal agent incorporated in a flavored, sweetened mucilage or fruit base that dissolves in the mouth, releasing the drug. Also called lozenge, rotula, trochiscus."
Cruz has also never been implicated in the past regarding PED use.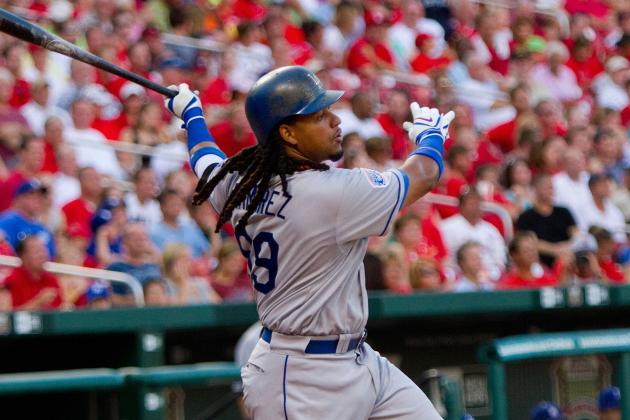 Dilip Vishwanat/Getty Images

In 2009, Los Angeles Dodgers slugger Manny Ramirez was suspended 50 games by MLB. Ramirez was suspended for taking the female fertility drug human chorionic gonadotropin, or hCG.
The fertility drug was known to be taken by steroid users to "restart their bodies' natural testosterone production as they come off a steroid cycle."
The drug was allegedly administered to Ramirez by physician Pedro Bosch, the father of Biogenesis owner Anthony Bosch.
No charges were ever filed against either Bosch at the time, but both were investigated by federal agencies.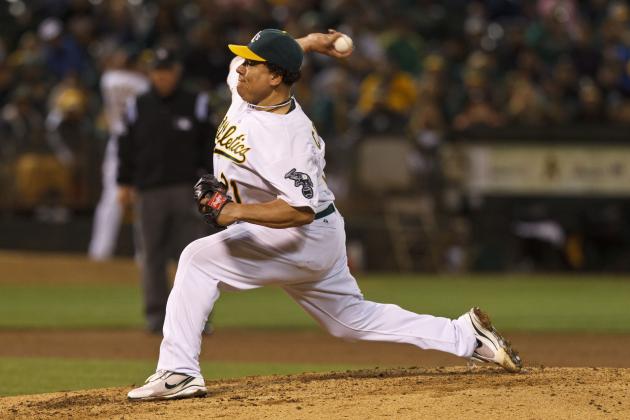 Jason O. Watson/Getty Images

Oakland A's starting pitcher Bartolo Colon has already come under much scrutiny in the past two years.
After missing the entire 2010 season with shoulder and elbow injuries, Colon went through a radical treatment in which his stem cells were injected back into his elbow and shoulder to help repair ligament damage and a torn rotator cuff.
Colon went on to post 26 starts for the New York Yankees in 2011, posting an 8-10 record and 4.00 ERA.
In 2012, the Oakland A's signed Colon and he again delivered, posting a 10-9 record and 3.43 ERA in 24 starts. However, Colon was suspended in August by MLB 50 games for elevated levels of testosterone.
Undaunted, the A's re-signed Colon this offseason for one more year and $3 million, giving him a $1 million raise despite his incredibly selfish and foolish act. He'll have the chance to earn another $2 million in incentives as well.
Based on the article published by the Miami New Times, general manager Billy Beane may want to rethink that decision.
According to notes made by Biogenesis owner Anthony Bosch, Colon was another prominent client:
In his notes, Bosch calls him "DUI" and writes that the fastballer's monthly fee was $3,000 as of June 2012.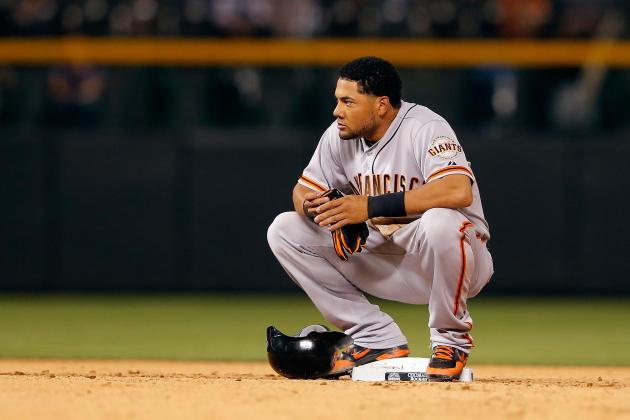 Doug Pensinger/Getty Images

Outfielder Melky Cabrera will attempt to re-establish himself on the baseball field courtesy of a new two-year, $16 million contract given to him by the Toronto Blue Jays.
Cabrera was banned by MLB for 50 games last August for elevated levels of testosterone. The San Francisco Giants declined to bring Cabrera back after his suspension was completed during the postseason.
Now, Cabrera will have to answer why his name appeared prominently in notes taken from Biogenesis owner Anthony Bosch.
Here is one excerpt:
Under a heading labeled "Melkys/Mostro," Bosch writes, "April 4th drop off, has enough meds until May 4... next visit deliver and infuse $9,000 to RPO and $900 exp. and charges. Call him for expense. Missing this mo. troches and pink cream."

Another document in the files, labeled simply "Mostro" — his nickname for Cabrera — and dated December 21, 2011, lists his regimen: a cocktail of drugs including IGF-1.

(There's also an odd, handwritten letter by Bosch in his notebook that seems to refer to Cabrera's suspension for elevated testosterone. Addressed to a "Juan," Bosch rails against Cabrera, writing that "in helping him, I put my business and all my doctors at risk by fabricating patient charts and phony prescriptions." He adds that the slugger should "man up" and pay $9,000 he owes, adding, "I am on the 'line' here!!")
And this is a man the Blue Jays guaranteed $16 million for.
Wow.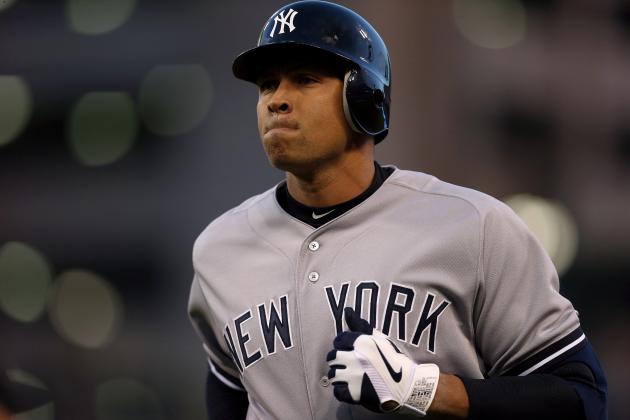 Jonathan Daniel/Getty Images

Alex Rodriguez will spend at least the first four months of the 2013 on the disabled list as he recovers from hip surgery.
He'll also likely have to answer questions regarding his name prominently being mentioned in documents obtained from Biogenesis by the Miami New Times.
Rodriguez has publicly claimed that he stopped taking steroids a decade ago and that he has never juiced as a member of the New York Yankees.
He'll now have an even harder time backing up that statement.
A-Rod will certainly have to explain this particular excerpt from Anthony Bosch's notes:
Yet there was his name, over and over again, logged as either "Alex Rodriguez," "Alex Rod," or his nickname at the clinic, "Cacique," a pre-Columbian Caribbean chief. Rodriguez's name appears 16 times throughout the records New Times reviewed.

Take, for instance, one patient list from Bosch's 2009 personal notebook. It charts more than 50 clients and notes whether they received their drugs by delivery or in the office, how much they paid, and what they were taking.

There, at number seven on the list, is Alex Rodriguez. He paid $3,500, Bosch notes. Below that, he writes, "1.5/1.5 HGH (sports perf.) creams test., glut., MIC, supplement, sports perf. Diet." HGH, of course, is banned in baseball, as are testosterone creams.
And this one as well:
The mentions of Rodriguez begin in 2009 and continue all the way through last season. Take a page in another notebook, which is labeled "2012" and looks to have been written last spring. Under the heading "A-Rod/Cacique," Bosch writes, "He is paid through April 30th. He will owe May 1 $4,000... I need to see him between April 13-19, deliver troches, pink cream, and... May meds. Has three weeks of Sub-Q (as of April)."
Yeah, he's been so clean over the past 10 years.
We broached the subject of "troches" earlier in our presentation. According to the notes obtained by the Miami New Times, Bosch had his own special "troche."
Bosch's notes state:
Bosch spells out that his "troches," a type of drug lozenge, include 15 percent testosterone; pink cream, he writes, is a complex formula that also includes testosterone. GHRP is a substance that releases growth hormones.
That, apparently, is A-Rod's version of "clean."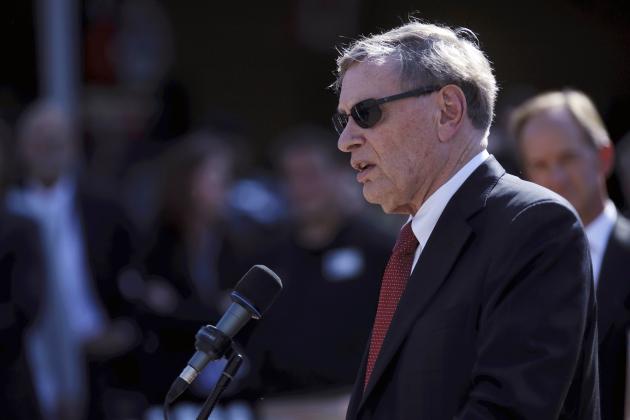 Hannah Foslien/Getty Images

Based on the article published by the Miami New Times, it's quite obvious that MLB hasn't even come close to cleaning up their sport.
The article suggested that Biogenesis was an "East Coast version of BALCO," and that's not far from the truth.
Anthony Bosch found athletes who were more than happy to try any means necessary to help give them an edge. They sought to put themselves above the sport, and baseball has yet to find a way to stop it.
This damning report will again shed light on the rampant use of artificial and illegal substances by athletes. MLB will claim that they're on top of things, but are they really?
In their statement, MLB claims to have had knowledge of what was going on in South Florida. They claim that their preventive measures are working.
Those measures are only working when a player gets caught. That's not the definition of preventive.
The game of baseball clearly took another major hit with these allegations. Under section 7.G.2 of the Joint Drug Agreement, Bud Selig has the right to suspend any player for "just cause."
Whether or not he uses that right remains to be seen. Selig is likely poring over the evidence collected by the Miami New Times as we speak.
However, even if Selig acts on the latest round of allegations, it clearly shows that MLB is not even close to competing on a level playing field.
Doug Mead is a featured columnist with Bleacher Report. His work has been featured on the Seattle Post-Intelligencer, SF Gate, CBS Sports, the Los Angeles Times and the Houston Chronicle.