Power Ranking All 30 Projected Starting Outfield Entering Spring Training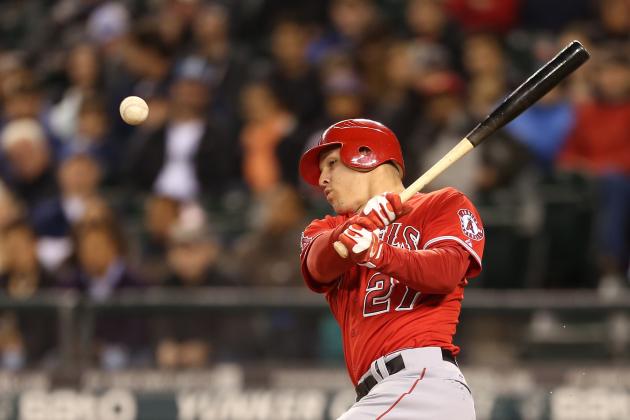 Otto Greule Jr/Getty Images

Though the 2013 offseason is not complete, many teams already have their starting outfield set for the coming season.
Others are looking at both the free-agent and trade markets to find the players whom they need. Players like Michael Bourn are still available, and they could greatly improve a team's outfield.
Both players' offensive and defensive abilities were considered for these rankings.
Begin Slideshow

»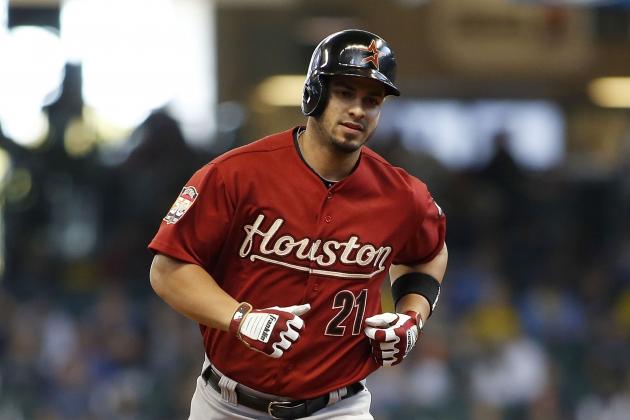 Mark Hirsch/Getty Images

Projected Outfield: Fernando Martinez, J.D. Martinez and Justin Maxwell
As the Houston Astros rebuild, they are going to give a number of young players a look. This could certainly be the case with their outfield.
None of the starting outfielders whom the Astros will use have much of a track record of success at the big league level.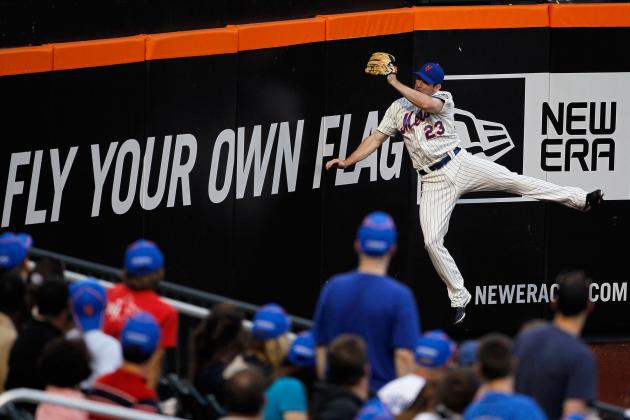 Mike Stobe/Getty Images

Projected Outfield: Lucas Duda, Kirk Nieuwenhuis and Mike Baxter
There are certainly no high expectations for the New York Mets outfield heading into 2013. At the moment, they are without any proven talent.
Lucas Duda and Kirk Nieuwenhuis both have potential, but they are also very strikeout prone. Mike Baxter had moments where he shined, but he has not proven that he deserves to be a starter at the major league level.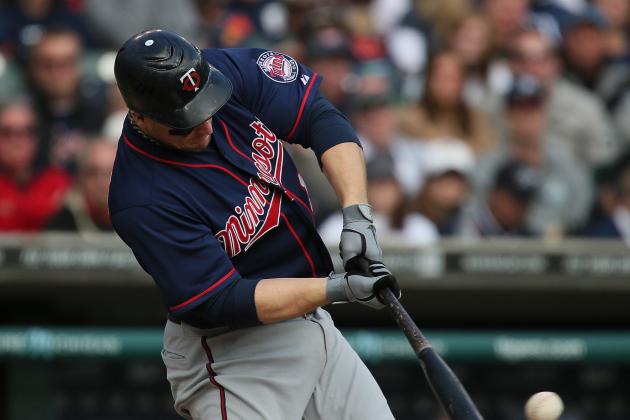 Dave Reginek/Getty Images

Projected Outfield: Josh Willingham, Darin Mastroianni and Chris Parmelee
After trading away both Denard Span and Ben Revere this winter, the Minnesota Twins have a number of things to figure out involving their outfield.
Josh Willingham is entrenched in one spot and Chris Parmelee has the lead on right field. Center field is a bit of a tossup now, and in addition to Darin Mastroianni, Aaron Hicks and Joe Benson could be competing for the job.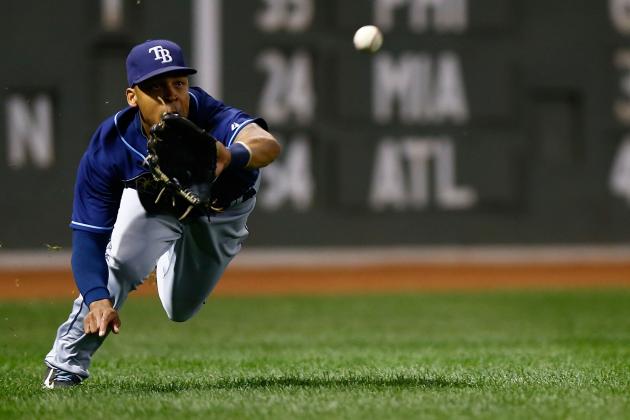 Jared Wickerham/Getty Images

Projected Outfield: Desmond Jennings, Sam Fuld and Matt Joyce
The Tampa Bay Rays outfield will likely be changed at some point early in the season. Top prospect Wil Myers will earn his chance to play at the big league level.
As for the team's current outfielders, Desmond Jennings should be their top outfielder and could take a few big strides forward this season.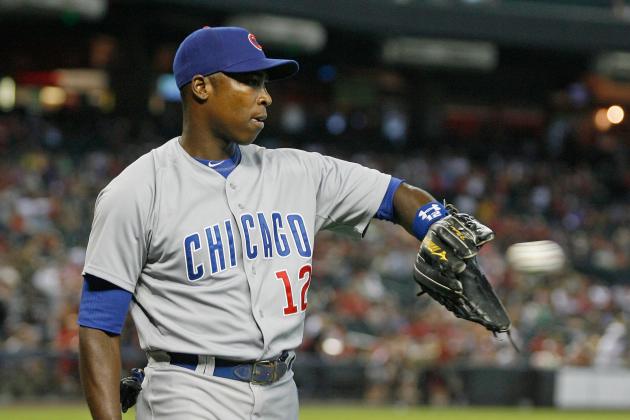 Ralph Freso/Getty Images

Projected Outfield: Alfonso Soriano, David DeJesus and Nate Schierholtz
While Alfonso Soriano's play greatly improved in 2012, there are certainly questions about if he can repeat those numbers in 2013.
As for the other two outfield spots, David DeJesus and Nate Schierholtz are OK players, but not much more. Brett Jackson has a chance to win a starting spot in the outfield, but he needs to impress during spring training.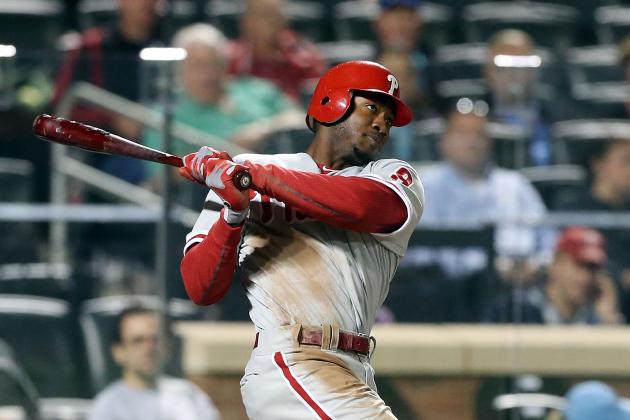 Jim McIsaac/Getty Images

Projected Outfield: Domonic Brown, Ben Revere and Delmon Young
Out of all of the Philadelphia Phillies outfielders, Ben Revere is the only one who is a sure thing. There are many questions surrounding Domonic Brown and Delmon Young.
Brown has struggled during his stints in the majors, but he has a lot of potential. Young has weight issues that could end up costing him both playing time and money this season.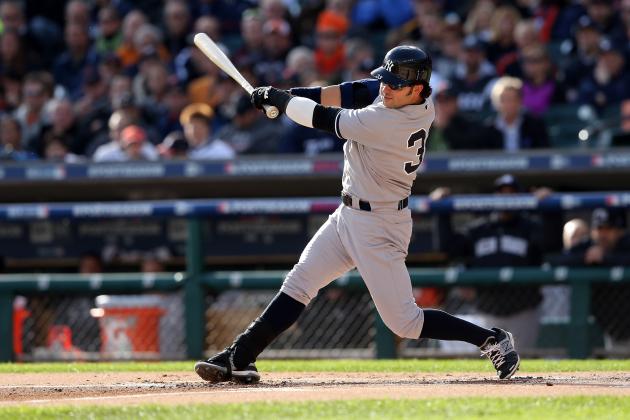 Leon Halip/Getty Images

Projected Outfield: Michael Brantley, Drew Stubbs and Nick Swisher
While the Cleveland Indians traded away their best outfielder, Shin-Soo Choo, they were able to find a replacement for him.
Nick Swisher will provide the Indians with a very consistent bat. The team's outfield could eventually rank higher if Drew Stubbs is able to turn things around after his change of scenery.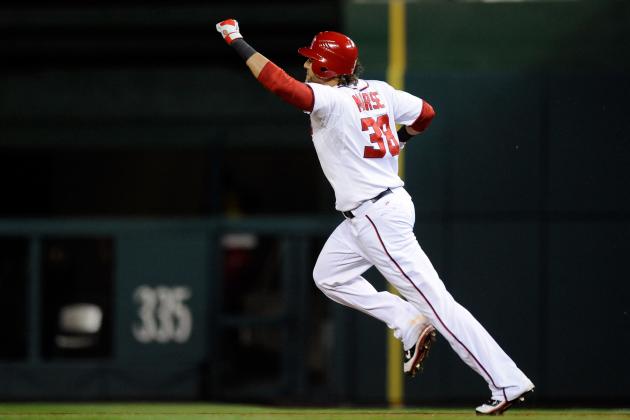 Patrick McDermott/Getty Images

Projected Outfield: Mike Morse, Franklin Gutierrez and Michael Saunders
One of the big goals for the Seattle Mariners this offseason was to pick up an impact bat. They did just that by acquiring Mike Morse.
Franklin Gutierrez has been plagued by injuries during the past two seasons, and if he is able to stay healthy all season, it will be huge for the Mariners.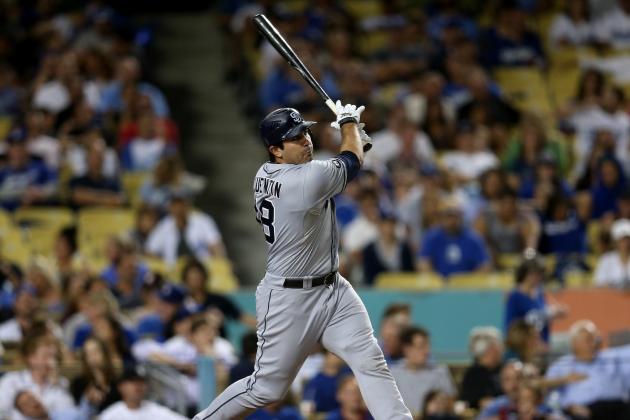 Stephen Dunn/Getty Images

Projected Outfield: Carlos Quentin, Cameron Maybin and Will Venable
San Diego knows what they can expect from Carlos Quentin, and he should be one of the team's top performers.
Cameron Maybin and Will Venable have both shown that they can be valuable contributors, but they have struggled with their consistency at times.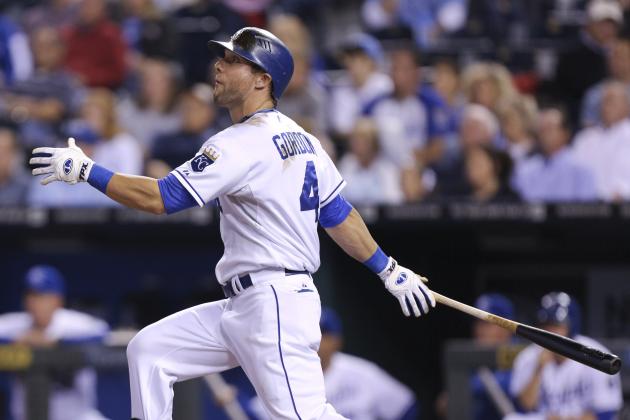 Ed Zurga/Getty Images

Projected Outfield: Alex Gordon, Lorenzo Cain and Jeff Francoeur
The Kansas City Royals believe that they have a chance to be a playoff team in 2013, and if that is the case, they will need their outfielders to put up some big numbers.
Jeff Francoeur is probably the biggest question mark that the team's outfield has. Unless he has a good year, the Royals will be in trouble.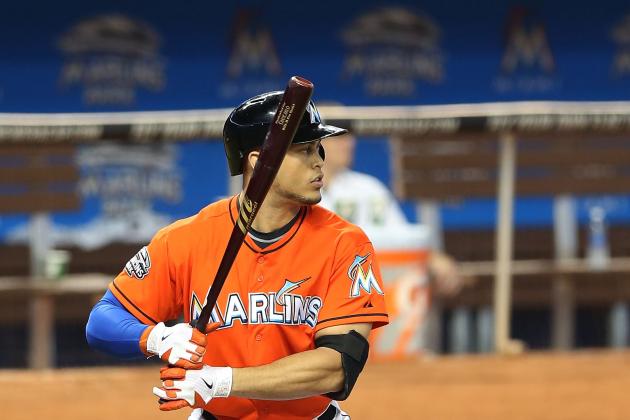 Marc Serota/Getty Images

Projected Outfield: Juan Pierre, Justin Ruggiano and Giancarlo Stanton
While the Miami Marlins team looks nothing like it did last year, two of their three projected starting outfielders were on their roster in 2013.
Giancarlo Stanton is a beast and will be the Marlins best player. Justin Ruggiano is a big wild card, and he played well in his first real chance to see extended playing time last year.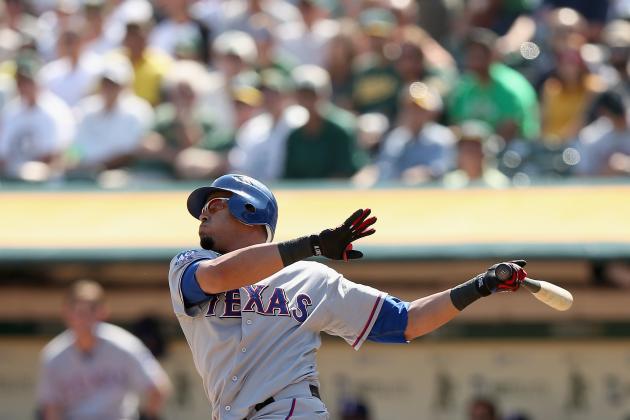 Ezra Shaw/Getty Images

Projected Outfield: David Murphy, Craig Gentry and Nelson Cruz
Losing Josh Hamilton was a massive blow for the Texas Rangers outfield. They went from being in the top 10 to barely cracking the top 20.
Texas' outfielders will need to improve their production in 2013 if the team is going to compete in an increasingly difficult American League West.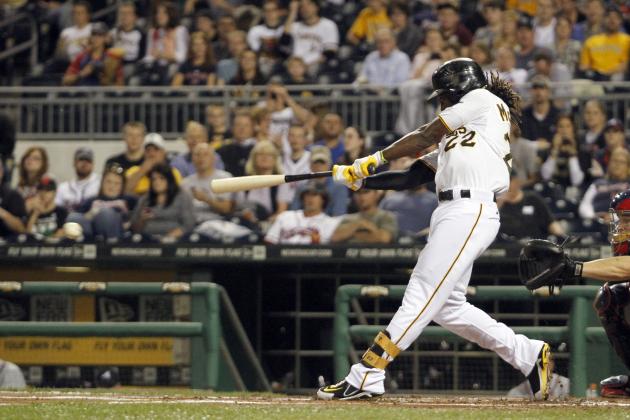 Justin K. Aller/Getty Images

Projected Outfield: Starling Marte, Andrew McCutchen and Travis Snider
Flanking All-Star Andrew McCutchen in the Pittsburgh Pirates outfield are two young outfielders whom the team is counting on to make big strides in 2013.
Both Starling Marte and Travis Snider have demonstrated that they have potential, but they have not been able to perform at a high level for a full season in the big leagues yet.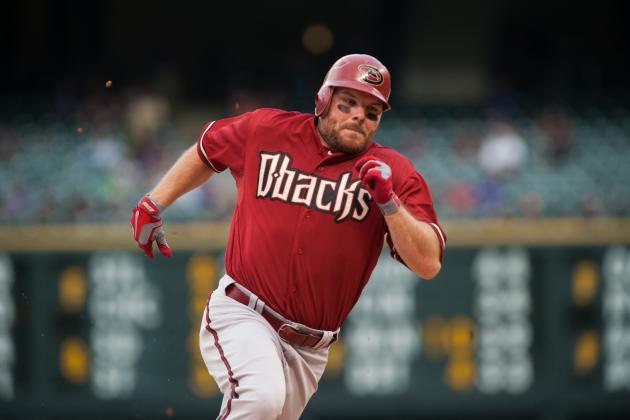 Dustin Bradford/Getty Images

Projected Outfield: Jason Kubel, Adam Eaton and Cody Ross
One of the strengths of the Arizona Diamondbacks was their outfield depth. It was what allowed them to trade away Justin Upton.
Both Jason Kubel and Cody Ross should provide power from the corner outfield spots, while Adam Eaton will serve as a table setter for the team.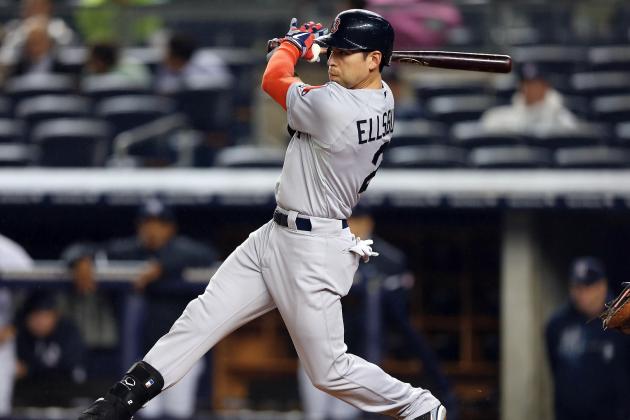 Elsa/Getty Images

Projected Outfield: Jonny Gomes, Jacoby Ellsbury and Shane Victorino
The Boston Red Sox outfield has a chance to shoot up these rankings later in the season, depending on how their players perform.
If Jacoby Ellsbury and Shane Victorino both play the way that they did a few seasons ago, then this ranking will be high. Jonny Gomes should add some needed power into the team's lineup.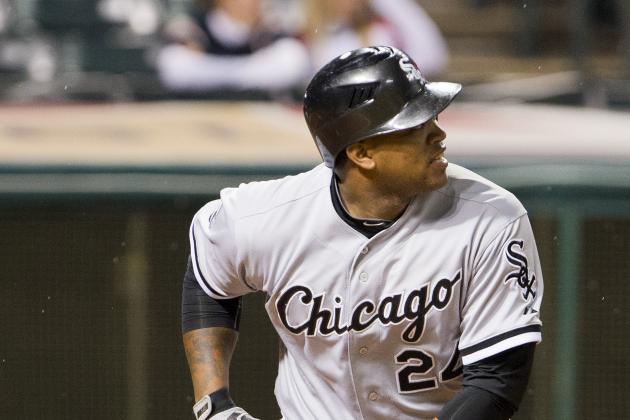 Jason Miller/Getty Images

Projected Outfield: Dayan Viciedo, Alejandro De Aza and Alex Rios
In 2012, Dayan Vicideo finally lived up to all of the hype that surrounded him when the Chicago White Sox first signed him. He is still young and certainly could improve on his performance this year.
Alex Rios recovered after a poor showing in 2011 and even received some MVP votes after his performance in 2012.
Chicago's outfield should not be a concern for them in 2013 like it was heading into last season.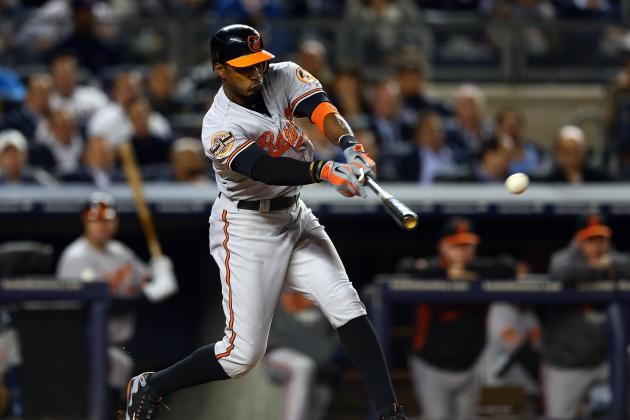 Elsa/Getty Images

Projected Outfield: Nolan Reimold, Adam Jones and Nick Markakis
The Baltimore Orioles will have a battle for left field heading into the 2013 season. Both Nolan Reimold and Nate McLouth will try to win time at the position, and a platoon seems like the most likely scenario.
For the Orioles to reach the postseason for the second consecutive season, they will need Adam Jones to once again perform at an All-Star level.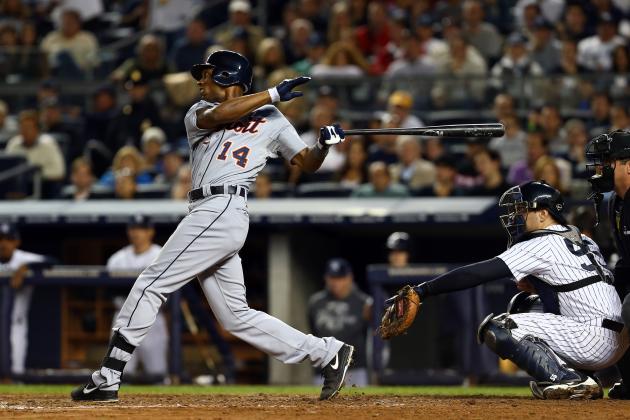 Alex Trautwig/Getty Images

Projected Outfield: Andy Dirks, Austin Jackson and Torii Hunter
In their quest to return to the World Series next season, the Detroit Tigers made the decision to sign Torii Hunter this winter. This move greatly improved their outfield.
Andy Dirks is a bit of a question mark for the Tigers, but he performed very well in a small sample size last year. While he won't hit .322 again in 2013, Dirks could put up some solid numbers.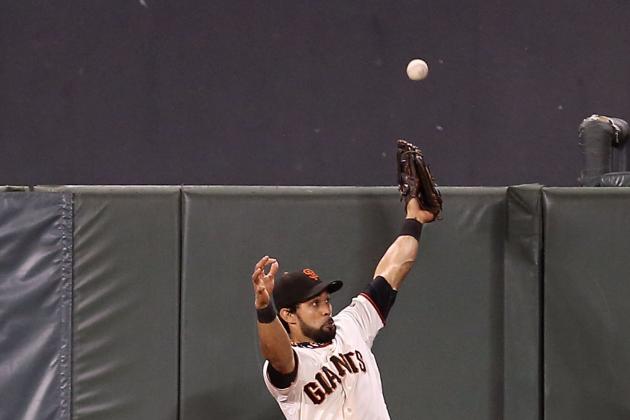 Christian Petersen/Getty Images

Projected Outfield: Gregor Blanco, Angel Pagan and Hunter Pence
The defending World Series champions have a big task ahead of them in 2013, as the team will have a target on its back all season long.
San Francisco has a strong team that has a chance to repeat, and both Angel Pagan and Hunter Pence fit perfectly into their lineup. Gregor Blanco is going to need to step things up a notch or he could lose some playing time to Andres Torres or even Gary Brown.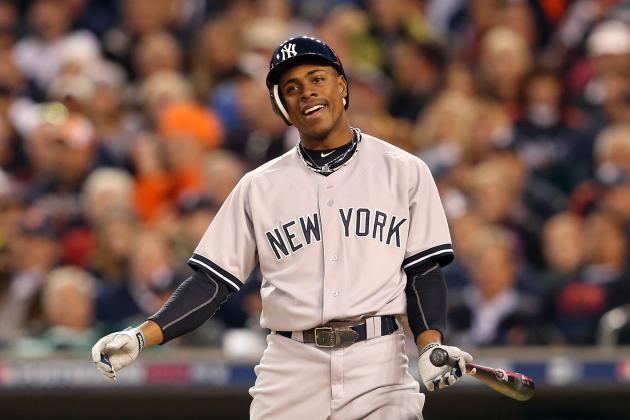 Leon Halip/Getty Images

Projected Outfield: Brett Gardner, Curtis Granderson, Ichiro Suzuki
Getting Brett Gardner back is a huge addition for the New York Yankees outfield. His speed is a game-changer and it was missed in 2012.
Additionally, Ichiro Suzuki and Curtis Granderson will both need to repeat last season's performance for the Yankees to fend off their competition in the American League East.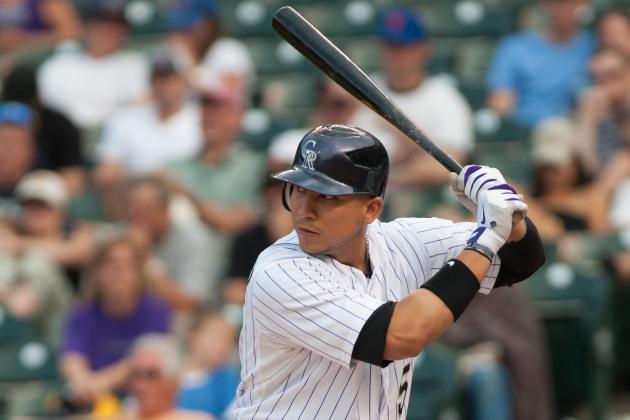 Dustin Bradford/Getty Images

Projected Outfield: Carlos Gonzalez, Dexter Fowler and Michael Cuddyer
While the Colorado Rockies' starting rotation is a mess, they have their starting outfield figured out. The team also has solid depth in their outfield as well.
Carlos Gonzalez is a superstar, and both Dexter Fowler and Michael Cuddyer are players who can put together strong seasons.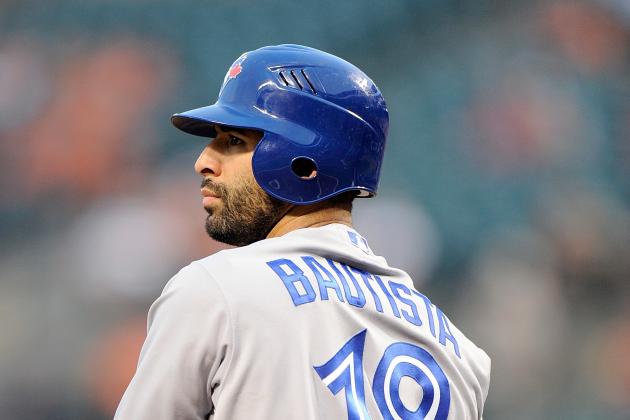 Greg Fiume/Getty Images

Projected Outfield: Melky Cabrera, Colby Rasmus and Jose Bautista

No team has made more improvements this winter than the Toronto Blue Jays, and they have placed the team in a great position heading into 2013.
There are some concerns that Melky Cabrera won't be able to replicate his numbers from last season, but as long as he is decent, the Blue Jays will be fine.
Jose Bautista will need to stay healthy all season, and if he does, the Blue Jays could be a World Series team.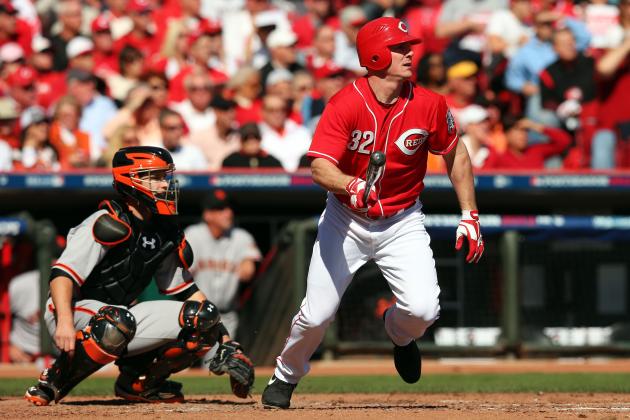 Jonathan Daniel/Getty Images

Projected Outfield: Ryan Ludwick, Shin-Soo Choo, Jay Bruce
One of the Cincinnati Reds' biggest goals this offseason was bringing back Ryan Ludwick. After doing that, they improved their outfield even more.
By trading for Shin-Soo Choo, the Reds solidified their spot as the team to beat in the National League Central this season.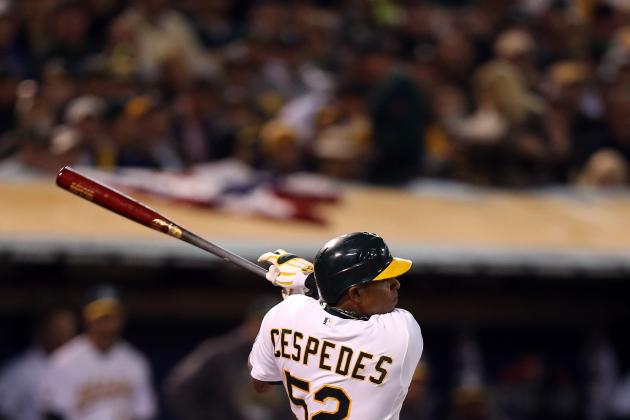 Ezra Shaw/Getty Images

Projected Outfield: Yoenis Cespedes, Coco Crisp and Josh Reddick
While the Oakland Athletics' pitching staff played a huge role in their surprise performance last season, the importance of the production from their outfield cannot be counted out.
With Yoenis Cespedes, the Athletics have a major run producer, and Josh Reddick is another power bat in their lineup. Coco Crisp serves as a big speed threat.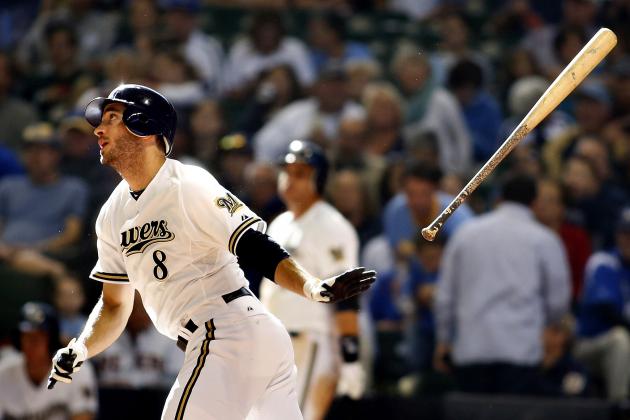 Mark Hirsch/Getty Images

Projected Outfield: Ryan Braun, Carlos Gomez and Norichika Aoki
When the Milwaukee Brewers picked up Norichika Aoki prior to the 2012 season, they could not have expected the level of performance that they got from him. They are hoping that his sophomore season will be even better.
Ryan Braun is one of the top outfielders in the the game and has put together back-to-back 30/30 seasons in which he has had a batting average of at least .315.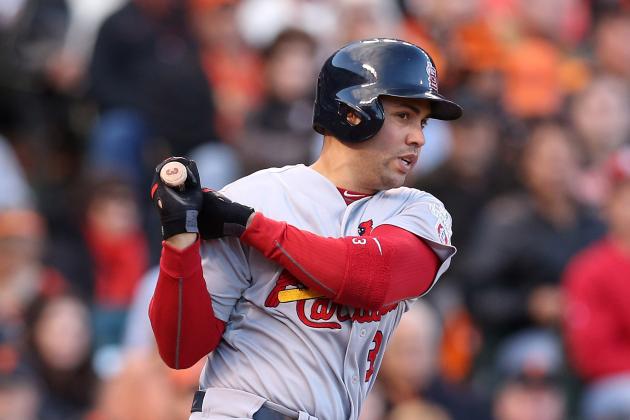 Christian Petersen/Getty Images

Projected Outfield: Matt Holliday, John Jay and Carlos Beltran
Matt Holliday and Carlos Beltran have both proven over the course of their respective careers that they are top-flight outfielders. However, what gets the St. Louis Cardinals into the top five is the boost that they have gotten from the performance of Jon Jay the past few seasons.
As good as the Cardinals outfield is at the moment, it could improve even more midseason if the team calls up top prospect Oscar Taveras.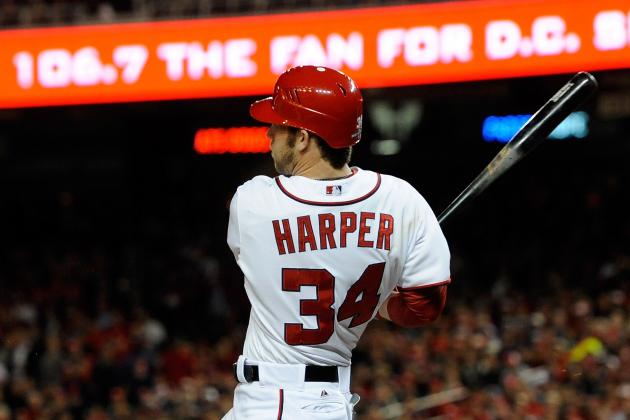 Patrick McDermott/Getty Images

Projected Outfield: Jayson Werth, Denard Span and Bryce Harper
Baseball's best team in 2012 got even better this winter, as they added Denard Span to their outfield.
Span will be joining Jayson Werth, who finally figured things out, and Bryce Harper, who should get even better in his second season in the big leagues.
Washington could once again be the top team in the National League in 2013 based in part on the performance of these three players.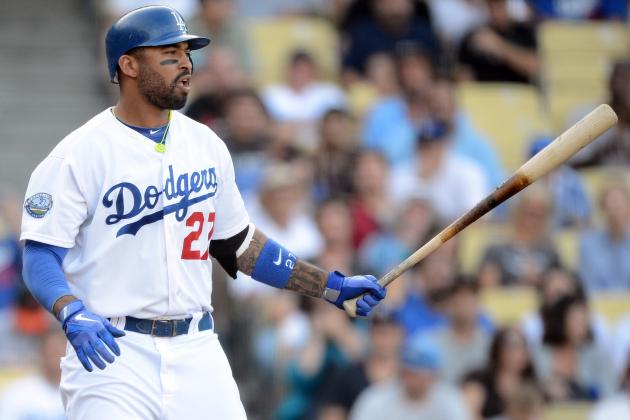 Harry How/Getty Images

Projected Outfield: Carl Crawford, Matt Kemp and Andre Ethier
Injuries have had an impact on two of the Los Angeles Dodgers outfielders in the past year.
Carl Crawford might be ready for Opening Day, but he still has to prove that he can be the player he was before he underwent Tommy John surgery.
Matt Kemp suffered from injury problems last season, and the Dodgers need him to be healthy for the whole season and put up a 40/40 season if they are going to beat out the San Francisco Giants for the National League West title.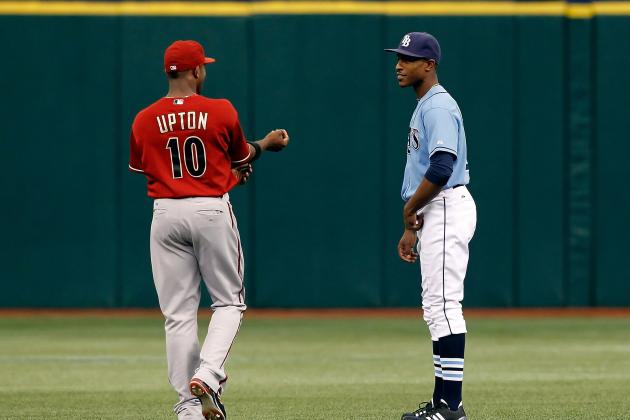 J. Meric/Getty Images

Projected Outfield: Justin Upton, B.J. Upton and Jason Heyward
Adding one Upton brother this offseason was not enough for the Atlanta Braves. After signing B.J. Upton, the Braves went out and traded for Justin. The Braves are hoping that they can be the bash brothers for them and power them through the season.
In addition to the Uptons, Atlanta has Jason Heyward. Following a sophomore slump, Heyward proved that he will be an elite outfielder for years to come with his production in 2012.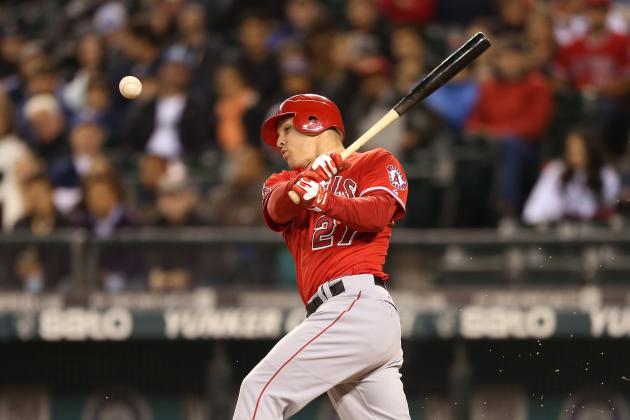 Otto Greule Jr/Getty Images

Projected Outfield: Mike Trout, Peter Bourjos and Josh Hamilton
As good as the Atlanta Braves outfield is, it still falls behind the Los Angeles Angels outfield. With Mike Trout and Josh Hamilton, it is entirely possible that the two best outfielders in 2013 are members of the Angels.
While Peter Bourjos may struggle a bit at the plate, he has still proven through his 2011 performance that he can put up solid numbers. Additionally, he has shown that he is very valuable defensively.