2013 Senior Bowl's Biggest Winners & Losers for the NFL Draft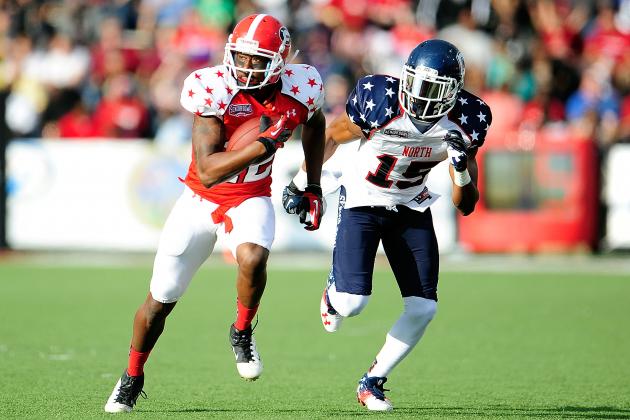 Stacy Revere/Getty Images

The NFL Draft is just three short months away, and we got our reminder of that on Saturday at the Senior Bowl.
The South would rise to win the game 21-16 behind Player of the Game EJ Manuel of Florida State, but the real winners and losers aren't the teams themselves but the players who made up those teams.
Their mission: Raise their stock for the upcoming NFL Draft. So which players succeeded in this matter, and which players failed?
Come take a look at the winners and losers from the 2013 Senior Bowl.
Begin Slideshow

»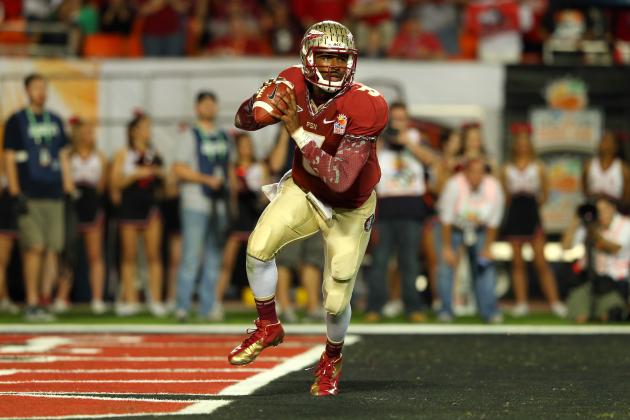 Mike Ehrmann/Getty Images

He was one of the best out of a bad situation.
But considering that Manuel was responsible for two of the South's scores in the Senior Bowl, he's a winner.
Manuel has his flaws and inconsistencies and had an interception. However he was 7-of-10 passing the ball for 76 yards while running the ball for 10 yards on four carries, scoring a touchdown in the air and on the ground.
Manuel probably jumped up from the third round to the second, which is a victory. But this isn't so much because he wowed anyone (he really didn't), but because he was the best quarterback at the game, as well as the Senior Bowl's Player of the Game.
Jeff Zelevansky/Getty Images

This is what a first-round quarterback looks like?
This guy out-dueled Geno Smith in the New Era Pinstripe Bowl less than a month ago?
I don't see it, and apparently the Bills (now coached by Nassib's former college coach Doug Marrone) don't see it either (per Rotoworld.com).
Nassib's interception in the game was partly the result of a bad snap. Still, there was nothing but the red from the South where Nassib was throwing, which makes me question his decision-making.
Because teams need a quarterback, Nassib will still go higher than he should. I'm not sold on him remaining in western New York unless he drops down to the second round.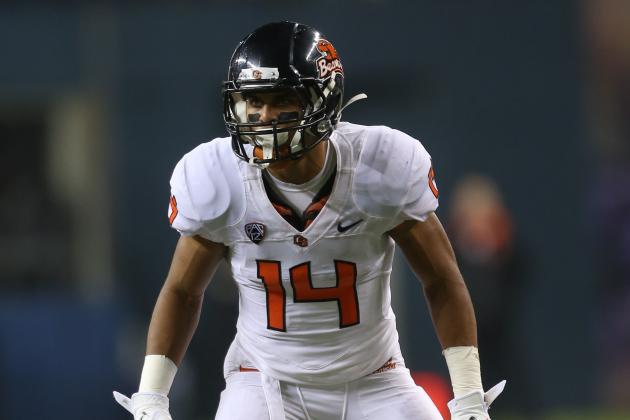 Otto Greule Jr/Getty Images

Poyer earned rave reviews all week during the Senior Bowl practices and then managed to follow that up with a great game.
Poyer picked off EJ Manuel in the third quarter and was a general pest throughout the afternoon. He nearly had two interceptions but dropped a pick in the first half. His speed and coverage were evident on both plays.
Poyer likely jumped up a few slots in the draft and might actually sneak into Round 1, partially due to his Senior Bowl performance.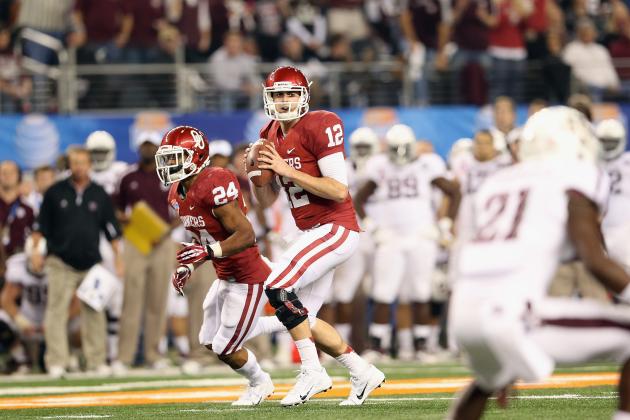 Ronald Martinez/Getty Images

With the exception of EJ Manuel and Tyler Wilson, every quarterback in the game can be rated from bad to mediocre.
But Landry Jones takes the cake. It looked like he lost at least two rounds on his already plummeting draft stock as he seemed lost in the pocket and got sacked twice.
Jones showed himself to be more the product of Oklahoma's system than an outstanding quarterback prospect. I can't think of a current starting quarterback to compare him to, unless you consider Chad Henne a starter.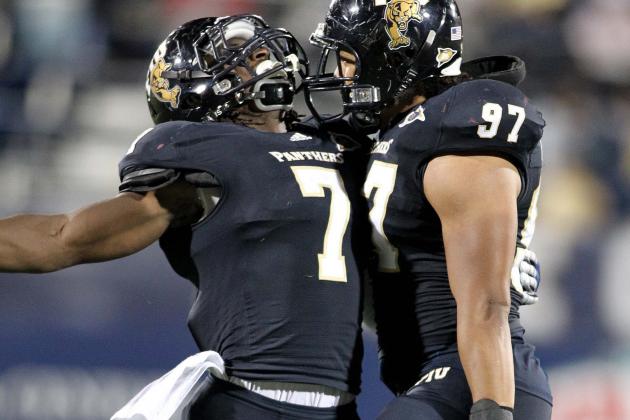 Robert Mayer-USA TODAY Sports

FIU's Jonathan Cyprien impressed many during Senior Bowl practice, including Senior Bowl executive and former NFL Scout Phil Savage (per AL.com):
I watched him over the summer based off last year. I loved his tackling, his explosiveness. He just had a football temperament that jumped off the tape. We kind of waited and let some of the other people go in and check him out. I had a friend from another team go in and check him out late in the year and I told him to just text me, thumbs up or thumbs down. He texted me Thumbs way up.

He's come in here and done what I really thought he could do in terms of the football mentality. He's been in tune with it. Beneath the service, he's one of the more talked-about players here at the Senior Bowl.
And that was before the Senior Bowl, where Cyprien showed signs of being a leader in the secondary, before we saw his ball-hawking abilities and the impact he had in the North's secondary throughout the afternoon.
Cyprien likely jumped from being a fourth-round pick into the third or even second round. He excelled not just at the game but for the entire week.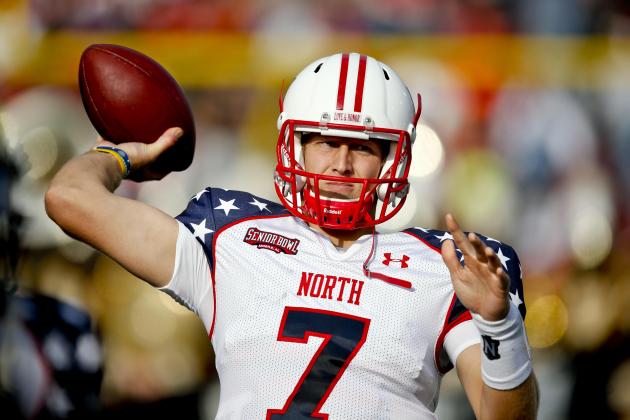 Derick E. Hingle-USA TODAY Sports

Yes, we've reached a theme with the losers: All quarterbacks thus far.
Dysert is no exception, as he only completed one pass prior to a garbage-time drive that relied primarily on check-downs, while none of his attempts prior to that drive looked particularly good. He was also picked off on one of his terrible passes.
Dysert may not have fallen as much as Landry Jones, but he was just as big of a disaster. He at least has the final drive but before that he didn't show too many flashes.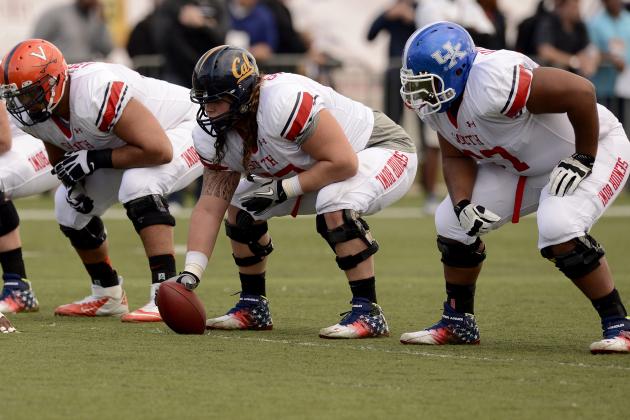 USA TODAY Sports

Warford was a beast at guard as he managed to open up holes for a strong South running game that gained 136 yards in total.
It would've been more had Landry Jones been able to release a football in time.
Warford garnered praise from the announcing team throughout the game and looked as engaged in his blocks as he did every Saturday with the Wildcats. He will be a great guard at the next level, and he managed to show how great he would be at the Senior Bowl.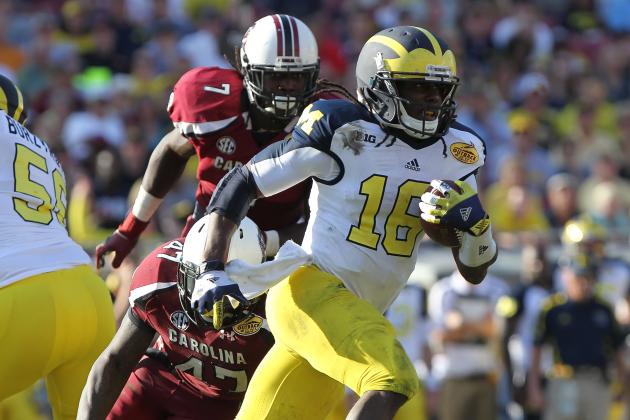 Kim Klement-USA TODAY Sports

It's about time that we have a non-quarterback as one of the losers here, although I do feel bad for naming anyone a loser.
But Michigan's Denard Robinson seemed to be a loser in this game, as he only ran the ball once for negative three yards while looking a bit out of place throughout the game.
He still managed to grab two catches for 22 yards and is a threat in the open field but catching the ball looks like it will be a problem for Robinson.
Oh, isn't Robinson a former quarterback? Something tells me that he probably thought while the likes of Nassib and Dysert were laying an egg under center that he could've done a better job.
Landry Jones only served to confirm that suspicion.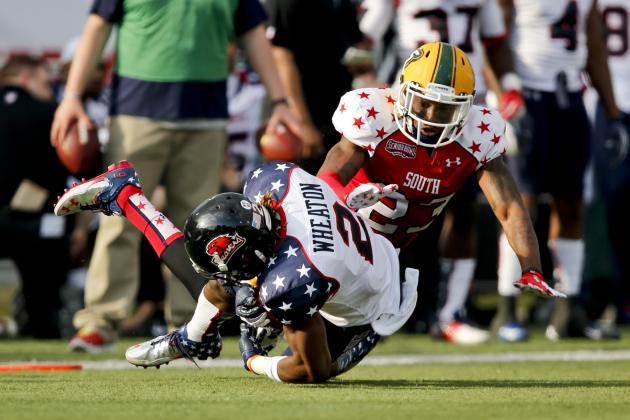 Derick E. Hingle-USA TODAY Sports

Let's start with Alford's great punt return to start the Senior Bowl, which went for 95 yards and set up the South's first touchdown of the game.
Now look at how Alford ended the game: An interception on a two-point conversion attempt.
Excellent bookends to an excellent afternoon for the corner out of Southeastern Louisiana, but he started winning earlier in the week as Bleacher Report's Alex Dunlap would report:
Alford looked like he was operating on a higher level than any DB on the South roster during the change-of-direction drills under the watchful eye of a fired-up Lions head coach Jim Schwartz.

Any scout will tell you that athleticism starts in the feet and moves upward. Alford's lateral agility and footwork in drills translated beautifully to his on-field performances through the week.
The big plays from Alford will get all of the attention but throughout the game he was aggressive while covering his receivers and managed to keep up with them in terms of speed.
Alford will see a huge jump in his stock after this week and is the biggest winner on defense.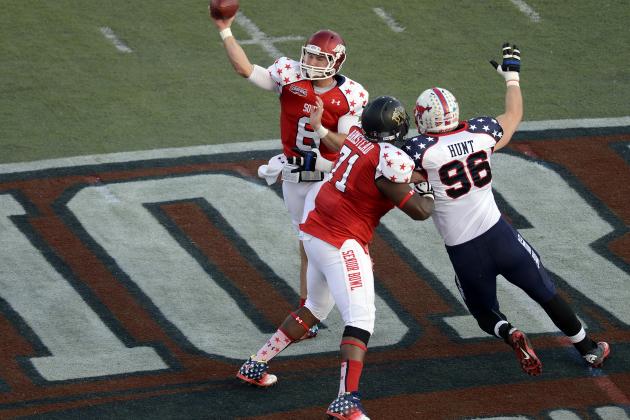 John David Mercer-USA TODAY Sports

I have to say, I wasn't particularly impressed by the guy.
Not one bit.
Hunt made a name for himself blocking kicks and having one of the coolest nicknames in college football (the Eastern Bloc), but after a fairly flat Senior Bowl performance, I was left lukewarm.
Hunt seemed to be manhandled throughout the game by the offensive line—and despite the fact that Landry Jones made an appearance in the game for a few series, Hunt couldn't seem to get a sack.
It was very disappointing to watch, especially considering how high I was on the guy after seeing his performance with SMU during the Hawaii Bowl on Christmas Eve.
He wasn't the biggest loser, but I doubt he'll crack the first round after what we saw this afternoon.